Reviews and Views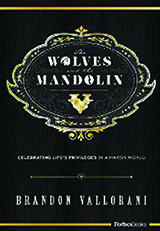 THE WOLVES AND THE MANDOLIN
Celebrating Life's Privileges in a Harsh World
By Brandon Vallorani
Published by ForbesBooks
Available at Amazon.com,
Barnesandnoble.com
Brandon Vallorani is the founder of Vallorani Estates and Vineyards.
He recently hosted the first-ever Italian festival in Dallas, Georgia, where he lives today with his wife and seven children.
Brandon has been successful in business before and after earning an MBA in business management in 2004 from Thomas More College. His Italian blood, however, pushes him forward to get more out of life than just the bottom line. His new book, "The Wolves and the Mandolin," is the story of his life, thus far; one that is quintessentially Italian, where the virtues of faith and family go hand in hand with business and entrepreneurship.
In the beginning of the book, Brandon recounts the real-life story of his great-uncle who traveled the countryside in Abruzzo. He came across a pack of wolves and a nearby tree was his only means of escape. He took refuge on its highest limb and with nothing else to do, he took out his mandolin and started playing music for the hungry wolves below. Brandon sees this as a metaphor for how to live one's life. He writes: "The world can be a cold, dark place full of hungry wolves biting at your ankles. Should we lock ourselves indoors and hide? No. We should pick up our mandolin and stride onward, bringing joy to our fellow travelers on earth."
Brandon's family came from the village of Offida in Italy's La Marche region. His great-grandfather Luigi, a veteran of the Italo-Turkish war, had immigrated to America only to return to Italy with his young son after his wife died. It was Brandon's grandfather Eugenio who eventually settled in America and worked as an engineer for Westinghouse.
Brandon looks back on his great-grandfather's life as an example of perseverance and sacrifice. He writes: "Never give up. It took three tries for my great-grandfather to have a son who survived to carry on the Vallorani name. He never stopped trying to do more. While he did not settle in the United States to pursue the American dream for himself, he achieved it for his family by planting the seeds of success. We reaped what Luigi sowed."
What we find from reading "The Wolves and the Mandolin" is that an appreciation for the past is a vital component to personal achievement in the present. As Brandon writes: "I owe so much of who I am to my parents and to the values they instilled in me, both through what they said and, more importantly, what they did…Both of them are devout Christians…Without those tools - love, faith, and willingness to take on a tough job - I'd not have enjoyed the successes I have. I'd rather leave my kids a legacy of solid values than of merely money."
"The Wolves and the Mandolin" is an ideal book for Italian Americans to read. It is the Italian way to success, where business and the good life are pursued with equal vigor.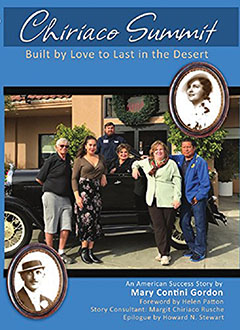 CHIRIACO SUMMIT
Built by Love to Last in the Desert
An America Success Story
By Mary Contini Gordon
Available at Amazon.com, Barnesandnoble.com; or if in the area, at the Summit, The Patton Museum, and Joshua Tree National Park.
Dr. Mary Contini Gordon gives us a compelling and entertaining true American epic in "Chiriaco Summit."
This is an awesome book.
An especially arid part of the Southern California desert is where Joe Chiriaco, a self-taught surveyor, envisioned a gas station and small cafe along a dirt road that became Highway 60 and then Interstate 10 in California. His fiancé Ruth Bergseid believed in him so much that she helped finance the project. Land was leased to Chiriaco from a sheep rancher in 1933 and what later became Chiriaco Summit was born. The couple married in 1934 and worked day and night to build what is today a world famous traveler's stop.
Dr. Contini Gordon's previous book "TIQ SLO'W" was about a modern day Indian chief and his work to protect ancient Indian burial grounds in California. She now delves closer to her Italian background in "Chiriaco Summit." She gives us an account of 20th century history through the eyes of an Italian American family at their traveler's stop.
In the beginning of "Chiriaco Summit," we see the desert as a means to bring life to Los Angeles. Aqueducts were built through there to transport water. In the Great Depression, people who lost their farms in Oklahoma and elsewhere, reminiscent of John Steinbeck's "The Grapes of Wrath," make the trek to California and stop along the way at Chiriaco's gas station and cafe. When World War II begins, none other than General George S. Patton becomes a regular customer. His troops train nearby to fight later in the African desert. The postwar years bring a new Interstate, expansion of our hydrocarbon society, changing culture and demographics of the 1960s. All this happens as the Chiriaco family survive and strive to retain and build their family business.
"'Chiriaco Summit'…chronicles the development of a small business started by a son and daughter of immigrants; today the business is owned and operated by the second, third and fourth generations," writes the author. Midway in the book, she considers the survival ethic of the Chiriacos: ""Sweat, literally and figuratively, got the summit off the ground…but it flourished because Ruth and Joe invested their hearts in a community of people who in turn invested in doing whatever it took to make the Summit mission a reality—Serving the World on Wheels."
Dr. Contini Gordon gives us a wealth of historical detail in a narrative of a true American family who built something to last generations. Most special about "Chiriaco Summit" is that it reaffirms the belief in America that brought Joe Chiriaco's father Vincent from Nicastro, Calabria in 1898. That America, with its freedom and fair-minded spirit, allows anyone to make it if they work hard and play by the rules. The Chiriacos did just that and we are all grateful to Dr. Contini Gordon for bringing us their incredible story.


PRIMO in Italy.. 3rd Edition 2014 Articles on the Map