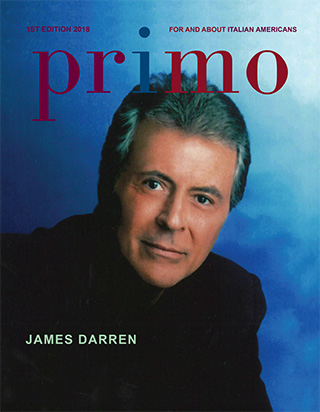 First Edition 2018 is printed and mailed. On the cover: James Darren, singer, actor and director. Star of the film "Gidget" and TV's "The Time Tunnel," "T.J. Hooker" and much more.

Call with your questions or comments at 866-677-7466 or email help@flprimo.com. Special offers: Buy one-year subscription and receive a free poster. Buy a two-year subscription and receive an Italian language phrase book. Buy a three-year subscription and receive a coffee mug.





The Latest News…from an Italian American Perspective:
Note: Content on the PRIMO web site is different from the print edition of PRIMO magazine. To read the latest articles in the newest print edition of PRIMO, please subscribe today.
Please remember to update your browser in order to view all material on our web site.


First Edition 2018 Corrections

In our article, "Chiriaco Summit" we reported on page 57, that Chiriaco Summit consists of a motel, in addition to other business establishments. Dr. Mary Contini Gordon is the author of "Chiriaco Summit, Built by Love to Last in the Desert." The article is based on her book. She contacted us for the following correction: "Chiriaco Summit did have a motel but it was demolished to make room for new buildings which are up and open.  A new motel is projected, exact date to be determined."
Letter to the Editor

I read with interest the article by Susan Jayne on "Italian Swiss, The Culture and Language of Italy Extends Beyond Her Border." Having lived in Switzerland for several years working  for the UN in Geneva, my wife and I traveled extensively in Switzerland including the Canton of Ticino. Being native Italians, we took it for granted that the "Ticinesi" had some affinity for Italians or Italy.  We discovered quickly this was not the case. They made it very clear to us that they were SWISS, who happen to speak Italian. It is an amazing country  with four official languages,  French, German, Italian and Romanch. Take  care
Lucio D'Andrea 
Lake Ridge, Virginia
THE FILM SOCIETY OF LINCOLN CENTER AND ISTITUTO LUCE CINECITTÀ PRESENTS THE 18TH EDITION OF OPEN ROADS: NEW ITALIAN CINEMA MAY 31 TO JUNE 6
Opening Night selection is Fabio Grassadonia and Antonio Piazza's "Sicilian Ghost Story" 
17-film festival features nine North American and seven New York premieres
Open Roads: New Italian Cinema is the leading screening series to offer North American audiences a diverse and extensive lineup of contemporary Italian films. This year's 18th edition again strikes a balance between emerging talents and esteemed veterans, commercial and independent fare, outrageous comedies, gripping dramas, and captivating documentaries, with in-person appearances by many of the filmmakers.
This year's edition showcases 17 titles, including the premiere of "Boys Cry," a gritty gangster genre debut by the D'Innocenzo brothers; Roberto De Paolis' feature debut about youthful self-discovery, "Pure Hearts"; Sergio Castellitto's emotionally raw "Fortunata," featuring legendary Rainer Werner Fassbinder, leading lady Hanna Schygulla and Jasmine Trinca, who won the Un Certain Regard Best Actress prize at last year's Cannes Film Festival; and three works by returning Open Roads filmmakers: Marco Tullio Giordana's "Nome di donna," Ferzan Ozpetek's "Naples in Veils," and Vincenzo Marra's "Equilibrium." 
Open Roads will also present "Rainbow: A Private Affair," the latest and final film by legendary filmmakers Paolo and Vittorio Taviani (Vittorio sadly passed away this April at age 88), paired with a special screening of their classic Cannes Grand Jury Prize winner, "The Night of the Shooting Stars"; as well as the new digital restoration of iconoclast Marco Ferreri's "The Ape Woman," screening with Anselma Dell'Olio's new documentary about the provocateur, "Marco Ferreri: Dangerous but Necessary."
Tickets for Open Roads: New Italian Cinema the Visconti retrospective go on sale May 18, with Film Society members receiving an early access period beginning May 15. Tickets are $15; $12 for students, seniors (62+), and persons with disabilities; and $10 for Film Society members. See more and save with the 3+ film discount package or Open Roads Access Pass. All screenings take place at the Walter Reade Theater at 165 West 65th Street, unless otherwise noted.

The films and screenings are:

SICILIAN GHOST STORY  
Fabio Grassadonia & Antonio Piazza, Italy, 2017, 120m; Italian with English subtitles; New York Premiere. Thursday, May 31, 1:00pm & 6:00pm (Q&A with Fabio Grassadonia & Antonio Piazza).
Winner of the David di Donatello award for Best Adapted Screenplay, Fabio Grassadonia and Antonio Piazza's spellbinding follow-up to their acclaimed 2013 drama "Salvo" is by turns fantastic and ripped-from-the-headlines feature. One day after school, 12-year-old Luna (Julia Jedlikowska) follows her classmate crush Giuseppe (Gaetano Fernandez) into a possibly enchanted forest - and, just like that, he vanishes. Was he kidnapped by the Mafia, for whom his father used to work as an assassin before he turned informant? Grassadonia and Piazza's film, based on true events, renders Luna's quest for the truth as a transfixing blend of realism and mythology.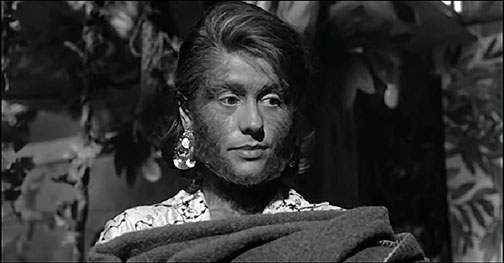 THE APE WOMAN / LA DONNA SCIMMIA
Marco Ferreri, Italy/France, 1964, 100m; Italian with English subtitles; North American Premiere. Tuesday, June 5, 8:45pm.
One of Marco Ferreri's earliest and most beloved films, "The Ape Woman" is inspired by the true story of 19th-century carnival performer Julia Pastrana. Annie Girardot gives a signature performance as Marie the Ape Woman, an ex-nun whose body is completely covered in black hair. She is discovered at a convent by sleazy entrepreneur Focaccia (Ugo Tognazzi), who marries her and swiftly gets her on the freak show circuit to cash in on her distinctive appearance. A freewheeling satire both hilarious and grotesque, "The Ape Woman" is distinguished by the irreverent wit and anarchic energy of Ferreri's greatest work. New digital restoration!

BEAUTIFUL THINGS
Giorgio Ferrero & Federico Biasin, Italy/Switzerland/USA, 2017, 94m; North American Premiere. Sunday, June 6, 6:00pm (Q&A with Giorgio Ferrero).
This wildly ambitious documentary follows four men who work in isolation at remote scientific and industrial sites around the world. Like monks, they carry out their daily tasks in silence and solitude, creating products soon to enter the capitalist cycle of production, consumption, and destruction. A ravishingly beautiful audiovisual experience, Giorgio Ferrero and Federico Biasin's debut feature is a transfixing work about the origins of consumer society imbued with a musical sense of rhythm (Ferrero is also a composer and sound editor) and a wealth of aesthetic ideas about the way we live now.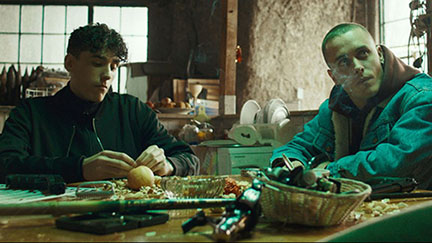 BOYS CRY / LA TERRA DELL'ABBASTANZA
Damiano & Fabio D'Innocenzo, Italy, 2018, 96m; Italian with English subtitles; North American Premiere. Sunday, June 3, 3:30pm (Q&A with Damiano & Fabio D'Innocenzo) Tuesday, June 5, 2:30pm.
The D'Innocenzo brothers reinvigorate the gangster genre with their gritty, surprising debut feature, set on the outskirts of Rome. Best friends and aspiring restaurateurs Manolo (Andrea Carpenzano) and Mirko (Matteo Olivetti) kill a pedestrian in a car accident, kicking off a series of events that enmesh them with the local crime syndicate and push their mutual allegiance to the breaking point. Smart, stylish, and muscular, this critical hit at the 2018 Berlinale announces the D'Innocenzos as formidable and film-savvy new voices in Italian cinema. 
CRATER / IL CRATERE
Silvia Luzi & Luca Bellino, Italy, 2017, 93m Italian with English subtitles; North American Premiere. Saturday, June 2, 1:00pm (Q&A with Silvia Luzi & Luca Bellino) Monday, June 4, 4:15pm.
Documentarians Luzi and Bellino's fiction debut stars Rosario and Sharon Caroccia (playing versions of themselves) as a carnival worker and his ostensibly unambitious daughter. He dreams she will hit it big as a pop singer, but when Sharon loses interest in pursuing this potentially lucrative profession, tensions build between the two. Luzi and Bellino summon their nonfiction filmmaking background to lend naturalism and spontaneity to this tale of helicopter-parenting that consciously recalls Luchino Visconti's "Bellissima." Crater is a moving parable about the gulf that exists between our desires and those of the people closest to us.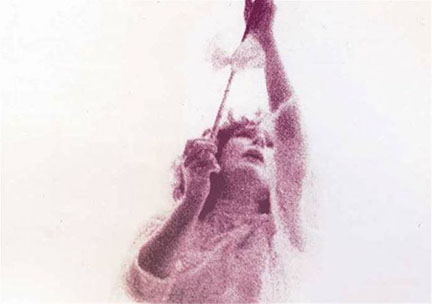 DIVA!
Francesco Patierno, Italy, 2017, 75m; Italian with English subtitles; North American Premiere. Friday, June 1, 4:00pm (Q&A with Francesco Patierno) Wednesday, June 6, 8:30pm.
Valentina Cortese starred in films by such masters as Michelangelo Antonioni, Federico Fellini, and François Truffaut (she was nominated for an Oscar for her turn as an over-the-hill, hard-drinking thespian in the latter's "Day for Night"). In this inventive work of cinematic biography, eight actresses play Cortese at various stages of her career, amidst a kaleidoscopic of film clips and archival footage. In a work that is by turns glamorous, celebratory, and soberly confessional, Cortese often addresses the viewer directly, yielding a direct and engaging portrait of an actress whose offscreen complexity often exceeded the roles she memorably incarnated.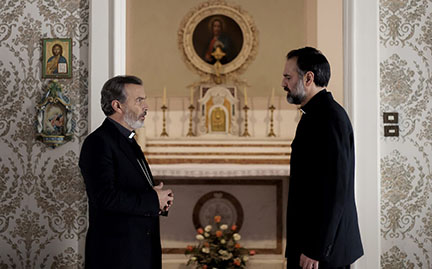 EQUILIBRIUM / L'EQUILIBRIO  
Vincenzo Marra, Italy, 2017, 90m; Italian with English subtitles; North American Premiere. Sunday, June 3, 1:00pm (Q&A with Vincenzo Marra), Wednesday, June 6, 4:30pm.
The director of "Vento di terra" returns to Open Roads with this realist parable about faith and crime in Campania. After Roman priest Don Giuseppe (Mimmo Borrelli) begins developing an attraction to an employee of the refugee center where he works, he requests a transfer, settling just north of Naples. There, he finds himself in conflict with the Camorra when he tries to intervene in the local industrial-waste crisis. Working with a mix of professionals and non-actors, Marra renders a scrappy, moving drama about the antagonism between religious belief and the modern world. 




LOOK UP / GUARDA IN ALTO
Fulvio Risuleo, Italy/France, 2017, 90m; Italian with English subtitles; North American Premiere. Sunday, June 3, 8:30pm.
While taking a cigarette break on a rooftop in Rome, a young baker (Giacomo Ferrara) notices a curious fowl plummeting from the sky. He crosses from one rooftop to the next to get a closer look, and what he discovers is the beginning of a journey down an urban rabbit hole of incredible situations and bizarre characters (including one played by a delightfully off-kilter Lou Castel). Documentary filmmaker Fulvio Risuleo's fiction debut is an odd bird indeed, an unpredictable and imaginative twist on the road movie that evokes "Alice in Wonderland" and recalls the early work of Michel Gondry. 

FORTUNATA
Sergio Castellitto, Italy, 2017, 103m; Italian with English subtitles; New York Premiere. Friday, June 1, 6:15pm (Q&A with Jasmine Trinca) Monday, June 4, 2:00pm.
Jasmine Trinca plays the ironically named Fortunata, a young mother and hairdresser living in Rome whose ambitions are constantly thwarted by inept, needy friends and family baggage. Awaiting a divorce from her soon-to-be-ex-husband and dealing with the resultant issues her 8-year-old daughter has developed, Fortunata begins taking her daughter to a handsome child therapist (Stefano Accorsi), with whom she has immediate chemistry. Also featuring legendary German actress Hanna Schygulla, "Fortunata" is an emotionally raw melodrama anchored by Trinca's powerhouse performance, which earned her the Best Actress prize in the Un Certain Regard section at last year's Cannes Film Festival.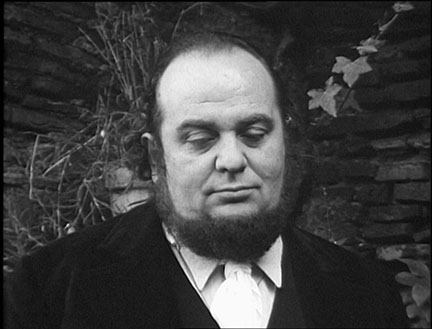 MARCO FERRERI: DANGEROUS BUT NECESSARY / LA LUCIDA FOLLIA DI MARCO FERRERI
Anselma Dell'Olio, Italy, 2017, 77m; Italian and French with English subtitles; North American Premiere. Tuesday, June 5, 6:30pm.
"Marco Ferreri: Dangerous but Necessary" is a complex, multilayered portrait that seeks to give an under-appreciated iconoclast his due. Directed by journalist-critic (and former Ferreri collaborator) Anselma Dell'Olio, the film draws upon interviews with such performers as Isabelle Huppert, Roberto Benigni, Hanna Schygulla, and Ornella Muti, as well as cinematic luminaries like Philippe Sarde and Dante Ferretti, to make the case for Ferreri as a figure who belongs on the same historical wavelength as such artistic revolutionaries as Godard, Fassbinder, and Buñuel. This fast-paced documentary's enthusiasm for its legendarily provocative subject is positively infectious.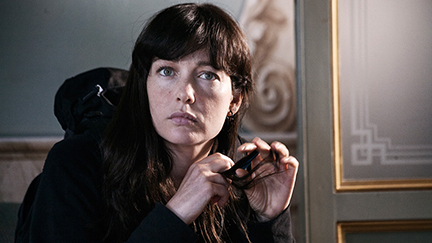 NOME DI DONNA
Marco Tullio Giordana, Italy, 2018, 90m; Italian with English subtitles; North American Premiere. Saturday, June 2, 3:30pm (Q&A with Marco Tullio Giordana), Tuesday, June 5, 4:30pm.
A woman courageously tries to break the silence in a culture of complicity surrounding sexual harassment in this all-too-timely film from Open Roads veteran Marco Tullio Giordana. Nina (Cristiana Capotondi) is a single mother who takes a job at a home for the elderly in Lombardy, where the inappropriate verbal treatment of her new manager (Bebo Storti) turns into outright assault. Nina's quest to seek justice brings her face to face with the cultural and institutional mechanisms that allowed for the harassment in the first place. Ultimately, Nina is one of the most multidimensional and inspiring protagonists in recent Italian cinema.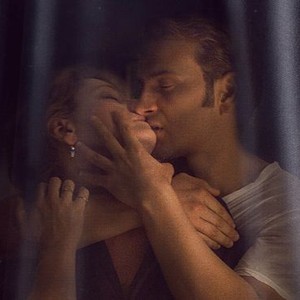 NAPLES IN VEILS / NAPOLI VELATA
Ferzan Ozpetek, Italy, 2017, 113m; Italian with English subtitles; New York Premiere. Saturday, June 2, 8:30pm (Q&A with Ferzan Ozpetek).
In this moody, baroque thriller from Turkish director Ferzan Ozpetek, Giovanna Mezzogiorno stars as Adriana, a medical examiner who meets Andrea (Alessandro Borghi) during a party at her eccentric aunt's garish apartment. They hit it off immediately, though their romance is curtailed when Andrea later stands her up. While inspecting a corpse at work, Adriana notices a distinctive tattoo that reminds her of Andrea's - at least as she remembers it. So begins a gripping metaphysical murder mystery, in which Naples becomes a shadowy, mysterious labyrinth of desire and memory.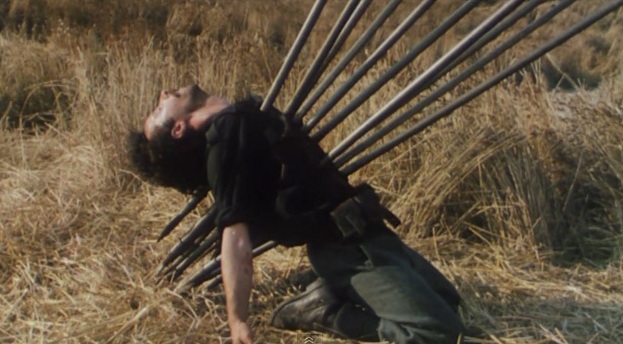 THE NIGHT OF THE SHOOTING STARS / LA NOTTE DI SAN LORENZO 
Paolo & Vittorio Taviani, Italy, 1982, 35mm, 105m; Italian with English subtitles. Monday, June 4, 8:45pm.
 
The Taviani brothers' crowning achievement and winner of the Cannes Film Festival's Grand Jury Prize, "The Night of the Shooting Stars" remains one of cinema's great war films. The story of a group of Italians in Tuscany fleeing the Nazis, who intend to bomb their small town before it can be liberated by the Americans, is an enthralling chronicle of everyday people refusing to sit back and wait for history to redeem them. This tonally eclectic, humanistic masterwork affectingly melds comedy, tragedy, and melodrama to convey the resilience of the Italian people during the war's darkest hours.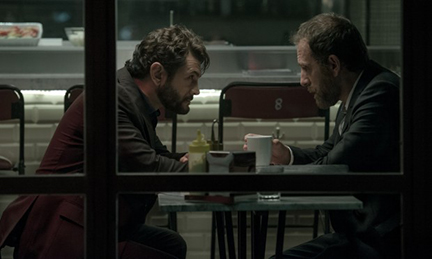 THE PLACE
Paolo Genovese, Italy, 2017, 105m, Italian with English subtitles. New York Premiere. Thursday, May 31, 3:30pm & 9:00pm (Q&A with Paolo Genovese at the 9:00pm screening).
An enigmatic, nameless man (Valerio Mastandrea) sits in the corner of a bar, receiving visitor after visitor. They tell him of their profoundest wishes and desires, and he assures them they can have exactly what they want . . . but there will be a price, and the extreme deeds they must perform will lead them to question who they are and to what lengths they will go. An elegant reworking of the American television series "The Booth at the End," this gripping, minimalist moral thriller boasts an all-star cast that includes Alba Rohrwacher, Silvio Muccino, and Rocco Papaleo.
PURE HEARTS / CUORI PURI  
Roberto De Paolis, Italy, 2017, 114m. Italian with English subtitles. New York Premiere. Friday, June 1, 8:45pm (Q&A with Roberto De Paolis). Wednesday, June 6, 2:00pm.
An impeccably acted drama about youthful self-discovery, De Paolis' feature debut is a fresh take on the "opposites attract" tale, set on the outskirts of Rome. Seventeen-year-old Agnese (Barbora Bobulova) plans to take a vow of chastity to appease her intensely devout mother, but then she encounters 25-year-old parking lot attendant Stefano (Simone Liberati) while shoplifting a cell phone. Stefano represents for Agnese an alternative way of being in the world beyond the strictures of the church, from which she feels increasingly alienated. Partly improvised and deftly filmed by DP Claudio Cofrancesco, "Pure Hearts" marks an auspicious debut for De Paolis. 



RAINBOW: A PRIVATE AFFAIR / UNA QUESTIONE PRIVATA
Paolo & Vittorio Taviani, Italy, 2017, 85m; Italian with English subtitles; New York Premiere. Friday, June 1, 2:00pm. Monday, June 4, 6:30pm. 
Few filmmakers have better embodied Italian cinema over the past 50 years than the Taviani brothers. Their latest and final film together (Vittorio died in April) is an elegant tale of young love caught in the whirlwind of war, loosely adapted from a book by Beppe Fenoglio. Set near Turin in 1944, "Rainbow" follows student Milton (Luca Marinelli) and his friend Giorgio (Lorenzo Richelmy), who both love the same woman (Valentina Belle). Their friendship is put to the ultimate test against a backdrop of violent struggle after the two men are swept up in the anti-fascist movement. A sensitive, atmospheric film about the connection between the personal and the global, this is an essential capstone to the Tavianis' vital oeuvre.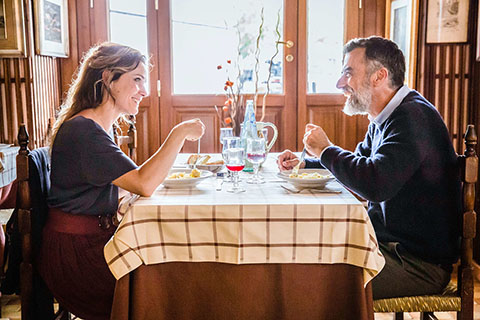 STORIES OF LOVE THAT CANNOT BELONG TO THIS WORLD / AMORI CHE NON SANNO STARE AL MONDO 
Francesca Comencini, Italy, 2017, 92m; Italian with English subtitles; New York Premiere. Saturday, June 2, 6:00pm (Q&A with Lucia Mascino). Wednesday, June 6, 6:30pm.
Francesca Comencini adapts her own novel for this intelligent, intensely felt romantic comedy. Academics Claudia (Lucia Mascino) and Flavio (Thomas Trabacchi) have been a couple for seven years, but their physically and intellectually passionate relationship seems to have reached an impasse, and neither of them understands why. As a result, Claudia begins a process of reflection and self-exploration to come to terms with Flavio's love in light of her own insecurities and neuroses. This funny, charming movie reveals the inner work we must do in order to move on with our lives. 

The Film Society of Lincoln Center is devoted to supporting the art and elevating the craft of cinema. The only branch of the world-renowned arts complex, Lincoln Center shines a light on the everlasting yet evolving importance of the moving image. This nonprofit organization was founded in 1969 to celebrate American and international films. Via year-round programming and discussions; its annual New York Film Festival; and its publications, including "Film Comment," the U.S. premier magazine about films and film culture, the Film Society endeavors to make the discussion and appreciation of cinema accessible to a broader audience, as well as to ensure that it remains an essential art form for years to come.
The Film Society receives generous, year-round support from Shutterstock, the National Endowment for the Arts, and the New York State Council on the Arts with the support of Governor Andrew M. Cuomo and the New York State Legislature. For more information, visit filmlinc.org. 
Istituto Luce Cinecittà is the state-owned company whose main shareholder is the Italian Ministry for Culture subsidizing its activities on an annual basis. Istituto Luce Cinecittà holds one of the most important European film and photographic archives in which materials are collected and digitally categorized, including its own productions and materials, derived from private collections and acquisitions by a variety of sources. Istituto Luce Cinecittà owns a film library, Cineteca, containing around 3000 titles of the most significant Italian film productions in order to promote Italian culture at major national and international institutes around the world. In collaboration with the Italian Ministry for the Foreign Affairs, restorations and new prints are added every year. 
Istituto Luce Cinecittà cooperates with major film festivals such as Cannes, Berlin, Buenos Aires, Toronto, Locarno, New York, London by organizing national selections, guaranteeing the presence of Italian films and artists in the various festivals, and by providing multifunctional spaces to help the promotion of our cinematography and it is the reference place for all Italian and foreign operators. It is also involved with the direct organization of numerous Film Festival around the world: The Festival of Italian Cinema in Tokyo, Open Roads: New Italian Cinema in New York, London¹s Cinema Made in Italy, Mittelcinemafest, and The Festival of Italian Cinema in Barcelona, Istanbul, and Buenos Aires. For more information, visit www.filmitalia.org and www.cinecitta.com. 
THE DEVIL AND FATHER AMORTH
Full Coverage of The New Documentary by William Friedkin, Director of "The Exorcist" and "The French Connection"
- PRIMO's Review of the Film
- Highlighted Scenes of Italian Landmarks in the Film
- To Come Later...William Friedkin Shares Insights into How and Where "The Exorcist" Was Made in Washington, D.C.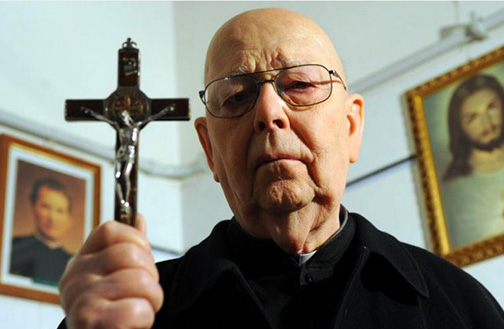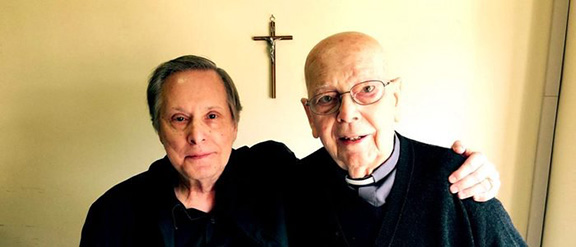 Satan is busy.

Cases of demonic possession are on the rise. We learn at the beginning of "The Devil and Father Amorth" that 500,000 people in Italy request an exorcism every year. The same goes for Spain and many countries in Latin America. More people are coming forward with claims that the devil or demons are taking over their bodies. The demand for Catholic intervention is high. So much so that the Vatican convenes a week long course each year to train priests to identify and cure demonic possessions. This workshop was first offered in 2005 and since then the number of priests in attendance have doubled to 250.

The model is Father Gabriele Amorth. He was a pioneer in the field of exorcism and a champion fighter against the devil. Father Amorth was the official exorcist of the diocese of Rome from 1992 until his death in 2016. As the foremost expert on demonic possession, he was often newsworthy. In recent years, he made a host of stunning revelations such as "Harry Potter," yoga, and other contemporary offerings were just instruments of the devil. He said whole groups, even countries could be possessed. He thought ISIS was overtaken by Satan as were both Hitler and Stalin. He even thought the devil's spirit had infected the Vatican.

Never mind the headlines, Father Amorth was no charlatan. The practice of exorcism has its rules and regulations. In 1990, he along with five other priests founded the International Association of Exorcists. The organization based in Rome retains a mission to review cases of demonic possession and share information on how best to combat the devil. A set of principles remain in place. An exorcism is the last resort. Only when a person is uncured after examination and treatment by licensed physicians and psychologists can she be seen by an exorcist. Often, it was Father Amorth who was called upon to expel demonic spirits. Before he died in 2016, he claimed to have performed over 150,000 exorcisms.

Now comes a new film to further establish Father Amorth's legacy. It is "The Devil and Father Amorth," a disturbing yet fascinating documentary now showing in movie theaters across the country. The film recounts the work of Father Amorth and shows the first ever authorized account of him performing an exorcism. The film comes to us from the man who is rightly credited, along with William Peter Blatty, for advancing the concept of demonic possession throughout the world. He is the director of "The Exorcist," William Friedkin.

A list of America's greatest filmmakers of the last 50 years will no doubt include William Friedkin. He is a lead member of a generation of directors that came of age in the 1970s such as Martin Scorsese, Francis Ford Coppola and Steven Spielberg.

It was Friedkin who practically kicked off the decade when he won the Oscar for best director in 1971 for "The French Connection." The film also won an Oscar that year for best picture and for best actor, Gene Hackman. Friedkin followed that success with another. In 1973, he made "The Exorcist." If there ever was a film that deserved an Oscar for best direction and best film, it was "The Exorcist." But it was shockingly bypassed that year when Oscars for best director, best film and a host of other categories went to "The Sting."

With or without Oscars, Friedkin's two back-to-back cinematic masterpieces gave him the credibility to embark on his most personal and ambitious film, yet; one he still considers his favorite, "Sorcerer." It was a 1977 remake or reinterpretation of the 1953 Italian-French production "Wages of Fear," as directed by Henri-Georges Clouzot. "Sorcerer" contained Friedkin's signature intensity and innovation. It came with tight frames, handheld shots and, as always, a fast pace. The film was bold and provocative but not a hit. It was greeted with ambivalence among critics and suffered from bad timing when it was released the same summer as "Star Wars."
Friedkin's career underwent reevaluation with his later films. Always a vanguard, he wrote and directed "Cruising," a 1980 film slightly ahead of its time that starred Al Pacino. It was a dark and sinister post-noir journey of New York's underground gay S&M scene. He made "To Live and Die in LA," a 1985 crime thriller that featured a riveting car chase reminiscent of "The French Connection." Good and bad scripts then came the director's way. He could still tell a good story as he did in "Killer Joe" and "The Hunted." What was lacking was nirvana. The critical and popular acclaim he found in "The French Connection" and "The Exorcist" went missing. That is until now…
"The Devil and Father Amorth" is Friedkin at his best. He gives us a riveting documentary for a new generation to savor his unique style. It is 1973 all over again. The film latches on to the viewer within its first few seconds and doesn't let go until the last credits roll. The film is horrifying, disturbing and controversial. The belief in God is confronted head-on. It is a stark and mesmerizing exploration of terror and faith. The viewer is not the same after seeing this film.

Friedkin said that he is at his best when he approaches a film as a journalist. This is what he did in "The French Connection" and "The Exorcist" and what he does here in "The Devil and Father Amorth." He gives us a record. He shows us the action. He conveys the subjects as they are. We are left to decide. Do we believe or not?

Italy was a key reason why "The Devil and Father Amorth" was made. The film came about by chance and circumstance. Friedkin had been directing opera in Italy in recent years and was given the Puccini Prize in Lucca. He was enticed by the beautiful walled city and home of Giacomo Puccini. From there, he visited the Leaning Tower of Pisa. Italy had cast her spell. He wanted to see more. Rome. The Vatican. St. Peter's. The Sistine Chapel. He thought his friend, Andrea Monda, a religious scholar, could get him in to meet Pope Francis, but that was not possible. The pope was on travel. Was there anyone else he wanted to meet? Father Amorth, he said. And if possible, could he observe an exorcism. And if possible, could he film it.

This was a first. Exorcisms are intensely private. Only family of the person possessed and selected priests can attend. Father Amorth, however, knew Friedkin from his work in cinema. "The Exorcist" was his favorite film, he said, and one he claimed was a vital step forward in enlightening the general public about demonic possession and exorcism.

Born in Modena in Italy's Emilia-Romagna region in 1925, Gabriele Amorth came from an upper middle class family. As a teenager, he became a partisan fighter when Mussolini returned from exile and established the Salo Republic. Gabriele fought beside socialists, communists, and anarchists. Yet, he came out of the conflict with the hope of stabilizing Italy. He worked in the youth wing of the Christian Democrat party and helped Giulio Andreotti, Italy's future prime minister, get elected to parliament. In 1951, he was ordained a priest and joined the Society of Saint Paul, a religious institute founded by Father James Alberione in Alba, with a goal of spreading the Gospel through modern communication. In 1986, he began an apprenticeship in exorcism under Father Candido Amantini. After Father Amantini died in 1992, Father Amorth became the official exorcist of the diocese of Rome.

In an opening scene of "The Devil and Father Amorth," we see Father Amorth make his way with a walker through the halls of the Order of Saint Paul office and rectory. It is the first day of May and his birthday. He is 91. Old and frail, the cleric is set to face his arch enemy Lucifer. The subject for dispossession is an Italian woman in her early 40s who goes by the name Cristina. Reality is apparent. The film is different than its inspirational predecessor "The Exorcist." Cristina comes without green bile or other makeup effects. She seems normal. She is an architect. She has a boyfriend. Yet, she claims the devil is inside her. He pushes her to do things against her will. We see her sitting on a chair covered in a red sheet. Her family is there with her. She is held down by several men. Father Amorth initiates the Roman Ritual of 1614. He holds the crucifix. He calls for the intercession of saints. He leads the participants in prayer. He then orders the devil from Cristina's body.

Friedkin was the lone filmmaker in the room. He records a fight on a simple handheld video camera. It is the devil versus Father Amorth. It is an evil parasite against the power of Christ. Cristina struggles to be released. She tries to overpower the men holding her down. She then screams in anger. The voice is deeper, scratchier and maybe not her's.

Footage of the exorcism is just one part of "The Devil and Father Amorth." As he did in "The Exorcist" and "The French Connection," Friedkin conveys the complexities of a story without one part overshadowing the other. He takes the audience from Rome to Los Angeles where he shows footage of the exorcism to brain and neuro surgeons at UCLA Ronald Reagan Medical Center. He visits psychiatrists at Columbia University in New York. He then returns west to speak with Auxiliary Bishop of the Diocese of Los Angeles Robert Barron.

The film sets up the never-ending debate between the Old World and New. Ideas and beliefs collide. Faith versus science. Myth versus reality. The medical experts in the film admit to not knowing the exact cause of Cristina's violent reaction during exorcism. UCLA surgeons surmise a malfunction in the temporal lobe. However, they are open to other causes and treatments outside the practice of medicine. There soon appears on screen a digital map of the brain. Demonic possession might be a delusion resulting from a tumor. The team of psychiatrists at Columbia University are more confident in their diagnosis. They believe Cristina suffers from Dissociative Trance and Possession Disorder. Although open to other causes and effects, the rituals of faith may have overwhelmed Cristina. The intercession of saints. The signs of the cross. The use of Holy Water. Maybe she has fallen prey to group think and the pressures of mysticism.

Then comes the most noteworthy of interviews in Auxiliary Bishop Robert Barron of Los Angeles. He is smart, calm and articulate. He begins with equivocation about demonic possession and the need for exorcism. Yet, as the interview progresses, he makes a starling revelation. He admits to being unqualified to perform an exorcism. He does not have the acumen to take on the devil. He lacks the level of spirituality as endowed by Father Amorth.

The music. The raw close ups. The tight shots and intimate framing. The unrehearsed comments by experts. This is the kind of documentary we we grew up on. What puts the "The Devil and Father Amorth" above the current fare of contemporary documentaries is Friedkin's signature style. He remains a master of confrontation. He holds nothing back. Although he says the film is different than "The Exorcist," we cannot help but make a connection between the two. It is the aging Father Amorth who is the film's central character. He died some months after Cristina's exorcism. He is in many ways a carbon copy of Father Lancaster Merrin, the aging priest played by Max von Sydow in "The Exorcist." Either in a non-fictional or fictional setting, the two priests are the same. They come armed with Scripture. They come endowed with the Cardinal virtue of fortitude. They come to do battle. In either of them, the devil has met his match.

Italian Religious and Historic Landmarks in "The Devil and Father Amorth"
The director William Friedkin convened a press event at Georgetown University recently to discuss how "The Devil and Father Amorth" relates to his most famous film, "The Exorcist." He was joined by Julie Blatty, wife of the late William Peter Blatty, author of the bestselling novel upon which the film was based. Friedkin and Blatty agreed that "The Exorcist" was neither a horror film nor a horror novel. It was a religious work, they said; a story of faith in the face of evil.
The same theme applies in "The Devil and Father Amorth." Friedkin shows a number of Italian churches and other religious landmarks in the film. They come as either part of the story or as symbolic images to underscore a message of faith. What follows are the churches and historical sites in Italy that make up key scenes in the film.
SCALA SANCTA

Depicted near the beginning of the film is Scala Sancta, a set of 28 marble stairs inside the chapel of Saint Sylvester across from the Archbasilica of Saint John Lateran in Rome. The documentary shows Catholic pilgrims from all over the world who ascend the stairs on their knees in acts of devotion. These stairs were once inside the palace of Pontius Pilate in Jerusalem. They were removed and transported to Rome in the 4th century at the request of Saint Helena, mother of the Emperor Constantine. It are these stairs that Jesus Christ climbed to be seen and sentenced to death by Pilate.



SANTA MARIA REGINA DEGLI APOSTOLI ALLA MONTAGNOLA

Father Gabriele Amorth died four months after performing the exorcism that was shown in the film. The subject was a woman who went by the alias Cristina. Friedkin said that Father Amorth was the most holy man he ever met. With camera in hand, he captured the outpouring of grief among mourners at the priest's funeral inside Santa Maria Regina degli Apostoli all Montagnola. Translated, it is church of Saint Mary, Queen of the Apostles, of Montagnola, a suburb outside Rome. Father Giacomo Alberione, founder of the Society of Saint Paul, had the church built after World War II. It was named a minor basilica in 1984 by Pope John Paul II

ALATRI ACROPOLIS

Alatri is the setting for the climax in "The Devil and Father Amorth." It is a village of 30,000 people and located 90 miles south of Rome, in the province of Frosinone, in the Lazio region. Friedkin went there to meet Cristina after Father Amorth died. The setting is the Acropolis of Alatri and its great cyclopean wall. No mortar in the structure binds the stones together. Instead, large limestone blocks were carved according to specific measurements and tilted when stacked. The wall was erected before the time of ancient Rome and stands today after surviving many earthquakes and other destructive phenomena.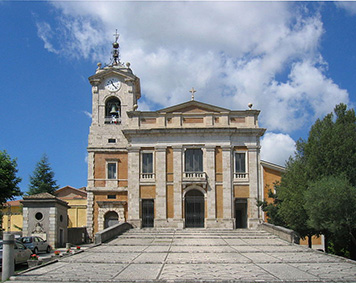 ALATRI CATHEDRAL

Friedkin was scheduled to meet Cristina for an interview on the grounds of the acropolis at the Basilica of San Paolo, otherwise known as the Alatri Cathedral. The location was once the burial chamber for the Hernici tribe and then a temple for the Roman god Saturn. The church was completed there in the 13th century with a facade added in the 19th century. Inside are relics of Saint Sixtus, one of the earliest popes who served in the first century A.D. Cristina did not show up to the basilica as originally planned. Rather, she changed her mind and met Friedkin at the Church of Santa Maria Maggiore in Alatri.
SANTA MARIA MAGGIORE
One of Italy's oldest Roman Catholic churches outside Rome is Santa Maria Maggiore in Alatri. The grounds once hosted a temple to Venus. The church was built there in the 4th century and was renovated in the 14th century with an added bell tower and an inscription by Pope Boniface IX. In the film, Friedkin met with Cristina, her boyfriend and her mother inside the church. The woman's voice was the devil's, she said, and she screamed and cursed Friedkin. She was restrained by her boyfriend who demanded the director give up the footage of her exorcism. He refused and the man threatened to kill him. Friedkin immediately left the church, got in his car and made his way quickly back to Rome.
THE MAN WHO STOLE BANKSY
A New Documentary Film by Marco Proserpio
Who Owns Graffiti Art?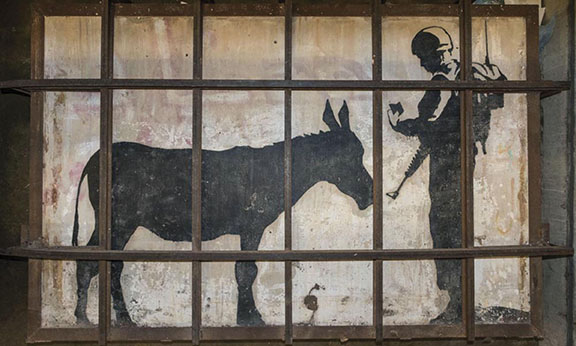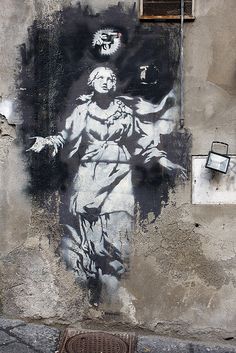 "The Man Who Stole Banksy" covers a lot of ground.
It is an extraordinary new documentary film by Marco Proserpio, a tireless Italian filmmaker from Milan.

The subject: Graffiti.
It is an Italian word; the plural of "Graffiato," which means something drawn or scratched upon a surface. Graffiti dates back to the time of antiquity. Some of its earliest examples can be seen in Italy today on the walls of buildings in Pompeii or on the walls inside the catacombs of Rome.

"The Man Whole Stole Banksy" examines contemporary graffiti. Depending on one's point of view, it is either a blessing or curse. Graffiti is everywhere. It usually comes by way of reckless spray paint. It is an assault upon the walls of public works or commercial buildings. It is usually nothing more than the scrawl of gang identification; a warning sign of embellished fonts, ugly and of no significance to anyone except those engaged in turf warfare.

At times, however, graffiti can be art. An artist may actually draw on a wall something definable and with a compelling message. Such is the artist known as Banksy. He is a fearless and creative graffiti artist. His stenciled black and white works first appeared on walls throughout England. He then made his way to New Orleans, Melbourne, Australia, Naples, Italy and for purposes of this film, the Palestinian West Bank.

In 2007, Banksy was in Bethlehem, the birthplace of Jesus Christ, which is now part of Palestinian territory and under the watchful eye of the Israeli army and intelligence agencies. He had been invited there, along with a select group of artists, to paint on the wall that now divides Palestine and Israel. The film does not mention the reason for the wall's construction and suggests only it is a fortification for apartheid. Yet, it's history underscores the unchecked violence of Palestinian terrorism. From 2000 to 2002, scores of young men walked from Palestinian into Israeli territory. Inside Israeli restaurants, shopping malls and bus depots, they detonated homemade explosives to kill themselves, along with hundreds of Israeli women, children and the elderly. The wall was erected to stop the carnage and from all accounts did just that.

Banksy was the most famous of artists who painted in Bethlehem. One of his paintings showed an Israeli soldier checking the identification papers of a donkey. The message was obvious: The paranoia of a police state extends to the most innocent and innocuous of beings. Yet, many Palestinians were offended. They saw the painting as a putdown.

Proserpio is that rare filmmaker who seeks all sides to an issue. The film goes from exploring artistic messages of Palestinian liberation to the unchecked avarice of the art world. Banksy's painting of the donkey and Israeli soldier appeared on the wall of a person's home and not on the security wall dividing Palestine and Israel. A taxi driver and body builder named Walid saw the artwork and had the idea to remove and sell it. He notified Mike Cannavanti, a Greek entrepreneur in Bethlehem, who hired a contractor to chisel out the piece that contained the painting. He advertised it on Ebay. An art collector in Denmark bought the concrete slab work of art and then auctioned it in New York, Los Angeles, and London. The asking price was in the hundreds of thousands.

The identification of Banksy is not known. The same goes for many other graffiti artists. Most are wanted by the police for defacing public and private property. Their lack of identity puts them at a severe disadvantage when it comes to selling their art. As the film documents, there is a new movement in Italy to remove graffiti artwork and sell them to museums and collectors. We see a college professor in Bologna mix a liquid chemical to cover graffiti and peel it away after drying. The painting is then transferred to a canvas or makeshift wall inside an art gallery.

What was once outlawed street art now goes for sale with asking prices in the hundreds of thousand of dollars. Graffiti artists are excluded in the share of profits from the sale. They see no income from their work. Such is their fate. The walls of buildings do not belong to them. They have no copyright. They have no say in what happens. When they paint on someone else's wall, their work becomes the property of the wall's owner.

"The Man Who Stole Banksy" contains a backdoor view of contemporary times. What is especially intriguing is the Americanization of much of the world. We see Palestinian youths expressing themselves through rap music. We see them dressed in long flannel jackets, donning shoulder length hair or straggly beards. They speak English in an American dialect. They look as though they just came from the campuses of Berkeley.

"The Man Who Stole Banksy" is refreshing in its unwillingness to engage in propaganda. Although Proserpio is rooting for graffiti artists, he is honest enough to show the flaws in this art movement. Graffiti consists of contradiction. It is the outlaw's art that gives the middle finger to the establishment and is yet celebrated by that same establishment. Street art is now a commodity. It is obtained by the rich to display in their living rooms. Even those who were the first to see graffiti as valid art, such as Paolo Buggiani, an avant-garde performance artist in Rome, have now absconded whole works from the streets for sale to private collectors.

"The Man Who Stole Banksy" is an exhaustive and fascinating film that covers the entirety of graffiti art. It is to be seen by all who cherish art, politics and the way of the world, even if at times that world is headed in the wrong direction.
Editor's Note: "The Man Who Stole Banksy" is an Italian production. Besides Marco Proserpio, there is Filippo Perfido and Christian Amodeo who wrote the screenplay with Proserpio. The film's producers are Perfido and Proserpio. To see a trailer of "The Man Who Stole Banksy" and other works by Marco Proserpio, please log on to https://vimeo.com/marcoproserpio
"THE LOVE FOOL" BY LORENZO PETRUZZIELLO SHOWS ROME IN A DIFFERENT LIGHT
An Interview with The Author about His First Novel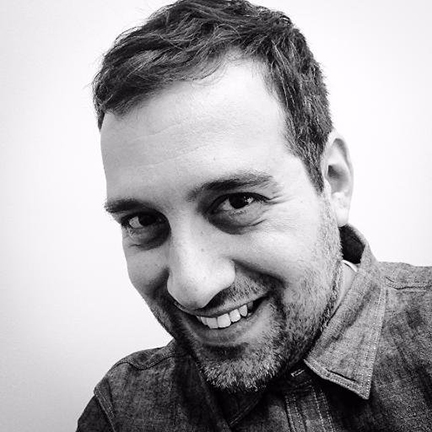 Lorenzo, tell us about your background. Where is your family from in Italy? I am a first generation Italian American, born in Boston. My family is from the Campania region of Italy – my father is from Avellino and my mother is from Benevento. I've traveled to Italy every year since the age of 11 – spending my summers in Avellino with my grandparents. I continue to visit Italy every year to see close friends or to discover something new.
"The Love Fool" is set mostly in Rome. Your book describes the streets, piazzas, cafes and nightclubs of the Eternal City. The book is your tribute to Rome. Tell us why you love this city so much. I started writing "The Love Fool" in 2006, while living in Rome. I had just left my job and moved to Italy to figure out my next chapter in life. I chose to be in Rome because I never really knew Rome. Well, of course I was familiar with the city – visiting the popular sights on many occasions – but I never really got to know her well. So, I decided I'll move to Italy for a bit and get to know this enchanting city that is loved so much by filmmakers, artists, travelers and storytellers. And it didn't take long for me to fall absolutely in love with Rome. So I wanted to incorporate the city into my story, as a tribute to my affection for its beauty.
Alex Corso is the book's main character and narrator. From the outset, the similarities between you, the author, and Alex are many. Is Alex your alter ego or your antithesis? Alex does have a lot of me in him, but he is not me. True, I can be and was a fool in love many times, but to the extent of Alex, I hope not. I did give Alex a similar job and purpose for being in Rome, but his story is not my story. Besides, I wrote him to be annoying at times, I'd like to think I'm not annoying… however, I suppose it depends on who would describe me. Ha!
Your book "The Love Fool," shows Rome as a vibrant haven for the young, the cosmopolitan and the celebrity class. Your view is far different than the religious and classical sense we often apply to the city. Yes, and I thank you for pointing this out. The Rome I describe in "The Love Fool" gives the reader another level to this magnificent city. Those of us who have travelled to Rome or read about Rome, or see it on TV, have been introduced to the classic sights – the Colosseum, the Vatican, La Fontana di Trevi. However, "The Love Fool" is meant to take you back to Rome and experience it through a different lens. The book makes the reader see a different side to the city that is modern, thriving and continues to be influential.
Your character Alex leaves America for Italy. Perhaps a temporary adventure… but then again maybe not. We see a lot of young people today, like Alex, wishing to live and work overseas. Why the attraction to leave America for Italy or elsewhere? The attraction is the simple glamor of being in a place that is unlike our daily and oftentimes monotonous environment. We seek an escape from a life of working, working, working; to hopefully live a decent life. In Italy, we see how life can be fulfilling. Italians go to work too of course, but the work does not dictate their lives. They appreciate the quality of life – the food, the people, the surroundings, and the air. All of it makes Italy a desirable place to live.
This is your first novel. Do you have plans for a second novel? Or some other creative work? I am trying to write a second novel. I don't know how I'll get it completed – I still can't believe I finished The Love Fool. As I try to work on novel #2, I also blog about my travels – focusing on culture, food and modern life. In addition, I've contributed to some publications about cocktails and food. So I'm experimenting with different creative projects. But, I know I do want to complete that second book.
Editor's Note: You can purchase "The Love Fool" by logging on to www.thelovefool.com.
RENOVATING A PROPERTY IN ITALY – HOW TO AVOID COMMON MISTAKES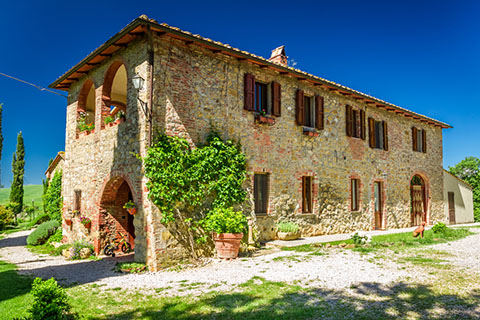 Spring has arrived so it would be timely to discuss a common issue I encounter every year; foreign buyers being seduced by an inexpensive house and an idyllic location. Buying and renovating a property in Italy is an all-too‐common scenario in the Bel Paese. It is also an all‐too‐common scenario for these projects to end in heartache. Unfortunately, I usually don't get to meet these buyers until they have spent far more than they expected and need to fix the problems they are experiencing. If you are thinking of taking on a house renovation project in Italy this year, taking on an Italian lawyer at the outset will save you time, money and anguish. What are some of the common mistakes buyers make and how can they avoid them?

No matter how experienced you are, renovating a property is a stressful and time-­‐consuming process. Even more so if you are abroad, can only visit Italy periodically and you may not be a fluent Italian speaker. Unless a project is guaranteed to give you your dream home, or make you money, you may be taking on the wrong property. It is vital you assess the property's potential and have a clear idea of your goals. Don't wait to discover major structural defects or additions built without planning permission until it is too late. Engage an Italian lawyer who speaks your language. Your lawyer will work on your behalf to conduct thorough due diligence during the purchasing process – any non­-compliant additions, features or legal issues will be discovered before you buy the property. A lawyer can also assist you with obtaining a building survey. Undertaken by a geometra, a survey will provide information on the construction and materials used, and will give details of any defects found, their remedy and an indication of the likely cost. It is also worth commissioning a measured survey of the building, providing you with a detailed set of floorplans and elevations upon which to base your proposed alterations.

Under no circumstances, should you ignore requirements of the Italian law, as it will eventually catch up with you, so do not undertake any work without first checking whether you need to satisfy the following requirements:
• Planning permission
• Building Regulations approval
• Notification of neighbours
• Notification or permission from others. Your lawyer could advise you if the deeds contain restrictive covenants, leases or other overriding interests in the property and land estate.
If you do not obtain in advance the required planning permission, you may apply retrospectively, but this is not always possible and if the Italian Court rejects your retrospective application, your illegal works can constitute a criminal offence and the Italian State may seize your property. It is likely to be a very lengthy and costly process to get your property back.

Editor's Note: This article was submitted by Giandomenico De Tullio, De Tullio Law Firm, International Law Practice, Taranto, Apulia, Italy. https://www.detulliolawfirm.com/
SAVE OUR LADY OF MOUNT CARMEL - WORCESTER, MASSACHUSETTS
Mount Carmel Preservation Society Continues to Pursue Further Options and Is Turning to City and State Leadership to Halt Demolition Until Other Options are Addressed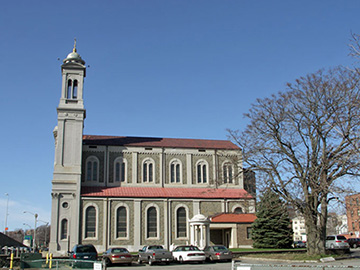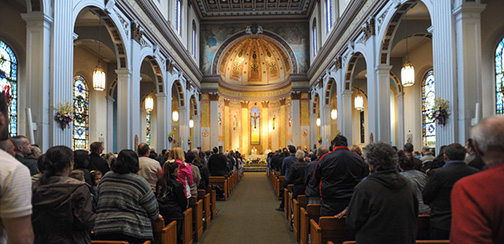 "If we learn anything, it's demolition of a historic landmark should not be an answer for financial gain. There is much regret about Notre Dame Church being demolished; as with it comes the loss of an important piece of Worcester's history, identity and unique character. The City of Worcester should not have another historical church go the same route and be demolished!" says Mauro DePasquale of the Mount Carmel Preservation Society, in Worcester.
Our Lady of Mount Carmel was a parish founded by Father Gioacchino Maffei in 1906 to serve Worcester's growing Italian community. The Romanesque style church, located today on Mulberry Street in Worcester, was built after 1924 when funds from the Italian community were raised for its construction. The parish has been a mainstay of Roman Catholic worship in Worcester. Besides the church, the parish contains a recreation center, owns and maintains low income apartments and hosts a number of charitable and community events.
The local diocese seeks to demolish Our Lady of Mount Carmel with no church to take its place. Options still exist to save Our Lady of Mount Carmel and time is needed to address them. The Mount Carmel Preservation Society (MCPS), is a nonprofit organization of parishioners that have been diligently working to save the Church by numerous measures: Hiring a Canon Lawyer; filing two appeals (still pending) in the Vatican, challenging the Bishop of the Diocese's decrees eliminating the parish and ordering permanent church closure: developing better asset management and promoting a solid fundraising plan to cover restoration and maintenance costs over the long term. Members are now asking the State Department of Capital and Asset Management to look into the matter.
"Any commercial buyer of the church property could be in violation of a deed restriction imposed by the Commonwealth of Mass. in 1947," says DePasquale. "In the deed, grant to the Diocese is an express condition that the property must be 'used for religious, educational, or recreational purposes, otherwise the same is to revert to the grantors.'" MCPS believes that the Commonwealth has the right to enforce this restriction and recover title to the property in violation of that restriction. "This condition is still enforceable and continues to remain in effect. The State has a responsibility to investigate this matter and local leadership needs to halt any further attempts to demolish this historical church before it's too late."
Buildings age and deteriorate, as time goes by, and it takes long term maintenance planning and budgeting to restore and stabilize them. DePasquale says, "Although the Diocesan leadership has refused our engineer an opportunity to enter the building for inspection, we believe, in spite of their lack of transparency, and the apparent demolition by neglect that is taking place, such planning, along with proper asset management and a sustainability plan, is all that is needed to preserve the church. The façade work was completed and the City of Worcester's Building Commissioner stated the church structure was safe and sound. We believe preserving this historical church is possible."
If the Diocese allowed the church to be listed on the historical register, grants might be available for building upgrades and enhancements. "Isn't it our duty to preserve this architectural and historic treasure?" asks DePasquale. "We believe in doing so, many new Catholics moving into our growing city, and those estranged Catholics who would like to return to a more transparent church, would support it through donations and pledges, to save it."
Editor's Note: To learn more about Our Lady of Mount Carmel and the effort to save it, please log on to www.preserveouladyofmountcarmel.org.
LET'S CELEBRATE VETERANS ORGANIZATIONS THIS MEMORIAL DAY
By Joseph A. DeLuca, Member and Former Commander of Italian American Veterans of Luzerne County, Pennsylvania, Post #1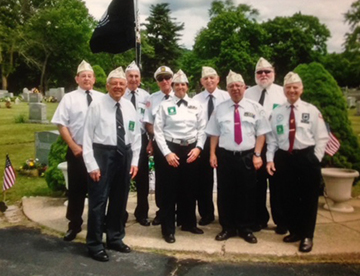 As we approach Memorial Day, our thoughts and memories surround those loved ones who have gone away from us. We especially remember those sons and daughters who left home to fight wars and to protect our liberty and freedom.
Many veterans have found peace by joining a veterans club or organization such as ours, the Italian American Veterans of Luzerne County, Post 1, in Northeast Pennsylvania. I am a member of this fine organization and served as its commander. We were once a large group but recently we have seen a downward slop in membership and involvement. We still participate in many civic and military events. Our members are still prominent local leaders, judges, businessmen and entrepreneurs. We still provide many improvements to the local Veterans Hospital located in Wilkes-Barre. We continue to support the Letterkenny Army Depot Chapel, near Chambersburg. This chapel was built by Italian prisoners of war in World War II. Once, there were 1,200 Italian soldiers detained at this military facility.
Many members are growing older and passing away with no new members joining our group. This issue is being faced by many other organizations all over the country. New tactics and methods are tried. Membership retention is our biggest problem. On this Memorial Day, let us commemorate all Veterans Associations in America! Let us recall that if not for the sacrifices made by our veterans, our country, our freedom and liberty would not exist.
BOOK REVIEWS - THREE BOOKS FOR AND ABOUT ITALIAN AMERICANS
The Wolves and The Mandolin
Chiriaco Summit
Let There Be Light


THE WOLVES AND THE MANDOLIN
Celebrating Life's Privileges in a Harsh World
By Brandon Vallorani
Published by ForbesBooks
Available at Amazon.com, Barnesandnoble.com
Brandon Vallorani is the founder of Vallorani Estates and Vineyards.
He recently hosted the first-ever Italian festival in Dallas, Georgia, where he lives today with his wife and seven children. Brandon has been successful in business before and after earning an MBA in business management in 2004 from Thomas More College. His Italian blood, however, pushes him forward to get more out of life than just the bottom line. His new book, "The Wolves and the Mandolin," is the story of his life, thus far; one that is quintessentially Italian, where the virtues of faith and family go hand in hand with business and entrepreneurship.
In the beginning of the book, Brandon recounts the real-life story of his great-uncle who traveled the countryside in Abruzzo. He came across a pack of wolves and a nearby tree was his only means of escape. He took refuge on its highest limb and with nothing else to do, he took out his mandolin and started playing music for the hungry wolves below. Brandon sees this as a metaphor for how to live one's life. He writes: "The world can be a cold, dark place full of hungry wolves biting at your ankles. Should we lock ourselves indoors and hide? No. We should pick up our mandolin and stride onward, bringing joy to our fellow travelers on earth."
Brandon's family came from the village of Offida in Italy's La Marche region. His great-grandfather Luigi, a veteran of the Italo-Turkish war, had immigrated to America only to return to Italy with his young son after his wife died. It was Brandon's grandfather Eugenio who eventually settled in America and worked as an engineer for Westinghouse. Brandon looks back on his great-grandfather's life as an example of perseverance and sacrifice. He writes: "Never give up. It took three tries for my great-grandfather to have a son who survived to carry on the Vallorani name. He never stopped trying to do more. While he did not settle in the United States to pursue the American dream for himself, he achieved it for his family by planting the seeds of success. We reaped what Luigi sowed."
What we find from reading "The Wolves and the Mandolin" is that an appreciation for the past is a vital component to personal achievement in the present. As Brandon writes: "I owe so much of who I am to my parents and to the values they instilled in me, both through what they said and, more importantly, what they did…Both of them are devout Christians…Without those tools - love, faith, and willingness to take on a tough job - I'd not have enjoyed the successes I have. I'd rather leave my kids a legacy of solid values than of merely money."
"The Wolves and the Mandolin" is an ideal book for Italian Americans to read. It is the Italian way to success, where business and the good life are pursued with equal vigor.
CHIRIACO SUMMIT
Built by Love to Last in the Desert
An America Success Story
By Mary Contini Gordon
Available at Amazon.com, Barnesandnoble.com; or if in the area, at the Summit, The Patton Museum, and Joshua Tree National Park.
Dr. Mary Contini Gordon gives us a compelling and entertaining true American epic in "Chiriaco Summit."
This is an awesome book.
An especially arid part of the Southern California desert is where Joe Chiriaco, a self-taught surveyor, envisioned a gas station and small cafe along a dirt road that became Highway 60 and then Interstate 10 in California. His fiancé Ruth Bergseid believed in him so much that she helped finance the project. Land was leased to Chiriaco from a sheep rancher in 1933 and what later became Chiriaco Summit was born. The couple married in 1934 and worked day and night to build what is today a world famous traveler's stop.
Dr. Contini Gordon's previous book "TIQ SLO'W" was about a modern day Indian chief and his work to protect ancient Indian burial grounds in California. She now delves closer to her Italian background in "Chiriaco Summit." She gives us an account of 20th century history through the eyes of an Italian American family at their traveler's stop.
In the beginning of "Chiriaco Summit," we see the desert as a means to bring life to Los Angeles. Aqueducts were built through there to transport water. In the Great Depression, people who lost their farms in Oklahoma and elsewhere, reminiscent of John Steinbeck's "The Grapes of Wrath," make the trek to California and stop along the way at Chiriaco's gas station and cafe. When World War II begins, none other than General George S. Patton becomes a regular customer. His troops train nearby to fight later in the African desert. The postwar years bring a new Interstate, expansion of our hydrocarbon society, changing culture and demographics of the 1960s. All this happens as the Chiriaco family survive and strive to retain and build their family business.
"'Chiriaco Summit'…chronicles the development of a small business started by a son and daughter of immigrants; today the business is owned and operated by the second, third and fourth generations," writes the author. Midway in the book, she considers the survival ethic of the Chiriacos: ""Sweat, literally and figuratively, got the summit off the ground…but it flourished because Ruth and Joe invested their hearts in a community of people who in turn invested in doing whatever it took to make the Summit mission a reality—Serving the World on Wheels."
Dr. Contini Gordon gives us a wealth of historical detail in a narrative of a true American family who built something to last generations. Most special about "Chiriaco Summit" is that it reaffirms the belief in America that brought Joe Chiriaco's father Vincent from Nicastro, Calabria in 1898. That America, with its freedom and fair-minded spirit, allows anyone to make it if they work hard and play by the rules. The Chiriacos did just that and we are all grateful to Dr. Contini Gordon for bringing us their incredible story.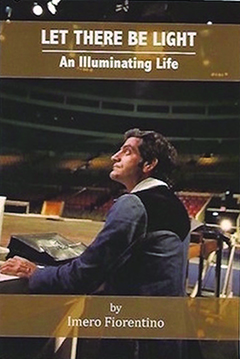 LET THERE BE LIGHT
An Illuminating Life
By Imero Fiorentino
Call to order 1-888-795-4274
Or log on: www.imerosmemoir.com
Lights, camera, action!
The famous command of television directors - at least the first part of it - was often relegated to the ingenuity of Imero Fiorentino.
Now comes his memoir "Let There Be Light;" a record of one man's extraordinary technical achievements in America's entertainment industry.
Son of Italian immigrants, Fiorentino was responsible for lighting television shows and live events in a career that spanned decades. He was a true pioneer in his field who once worked for ABC in the 1950s when programs were broadcast live. A graduate of Carnegie-Mellon, Fiorentino created many of the lighting techniques that are commonplace today in television.
"Let There Be Light" is a wonderful book about a fine Italian American. Fiorentino did the lighting for political debates and conventions, the Muhammad Ali and Joe Frazier bout at Madison Square Garden in 1971, the Bolshoi ballet's first televised performance in 1959; Frank Sinatra, the Main Event, 1974 and the California Jam on ABC in 1974 that featured Deep Purple, the Eagles, Black Sabbath, and more.
One of his first jobs was creating the lighting for "Pulitzer Prize Playhouse," a live drama series on ABC in the 1950s, that featured, among others, Ralph Bellamy, Anne Bancroft, and Grace Kelly.
"The work was demanding and loaded with pressure," the author writes. "The hours were long - fifteen - to eighteen-hour days, seven days a week - but there were no complaints from me."
Although Sicilian, Fiorentino was well-known for his calm composure. There was only one occasion when he lost his cool. Director Alex Segal "…was insisting on a lighting effect that simply couldn't be done…and I sailed my clipboard across the room...I retrieved the damaged clipboard and made up my mind to keep it and to never use another…One corner is missing and it looks pretty shabby. I love that clipboard."
Fiorentino was a good friend of PRIMO's who once wrote a piece for our Readers' Corner department titled "Mammina Power," about his no-nonsense and deeply devoted Sicilian mother. Thus, we welcome his new book, albeit on a bittersweet note. Fiorentino died in 2013 and his surviving wife Angela made it her mission to get the book published posthumously.
We're glad she did.
"Let There Be Light," is an entertaining and historic account of a true television pioneer. Fiorentino retells a life lived to the highest levels of craftsmanship and professional acumen. "Let There Be Light" should be read by anyone who loves the art of television, cinema, and live events. This book reminds us what it takes to be the best at what one does.
AMNESTY INTERNATIONAL CLAIMS ITALY TARGETING NGO RESCUE SHIPS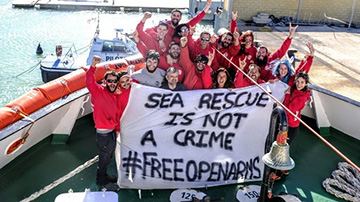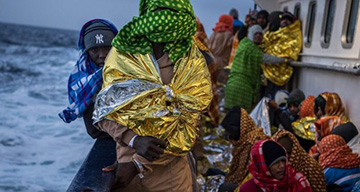 Seizure of a Spanish NGO rescue boat by the Italian authorities and the investigation of its crew for "criminal conspiracy aimed at facilitating illegal immigration" after they refused to hand over to the Libyan Coast Guard refugees and migrants rescued in international waters over 70 nautical miles off the Libyan coast, Amnesty International's Campaigns Director for Europe, Fotis Filippou said:
"By requesting the Libyan coastguard to coordinate rescue and then impounding the NGO ship that refused to hand over the refugees and migrants, the Italian authorities have shown a reckless disregard for common decency. Rather than being criminalized for trying to save refugees and migrants who have fled horrific detention conditions and systematic human rights abuses in Libya, NGOs saving lives at seashould be supported.
"The Italian authorities are once more revealing where their true priorities lie: namely shutting off the central Mediterranean route, with scant regard to the suffering caused. This appears to mark yet another step towards the outsourcing to the Libyan Coast Guard of the patrolling of the central Mediterranean.
"It is time for European governments to urgently reset their cooperation with Libya on migration. Their callous complicity with smugglers, criminals and torturers must end and the safety and the rights of refugees, asylum-seekers and migrants must be prioritized."

The rescue vessel Open Arms was seized on Sunday, March 18, in the Sicilian port of Pozzallo and the Italian authorities stated they are investigating the group for suspected criminal association aimed at aiding and abetting "illegal" immigration.
Marking a significant departure from previous rescue operations in the central Mediterranean, usually coordinated by the Italian Coast Guard, Italian authorities have stated that Friday's rescue operations in international waters were conducted under the coordination of the Libyan Coast Guard, who have received in past months speedboats, training and further assistance from various European governments and institutions. Refugees and migrants intercepted by the Libyan Coast Guard are disembarked in Libya and immediately transferred to detention centres where serious human rights violations, including arbitrary detention, torture and other ill-treatment, and exploitation have been widely documented.
European Governments should condition their support on ensuring that Libyan authorities bring an end to the policy of indefinite arbitrary detention of refugees, asylum-seekers and migrants, recognize UNHCR and allow it to exercise its full mandate in the country. European governments must also provide sufficient resettlement opportunities for the refugees stranded in Libya, establish a solid monitoring of the operations of the Libyan Coast Guard and most importantly ensure people rescued at sea are not taken back to Libya until the protection of their rights can be guaranteed. For more information, please log on to www.amnestyinternational.org.
RENOWNED SCULPTOR SPEAKS OUT AGAINST PROPOSED PLAQUE AT COLUMBUS CIRCLE NYC
Patrick Morelli Sculpted The "Behold" Monument to Dr. Martin Luther King at
King National Historic Site in Atlanta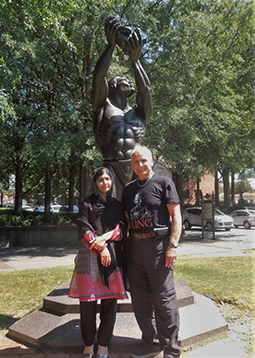 Photos: Top, separate casting of "Behold" infant acquired by the Smithsonian American Art Museum for its permanent collection in Washington, D.C. Above left, January 11, 1990, King National Historic site, Atlanta, Georgia, Mrs. Coretta Scott King, actor John Amos, who played Kunta Kinte in "Roots", and "Behold" sculptor Patrick Morelli unveil the 10 foot "Roots" inspired "Behold" monument to Dr. King for his moral courage and nobility of spirit overlooking the Kings' tomb. Right: September 3, 2017, Miss Malala Yousafzai, a courageous champion of human rights and the youngest person to receive the Nobel Peace Prize stands with sculptor Patrick Morelli in front of the "Behold" monument.
Add plaques at Columbus Circle expressing negative historical interpretations and commentary about Columbus by one group or another--"absolutely not!"

Imagine a policy ordering the National Park Service to post prominent plaques around the Washington Monument in D.C. that our first President owned over two hundred slaves, and after his wife's death, "inherited" an additional one hundred slaves, all of which he kept as an "enlightened" white slaveholder--and additional posted signs regarding negative interpretations of the contributions of Jefferson, Lincoln, and Einstein posted around their public sculptures in D.C. and nationwide. And add to such a negative supposition the removal or attachment of negative commentary to all statues in the United States glorifying the courageous and important civil rights, political freedoms, and military service contributions of Spanish Americans whose Queen, Isabella, of Spain financed the 1492 Columbus voyages to the New World.

When will Italian-American organizations and Italian-American media throughout the United States begin a very active, positive national campaign—in all media, Entertainment, News, and Advertising, and on all university and college campuses--to educate the American public, and the world, regarding Italian-American contributions to Civil Rights and human dignity—one of many historically significant examples, US Congressman, Peter Rodino, Jr. a major proponent of the 1964 Civil Rights Bill (see him standing in published photos next to Dr. King and President Johnson as the President signs the bill into Law).

This would help to create a long-overdue, persistent and determined national united effort among Italian-Americans, Italian-American organizations and friends to overcome negative popular media portrayals and bigoted and misinformed (mainly academic) historical interpretations, perspectives, and protests regarding the contributions and history of Italian Americans to the United States—from 1492 to the present day.

In 1990 Mrs. King unveiled the "Behold" Monument, dedicated to her late husband, overlooking his tomb (and that of Mrs. King's, by her wishes after her demise in 2006) where it is viewed, annually, by over 1,000,000 American and foreign visitors. It is an inspiring story of how I worked for over ten years with Mrs. King to create "Behold" and, independently, raise the casting, transportation, and installation costs of the monument. 

I am currently seeking opportunities to present my story to Italian-American organizations. My hope is that by learning of my efforts to sculpt the "Behold" statue that Italian-Americans will be inspired further to show our rich history in supporting Civil Rights in America.
Editor's Note: You can find out more about Patrick Morelli by visiting his web site at www.Morelliart.com. Mr. Morelli is currently looking to collaborate with a major architect to compete for a major public memorial to Dr. and Mrs. King to be sited in Boston. A deadline of February 28 is set by memorial organizers. Please contact Mr. Morelli by email at morelliart@aol.com.

THE SPIRIT OF CHRISTMAS SHINES BRIGHT IN DYKER HEIGHTS
No Place Compares to The Italian Neighborhood in Brooklyn for Holiday Decorations
PRIMO photo exclusive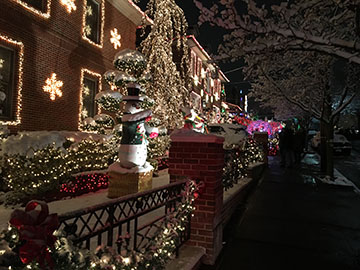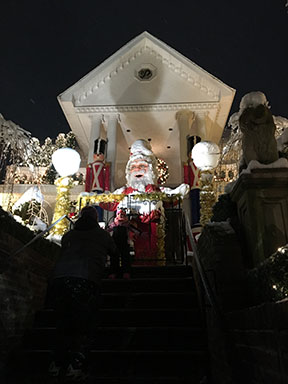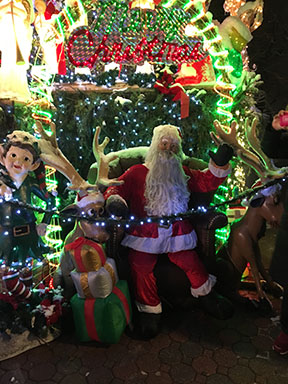 A NEW KIND OF DINING
By Joe David
Photos by Nicole D'Amecourt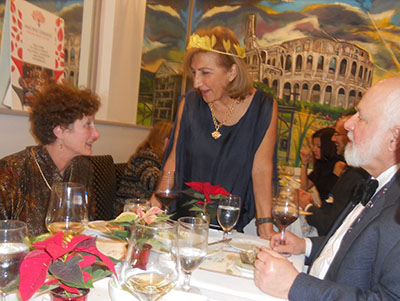 Dr. Zoe Kosmidou with guests
Chef Luigi Diotauti and Dr. Zoe Kosmidou
Chefs Luigi Diotauti and Amy Riolo
A new kind of dining has come to Washington, in which each meal is spiced lightly with some history and culture.
This blending of history and culture to highlight a memorable meal is the brainchild of Dr. Zoe Kosmidou. For some, Zoe is a new face in the city, the recent founder and president of Ancient Dinners LLC; for others, she is a world-traveler who has for many years represented Greece at its embassy in Washington, D.C.
 
Ancient Dinners is for Zoe a blending of two loves, travel and food, and each Ancient Dinner highlights a different country around the world, gastronomically with family-style food, based on ancient recipes and created with original ingredients that are indigenous to the country.
 
A recent gathering was the third Ancient Dinner in a series that will continue next year as well. It was held at Aperto Restaurant in Washington, D.C., and it was billed as a Roman Cena. For the select diners, it was an educationally enriching experience, in which the ancient foods of Rome were introduced by two engaging personalities, Chefs Amy Riolo, author and television personality, and Luigi Diotaiuti, proprietor of Aperto and Al Tiramisu.
 
In the spirit of Virgil and Apicius, two famous Roman devotees of fine food, the charming duo of Luigi and Amy lifted the evening to Olympian heights, and filled it with their intimate knowledge.
Ancient Dinners began this fall to celebrate the traditions and the cultures around the world; its goal is to offer guests a cultural experience that goes beyond just food. Like the ancient Greek symposia, or Deipnosophistaí, "I want us to eat, drink and engage in learning guided by two prominent historians and gastronomists," Zoe told guests as she lifted her wine glass in a toast to the moment. "Thank you all for coming. Alla salute!"
 
To learn more about the series, visit www.ancientdinners.com
Editor's Note: Joe David is the author of numerous articles and six books, including Gourmet Getaways: 50 Top Spots to Cook and Learn, and The Infidels. www.bfat.com
BATTLE LOST - OUR LADY OF LORETO IS DESTROYED
By Truby Chiaviello, Publisher & Editor PRIMO Magazine
Before - Our Lady of Loreto once contained a beautiful interior for Mass said to a flock of devoted Italian American Catholics
After - Our Lady of Loreto today, on the cusp of total demolition, as requested by Bishop Nicholas DiMarzio, of the Brooklyn archdiocese.
Our Lady of Loreto has been destroyed.
The Brooklyn archdiocese got its way. And the church, built by Italian immigrants over 100 years ago, is now being demolished.
One photo was taken by my son Samer last week. You can see how the church is boarded up. No doubt this is a demolition site. You can see how the roof has been removed and, thus, the interior. It is reminiscent of what happens to a building that had a bomb dropped on it.
The church was near a subway stop. I visited there in 2009. Our Lady of Loreto was located on 124 Sackman Street in Brooklyn. Part of Brownsville or Ocean Hill neighborhood in Brooklyn. Some refer to the area as East New York.
This neighborhood was once a densely populated Italian neighborhood. About 110 years ago, the Italian immigrants wanted a Catholic church of their own. A house of worship that conveyed their language, customs and traditions. So, they volunteered their money and labor. Many of the men who lived there were carpenters and bricklayers and had experience in construction.
They hired an Italian architect and built a beautiful church. You can see photos here from the web site devoted to Our Lady of Loreto, a web site maintained by Dominick Mondelli. The interior was beautifully designed. There is a ceiling mural. A statue of San Innocenzo at Loreto. Here is a photo of Mass at the church in 1937. You can see that it was well-attended and made up of many devoted parishioners.
In the 1960s, Our Lady of Loreto was turned over to the Brooklyn archdiocese. And 40 years later, the archdiocese wanted to tear it down. That's when PRIMO got involved. I published a feature article on the effort of Italian Americans who once lived in the neighborhood, who attended Mass there at Our Lady of Loreto, who were baptized there, had their first communion and confirmation there; and so they organized to save the church.
Besides PRIMO, the Italian Tribune, mainstream newspapers and news sites in New York such as the New York Times and the Daily News and others brought a lot of publicity to the preservation effort. And all things were offered to the archdiocese including a creative development idea that preserved the church.
This was back in 2009 and 2010 and the Brooklyn archdiocese agreed to retain the church in return for demolishing the rectory next door. The archdiocese was supposed to upkeep the structure and they didn't. And here is where one wonders about the intentions of Bishop Nicholas DiMarzio and other officials of the Brooklyn archdiocese. Did they intentionally allow Our Lady of Loreto to deteriorate so they could claim it as a danger to the community and apply for demolition? This is what happened over the last 18 months. The fight to preserve it included petitions and donation drives.
Now, you hear the news about how divided is America. Well, the activists involved came from all walks of life. Not just Italian Americans, but people who live in the neighborhood or are active in it - these were African Americas who's ancestors come from different parts of Africa and the Caribbean - these were Latinos - Asians - everyone was involved to keep Our Lady of Loreto because they all recognized it as a beautiful church - a real work of art in so many ways.
In the end, however, the fight was lost. The legal appeals exhausted and the archdiocese had their way - and Our Lady of Loreto is being torn down.
In its place will be affordable housing.
You can see photos here, taken by Todd Maisel, of The Daily News, how the the murals, statuary, the decorative elements - all being beaten and destroyed. The time it took to build them, the craftsmanship, the artistry - all for nothing - destroyed.
Very sad.
This is not the only church to face its extinction. PRIMO reported on St Peter's in Duluth, Minnesota and the effort there by Robin Mainella to save it. The situation began also around 2009 and I wanted both churches to survive. But I thought if one was going to face it's demolition, it would have been St. Peter's. Instead, the opposite happened. An artist by the name of Jeffrey T. Larson purchased St. Peters and has now turned it into an art academy.
One wonders, why couldn't the same thing have happened to Our Lady of Loreto. This part of Brownsville is still knee deep in poverty and dispossession. It remains a place plagued by urban decay. People need more than just a roof over their heads. They need inspiration from art. They need faith. One wonders why the Brooklyn archdiocese didn't sell the property to another denomination - perhaps a Protestant faith - now prevalent in the area. In return for keeping the church and its interior decorations, the people there could have a place of worship. It is not unusual for Catholic churches to be converted to Baptists and other Protestant denominations.
Unfortunately, that's not the case. The turning point was when the parish turned itself over to the archdiocese. Any time you build something, you should try and keep it, because those whom you hand it over to, really don't care and they will destroy it when the moment arises.
The silver lining are the activists, all ethnicities and backgrounds, that tried to save Our Lady of Loreto. We commend them for their efforts. We commend also the Italian immigrants who built this church. They came to build up the city and not tear it down - unlike the archdiocese and now even some others in local government that want to tear down statues of Columbus and others.
We learn from this sad situation, that the effort to preserve our Italian heritage in New York and all over America is well worth the fight and we have to keep fighting whenever we are faced with destruction of our heritage.
Here is a list the people who fought the good fight to save Our Lady of Loreto. If I missed anyone, please let me know, as I want to include anyone and everyone who fought the good fight. We commend the following people who led the effort to preserve the church.
Flavia Alaya
Gianfranco Archimede
Simeon Bankoff
Patricia Dean
Jeff Dunston
Gerald Ferretti
Barbara Florio
Lester Ford
Louis Gallo
Marialena Giampino
Monica Kumar
Farrah Lafontant
Donny Mondelli
Jillian Mulvihill
Barabara Anne Pascucci
Charles Piazza
Stanislao Pugliese
Miriam Robertson
William Russo
Joseph Sciame
Paula Segal
Zulmilena Then
Mario Toglia
Gabriella Velardi Ward
Marilyn Verna
Lakai Worrell
Here is a link to the web site devoted to Our Lady of Loreto in Brooklyn. http://www.loretochurch.com. Below is a YouTube video presentation on the destruction of Our Lady of Loreto.
Alan Pascuzzi is the subject of a feature article in this current issue of PRIMO - 4th edtion 2016. Based in Florence, Italy, Pascuzzi has created works of art for churces, public and private clients. To learn more about his background and work, read this current edition of PRIMO or log on to his web site at www.alanpascuzzi.com.
73RD ANNUAL COLUMBUS DAY PARADE NEW YORK
73rd Annual Columbus Day Parade New York
Line of March
Monday, October 9, 2017
Laying of Wreath at Columbus Circle - Sunday, October 8, 2017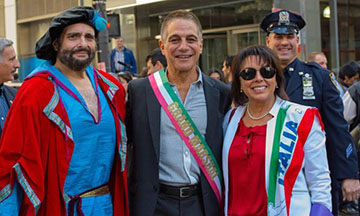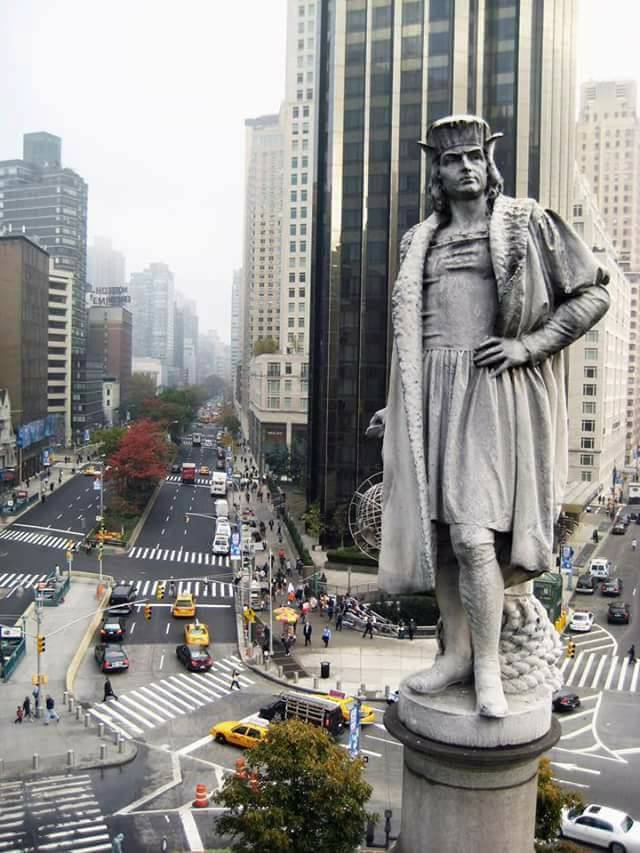 2017 LINE OF MARCH
Parade information provided by the Association of Italian American Educators (AIAE). Please log on to their web site at http://www.aiae.net
AIAE is proud to participate in the 2017 Columbus Day Parade on October 9. Please join us to celebrate our Italian Heritage
PARADE NOTES
Blue = Entry from Police Group;
Yellow = Entry from Float Block;
Green = Entry from Fifth Ave (TBD)
Grey = Entry from 44th between 5th & 6 th
GROUP C
Block Captain: Charlie Unger
Assemble at 11:30am at 46th Street between 5th & 6th Ave, facing EAST
BAND: Bernard's High School Mountaineer Band
VEHICLE: Alfa Romeo Service Van (Yellow)
FLOAT: Alfa Romeo Float (Yellow)
NYS Comptroller Thomas P. DiNapoli
Port Authority of NY & NJ Police Columbia Association (Blue)
FLOAT: Italian American Police Society of New Jersey (Yellow)
Nassau County Sheriff's Department Columbia Association (Blue)
F.L.E.C.O
VEHICLE: FLECO vintage Cars
Hartford Police (Blue)
Additional Police Groups from NY State, NJ, CT (Blue)
New York City Comptroller Scott Stringer
BAND: Bishop Kearney High School
Bishop Kearney High School (marching group)
FLOAT: Barnes & Noble Book Distribution Float (Yellow)
Garibaldi Lodge #542, Grand Lodge Free & Accepted Masons of New York
Circolo Santa Margherita Belice
Mayoral Candidate Nicole Malliotakis
Italian American Women's Center
Italian Welfare League (Marching Group) (Yellow)
FLOAT: Italian Welfare League (Yellow)
BAND: Wagner College Seahawk Marching Band (Yellow)
FLOAT: Wagner College (Yellow)
BAND: Connetquot High School Marching Band
FLOAT: Gabelli Funds (Yellow)
Bo Dietl for New York City Mayor
BAND: West Islip High School Marching Band
Tribute to Arturo Toscanini with Giueseppe Verdi and UNESCO
FLOAT: CBS Radio (Yellow)
VEHICLE: Fresh FM (Yellow)
Morgani Medical Society
VEHICLE: L'Arte Del Gelato Truck and Fiat
Association of Italian American Educators (AIAE)
Sacred Heart Academy
FLOAT: RC Diocese of Brooklyn (Yellow)
BAND: North Hunterdon High School "Golden Lions" Band
FLOAT: Formaggio (Yellow)
Federation of Italian American Societies of NJ
WATCH THE PARADE ON TELEVISION
Parade Telecast: WABC Channel 7, 12:00 Noon to 3:00 p.m. Monday, October 9, 2017
Parade chairman: Aldo Verrelli
WHERE TO SEE THE PARADE IN-PERSON
Grand Stand and Reviewing Stand Locations
West Side of Fifth Avenue on 67th and 69th Street
PARADE NOTES
Identifier issued to your group at the assembly area by your group captain
Assembly: Time and place indicated in Parade Order
Move Out: First contingent 11:00 a.m., regardless of weather
Formation: Eight (8) Abreast, Except for Musical Units and Color/Honor Guards
Dismissal: Fifth Avenue and 72nd Street, as directed by the police department (Buses meeting groups should park to pick up on 75th-79th Streets between 5th Avenue and Madison Avenue, according to instructions by the NYC police department.)
Bands: High school bands will be judged as they march (Do not break formation or stop on the Red Carpet.)
Bus instructions: Make sure to ask for your driver's cell phone number so you can contact him/her after the parade is over.
Groups assembling East of Fifth Avenue travel North on Madison Avenue to designated street
Groups assembling West of Fifth Avenue travel North on Sixth Avenue to designated street
After drop-off, participant buses should proceed to East 75th Street and park according to police department instructions.
Floats: All personnel riding or walking with a float will meet at the designated staging area assigned to your float. Floats will enter line-of-march as directed by parade captains.
With the threat of removing the statue of Columbus from Columbus Circle we encourage all to also join us at the laying of the Wreath for the Columbus Statute by the National Council of Columbia Associations in Civil Service on October 8, 2017. Our Ancestors in 1890 donated the statute with small donations from Italian immigrants in appreciation of being Americans. Where: Columbus Circle, NYC. When: Sunday October 8, 2017.
A RARE RETROSPECTIVE EXHIBIT - OUTSIDE ITALY - ON RAPHAEL
29 September 2017 – 7 January 2018
Albertina Vienna, Austria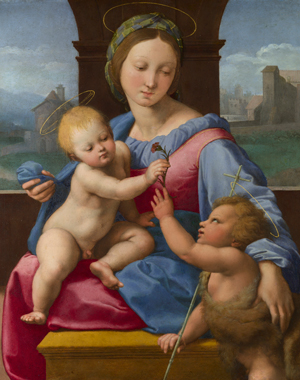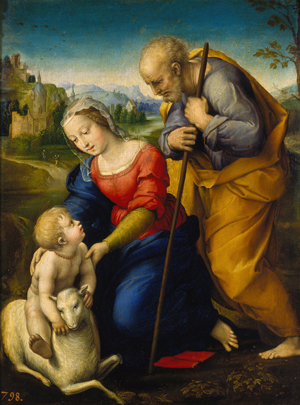 This autumn, the Albertina Museum in Vienna is paying homage to Raphael with a major presentation of 150 paintings and drawings that has been developed in cooperation with the Ashmolean Museum in Oxford, England. Starting from the Albertina's own significant holdings and rounded out by the most beautiful and important drawings from prominent museums such as the Uffizi, the Royal Collection of the British Royal Family, the British Museum, the Louvre, the Vatican Museums, and the Ashmolean Museum, this monographic presentation places Raphael's thinking and mode of conception front and centre: the featured works range from initial spontaneous artist's impressions to virtuosic detailed studies and compositional studies and on to completed paintings.
Editor's Note: You can learn more about the Albertina Museum by logging on to http://www.albertina.at
PRIMO REVIEW - "HUMAN CAPITAL"
A Follow-Up to Our Feature Article on Film Director Paolo Virzi in the 2017 Second Edition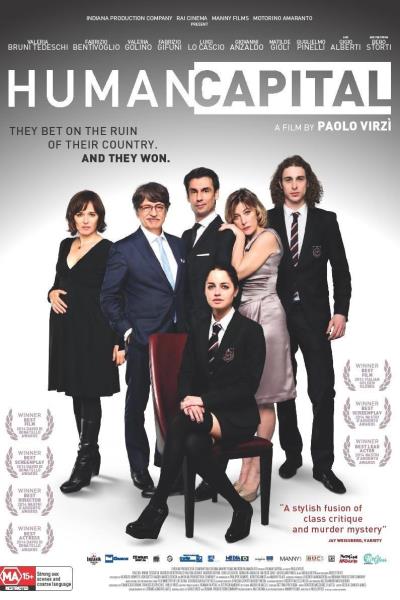 "Human Capital" was released in Italy in 2014 and here in the United States in 2015. It remains controversial for its depiction of Italy's wealthiest citizens in the province of Monza and Brianza, about 25 miles away from Milan, where located is Italy's stock exchange and many of Europe's top banks.
Paolo Virzi set the film in Brianza because he thought it most like Connecticut, the setting of the novel by Stephen Amidon, from 2004, in which the film is based.
"Human Capital" is about two families in Italy.
The first are the Ossolas; a middle class family with Dino, a real estate broker, played by the versatile actor Fabrizio Bentivoglio. Dino is divorced but has remarried Roberta Morelli, a child psychologist, who is played by Valeria Golino, who you may know from popular films "Rain Man" and "Hot Shots." Serena is Dino's teenage daughter from his first marriage and lives with the couple. She is played by actress Matilde Gioli.
The second family are the Bernaschis with Giovanni, played by Fabrizio Gifuni, as the patriarch. He is a manager of a successful hedge fund in Milan. His wife Carla is played by Valeria Bruni Tedeschi, older sister of actress Carla Bruni who as you might know is married to Nikolas Sarkozy former president of France. In the film both Giovanni and Carla live with their teenage son Massimilano, who is played by Guglielmo Pinelli.
Friends at private school, Serena and Massimilano form the connection between the two families. The film opens with Serena's father Dino driving her to the Bernaschi's home for a visit. While there, he is recruited by Giovanni to play in a doubles tennis match. After the game, Dino asks Giovanni if he can invest in the hedge fund. The answer is yes but the entrance fee is $500,000, far more than what Dino has in savings. In order to get the money, Dino presents a false business plan to a friend, a loan officer at a bank. He expects to repay the loan quickly knowing the high rate of return of the hedge fund. What happens instead is Italy's recession that puts a strain on the fund and Dino and Giovanni find themselves in a struggle to survive financial disaster.
The film comes to us in different parts; through the eyes of three characters, Dino, Carla and Serena. It is a style the director utilizes with compelling effect. We see the same events but by different perspectives.
It is through Serena's perspective where the ark of the film occurs. A tragic accident at night on a road near the Bernaschi's home implicates Massimiliano. Serena and her friend, Luca, played by Giovanni Anselmo are involved. The respective families face the crisis differently. The question arises as to how far will a family will go to survive scandal. The suspenseful ending is one you might not expect.
The actors and actresses in "Human Capital" fully capture the peculiarities, strengths and weaknesses of the characters. The most sympathetic was Carla Bernaschi, who we see, at first, living an empty life of daily shopping sprees. Her portrayal by Bruni is both subtle and effective. We see her chauffeured in Brianza to an old theater about to be torn down. She stops and tours the structure and then volunteers to save it. From money in Giovanni's hedge fund, she purchases the building and sets up a non-profit organization to begin restoration. Her new board of directors are writers, professors and local politicians who come across as snobs with little care to save the old theater. The restoration effort only comes undone after Giovanni's hedge fund starts losing money and they are forced to liquidate assets.
Here we see how all members of society are inherently connected to a select few of great wealth. It is Giovanni who is the film's central figure; always present in a big way; the person who controls the money and so controls the destinies of the other characters. The suggestion in the film is that Giovanni is morally corrupt. And yet, we don't see it. Yes, he's rich but that alone does not make him nefarious or unscrupulous. We only know snippets of what he does. The film would have been better if it had given us more details about his operations, where and how he invested his money. Hedge funds acquired the worst of reputations after the 2008 crash. And yet we know very little about them. This film doesn't help. With Giovanni, we don't see the unseemly way he acquired and retains his fortune.
"Human Capital" did not garner enthusiastic reviews when it came to the United States. Most critics noted its technique and style but found the story lacking. The reason for that might be how the rich are portrayed in the film. The trend today in America is class warfare. And any film that shows rich people in a balanced view is destined for criticism and even condemnation. Indeed, if anyone comes across as grossly morally corrupt in this film, it would be those of the lower classes. We see the character of Luca, fort instance, living in a rundown apartment with his uncle who is selling drugs. Another main character, Dino, is obsessed with money. He sees nothing wrong in defrauding his friend at the bank. Considering how well the rich of Brianza are portrayed in the film, one wonders why the leaders of the province had a problem with it in the first place.
"Human Capital" explores the pursuance of wealth by any means necessary and how the important things in life - love, family, honor - can fall to the side. The film however is not a negative dissertation of greed and materialism. Rather, the integrity of the director ensures a fair and just conclusion - one that still resonates and compels us to watch.
You can read more about the director of "Human Capital," Paolo Virzi, in PRIMO"s 2017 Second Edition. A copy of this edition can be purchased here.
PRIMO REVIEW: "WINTERHAWK'S LAND"
The New Novella by Actor Michael Dante; Featured in an Article in PRIMO's First Edition 2017
A Sequel to the 1975 Film "Winterhawk," Starring Dante in The Title Role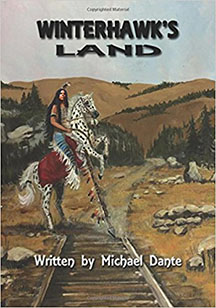 Award winning actor Michael Dante was the subject of a six-page feature article in PRIMO's First Edition 2017.

If you don't know the name, you surely know the face and the roles Dante played on television and in film.

Written by Brian D'Ambrosio, the article points out that Dante's family settled in Connecticut after they came from the Frosinone province in the Lazio region of Italy. As a young adult, Dante played professional baseball. As a result of a shoulder injury he attended the University of Miami as a drama major. Tommy Dorsey met and saw Dante in a play and arranged a screen test at MGM Studios and signed him to a 7 year contract. His time in Hollywood went well. He was steadily employed with appearances in some 30 films and 150 television shows. He was, perhaps, most famous for the character "Maab" in a Star Trek episode titled "Friday's Child," which aired on network television in 1967. Dante played the leader of the Capella humanoid tribe that battled Captain Kirk, Spock and Dr. McCoy, temporarily stranded on the planet. Maab was a hero who at the end sacrificed his life to save the native queen played by Julie Newmar.

Of all the genres in film and television, it was the Western, not science fiction, that became a staple for Dante. He played many characters who were outlaws, cowboys, and Native Americans. The actor's athletic build, olive skin and jet black hair were well-suited for roles as Indian chiefs and renegades. In PRIMO's article, Dante claimed he was one of only a few actors to play cowboys, both good and bad and Native Americans; something of which he is especially proud. He considers his best role as that of the titled character in the 1975 film "Winterhawk." He played a Blackfoot Indian chief in Montana who avenges the killing of members of his tribe for furs. He retaliates by kidnapping a white woman (who he eventually married) to exchange for medicine to cure a smallpox outbreak among his people and defeats the rogue frontiersmen who pursue them.

The role of Winterhawk inspired Dante to learn all he could about the Blackfoot Indian culture and their unique history in Montana and parts of Canada. Over the years he studied their language, customs and traditions and the land they settled in the Wild West. An accumulation of Native American history is now put to good use by the actor. He has written a new book based on the character he played; a sequel to the film, titled "Winterhawk's Land."

Published by BearManor Media, a Pulitzer prize nominated press in Albany, Georgia, "Winterhawk's Land" is almost 100 pages of text that comes with many original illustrations by the artist Dave Powell. The front cover summarizes the basic plot of the novella. Artist Inga Ojala renders in color the likeness of Dante in the role of Winterhawk. The Indian chief is seen on horseback blocking the path of an uncompleted railroad that aims its way through Blackfoot territory. Opposed to the use of his land, Winterhawk is the last obstacle faced by greedy railroad executives. They hire assassins to kill him and others of the tribe. After his wife Clayanna is assaulted by gunmen, Winterhawk sets off on a mission to confront his adversaries.

"Winterhawk's Land" is a novella to be read by anyone and everyone who loves Westerns. The book contains an array of characters, ranging from viperous outlaws and grisly frontiersmen to noble chiefs and stalwart braves. Dante knows his character well and makes Winterhawk approachable and, of course, likable to the reader. The chemistry between the chief and his wife Clayanna highlight a relationship that crosses boundaries of race and ethnicity in the American frontier.

Dante's knowledge of Indian customs and culture is commendable. He gives readers an indelible perspective of Native American life in the cold and rough terrain of sharp buttes, dense forests, and wide open prairies. We learn just how important religion is among members of the tribe. The ceremonies are many for Winterhawk and others. In one scene, the author captures a ritual of the chief before a key battle. He writes: "Winterhawk was silhouetted against the black sky. The wind was blowing and the distant rumble of thunder could be heard, coming in his direction. He stepped into the ring and knelt. The wind was picking up now and the rumble of thunder and lightning continued in the background. Along with the sound of the approaching storm, the soft beating of war drums and the faint sound of the ancient battle song of the Blackfoot could be heard… 'Great Spirit, give me the strength and guidance to fight my enemies,' said Winterhawk reverently. 'I seek strength not to be greater than my brother, but to fight my greatest enemy, myself.'"

The back cover contains thoughts on how Dante approached playing Winterhawk. The author says he "immediately identified" with the Blackfoot chief and tribe when he acted in the film. He sought to "make Winterhawk a spiritual man, adding many more nuances to his character."

"Winterhawk's Land" follows where the film "Winterhawk" left off, many years later. Dante has written an appealing addition to the Western genre. Nothing is more American than the interplay of good versus evil amidst huge mountains and untamed country. Dante's fresh and direct style of writing allows the reader to fully grasp the entirety of his story. PRIMO recommends "Winterhawk's Land" as a novella that brings out the best in the Western genre.
To learn more about "Winterhawk's Land" and to purchase the novella, please visit the publisher, BearManor Media, at www.bearmanormedia.com and/or the author at the web site michaeldanteway.com for a personally autographed copy.
REVIEW OF "FIRE AT SEA"
A Film About Italy's Illegal Migrant Crisis and The Island of Lampedusa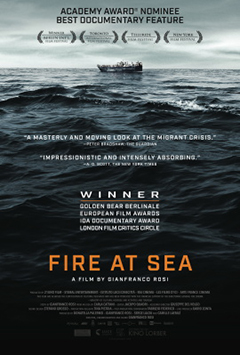 "Fire at Sea" is a documentary that came out in 2016 about the illegal migrant crisis in Italy. It is a snapshot of ground zero in the crisis - the island of Lampedusa - 120 miles off the coast of Sicily. Lampedusa belongs to the province of Agrigento; one of several of the Pelagie islands and is actually closer to Africa than Sicily - just 113 miles from Tunisia.
"Fire at Sea" is directed by Gianfranco Rosi and the film won a number of awards and was nominated for an Oscar in 2016 for best documentary.
Rosi is famous for his well crafted shots of people and places in Italy and elsewhere that exist outside the narrative of mainstream media. He made a film called "Sacro Gra" in 2013, that focused his lens on the highway that circles Rome - the Grande Raccordo Anulare. He showed the people who work there and live next to the highway.
"Fire at Sea" takes the same approach. The director lived for a year on the island of Lampedusa where he accumulated extensive footage.
He gives us two stories in one.
The first deals with the Sicilian families of the island who rely on the sea for their livelihood. These are fishermen who either cast nets or dive down in the water to catch fish.
The second centers on the Italian coast guard and others who are called to rescue illegal migrants at sea.
As we learn in the beginning of the film from text on screen, some 400,000 illegal migrants have entered Italy by way of Lampedusa the last 20 years, resulting in some 15,000 casualties. Rosi said the purpose in making the film was to bring greater awareness to the plight of migrants.
Lampedusa has a history that dates back to antiquity as the first step in foreign invasion, be it the Greeks, Phoenicians, or Saracens. This time, it is the people from Nigeria, Eritrea and the Arab nations of Africa who are invading, not to conquer Italy, but to find work and live outside the law.
As the film shows, the perilous journey from Africa is made in boats that are old and subpar. They are terribly overcrowded and come with faulty engines that leak diesel fuel to seriously burn passengers. Quite often, passengers on these boats call for help and the Italian coast guard and navy are sent to the rescue. Lampedusa is a temporary holding center before migrants are transported to the Italian mainland.
There are several key characters in the film; one of whom is Dr. Pietro Bartolo - the sole physicians on the island. He originally came there to treat the fishermen and their families. Now with waves of illegal migrants coming ashore, he is recruited to give them emergency medical care. Many suffer from heat stroke and dehydration. In one scene, we see him in the middle of the night examining all arrivals for viruses and infectious diseases. In another scene he speaks about examining cadavers - those who died at sea.
The film goes back and forth between the daily lives of Italian islanders and African migrants.
It opens with another main character - a 12 year old Italian boy Samuele Puccilo - who sometimes works with his uncle, a fishermen on the island. His is an existence reminiscent of Huckleberry Finn. We see him break a branch off a tree to make with it a slingshot. He and his friend take target practice at cactuses that grow wild there. We follow the boy as he explores the rugged seashore and back country of the island.
"Fire at Sea" is an exceptional film to be watched by all who are interested in Italy. For me, this was a special film because over the years, I have spoken to some PRIMO readers, who came from Lampedusa. They work as fishermen off the coast of California. With "Fire at Sea" I was able to attain a better understanding of their homeland. Here is a place where Italy is at her best, be it the fishermen and their families or the Italian first responders who rescue illegal migrants.
These Italians stand in stark contrast to the EU officials who have done practically nothing in stopping this crisis. Italy is bombarded by illegal migration and there seems no end in sight. One only hopes of leadership to come to stop this problem. To learn more about the film "Fire at Sea" please log on to http://www.fireatsea.com .

Here is the review by way of YouTube video:
SAVE OUR LADY OF LORETO…AGAIN
A 2009 Article in PRIMO Supported Saving The Now 111-year-old Church
After a 2010 Compromise to Preserve Our Lady of Loreto, Catholic Charities, which Owns the Church, Renews Its Effort to Destroy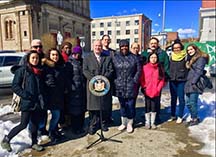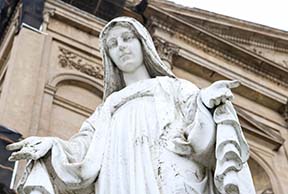 It doesn't seem that long ago.

In 2009, PRIMO published an article in support of saving Our Lady of Loreto; at the time a 100-year-old church located in the Ocean Hill-East New York neighborhood of Brooklyn, slated for demolition at the insistence of Catholic Charities.

A group of concerned citizens, made up former and current residents of the neighborhood, organized, protested and negotiated with Catholic officials to save the church. A compromise was made then whereby the church would remain but the adjoining rectory would be sold to developers.

Now comes a new effort from Catholic Charities to destroy Our Lady of Loreto. They have filed and attained a permit last year to tear down the church claiming the structure a danger to the community.

In 2010, Our Lady of Loreto was saved when a Letter of Resolution was signed between preservation activists, Catholic Charities (housing arm of the Diocese of Brooklyn) and various New York State agencies including the Office of Historic Preservation. The Letter of Resolution called for Catholic Charities to "make good faith efforts to preserve the former church building for community use" and stipulated that the church not be demolished, reconstructed or damaged. According to Mario Toglia, a member of the team to preserve the church, "Catholic Charities deliberately let the building deteriorate. They never consulted state agencies since the signing of our Letter of Resolution. Church officials are now adamant to once again tear down the church and sell the property to developers. All that will remain of Our Lady of Loreto may be sculpture and some interior and exterior religious decorations."

Save Our Lady of Loreto remains a cause today. The mission is to keep in place a beautiful church built by Italian immigrants in 1906. The fight for preservation comes with protests, demonstrations and court hearings where a temporary restraining order was recently granted in halting the demolition.

A lawsuit has been filed by the Brownsville Cultural Coalition (BCC) for breach of contract whereby Catholic Charities did not maintain Our Lady of Loreto as agreed. Currently, BCC is looking for financial support to pay for its lawyers. They are seeking help through donations and other means of support and ask people log on to www.gofundme.com/saveOLL and/or their Facebook page at www.facebook.com/saveOLL.

Our Lady of Loreto stands…but not for long.

Catholic Charities, the organization which owns the property, seems wholly committed to tearing it down.

Why should we save Our Lady of Loreto? As Toglia claims, the church has a number historical and physical attributes which makes it special.

"This building has significant meaning for the Italian American community," says Toglia. "It is the first church in the nation erected in pure Renaissance style, an early example of design-build construction by the New Jersey company of Antonio Federici and Adriano Armezzani, the latter becoming the first Italian-born architect of a New York City Catholic church. They were part of a team of five gifted artisans – all had to be Italian-born - purposely chosen to highlight the architectural talents of their native land and to counterattack the nativist prejudice against Italians as being uncivilized and uneducated. The frescoes on the ceiling were done by Gaetano Capone of Maiori. The 33 ft-long pediment is Paterson sculptor-laureate Gaetano Federici's largest artwork and the only representation of the Miracle of Loreto outside Europe. Among other findings, the land under the church was once owned by Pietro Cesare Alberti, the first Italian settler to Dutch North America."

Our Lady of Loreto was one of the first national Catholic churches in the United States. East New York was at the time a burgeoning Italian American neighborhood, where large numbers of Italian immigrants first settled there after leaving Ellis Island. Toglia explains that Our Lady of Loreto was "founded in 1896 and at first housed in a former Salvation Army hall on Powell Street, near Liberty Avenue in Brooklyn. The parish became the fourth national Italian parish in the Diocese of Brooklyn. It drew on worshippers from the entire wider Brooklyn region and beyond. By the turn of the 20th century the congregation had become large and prosperous enough to consider building its own church."

In Our Lady of Loreto, Italians had a place where they could hear sermons in their own language, worship in accordance to their traditions and customs, and seek the intercession of saints from Italy. The church was built from money raised by neighborhood residents and volunteer laborers, many of whom had experience in carpentry, masonry and construction.

To see Our Lady of Loreto is to see a structure replete with extraordinary structure and decorative elements, both inside and out, that made an architectural gem in Brooklyn and tangible tribute to the Italian American experience in New York.

Toglia explains, "Besides three historic New York City districts commemorating immigrant neighborhoods where Italian immigrants lived, there are only four landmarks related to the Italian American experience in New York City nominated under Criterion A for Ethnic history: The Lisanti Chapel in the Bronx; the Giuseppe Verdi Monument in Manhattan; Our Lady of Mount Carmel Grotto and the Garibaldi-Meucci House on Staten Island. There is no such landmark honoring Italian American life on Long Island."
Editor's Note: You can help Save Our Lady of Loreto. Please visit www.gofundme.com/saveOLL and follow the cause on Facebook (www.facebook.com/saveOLL) for news and actions, and kindly sign the petition if you support the landmarking.

PRIMO REVIEW
"LOVE IN VENICE" AT THE NEW YORK PUBLIC LIBRARY
Rare Books and Illustrations from the Library's Italian Collection Highlight Works from Venice -
Exhibit Ends August 26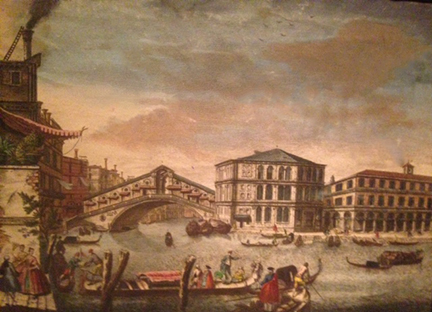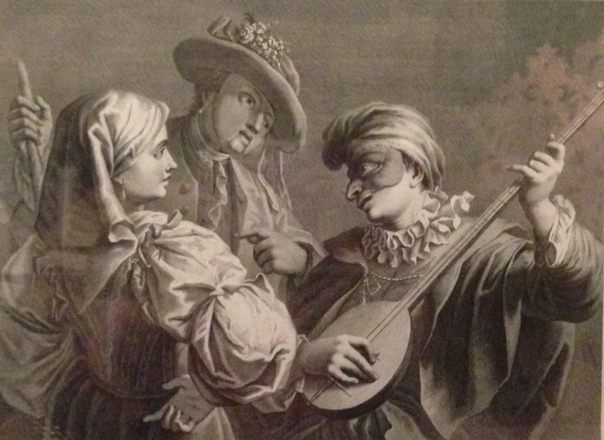 On the first floor of the New York Public Library is an exhibit of books and illustrations published and printed in Venice over 300 years ago.
Titled "Love in Venice," the current exhibit at the New York Public Library gives us a glimpse into what was an innovative and dynamic print industry. When Venice was still an independent republic in the 17th and 18th centuries, it was a leading center of publishing in the world.
As the title suggest, the exhibit theme wrests on the notoriety of Venice as a center of romantic liaisons, seductions and scandals, the likes of Casanova and the many courtesans that frequented the city. Yet, Venice was much more than that. It was a cauldron of intellectual activity, of industry, literature, and music. It was a society that for many years ensured the peace, prosperity and freedom of its people. And it was also a very pious city, one steeped in Roman Catholicism where many churches were built by its richest and most influential citizens.
Perhaps, it is the way of America today, that a display of rare books and prints must come with the promise of sexual content to get people through the door. No doubt a means to an end. And if it works, well, then the better for it will be the viewer. He or she will see an incredible, yet brief, exhibit that highlights the substance of Venice, one of the greatest societies the world has ever known.
The New York Public Library shows itself as one of New York's greatest treasure. The time and care to display such rare works is a tribute to the library's staff, expertise and awesome inventory.
The exhibit contains sealed glass containers of books and prints that, in some cases, were published 50 or more years before the American Revolutionary War. There is a print of the goddess Venus, part of a volume that celebrated the visit of Tuscan prince Ferdinando de' Medici to Venice in 1688. We see "Vendetta of Love," as described by the exhibit organizers as, "a 16th century pulp fiction novel" published in Venice with a woodcut frontispiece showing a woman stabbing herself with a knife. There are two flap books printed in Venice in the late 1500s with a print of a woman and chaperone on gondola. Underneath the flap is an illustration of two lovers embracing. In another picture is a courtesan showing her skirt raised to a Venetian senator.
Some of the other works include a 1679 guidebook on perfume, a painting by Canaletto of the Bridge of Sighs and an illustration from a 19th century cigarette case of a Venetian doge looking out onto a parade of boats.
The exhibit takes up one side room near the front entrance of the library. Although not a lengthy display, it is one highly recommended by PRIMO. People who visit the exhibit will see a glimpse of the greatness that was Venice.
To learn more about "Love in Venice," at the New York Public Library, please log on to http://www.nypl.org/connect.
PRIMO REVIEW
"GOMORRA" - SEASON TWO
Italy's Action-packed Series Continues to Mesmerize
"Gomorra" Season Two Premieres Wednesday, April 26, on SundanceTV, 10/9 c
"Gomorra" is Roberto Saviano's non-fiction masterpiece that continues on the small screen, this time in the way of a television series from Italy: Season two - the story of Camorra crime families who fight it out in Naples.

Season one of "Gomorra" left off last year in a bloody cliffhanger. Young upstart Genny Sevastano had taken over the family reigns while his father, Don Pietro remained in jail. Genny was gunned down by rival, and once loyal soldier, Ciro Di Marzio. A violent yet cunning figure, Ciro had allied himself with drug lord Salvatore Conte, who together, they killed off many of the members of the Sevastano clan. All seemed lost for the family that once had total control of Scampia-Secondigliano, a drug-dealing haven in North Naples. Yet, Don Sevastano made a stunning escape. Pretending to be insane, he was transferred out of a maximum security prison only to have the police caravan attacked by his most loyal soldiers and he was finally released from bondage. Now in hiding outside Italy, he must strategize a return to Naples. Meanwhile, son Genny opened his eyes while laying in a pool of his own blood before the series ended last year. No doubt, he survived the shooting.

"Gomorra," comes back to America, for its second season, direct from Italy, by way of SundanceTV, beginning on Wednesday, April 26, 10/9C.

Viewers who enjoyed season one of "Gomorra" will find season two equal, if not better. The series contains 12 episodes that are amazing in all their fare, from compelling plot twists and turns to intense action-packed scenes, both shocking and alluring in choreographed violence. The acting is excellent as is the direction and other elements, including cinematography, editing and score. It is a quality production from Italy, from beginning to end.

Ciro Di Marzio is once again the central character of the series. A gangster who has achieved a lifelong goal of becoming the lead boss of Naples, he is played superbly by actor Marco D'Amore. He may be the top of the criminal food chain but still finds himself in a fragile existence. Ciro has set up an Alliance of Camorra clans to work out problems and disputes. He hopes peace among the disparate gangsters will allow them all to reap huge profits in the drug trade. Yet, his plan is undermined by top drug dealer Salvator Conte, who is played with icy perfection by actor Marco Palvetti. There is also the pending threat by Pietro Sevastano and son Genny who seek to take back the reigns of power of the underworld. Played to excellence, respectively by Fortunato Cerlino and Salvatore Esposito, Pietro and Genny are a father-and-son team who find themselves estranged from one another by ambition and jealousy. The challenge is not just their return to Scampia-Secondigliano, but to recover a familial bond, which at the outset of the series, seems lost.

Like season one, season two of "Gomorra" was filmed almost entirely on location in Naples. There are many scenes where the city comes to life in all its glory. We see beautiful landmarks, stunning resorts, and the bright lights and energetic sounds of thriving commercial districts, restaurants, and nightclubs. Naples is one of Italy's great cities; yet, too often overlooked by travel writers and travel agents who only know the city as one drenched in poverty and decay. Although Naples is far more than that, it may nevertheless take a TV series built upon the notoriety of crime and violence associated with the city, to allow people to see its better side.

If so, then "Gomorra" does an excellent job. Not a single scene in the series can be greeted with indifference by viewers. New engaging characters are introduced to give the series a freshness in every episode. For instance, there is Patrizia Santoro, a beautiful young woman, now responsible for her younger brother and sisters, after her father was killed. Played with soft supremacy by Italian actress Christiana Dell'Anna, Patrizia is the niece of Malammora, a loyal underboss of Sevastano. She is recruited to be the don's messenger, while he hides out in an obscure apartment, somewhere in Naples. Another female lead, played with cool distinction by Cristina Donadio, is Annalisa Magliocca, aka Scianel, a blond tigress who takes over her brother's drug dealing section. The two woman must hold their own in a world of criminal machismo where their courage and tenacity are continually tested.

Memorable scenes are many in "Gomorra." They come not only in screen action but also in an array of lines that give resonance to the series. One highlight is a poker game that is invaded by armed robbers. Scianel is one of the players who is unflinching while a gun is pointed at her head and her cash winnings are stolen. She reminds one of the masked bandits that "Scianel" is a nickname given to her for a mastery of perfume. All in the frame of a deadly warning, she tells their leader before their escape, "And you already stink of death."

Series writers, one of whom was Saviano, convey Neapolitan wisdom in the way of dialogue. One scene shows Don Sevastano, still in hiding, despondent and forlorn over not trusting his son. He expresses his disappointments in himself as a father to Patrizia who is there with an enlightened reply: "My father always said little children need milk, but grown children need trust."

What sets the series apart from others is its imaginative action. In one episode, friends of Genny find themselves left out of the booming drug trade. They are in their early 20s but are given the worst of turfs in the way of back alleys and the littered ground under highway bridges. Practically weaponless, they seek their own clan to overtake one apartment building where older gangsters make a fortune selling drugs. "We have our hatred," answers their leader Track to a budding member who expresses doubt in their lack of arms and resources. In a strike reminiscent of a well-planned military operation, the young clan attacks in the dead of night wearing black clothes and masks and swinging metal clubs. All tenants are taken out of their homes while drug dealers and gangsters on a top floor are killed and beaten. It is a fast paced riveting scene, unlike any in television.

The story of "Gomorra" is one of survival in the most brutal and ruthless of settings. The series is a watershed reminder of the crisis of Naples and other European cities that have allowed breakdown of law and order. Politicians and government officials see not the desperation of Scampia-Secondigliano, a well-designed apartment complex that was built for the purpose of giving a safe and functional homestead to Italy's poorest and most in need. Instead, what we see today are criminal gangs who employ terror and violence to control entire sections of a city. Something must be done. And, perhaps, this series will wake up the political class to once-and-for-all take Naples out of the hands of criminals.

As we did for season one, "Gomorra," season two, is highly recommended by PRIMO. It remains an awesome television series, one to be watched and cherished in the United States this year and the years to come. For more information on the series "Gomorra," please log on to www.sundance.tv.
COLAVITA PARTNERS WITH ITALIAN BRANDS TO SUPPORT U.S. WOMEN CYCLING


Italy's passion for cycling is unmatched. With its diverse terrain and beautiful scenery, it's not hard to understand why in Italy, cycling is a national pastime as well as a very popular professional sport. And it's fitting that Colavita, a trusted family brand for extra virgin olive oil and top quality Italian food products, has been bringing that Italian cycling tradition to the United States for over 15 years.
Colavita, the longest running sponsor of a women's professional cycling team, has once again partnered with other brands that are deeply rooted in Italian origin and tradition to kick off the 2017 professional women's cycling season. Bianchi, Italy's premier bicycle manufacturer, recently celebrated 130 years of cycling history and is proud to be on board as a title sponsor with Colavita. Other Italian sponsors include Vittoria Industries Ltd., the world's leading manufacturer of bicycle tires with an annual production of more than 7 million tires and 900,000 famous tubulars and cotton tires, and Bolla Wines.
"Bolla is ecstatic to sponsor the Colavita Women's Racing team for the next two seasons. From Prosecco and Sparkling Rose to the full bodied Amarone, there is a Bolla wine for any occasion or event. We raise a glass in support of their efforts and wish them a successful campaign," said Charles DellaVecchia, European Portfolio Director for Banfi Vintners.
Pro Team Colavita/Bianchi's 2017 team roster boasts riders with diverse backgrounds and disciplines. Marisa Colavita recently joined the team in Scottsdale, Arizona for pre-season training camp and said, "I enjoyed getting to know the riders and am truly inspired by their dedication. It's an honor for our family to continue to support cycling not only on a professional level but with regional club teams as well."
Colavita has been a leading specialty food brand in the United States for over 30 years and is committed to cycling because it's part of a healthy lifestyle. Cycling is an activity that all ages and genders can enjoy for fun and fitness.  Colavita supports 15 or more regional club teams with over 600 members in more than 20 states across the United States. And earlier this year, Colavita announced they are partnering with the Killington Mountain School to form the Colavita/KSM Women's Development Program, a stepping-stone for highly competitive junior cyclists who will be mentored by the pro team on and off the bike. 
In New York City, Colavita is sponsoring a cycling exhibit dedicated to vintage bicycles at the Italian American Museum. The "Italy's Golden Age of Bicycles 1952-1985" exhibit will begin May 11th and run until July 2, 2017.
"Getting the opportunity to direct this program is something I don't take lightly," said Mary Zider, returning director sportif for Pro Team Colavita/Bianchi. "It's an honor to lead such an incredible group of riders and human beings. As a rider, it's an honor to wear the Colavita jersey. This program has had Olympians, World Champions, and a National Champion within the 15 years of sponsoring cycling. That speaks volumes about Colavita and what this program stands for. It's a legendary program that will forever be known in the sport and it's a jersey we all wear with pride and continue to hold the rope for."
The team kicked off the season with a European race campaign starting on February 25th at the Omloop Het Nieuwsblad in Gent, Belgium, through March in the Netherlands at Drentse Acht Van Westerveld on the 12th. Then the team will return to the U.S. and concentrate primarily on the USA Pro Road Tour calendar, along with domestic UCI road races.
2017 Team Roster:
Gillian Ellsay (CAN), Emma Grant (GBR), Kendelle Hodges (AUS), Abby Mickey (USA), Amber Pierce (USA), Jessica Mundy (AUS), Whitney Allison (USA), Ellen Noble (USA), Astrid Gassner (AUS)
Guided by: Director Sportif, Mary Zider (USA), Head Mechanic, Andrea Smith (USA), and Team Soigneur, Gitte Sørensen (DEN)
Sponsor list:
COLAVITA/BIANCHI, Vittoria
Bolla Wine, Clif Bar, Rudy Project, Castelli, Shimano, Chamois Butt'r, Tetra Bike Care, Stages Cycling, Park Tool, Shimano, Kuat Racks, K3 Holder
For more information, visit www.TeamColavita.com or follow the team at www.Facebook.com/TeamColavita, on Twitter @TeamColavita1 and Instagram @teamcolavita.
MARTIN SCORSESE AND THE SOUND OF "SILENCE"
Film Review by Frank Ciota
The author directed the films "Ciao America" and "Stiffs." He currently lives in Lynn, Massachusetts.
Based on the novel by Shusaka Endo, Martin Scorsese's film "Silence" may be the most personal of his storied career. It tells the tale of two Christian missionaries who face the ultimate test of faith when they search for their missing mentor in Japan where Christianity is outlawed in the 19th century.
As an Italian American filmmaker, I have always found the films of Martin Scorsese especially resonating. The religious subtext of his work is present throughout; the eternal struggle between the spirit and the flesh is behind every frame he directs.
On this level, and so many more, "Silence" does not disappoint. It is a primordial and often heartbreaking attempt by Scorsese to find some sort of elusive redemption through the lens. It is in so many ways the culmination of his own spiritual journey or at least an attempt on his part to finally slam the door shut on it.
There is a story that when Scorsese was a boy his mother walked into his room to find two big eyes painted above his bed. When she asked about them, he said they were the eyes of God, because God was always watching him.
I kept thinking of that story as I watched "Silence." The classic Catholic iconography and themes that obsessed the child still obsess the man. The film is drenched with them.
Why Scorsese persevered for almost 30 years to realize this film is because it is so clearly about him and everything he represents. Andrew Garfield, the actor, is not playing Father Rodrigues, the Jesuit, but, rather, Martin Scorsese, the filmmaker. He is the true believer who throughout his career fought to hold onto his beliefs in the face of commercial pressure; of constantly being tempted and seduced by Hollywood to abandon his own ideals, join the ranks and go with the flow.
In terms of filmmaking itself, "Silence" is vintage Scorsese, not in how much it resembles any of his films but in how much it doesn't. There is none of the kinetic energy and whip/flash camerawork that has often been his trademark from "Raging Bull" to "Goodfellas" to "Casino" and so many others.
At times you're not sure if you're watching a film at all. Despite the incredible logistical challenges of shooting in the mud, fog and rain of Taiwan you never actually get the sense that a crew was actually even there.
The film just seems to exist, as if it always did. You can almost imagine some Spanish explorer emerging from one of the mist covered caves carrying an unearthed treasure chest with a print of the film inside.
What is so striking is the sheer authenticity of the film. The emotional impact is impossible to ignore, in large part due to the incredible performances delivered by unknown actors playing Japanese villagers. In one scene, three of them are accused of being Christians by Japanese authorities. They are crucified on the water's edge and literally struggle for several days to survive the rising tide.
The scene is so authentic and powerful that it was almost impossible to tell if it was actually happening. It grabs you by the throat, and rather than let you go, Scorsese chooses to let you feel the agony of these crucified villagers by prolonging it. The days are marked by slow visual fade outs and fade ins while the sound of the raging surf never lets up.
In perhaps the film's most powerful moment, after four days on the cross, the last surviving villager, knowing that the end is near, defiantly begins to sing to God about paradise as the waves crash against him. As he sings, he seems to transcend his own physical pain. Ultimately he is overtaken by a merciless surf and literally slumps off the cross and into the ocean like a tired cowboy falling off his horse after a long journey. But for some reason his death feels like victory, not defeat.
Most remarkable about the film is the title, "Silence", and the use of said word as an instrument to telling the story. Without question, Martin Scorsese has taken music in film to an entirely different level over the course of his career. But in "Silence" there is no music at all…none. There is nothing to punctuate moments and infuse them with a visceral punch…nothing except…silence. And he uses it like a sledgehammer.
In a climactic scene toward the end, as Father Rodrigues struggles against his oppressors, he falls to his knees and amidst the noise looks down and as we see what he sees…a picture of Jesus at his feet…the film becomes instantly and eerily soundless. The effect is extraordinary and profound. The silence somehow forces you to turn inward, not outward. It's a form of spiritual jiu jitsu performed by a master director.
One of the things I have always loved about Scorsese's films are the unresolved endings, like those which dominated the 1970's until executives started doing test screenings.
When "Silence'" ended it was similarly unresolved despite the fact that Scorsese apparently departed from the novel's true ending to literally try and put things to rest on his own. But you get the sense that as much as he wanted to believe otherwise, he knew from his own experience that in the end he was no closer to finding an answer than any of us.
Ultimately, this is what makes "Silence" such a testament to Scorsese's brilliance. That after all this time, after all his success, you get the feeling that he is still the same young kid with God's eyes painted on his bedroom ceiling who picked up a camera for the first time years ago to try and answer the unanswerable. That in itself is the definition of faith.
As one of Scorsese's characters would undoubtedly say…"And that's that."
Editor's Note: Frank Ciota can be reached at frankciota@gmail.com. His web site is www.mavexcaffe.com
DR. ANNE PRISCO RECEIVES MOTHER ITALY RECOGNITION
The Italian Heritage and Culture Committee of New York and Consulate General of Italy Honor Felician University President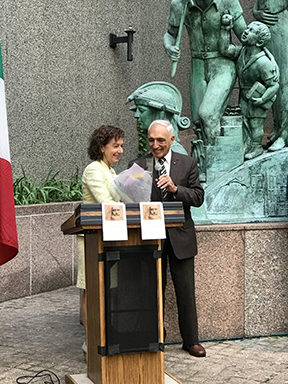 Pictured: Dr. Anne Prisco and Joseph Sciame, President/Chair, IHCC-NY, Inc
Felician University President, Dr. Anne M. Prisco, was named the recipient of the Mother Italy Statue Recognition for 2017 by the Italian Heritage and Culture Committee of New York (IHCC) in cooperation with the Consulate General of Italy.
 
Dr. Prisco received the Mother Italy Statue Recognition at the site of the eponymous work of art, located at Hunter College in Manhattan, during IHCC's annual Mother's Day tribute.
 
The bronze sculpture was created by Giuseppe Massari in 1953 and is "Dedicated to the Italian immigrant....symbolic of mothers of every nationality who sent their children to build a nation of immigrants, conceived in liberty and dedicated to the equality of all those who came, and of those yet to come."
 
"This tremendous honor means so much to me, not just as the child of immigrants, but also as the president of a university that helps many first-generation Americans to realize their dreams," said Dr. Prisco. "At Felician, our mission is to make the American Dream accessible to all – by providing students from any background with the skills they need to succeed and flourish as adults."
 
Dr. Prisco joined fellow honorees from the Italian American Institute at Queens College, CUNY, the Columbus Citizen's Foundation, and newspaper America Oggi. She will be celebrating five years as president of Felician University on July 1, 2017 as the first lay person to hold the position.
 
About Felician University
Celebrating its 75th anniversary, Felician University – with campuses in Lodi and Rutherford, NJ – is a Catholic Franciscan University founded and sponsored by the Felician Sisters in 1942. Felician offers bachelor's, master's and doctoral programs in Arts and Sciences, Business, Nursing and Teacher Education. In 2015, the University was ranked by Money Magazine as one of America's Top Colleges and also listed among Money's top 25 private colleges for merit aid. Felician University is also ranked by the 2017 PayScale College ROI Report as being among the top three private universities in New Jersey for best return on investment. When considering schools in the Garden State, Felician is an institution where tuition dollars and donor contributions go farther. For more information, visit http://www.felician.edu.
MEDITERRANEAN FILM FESTIVAL, SCHEDULED FOR THIS YEAR IN SICILY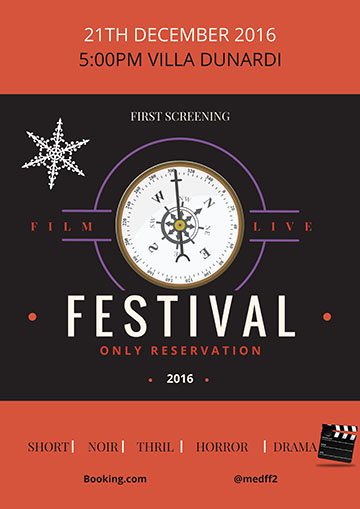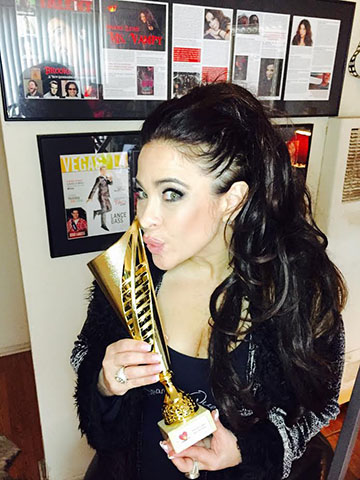 Mediterranean Film Festival (MEDFF) is a film festival that has a Winner Battle in July 2017. Every monthly winner will be in live screening at the final event. The aim of the Festival is to bring out the talents in an attempt to get them to compete with more established filmmakers. A jury selected will ensure the transition to the official selections for the big final event to be held in Italy in the month of July 2017.
Domenico Cutrona, director of MEDFF, says they accept: 1.) Feature Film and Documentary: min. 60'; 2.) Short Docs - Short Film - Experimental Short - XXX - Short Drama; 3.) Students: All genres; 4.) One minute show; 5.) Fool and Smash Short (only Zombies); 6.) Horror Night: Short and Feature Film; 7.) All film MUST be PRODUCED from 2014.In the beautiful Fontane Bianche, known as George Beach, MEDFF will screen the best films winners of the monthly prizes. The main venue will be the mysterious VILLA DUNARDI, one of the most sought after web villas and NanoPress recognized as one of the 30 haunted houses in the world. modernized in 2015, this beautiful location will prepare the free event showing only the best winners of each month.
The filmmakers attending the MEDFF will have two reasons to choose our festival. The first is to deal with other filmmakers who participate and collaborate with the organizing team, also having the possibility to be advertised in our facebook page. The other reason is related to the location, highly of impact, in a seaside town that is full of tourism. The Mediterranean festival is not just a festival, but a meeting place of different cultures linked by their passion for art.
To know more about MEDFF, please log on to http://ingdomenicocutrona.wixsite.com/medff
AUTHOR JOE GIORDANO DISCUSSES WRITING HIS NEW NOVEL "APPOINTMENT WITH ISIL"
A New International Thriller; From New York to the Middle East with Main Character Anthony Provati Leading the Way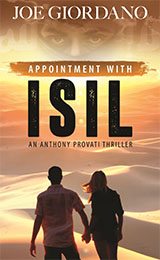 Appointment with ISIL is your new novel and as the title suggests, an international thriller. It is a departure from your previous work, Birds of Passage, which was about Italian immigrants in America. What inspired you to write Appointment with ISIL?

Ben Fountain, author of the best-selling Billy Lynn's Long Halftime Walk, and a writing mentor of mine, told me that the literary thriller was the "holy grail." I took on his challenge. The genesis of the novel was an Islamic History course I'd taken from the University of Texas in Austin, and a short story, "The Unkindest Cut," published, by decomP Magazine.
Appointment with ISIL contains a plot that keeps readers turning page after page. A host of intriguing characters make up the work. They represent the mosaic of New York. How did you come up with these characters? Did you know people like them in your travels and personal experiences?
I believe Norman Mailer said that every character he created included at least five percent of himself. As Mailer wrote about both Jesus and the Devil, that's quite a range. Fiction, unlike real life, must be believable. To create a sense of verisimilitude, I draw from my experiences and observations, including people I've meet, but all the characters are fictional.
The protagonist is none other than Anthony Provati, an Italian American such as yourself. He's a flawed yet very likeable character. Tell us a little about Anthony. How did you conceive of this character? Is he your alter ego?
You'd agree, that a more satisfying, rounded character, has pluses and minuses like the rest of us. As I implied above, every character has a piece of me within. Authors can't help but reveal themselves in their work. Analogously, the reader's interpretation is much like their taking a Rorschach, ink blot test. What they see is idiosyncratic.
Just like Birds of Passage, New York is a key element. Part of the book has characters and plot twists that take us through all parts of the city. You were born and raised in Brooklyn but spent considerable time outside the city as an adult. You live now in Austin, Texas. Researching contemporary New York, what did you come away with regarding the city's changes since you lived there?
Two major changes come to mind. First, after the policies of Mayors Giuliani and Bloomberg, security in New York improved dramatically. Second, as Italians have assimilated into American society, traditional neighborhoods have changed. The famed poet, Jorge Luis Borges asked, "What will the world lose when I die?" When my generation passes, the first-hand connection to the turn-of-the-twentieth-century Italian immigrants will be lost, their culture, their thinking, their experiences. In Manhattan's Little Italy, on Mulberry Street, the sacred flame is maintained by Dr. Scelsa and The Italian American Museum. The Manhattan launch for Appointment with ISIL will hosted by the Museum on Friday, July 7th.
Joe, you have written a lot of short stories, historical essays and other works. You are now a novelist. How have you grown as a writer?
My first attempt at a novel was an historical fiction about the Ancient Greek and Persian wars, Marathon, Thermopylae, and Salamis. The prose was terrible. I realized that I had to learn how to write. I attended classes at the University of Texas at Austin and tackled short stories to reduce the cycle time between failure. After writing some years, receiving sufficient rejections to clog a landfill, my work began to be published, and I felt confident enough to write Birds of Passage. My writing continues to improve, and I have a lot to learn.
In Appointment with ISIL you delve into the affairs of the Middle East. What did you learn from your research about the society and cause of conflict there?
One of my pre-writing experiences, was to manage a business in Greece and the Middle East, and I traveled extensively throughout the region. The people that I met were extraordinarily warm and hospitable, however, I avoided raising the topics of politics or religion. The overwhelming number of Muslims have the same concerns as their Jewish and Christian counterparts, family, and making a living. The sore points in that part of the world are the U.S. support of Israel, and various policies of Washington going back decades. Jihadists and terrorists wage war in the name of Islam, but they distort the purpose of religion.
Do you have another Anthony Provati novel in the works?
My next novel will be another Anthony Provati thriller with the working title, Drone Strike, and will include some of characters introduced in Appointment with ISIL, but each novel can be read independently. Drone Strike includes a victim of "collateral damage." Where can they turn for justice? Without a higher authority to arbitrate, is the desire for revenge understandable?

You can read samples of Joe's works by logging on to his web site at http://www.joe-giordano.com.
TREDICI BACCI PAYS TRIBUTE TO ENNIO MORRICONE IN THEIR UNIQUE MUSIC STYLE
Tredici Bacci is the brainchild of composer and guitarist Simon Hanes.  Formed while still students at New England Conservatory, Hanes is now leading his 14 piece ensemble of Morricone-fueled cineastes in clubs throughout their new Brooklyn base.  "Amore Per Tutti", Tredici Bacci's debut album, has already been hailed by critics. If you find yourself in New York City for APAP, Tredici Bacci will be playing a showcase at The Standard East Village Penthouse on Tuesday January 10th (7-9pm). Come join us for an Italian soundtrack-obsessed evening of music! Otherwise look out for Simon and Tredici Bacci at SXSW in Austin this March.
PEPPE VOLTARELLI'S RECENT VIDEO "LAMAVANTI" - FIlMED IN NYC IN DECEMBER 2016
FINDING JOY IN "LOST IN FLORENCE"
A New Film Looks at The Ancient Italian Sport, Calcio Storico
Finding oneself - both literally and spiritually - in a foreign country is not a new concept for cinema, especially when it comes to Italy.

In recent years, the silver screen has donned the exploits of a main character, a 30-something American female at a crossroads in her life, who is reinvigorated from the simple pleasures of living in Italy. What comes to mind is "Under the Tuscan Sun" starring Diane Lane, based on the book by Frances Mayes, about an American woman who renovates a dilapidated Italian villa. "Eat, Pray, Love," starring Julia Roberts is another such tale, based on the book of the same title by Elizabeth Gilbert, where Italy shines as a gastronomic paradise to inspire greater reflection on life's meaning.

A female protagonist is an attractive conduit. The modern American woman makes for a stark contrast to the old ruins and Catholic patriarchy of Italy. Now comes the alternative: The portrayal of the main character as a man this time in Evan Oppenheimer's "Lost in Florence."

Here is a film that takes a slight detour in the story of an American in Italy. In "Lost in Florence," the protagonist is Eric Lombard, a pre-law college grad, played by Brett Dalton. Tuscany seems at the beginning the right environs to inspire his girlfriend, Colleen, played by Emily Atack, to say "I do" to a marriage proposal. A picnic beside ancient forests should do the trick but doesn't, as Colleen shakes her head at first sight of the diamond ring.

After such rejection, many a man would find himself in the bleak setting of a saloon intoxicated by hard whiskey and dwelling in self-pity with heavy blues riffs in the background. But this is Italy. In the next scene, Eric is at a table inside a well-lit trattoria enjoying a glass of Chianti and a nice helping of pappardelle. In fact, the time has come for a toast - to new beginnings - as offered by the husband of his cousin Anna.

Florence might just be the right place for Eric to get back his confidence and joy of living again. At first, he is taken in by the public artworks and historical landmarks. Anna, played by Stana Katic, is the tour guide who conveys the rich heritage of this most fascinating city. Then her husband, Gianni, a native of Italy, played by Marco Bonini, recruits Eric to watch with him the ancient sport of Calcio Storico, described as one-part rugby and one-part gang fight. A former American football player, Eric seems right at home as he is intrigued by the sport and tries out for the team. Getting battered and bruised while running with a soccer ball is the antidote to sweet love gone bad. He becomes a full fledged member of the team; but always an outsider as the sole American among Italians.

All is not running and sweating in the film, as Eric comes into contact with a beautiful and charming Italian young woman, Stefania, played by Alessandra Mastronardi. The film transitions from sports fare to romance, all the while retaining the pleasurable sights of Tuscany.

Oppenheimer, who wrote and directed the film, is not Italian, mind you, but he no doubt has a true love for Italy. He is a competent director who avoids over-saturation of the genre. There is enough natural chemistry between Bollard and Mastronardi to keep viewers attentive to their blossoming romance.

Where the film suffers is the redundancy of cliches. One almost knows exactly what will occur in some scenes, even before they begin. Yet, the film shines in many places, especially in the pre-game pageantries of Calcio Storico. Oppenheimer has succeeded in capturing the stunning aura of parades, flags, banners and the trappings of Italians celebrating the past. The colors of the spectacle stand out as Florentines enthusiastically embrace the maintenance of heritage. Here is the main thrust of the film, as sincerely appreciated and understood by Oppenheimer.

Outside a deluge of cliches and contrivances, "Lost in Florence" is an attractive film that delves into the unique attributes of what makes Italy so special. Check your local listings for theater showings.
GEORGIAN COURT UNIVERSITY STUDENTS ASSIST VILLAGE IN ITALY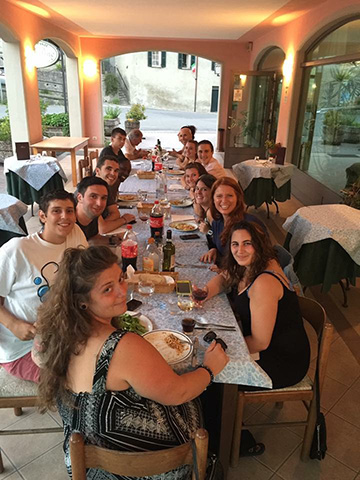 A group of Georgian Court University students stayed at Villa Tre Angeli B&B for a three-week work project in Italy. They did many things while they were there, but their main objective was to help this small municipality get on the map. Bedonia, Parma Italy is in Northern Italy in the Emilia Romagna region. It is a lovely, little village that has so many wonderful things to offer its visitors. There are a plethora of outdoor festivals, outdoor markets, opportunities to hike and mountain bike, plus they have live music very often, just to name a few. Many Italian tourists come to enjoy the fresh, clean mountain air that allows them to actually enjoy the beautiful countryside they blatantly overlook, daily.
Over the years, however, with the economic crisis in the Parma region, factories have closed and people have moved away in search of work. With the younger generations leaving for the surrounding larger cities, this small gem of a town is struggling to survive and the beauty of an authentic Italian lifestyle is hanging by a thread. This is one of the few spots left in Italy that one can experience Italy like an Italian without being suffocated by huge numbers of American tourists. There are no crowds, long lines, or gaudy souvenir shops to muddle the culture out of this amazing place. It is also centrally located to many other interesting spots for day trips. For example,after a tour of the Italian Riviera or The Prosciutto factory and Castle of Torrechiara, coming back to Bedonia for the food, wine, and night life is always a major advantage because visitors receive the best of both worlds.
Georgian Court University, in Lakewood New Jersey, has been working with Villa Tre Angeli to boost Bedonia's social media presence and allow more American tourists the rare prospect of going on an actual, genuine European vacation. The students, under the supervision of Dr. Gina Marcello Ph.D., have created a web page where people can find all the information on the town and the surrounding area, all in one place. They have taken photographs, mapped out the best places around town, and have portrayed the best that Bedonia has to offer. While the website will give people a taste, a true appreciation for this town cannot be captured by mere photos or words.
While the students where there, Villa Tre Angeli took them to Rome to see many famous landmarks, including the Vatican, the Coliseum, and the Pantheon. They were also treated to a trip to Verona, where they saw Aida, the opera in an outdoor Roman arena. The trip also included a stop at the magnificent Lake Garda. When they were finally in Bedonia itself, they saw how Prosciutto and Parmesan cheese were made. They visited castles, tasted some wine, went hiking and horseback riding, ventured to the local swimming hole, and still had time to gawk at the picturesque scenery. They were even welcomed by the Mayor and the Town Council, who arranged countless things for them to do while they were in the area. 
They strolled into town and enjoyed the culture first hand, and have returned to the United States with a profound discovery that this tranquil way of life is far more important to salvage and must not only be preserved, but experienced. The students became locals in a matter of days, and the town now has a bright future thanks to the unlikely collaboration of traditional values and modern culture meshing. Come live like an Italian, become one with the culture, and escape from the monotonous American lifestyles...Come experience Bedonia. To see the progress that the students have made, please go to www.explorebedonia.com.
DR. FRANK ROMANO SEES GRASSROOTS EFFORTS KEY TO MIDDLE EAST PEACE
Author of "Love and Terror in the Middle East," Dr. Frank Romano travels to countries in Middle East where he organizes interfaith dialogue meetings between Christians, Jews and Muslims
Dr. Frank Romano, second from right
How has growing up Italian helped you in your work in the Middle East?

My strong Italian family values have helped me relate to the people in Israel and Palestine. The fact that I was raised to respect my Italian heritage and that I can speak fluent Italian, has helped me grow close to Mediterranean cultures, notably to those living in the Holy Land.
My father's family is originally from Napoli and his skin is very dark. A dark irony remains that even though my father and I had about the same education, he experienced a much more arduous childhood, suffering much discrimination growing up in Providence, Rhode Island and near Boston, in Italian neighborhoods, which were ghettos. Since I have lighter skin, as perverse as it sounds, I experienced much less discrimination growing up in Northern California.
Due to my father's experiences and his patient recounting of them to me, I have been become aware of racism and have been raised to work against it. Thanks to this introduction to racism, I've been able to understand and counter racism that I encounter in Israel and Palestine as I did when I lived in an African American ghetto for two years in Northern California.
In addition, being raised Italian has taught me again to profoundly respect my Italian heritage. My father was an excellent Italian chef and did most of the cooking at home. My British American Mom learned a lot of the recipes and learned how to cook my favorite dish, "Pollo cachiatore." Even though Mom was raised in a strictly British environment in Ashland, Oregon, she embraced the Italian culture and was happy that her children did as well.
My loving father died two months before my graduation from law school in San Francisco. I was thus compelled to postpone my bereavement so I could focus on school. After graduation, in order to feel close to my father and to temper bereavement, I moved to the Italian district, North Beach, in San Francisco. I lived and worked with Italians for a year and a half, including working as a bartender in an Italian restaurant owned by two Italians and translating to English a novel written by an Italian writer.
After my bartender shift around 12 midnight, I always met with a group of Italians to play pool in the local hangout where we drank strong expresso, played pool and talked about the Italian life, soccer, etc. I lived in a rooming house in North Beach with other Italian restaurant workers, waiters, managers, bartenders, etc. During my stay there, I surrounded myself with especially Italians from Roma, Calabria and Napoli. They helped me feel close to my dad and thus helped me deal with a difficult bereavement as well as to learn to speak fluent Italian.
I felt that many Italians and Italian Americans returned to the community to feel the warmth of Italian brotherhood and sisterhood often living in the midst of American WASPs that sometimes discriminate against Italians and whose culture seems so different from the Italian culture. As such, the Italian community treated me like a prodigal son, adopted me and taught me many important aspects about my Italian heritage.
When I left North Beach to study for the California Bar exam (and eventually became a California lawyer) I felt a strong feeling of community and identity with the Italian culture and my roots. That awareness has made me stronger.

You lead efforts in Interfaith dialogue in the Middle East. Christianity. Judaism. Islam. How did you prepare yourself in the way of studying the religions, the people and culture in the Middle East?

I've always been curious about different religions. My father, who was originally catholic and subsequently became an Episcopalian, perhaps initiated that curiosity by introducing me to appreciating the Baha'i religion. He taught me to appreciate one of the principles of that religion that focuses on the harmony of religions.
In order to inform myself about other religious cultures, I also studied comparative religions, notably Eastern religions including Islam at the Sorbonne University, Paris, France.
My understanding of different cultures and religions was further enhanced while working and living closely with African Americans, American Indians, Indians from India, Moroccans, Jews and many others.
One early interfaith experience taught me an early lesson while living in a Jewish community in Paris, where I lived with my wife and three kids. My wife was bedridden with a complicated pregnancy and every Friday night I would visit our Jewish neighbors who would share their Shabbat meal with us. I had arrived at their door with a large serving dish where they would dish into the Shabbat goodies, and then I would descend the stairs to the apartment shared with my family with the dinner. The mother answered the door and beckoned me into the kitchen where two Arabs were seated quietly eating. After she scooped the kosher cous cous and pieces of meat into my serving dish I set it down next to the sink and motioned to the mother into the living room.
 
I asked her why two Arabs were eating kosher Jewish food in the kitchen. She explained that it was in the middle of Ramadan and the two older men had come from an orthodox Muslim community where they were, without exception, required to fast, no eating or drinking, with the entire community from sun-up to sun down. She told me that they were old, tired and were having difficulty getting through the day without nourishment. Then she added something infinitely intriguing. She told me that the last place their people would look for them would be in the orthodox Jewish community where they have come for nourishment at 5 pm even though they were supposed to fast at least until 8 pm that night.

Why is the Middle East always in conflict? Wars, riots, coups, terrorism - it never seems to end. You know the Middle East, probably better than any other American. Based on your work and close observations, what do you see as the key cause of conflict there?

I'll focus my answer on contemporary Holy Land, which is the epicenter of the Middle East conflict. Underpinnings of the conflict derive from centuries of history. I however believe that the contemporary conflict mainly stems from the Sixth day war of 1967 between Egypt, Jordan and Israel. Israel prevailed and began sponsoring the implantations of settlements in Gaza and the West Bank. The former have withdrawn but the latter have been enhanced.
Numerous UN resolutions have stated that the building and existence of Israeli settlements in the West Bank, East Jerusalem and the Golan Heights are a violation of international law, including UN Security Council resolutions in 1979 and 1980. UN Security Council Resolution 446 refers to the Fourth Geneva Convention as the applicable international legal instrument, and calls upon Israel to desist from transferring its own population into the territories or changing their demographic makeup. The reconvened Conference of the High Contracting Parties to the Geneva Conventions has declared the settlements illegal as has the primary judicial organ of the UN, the International Court of Justice and the International Committee of the Red Cross.
The State of Israel ignores that and continues to expand the settlements, in a move that clarifies its position: The desire to take over as much Palestinian land in order to absorb its growing immigration and use it as industrial and production centers in order to enhance the Israeli economy. The settlements have become industrial centers and many western business (i.e. Motorola, HP, etc.) have implanted there and are profiting from relatively low costs, including rent and labor costs. Thus, thousands of Palestinians have lost their lands, and, thus, the means to feed their families and are required to live in refugee camps and/or move in with relatives. This has increased the tension as the Palestinians for the most part have no intention of leaving and fervently desire to recuperate their lands.
In addition, the State of Israel has approved the construction of thousands of homes in illegal settlements in East Jerusalem, earmarked as the capital of a future Palestinian state. The building commenced since the 1967 Arab-Israeli war. Since then, Israel has built more than a dozen Jewish-only neighborhood/settlements housing approximately 200,000 Israelis in East Jerusalem which it annexed following the war. 
Israel has proceeded with these projects despite protests by the United States against the expanding of the settlements. That is just another indication of Israel acting with immunity in the area knowing at the end of the day that the weak protests of the US government will never stop it from approving the 3 billion dollars in aid to Israel, not to mention the reductions on war planes and weapons flowing from the US to Israel.

You have been critical of U.S. diplomatic and other efforts in the Middle East? What is your key criticism of American policy?

First, the systematic contesting by US government of Israel's expanding of the settlements thereby exacerbating the Holy Land conflict without placing conditions on its aid has become an international embarrassment for the US. An example would be the millions of dollars given to Israel should be conditioned on Israel making concerted efforts to end conflict. One condition could be returning some of the land taken from Palestinians and stop expanding the settlements, taking more land from them, without compromising security for Israel or for the West Bank.
Second, the refusal of the US government to arm the non-extremist Syrian rebels early, notably in 2012, accelerated the Syrian war which has evolved into a modern disaster.

Although the news is always grim about the Middle East and prospects for peace in the region seem impossible - you have made statements that things are lot better there than they seem. Please explain.

I sincerely believe that one of the keys to peace in the Middle is through grassroots efforts to organized interfaith dialogues, to bring people together when politicians, many religious leaders tend to tear them apart chasing their silver linings. The success of these efforts is directly proportional to the results of the dialogues which are designed to open up people's hearts to each other, to help them overcome years of negative programming derived from the fear and hate exacerbated by ignorance of each other's culture and religion. To illustrate that, I use an example of a typical interfaith dialogue I lead that could take place either in Israel or in the West Bank:
During one session, Jews, Muslims and Christians (sometimes they are orthodox, sometimes liberal practitioners) are sitting next to each other in a circle. They were breaking bread together and drinking tea or eating humus. After an hour, I asked Jacob the Jew to tell me about Muhammad, his orthodox Muslim neighbor or visa-versa. He responded by saying they are talking which, coming from isolated unmixed villages in Israel, is new to them. He added that they have something in common in that their children go to the same school in a third village. The Jew and the Muslim, in their discussion, instead of talking about divisive subjects like religion or politics, they talk about everyday things, like the price of lunch at school has increased, or the history teacher is weird, etc. They were really bonding, becoming friends. Then I asked Sam the Christian what he thought about the group and he responded that he had invited Jacob and Muhammad to experience Christmas with him and his family in December, that they were all going to break the Ramadan fast at Muhammad's house tonight and would attend Chanukah festivities with Jacob.
However, he said there was a problem. Jacob's and Muhammad's religion are taking him down the wrong path because they don't believe in Jesus as their savoir. That opened the "Pandora's Box" on the topic of religion. Muhammad interrupted and stated that the Jews and Christians didn't accept Muhammad as an important prophet and then Jacob opened up his Torah and claimed non-Jews don't accept the importance of Moses and Abraham as the principle prophets. During the discussion that followed, they implied that they don't share the same God and that they were going to heaven but not those from other religions.
As the facilitator of the dialogue, I didn't judge any of them. I opened up my Torah (first five chapters of the Old Testament), the New Testament and the Qur'an and lead the following discussion on comparing the main principles and philosophies found in those writings. After an hour discussion, most of the members of the dialogue are surprised to learn that all the texts reflect many similar principles, such as the belief in one God, thou shalt not kill, the obligation to help the poor, treat your neighbor with respect. . .etc.
After an hour discussing that, I asked the group another question, this time focusing my attention on the Christian as he views his Jewish or Muslim neighbor.
 
"Since there are so many similarities among those sacred writings, do you think it is possible you may share the same God?"  After a short discussion, many members now say it is possible.
 
Then I close the dialogue with one last question: "Does it make sense to kill in the name of God if you share the same God? You don't need to answer that now. Think about it and we'll resume the dialogue in a month or so."
 
After we agree to continue the dialogue, I leave them to ruminate over the last question without expecting an immediate response and then I returned two months later to the Holy Land to continue the dialogue.
 
In spite of the bonding going on among the members of different religions in the above dialogues, they are useless without follow-up actions, which are occasions where the participants walk the talk working on peace projects:
 
The same mixed group, with my participation, continues bonding by rebuilding buildings destroyed during the conflict between Israelis and the Palestinians.
 
Interfaith activists also engage in the replanting of olive trees that have been uprooted to make way for the walls and part of the confiscation of land engaged in by Israel in the West Bank. In addition, many of the Palestinians who normally help their families harvest the olives are in jail or have left the lands, so there is a serious lack of farm workers to help in the harvest. As a result, I, along with many other activists, join the Palestinians in the fields to help them harvest olives in October.
To learn more about Dr. Romano and his efforts in the Middle East, log on to his web site at www.frankromano-loveandterror4.com
SHORT ANIMATED FILM WINNER AT THE 2016 MEDITERRANEAN FILM FESTIVAL IN SICILY WAS CHARLES MANDRACCHIA OF BROOKLYN

Charles Mandracchia, a school teacher from New York, produced this short animated film "to change how certain stereotypes of our Italian heritage are portrayed. This led me to create a twist on a too often tough guy portrayal of Italian Americans in the media. This award winning animated film, from the Mediterranean Film Festival, is titled 'You Got a Problem.' It tells how Uncle Louie and his Italian American paisanos are problem solvers. Together they solve a problem that the pizza man is having with a bunch of kids from a Brooklyn neighborhood." Find out more about the Mediterranean Film Festival at http://ingdomenicocutrona.wixsite.com/medff.
VENTUREOUT'S TECH RENAISSANCE, AN ITALIAN PITCH NIGHT
Wednesday, October 26 in Manhattan - Eight New Italian Startups Displayed New and Innovative Products and Services
This Wednesday, October 26, is the date for VentureOut's Tech Renaissance an Italian pitch night; held at 26 Broadway in Manhattan. Eight promising startup companies from Italy will meet investors for their launch into the US market. VentureOut has been supporting the global startup ecosystem for three years, having helped over 500 startups from 20 countries to launch, scale and raise over $50 million from venture capitalists and angel investors in the U.S. VentureOut Italy program is in partnership with the Italian Business & Investment Initiative. The private conference provides top Italian founders and investors with an opportunity to connect with leaders in NYC's technology and venture capital communities.
Their web site is http://www.ventureoutny.com/event/italyoctober2016.

Here is a list of the start up companies from Italy that will be featured at this event.


PromoQui is the leading digital platform for location-based brochure advertising, currently used by more than 6 M/monthly users in Italy whilst they are preparing their shopping journey. PromoQui innovates the location based brochure advertising offering a vast variety of professional services for small and big retail chains and industry. Founded in 2011 by managers with over 30 years experience in the internet, media and consumer goods industries PromoQui became a leading company with a lean and multidisciplinary team highly skilled in SEO-strategies, mobile and web-development. PromoQui is present in Italy (PromoQui.it), e.g., Rome, Naples, Milan, Bologna, Genoa and Florence; also in Romania (Aicipromotii.ro) and in USA, UnitedKingdom, Argentina with it's new international brand: ILikeSales.com



Based in Cosenza, inside Italy's Calabria region, GIPStech has developed the most advanced indoor localization platform that runs on mobile with no to little infrastructure thanks to a proprietary hybrid-geomagnetic approach. They develop vertical solutions for museums, airports, retail and industry 4.0 and are working on an SDK to allow third parties to develop their verticals.



From Turin, AD2014 is developing Let.life system: things will have a Digital Soul, based on a unique code, enabling objects to communicate with the user/producer, without embed chips or other electronic devices. Let.life allows to digitize users life through an app used to manage memories, information, deadlines, images. They target manufacturers who can create a new channel of communication to reach customers; let.life helps tracking items, and manage the digital soul of their products. Another market is public users, like cultural enterprises and public institutions (e.g:museums), starting to express demand for IoT solutions to interact with visitors.



With its "30% energy saving in 30 minutes" process, SunCity proposes an innovative approach to Energy Saving for SMEs, built with a lean procedure and based upon a "no brainer" webapp that avoids long and expensive energy audits; the service quickly addresses Customer energy needs by combining integrated energy management with the use of efficiency and/or production devices. Through this easy entry point, SunCity key proposition is to provide highly competitive, IoT platform based, energy efficiency services. The IoT platform in turn allows SunCity to address further customer needs finally leading to multiple up-sales.


Flazio is a website builder based in the Catania province of Sicily. They allow you to create your webpage/site easily without knowledge of any programming code. The peculiarity of the product is that "what you see is really what you get". Editing is very easy and friendly. Control Panel does not have any cumbersome toolbars, receiving a real-time visual feedback of any actions. An exclusive advantage of Flazio platform is the so-called "CompStore", which contains "Components" developed by Flazio Team or by third party developers that can be added to enhance a Web Site, eg: menus, photo galleries, maps, and connection to Social Networks, skype call, music, document publishing, chat, comments, showcase, newsletters, and many others. Each component can be added to the website by simply dragging it from the CompStore to the work area.




LineBoy offers a business solution that reduces time in line and improves the customer experience. The company is based in Bolzano, Italy, in the Trentino-Alto Adige region. Using its patent-pending (US Patent application number: 62/086,659) plug & play technology, LineBoy automates the queuing process by allowing customers to use smartphone technology to track their turn and eliminate their wait in public offices, like immigration, DMV, and even the US Post Office. Our technology fits every queue situation thanks to a camera sensor installed in less than 60 seconds that points to the existing queue management display showing last served positions.






Morpheos's business idea consists of a Smart Home Intelligent Robot, with the appearance of an interior design object, incorporating advanced hardware components and software based on artificial intelligence algorithms, capable of communicating with other widely used devices, equipped with sensors used for domestic control, capable of implementing numerous functionalities typical of home automation, without complicated configuration or installation and capable of adapting to the surrounding environment.




Youbiquo is an Italian company based in the Salerno province that offers users see-through wearable devices. Their mission is to design and deliver Augmented Reality Smart Glasses to meet needs of connectivity and information exchange for hands free highly specialized activities. Founded at the end of 2013 and headed by a team of veterans in new technologies (ICT, mobile, electronics and marketing), Youbiquo has developed its own Smart Glasses, Talens, equipped with a Personal Assistant Software. Talens, its Personal Assistant and the UB.Suite software modules are ready to be used in applications ranging from Maintenance, Repair & Operations, assistance, tourism and culture, and more. See video below.


THE 50TH ANNIVERSARY OF THE "BATTLE OF ALGIERS"
A Masterpiece of Italian Cinema by Gillo Pontecorvo
A New Restored Version by Rialto Pictures Now Showing at Theaters Across the Country
Saadi Yacef - A Member of the Algerian Insurgency and Primary Figure in the Film's Making Recalls Pontecorvo and Shares His Thoughts on the Film's Legacy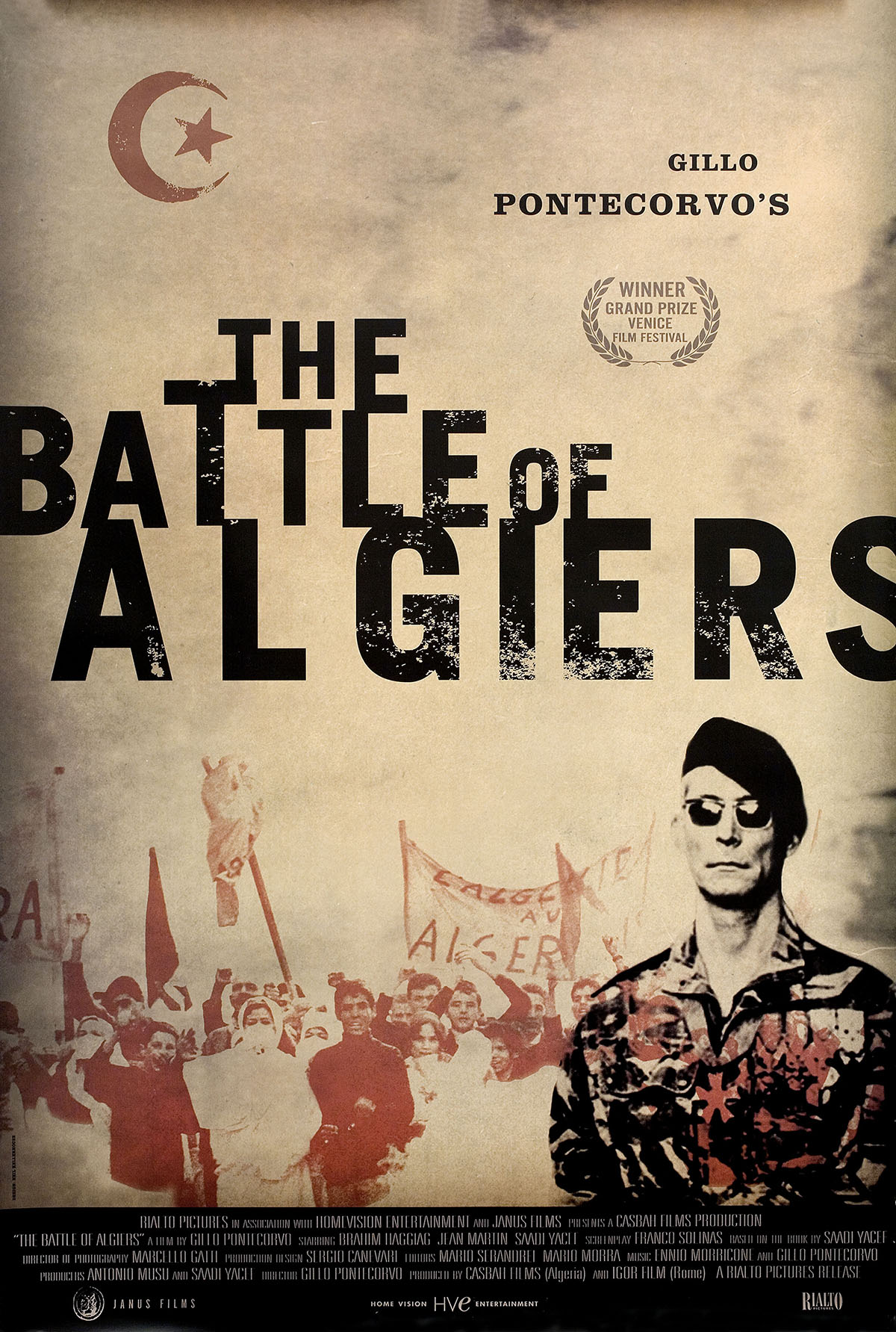 The film's enigmatic poster


Gillo Pontecorvo, circa 1990


A scene from the film; Saadi Yacef is looking up

A photo of Saadi Yacef


It was an unlikely partnership when Saadi Yacef and Gillo Pontecorvo came together to make the masterpiece - "The Battle of Algiers."

Although they were from different countries, Yacef from Algeria and Pontecorvo from Italy, they had in common a socialist mindset and a revulsion for colonialism. Their mission was to make a film consistent with their beliefs and bring to viewers worldwide the war for liberation in Algeria.

This year marks the 50th anniversary of "The Battle of Algiers," fully restored and now playing in select theaters in cities across America. Brought to us by Rialto Pictures, a company that specializes in the reissuing of classic films, "The Battle of Algiers" serves as a model for today's filmmakers who wish to make politically-inspired films.

"The Battle of Algiers" won the Grand Prize at the Venice Film Festival, when it came out in 1966, and was nominated for three Academy Awards (Best Foreign Film, Best Director and Best Story and Screenplay). The film was ranked as the 26th greatest film of all time in the 2012 Sight and Sound directors' poll (it was also in the critics' top 50), though it was long banned in France for its negative depiction of French colonialism.

Shot almost entirely on the streets of Algiers, the film owed much to the assistance of the Algerian people. Many were hired as non-professional actors and actresses to play key roles; including Yacef, who played himself, as one of the leaders of the uprising.

Although primarily in the French and Arabic languages, the film is an Italian production, with a creative and technical staff from Italy.

As the years have passed many of the people who worked on the film have passed away. The film's director Pontecorvo died in 2006, and more than two decades before that, Franco Solinas, who wrote the screenplay with him, died in 1982. The film's cinematographer Marcello Gatti, who brought to life the film's pioneering documentary style in gritty black and white, passed away in 2013.

One key element of the film was its crisp editing and newsreel style by Mario Morra. He lives today in Italy as does the great Ennio Morricone, who, along with Pontecorvo scored the film, and is now enjoying newfound celebrity after winning his first Oscar last year for "The Hateful Eight."

Film Forum, located on Houston Street in New York, is just one of many venues now showing "The Battle of Algiers." A press conference was convened there Thursday, October 6, where Yacef, now 88, spoke to reporters about the legacy of the film and his collaboration with Pontecorvo.

"He was a good guy, a good director," Yacef says about Pontecorvo. "He returned to Algeria some years before he died. It was a pilgrimage for him and he revisited the places where most of the scenes were shot."

Yacef was the catalyst for the film. A baker by trade, he was a colonel in the military arm of the Liberation Nationalist Front (FLN), that led the struggle against French occupation in Algeria.

"The Battle of Algiers" is based on Yacef's memoirs "Souvenirs de la Bataille d'Alger," published in 1962. He met Pontecorvo and Solinas with the hopes of making a film after he had adapted the book into a script. A first reading by the two Italians, however, succinctly dismissed the original text. They wrote almost an entirely new version of the script that centered on two viewpoints of the Algerian uprising: That of Yacef and his fellow liberators and that of the French army who temporarily defeated them. The changing of the script was one of several disparities between Yacef and Pontecorvo in the making of the film.

"I admit we had our differences," Yacef says about his collaboration with Pontecorvo. "He sometimes wanted to film scenes that were not the way I remembered. I fought in the underground and knew what happened. I lived it. During the course of the film - there were a lot of gaps. We argued. The bombs were built this way but I would say the bombs are built that way. He wanted to show someone getting shot and I would tell him, 'no, that's not how it was done.' In the end we would do it his way. He viewed scenes as an artist. I saw them as someone who fought in battle. The two approaches were different. But his was meant for film."

The Algerian war for independence remains one of the bloodiest after World War II. The conflict elicited some 300,000 casualties and almost 1 million refugees. A host of defeats and setbacks by Algerian rebels came until the ultimate withdrawal of French troops in 1962. Liberation began as an undertaking shrouded in doubt. Past Algerian uprisings were short-lived. Yet, Yacef and other Algerian nationalists thought France was a declining power and the time was ripe for war.

"We were looking at what was once the French empire. We saw what happened in Madagascar and Syria, how the people there were able to gain independence. We saw how quickly France was invaded by Germany in the war. France was very weak. The colonial empire was failing. We took advantage of it. We were a colony that didn't want to be a colony. People made a choice and I made the choice to declare war against France."

Algeria experienced its fair share of political and social upheavals after independence. The FLN, who had brought about independence, was now the ruling political party and faced uprisings, mostly in the form of Islamic fundamentalists, that precipitated a civil war there in 1991.

A year later, 1992, Pontecorvo revisited the country for an RAI Italian television news program "Mixer Documenti." With son Marco, a cameraman, he walked the specific locations, as once seen in the film. He showed again the prison Barberousse, the former French quarter Bab el-Oued, and the densely populated Casbah. The Italian director was, as always, fearless and truthful. He neither censored nor mitigated the verbal assaults lodged at him from Algerian locals. He recorded the dire shape of the Casbah, soon to be a no-man's land for foreign journalists. A freelance reporter from France was killed there in 1999. Today, a ban remains in effect of foreign journalists and filmmakers inside the Casbah. In light of this, one wonders if an Italian director with help from an Algerian national could achieve what Pontecorvo and Yacef did 50 years ago.

"No, never," Yacef says bluntly. "I am the last one of that group of people. Algerians are not particularly happy with us because we made the war and they didn't."

"The Battle of Algiers" is a controversial film for its accurate and empathetic portrayal of terrorists and torturers. Scenes depict the means and ends of explosives detonated by the FLN inside nightclubs and cafes killing dozens. Recounted also are the savvy methods of French paratroopers who extract information from prisoners through excessive physical and mental punishment.

A question arises about a comparison made between Yacef and the FLN with acts of terrorism by Islamic fundamentalists.

"We didn't consider ourselves terrorists," he says. "We fought our own fight the best way we could. There is no direct link between Islam and terrorism. In the end, we all want to find peace. If we take the example of the U.S., a country that never had a black president, but now accepts a black president, then this is a country that can do what is necessary for peace."

Although the intention of the film was to celebrate an uprising of natives against a foreign occupying force, "The Battle of Algiers" has served the needs of military forces. Yacef admits that the film was used by the United States to help forge a counter offensive against Iraqi forces a decade ago.

"I know that President Bush invited his officers to see the film," Yacef says. "They saw it in the Pentagon to learn aspects of geography, the economy, and the culture of Arabs. Still, Iraq is a very different place than Algeria. I was visited by the FBI to discuss what was involved. You can draw many examples. They're may be some similarities. I remember saying to them, 'If you go into Iraq, you will lose more than Iraq. Whatever is your motive, you will be humiliated the day you invade.'"

A great film will enlighten different generations, the longer it lasts. No doubt, "The Battle of Algiers" accomplishes this in the great artistic zeal that is Italian cinema.

A number of theaters will be showing "The Battle of Algiers" this month. For more information, log on to http://www.rialtopictures.com. Here is a list of theaters nationwide that plan to show the film.


October 7 – 13    New York, NY    FILM FORUM
Saadi Yacef will appear in person following the 7:30pm show on October 7
October 7 – 13    Los Angeles, CA    LANDMARK'S NUART THEATRE
October 7 – 13    Washington, DC    LANDMARK'S E STREET CINEMA
October 14 – 20    Philadelphia, PA    LANDMARK'S RITZ AT THE BOURSE
October 14 – 20    San Diego, CA    LANDMARK'S KEN CINEMA
October 14 – 20    Denver, CO    LANDMARK'S CHEZ ARTISTE THEATRE
October 14 – 20    Chicago, IL    MUSIC BOX THEATRE
October 21 – 27    San Francisco, CA    LANDMARK'S OPERA PLAZA
October 21 – 27    Berkeley, CA    LANDMARK'S SHATTUCK CINEMAS
October 21 – 27    Seattle, WA    SUNDANCE CINEMAS
October 21 – 27    Portland, OR    CINEMA 21
November 15    Stamford, CT    AVON THEATRE
November 26, 28, & December 1    Baltimore, MD    THE CHARLES
December 1 – 4    Cleveland, OH    CLEVELAND CINEMATHEQUE
December 26 – January 5    Pittsburgh, PA    ROW HOUSE CINEMA
PRIMO BOOK REVIEWS
Four New Books:
"Deliver Us from Honor," "Feeding the Enemy," "Il Bel Centro: A Year in the Beautiful Center,"and
"Italian Moms: Spreading Their Art to Every Table"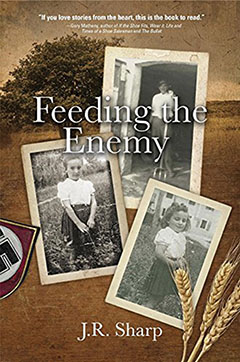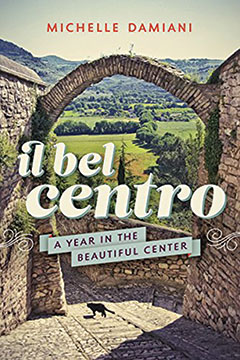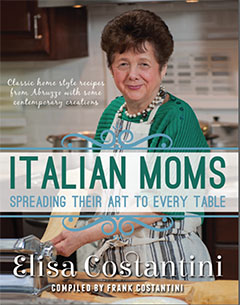 DELIVER US FROM HONOR
By S.E. Valenti
Published by Koehler Books
Available at Barnes&Noble.com Amazon.com, Books-A-Million.com Also on the author's web site www.sharonvalenti.com

Sicilianophile is probably the best way to describe Sharon Valenti, author of the engrossing and exciting novel, "Deliver Us from Honor." Married to a Sicilian, Valenti immersed herself in the language, culture and history of Sicily. She put her passion to work in an entertaining page-turner, in the tradition of Mario Puzo's "The Godfather."

Organized crime is often portrayed as an urban phenomenon. Yet, as we see in "Deliver Us from Honor," the mafia was rooted in the Sicilian countryside. It was more like the Wild West, than Ole New York, as Sicilian outlaws rode horses and attacked wagon and truck shipping routes through mountain passes. They stole, fought and killed and then made their way to an isolated village to to hide away from the law. Much of "Deliver Us from Honor" is set in the farms and forests of Sicily. Valenti captures the richness of the region's agriculture where the best lemons and citrus fruits are grown. The people there have a deep connection to the land; a knowledge of the workings of nature that transcends the novel.

The story begins in 1911 when Giuseppe Vazano's farm is destroyed by fire. Brothers Sevario and Santo come to his rescue only to find Giuseppe and his wife Maria missing and their middle brother Gaspano murdered. The only survivors are Giuseppe's daughters Adriana and Francesca and Gaspano's wife Nella and two children Alfredo and Cinzia. Hiding in the backcountry, the family comes to the realization that the fire was set by arsonists. They seek to solve the mystery as to who set the blaze and why. The journey of characters and subplots ensue throughout a host of cities and villages in Sicily such as Balestrate, Corleone, Catania and Palermo. We see the inner play of priests, peasants and padrones and how they effect the Vazano family and their quest for justice.
Valenti's well-written novel highlights the transition of Sicilian society from feudal to modern in the early 20th century. Most striking is how Sicily opens itself to the outside world by way of immigration to America and trade with American entrepreneurs.

"Deliver Us from Honor" is a compelling novel about the bonds of family and the nature of vendetta and omertà - two aspects of the culture and folkways of Sicily and Southern Italy. For Italian Americans with deep roots in Sicily, this book will be immediately understood as it brings to light the customs and traditions of the region. "Deliver Us from Honor" is an exemplary novel where characters come alive on every page to make it a resonating and engrossing work.

FEEDING THE ENEMY
By J.R. Sharp
Published by Koehler Books
Available at Barnes&Noble.com Amazon.com, Books-A-Million.com Also on the author's web site www.jrsharpauthor.com

At first glance, "Feeding the Enemy" might be a usual work of fiction. However, author J.R. Sharp spent 32 years in the United States Navy and pens a captivating novel from the viewpoint of the conquered and not the conqueror.

"Feeding the Enemy," is based on a true story about a family facing the trials of occupation by enemies foreign and domestic. It takes place in Cimpello, a small village in the Friuli-Venezia Giulia region of Italy. The year is 1939 and begins with Italy's invasion of Ethiopia, as main character Gino Cartelli is wounded in the lung. Returned to Italy to a hospital in Treviso, he is nursed back to health by his fiance Catherina Zucchet, as the law dictates. The author writes: "The Italian government always requested family members to send help for the wounded because of a shortage of care providers at the hospitals."

Catherina belongs to a family of proud farmers in Cimpello, headed by patriarch Pietro and assisted by her sickly brother Bruno. This is a dangerous time for the people of Italy as recruitment for the Fascist Party intensifies, pitting one group of young men against the other. Meanwhile, Pietro is one of many older farmers who faces dire times. The author shares his insight into Fasicist Italy when he speaks through Pietro about Italy's decline under Mussolini. "His third thought was of his town of Cimpello and what it used to be like...The open markets, stores to shop in, restaurants to eat at, social events, and the evening walks that everyone would show up for in the middle of town. Now the town is more of a recruiting station and Fascist rally center. Gone were all the social events and many stores and restaurants…and the country and the Fascist supporters of Mussolini controlled everything."

"Feeding the Enemy" is one-part romance novel, one-part family drama and one-part historic epic. Woven everywhere is devastation, brought by Fascist economic policies best described as socialist tyranny. The economy is controlled from top to bottom and the country is ruined. Add to injury the invasion by Nazi troops. What follows is a struggle for survival, the coming together of family members to outsmart a sinister enemy. "Feeding the Enemy" is a bold work of historical fiction on the failure of government and tyrants and the survivability of common folk who live off the land. This is a book about good people, who want to live in peace but when called upon rise up to face their greatest foes. The books a well-written journey of faith and family and one that all Italian Americans should read.

IL BEL CENTRO: A YEAR IN THE BEAUTIFUL CENTER
By Michelle Damiani
Published by Rialto Press
Available at Amazon.com Also on the author's web site www.michelledamiani.com

Most people are intrigued about the idea of spending a year in Italy. Author Michelle Damiani and her husband Keith and their children Nicolas, Siena, and Gabriel did just that in 2012. They packed up their belongings and left their home in Charlottesville, Virginia for the old village of Spello, in Italy's Umbria region. Their experience is recounted in Michelle's well-written book "Il Bel Centro: A Year in the Beautiful Center."

For those with small children who want to live in Italy, "Il Bel Centro" is a must read. The book conveys all there is about daily life in the country, from the way Italians shop for food to the bureaucratic maze all must endure. Michelle gives us a glimpse of Italy's incessant rules and regulations when she encounters applying for short term residency. She writes: "Another day at the posta, another endless line. Finally the woman who dismissed us yesterday beckons us to her window, but dismisses us once again because we haven't noted the fee for the permesso on the application...They get you coming and going."
No doubt, Michelle found life in Italy far different than the United States. Refreshing was the means of commerce and how simple transactions were in Italy; exemplified when they leased a car in Assisi. She writes: "When I hear the word 'Assisi' I think of Saint Francis' birthplace. I never considered this spiritual destination as home to a FIAT dealership. And yet, it was at the Assisi FIAT dealer that Keith was granted a car, with no contract, no forms, no problem. I didn't know that St. Francis was the patron saint of car leasing."

Italian American by marriage, Michelle quickly comes to appreciate Italian human touch. She writes: "Italians are intent on making eye contact...When we first arrived, I felt exposed and vulnerable at that degree of eye contact. Now, I love it. It feels like a moment when guards come down and kindred spirits are summoned." "Il Bel Centro" reads in many ways like a romance novel. In this case it is the author who falls in love with a country and way of life. Nothing is better than when someone not of your ethnicity comes to appreciate the richness of your customs and culture. "Il Bel Centro" is just that - a grand tribute from someone not Italian to all that defines Italy and the Italian way of being. It is a grand book to read.

ITALIAN MOMS: SPREADING THEIR ART TO EVERY TABLE
By Elisa Costantini
Photography: Versano Photography
Available at Barnes&Noble.com Amazon.com, Also on the author's web site www.italianmomscooking.com

The title of Elisa Costantini's astounding new cookbook - "Italian Moms: Spreading Their Art to Every Table" - is most accurate. The proud artistry the author takes in cooking comes from the need to feed her family. She writes: "Being the one responsible for putting food on my family's table gives me a sense of pride, and it is how I express my love for those who gather at my table."

Born and raised in the Abruzzo region, Costantini was from "Poggio Valle, a simple community of 25 or so families." She learned how to cook by assisting her Aunt Ida, a successful caterer in the Teramo province. Costantini came to America in 1961 only because her husband Francesco wanted to emigrate. She was content to stay in Italy and thought the couple would one day return. But that changed after their second child, "Agnes, was born with a medical disability. She received excellent care in America, and I felt she had to stay close to her doctors and nurses. And so, I had to resign myself to a new reality – I would never return to live in Italy full time." Agnes passed away in 1981 followed in 2015 by Francesco, after 55 years of marriage. The book preserves a vital part of family legacy - a time when the family was complete and gathered at the dinner table.

"Italian Moms" is a thoroughly written book that contains marvelous homemade recipes that capture the soul of Abruzzo. There is "Clams Provencal," made with white wine; "Pepperoni Rossi Ripieni," which contains prosciutto; "Fagiolini con Palate" potatoes, green beans and garlic; and "Cinghiale" a roasted wild boar, not uncommon in Abruzzo.

Stunning photographs convey the color and texture of the dishes. The books is organized by chapters that follow a full course meal, from antipasti to dessert. Through it all, Costantini adds insight to her many ingredients and instructions with Abruzzo the theme. She writes: "Abruzzo, then, is a perfect destination in which to discover the time–tested flavors of old–world Italian food unencumbered by the normal tourist trappings." "Italian Moms Spreading Their Art to Every Table" is an enjoyable gastronomic tour of Abruzzo by a dedicated mother. It is a book of recipes to bring families closer together and retain their respective legacies. A joy to have in every bookshelf and cupboard.
PRIMO INTERVIEW
Sean McHugh and Katie McHugh Parker Incorporate La Befana in "A Broomsticks Christmas."
"Many American children have never heard of La Befana and we bring both cultures - Italian and American - together in this story."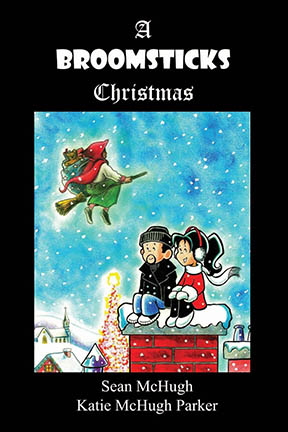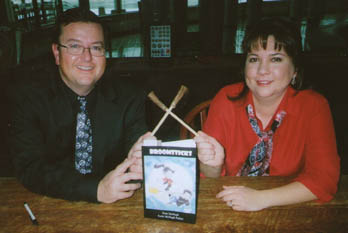 What made you choose a story on La Befana, the witch?
Even before we finished our first book, we agreed that we would have to have an appearance by La Befana if we ever wrote a Christmas book for the Broomsticks series. We were both fascinated with La Befana's legend long before Broomsticks came around and since our books are about two nine-year-old witches, it just made since to include her. We did plenty of research on the legend to make sure we stayed true to her character. For instance, we now know that, instead of milk and cookies, you leave La Befana a glass of wine. La Befana's story embraces everything we love about Christmas. It has all the magic and wonder of the holiday but is also deeply rooted in what the true meaning of Christmas is all about. Although there have been some very good books about La Befana published in America, they're usually just a re-telling of her origin. We wanted to give the Italian legend a major role in our all-American fairytale.
How does the book incorporate the La Befana myth?
In our story, La Befana is actually introduced to us by Santa Claus. Santa brings our two main characters to Italy to meet her. Going along with her legend, they appropriately find her in a church, at a nativity scene, praying. This sets the scene for Santa to explain her search for the Christ Child.
Why do you think this book will appeal to Italian American children?
I think this book will appeal to Italian American children because in the United States everything is Santa Claus. Many American children have never heard of La Befana and we bring both cultures - Italian and American - together in this story. Santa and La Befana not only exist in the same realm, but they are friends and respect one another. It shows that there doesn't have to be a cultural divide. I hope that Italian American children will be excited to read about their beloved La Befana in a new and different way and share this part of their culture with their friends.
What is the key lesson of the book?
I feel the key lesson of the book is about hope. The story also deals with a subject all children must face when they reach a certain age and start to question their childhood beliefs. It's about hope, keeping the faith in the things you believe in. 
What are some other books you've written and your plans for the future.
This is our last book of the series. Our first books, Broomsticks and Broomsticks-The Halloween Spirit  have been very successful and we feel A Broomsticks Christmas is perfect way to complete our trilogy. However, this isn't the end of Broomsticks altogether.  Stamp and Pocky may return in some other format, whether it be a comic book, picture book, etc. They won't be gone forever.  In fact, the last line of our new book is; "Broomsticks forever!" So, we'll see what the future has in store for our two little magical do-gooders.

Editor's Note: You can learn more about Sean and Katie's new children's book "A Broomstick Christmas" and their "Broomstick" series by logging on to http://broomsticksthebook.webs.com.
RECIPE - FILET ALLA ROSSINI
The Third Edition Features an Article on Truffle Hunting in Italy's Le Marche Region
Truffles Were a Favorite of Italian Composer Gioacchino Rossini. Here is a Recipe in His Honor



With the same harmony used for his melodies Gioacchino Rossini prepared his favorite dishes, combining various ingredients and flavors. Here is a recipe dedicated to Rossini by the famous French chef Moisson. Let us enjoy it while tuning in to the more famous notes of the Barber of Seville.
Filet alla Rossini
1.25 lbs of beef filet
4 ounces of fois gras
2 ounces of white truffle from Acqualagna
1/4 cup of extra virgin oil
1 cup beef gravy
Salt
Cut the filet in four parts, salt and pepper and rub with extra virgin olive oil, place on the grill and cook. In a preheated pan, cook the fois gras for one minute on each side. Once cooked, put the filet on the dish, spread the fois gras on the filet and slice the white truffle generously on the fois gras. Sprinkle with black pepper and add a drizzle of olive oil and the gravy on top. To make a good gravy, use a beef bone toasted in the oven, then cook with carrot, celery, onion in water until it reduces to a thick gravy. Filter and add to the meat.
EPISODE - "GOMORRAH"
Wednesday, 10/9C SundanceTV
PRIMO Exclusive - Sneak Peek
Scene from "Gomorrah," Part 5, Ciro Teaches Michele How to Shoot Which Results in a Major Conflict Among the Naples' Clans
PRIMO REVIEW - "DAMAGED"
Author Lisa Scottoline Gives Readers a Touching, Heartfelt Thriller
Lisa Scottoline knows Philadelphia.

She also knows the law and the inherent instincts of motherhood. All come together in her extraordinary new novel, "Damaged."

Scottoline is the author of some 26 novels; almost all of which are legal thrillers, with the exception of a family drama about a returning veteran from the war in Afghanistan titled "Don't Go." She has also written a host of memoirs that give insight into her personal life with views of contemporary society. Currently, she and her daughter Francesca write a weekly column for the Philadelphia Inquirer where they take a woman's perspective of the latest news and events.

Scottoline has many fans and it shows as "Damaged," along with her other novels, has made the New York Times bestseller list. It is the latest installment in the author's popular Rosario and DiNunzio series; a foundation of novels centered on the female lawyers of a fictitious law firm in Philadelphia. Main characters in the novels are Bennie Rosato, Judy Carrier and Mary DiNunzio; each of whom take a turn in the lead role of a specific story with the others serving as minor and supporting characters.

In "Damaged" it is Mary DiNunzio's chance again to be the protagonist. She is an accomplished attorney who is about to be married and yet finds herself in a case that pits her against the city's child protection services bureaucracy, police force, and public school system.

The novel starts with Mary meeting her new client, Edward O'Brien, a widower and retired accountant beset by the travails of his grandson Patrick, of whom he has full custody. Patrick is dyslexic and at 10 years old is still unable to read and write, a sign of the failure of the public school system. Edward seeks Mary's counsel after he is served with papers announcing he is being sued by a teacher's aid at Patrick's school. We soon find out that the aid taunted and physically assaulted Patrick; yet the suit claims Patrick was the attacker. Counsel for the plaintiff is the notorious shark, Nick Machiavelli, who grew up in Mary's neighborhood of Southside Philly. Machiavelli is well-named. He seeks to win the case at any cost and take Edward's retirement savings. He has no regard for ethics or, for that matter, Patrick and his affliction.

Almost from the outset in the novel, we see Scottoline's famous sense of humor at work. The book comes with doses of wit and sarcasm by the author, almost on every page. In the instance where she describes Machiavelli, she writes: "The stories about his legal prowess were legendary…In high school he had been voted Class President, Prom King and Most Likely to Succeed because he was cunning, handsome, and basically, Machiavellian…She always knew that one day they would meet in a battle, and that when they did, it would be a fight between good and evil, with billable hours."

In "Damaged," we follow Mary through the legal maze of Philadelphia. Her client is the catalyst for a parade of public servants, detectives and lawyers. The goal is to protect the well-being of Patrick, a handicapped boy accused of a crime. Yet, common sense is lost in the process. The nurturing care so intrinsic in the emotional and mental growth of a child is sacrificed in the unstinted web of laws, criminal investigations, and administrative hearings. Worse is the unceasing decline of the public school system that failed Patrick and others like him. For instance, Scottoline describes what Mary finds when she visit's Patrick's school - Grayson Elementary. "She crossed the street to the school, which was situated behind a forbidding fence of pointed black bars and surrounded by asphalt with no trees or bushes in sight. The playground was an asphalt side yard that had a basketball backboard, but no hoop or net, and nobody could've played basketball anyway because cars were parked randomly on the court. Worst of all, the school building itself looked run-down and ancient, a fact confirmed by a glance at its keystone, which read, almost unbelievably, 1927."

For Scottoline, her homotown is always a main character in her novesl. She gives needed attention to the powers of Philadelphia, a city divided along ethnic lines, but without the animosity sometimes associated with other cities. Philadelphians are more laid back and down-to-earth than the people of New York, Washington, D.C. and Boston - the other big cities of the East Coast. She captures the Italian American preeminence of the city; a place that has had its fair share of mayors, city councilors, police officers and prosecutors with vowels on the last names.

Scottoline, herself, was a respected attorney before she became an author. She graduated near the top of her class in law school and served in clerkships for some of Pennsylvania's most important judges. She is in a perfect position to convey aspects of family and child care law in the novel and readers will find themselves the better for it. "Damaged" at times reads like a legal lecture, but it is far more entertaining and touching. Indeed, "Damaged" is most endearing when the author delves into the mysterious bond between women and children. We see the mother instinct come alive in Mary the more she comes into contact with Patrick.

An honors student in English at the University of Pennsylvania, Scottoline's writing is excellent and her command of the language unimpeachable. Hers is not the style of legal briefs, however. She writes softly yet directly. Her sentences flow like scented water, leading the reader with the graceful ease of an Italian debutante.

The great strength of "Damaged" is the spirit of the main character Mary. A sense of decency and kindness in her shines through. She might be a proficient attorney, but she is still the daughter of Philadelphia's Italian Southside where the human touch prevails.

"Damaged" is more than a legal thriller. It is a story of how one overcomes a lifeless world of laws and legalisms by retaining the values of faith and family where she was born and raised. Mary, like Scottoline, may have left the Italian neighborhood, but the Italian neighborhood never left her.

"Damaged" is an astounding novel, one to be read and cherished by all who love a good thriller and the Italian way of living. To learn more about other books by Lisa Scottoline, please visit the author's web site http://scottoline.com/

PRIMO REVIEW
"Michelangelo for Kids: His Life and Ideas" by Simonetta Carr
Published by Chicago Review Press
Michelangelo is no doubt a role model for author Simonetta Carr.

Much like the great Florentine did with his sculpture, paintings and architecture, she settled upon an original and engaging idea and made great use of it.
"Michelangelo for Kids: His Life and Ideas" is premised on Michelangelo as a role model for children. A wonderful idea since his artwork can be immediately grasped for their greatness by boys and girls of all backgrounds.

Education begins with kids drawing and building. As their motor skills progress, they begin to recognize the difficulties of rendering realistic scenes and figures. When viewing Michelangelo's work, they know from first glance that he has done it all with great expertise. When they learn of the uniqueness of some of Michelangelo's projects, such as his painting the ceiling of the Sistine Chapel, they are all the more stimulated to emulate his work.

In "Michelangelo for Kids," Carr provides us with a well-written and well-researched biography. Although touted a "children's book," the book is advanced in many ways as it relates to the complexity of the subject and the dynamism of his times. It will appeal to adults as much as it will kids. Carr treats Michelangelo and the Renaissance fairly and we are all the better for it. Hers is a refreshing departure from the monotonous revisionism that plagues todays historical writing.

"Michelangelo for Kids" comes in at about 130 pages in length. The book is beautifully designed: A wide soft cover on glossy paper that contains eye-catching layout of text and color photographs of the great artworks of Michelangelo and realtime photographs of Italian landscapes. The book is divided among chapters relating to Michelangelo's life from his apprenticeship at the age of 12 at the workshop of Domenico Ghirlandaio in Florence to his architectural design at the age of 88 for the Church of Santa Maria deli Angeli in Rome.

The biographical narrative is informative and enlightening on its own merits. Yet, Carr includes a number of sidebars and activity lessons to add depth to the telling of Michelangelo's life.

The book's sidebar topics cover the religious, cultural and political underpinnings of the Renaissance; which will be most helpful to elementary and middle school students studying this period of history. The author seeks balance in accurately conveying the nature of the times. For instance, in one sidebar, she describes the Republic of Florence: "Though Florence was called a republic, for 60 years (1434-1494) it was ruled by one family - the Medici…Even if they kept the city's main government body (the Signoria, a council made up of eight elected men headed by a gonfalonier), the Medici controlled the elections and influenced the council's decisions. In some ways, the Medici rule was beneficial for Florence…Under Lorenzo the Magnificent, the city enjoyed a large measure of peace and became the cultural center of Europe."

Carr's writing is efficiently descriptive. She wastes little time on the innuendos of history. Speculations as to Michelangelo's background and character are reasonably conveyed. Yet, the fulcrum of her mission is undeniable. She wants readers to understand the significance of Michelangelo's achievements rather than his personal flaws and eccentricities.

The book's 21 activity lessons come together to capture the spirit of the Renaissance. They bring Michelangelo's legacy to life by instilling in readers a hands-on appreciation for his work. For instance, one activity gives the ingredients and instructions to making homemade paint. Another is a lesson in cross-hatching, a drawing technique utilized by Michelangelo and other great painters of the Renaissance. Perhaps the most fun is the activity that seeks to emulate Michelangelo's painting of the ceiling of the Sistine Chapel. Kids are asked to attach drawing paper underneath their dining room tables and draw from there.
From cover-to-cover, "Michelangelo for Kids" is an enlightened celebration of the Renaissance. It has all the attributes for a book of significant influence among children. The quality and professionalism of author Carr, the designers and publisher, make this a book to behold from infancy through adulthood. No doubt, "Michelangelo for Kids" is a worthy tribute to one of the greatest men in history.
MERCER COUNTY ITALIAN AMERICAN FESTIVAL ASSOCIATION UNVEILS RESTORED WWII STATUE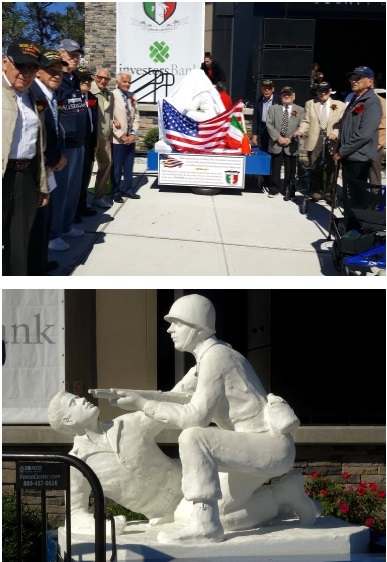 After the yearly festival Mass which is traditionally dedicated to the veterans of World War II, a statue depicting a WWII soldier coming to the aid of a fallen brother in arms was unveiled. The statue was sculpted by Mr. Jerald Christofaro in the 1940's, tearfully and lovingly handed over, and painstakingly restored by the MC Italian American Festival Assn. This statue honors the brave soldiers who fought for and won the greatest war in American history and gives voice to the memory of more than 400,000 soldiers who never returned; thus enabling the rest of us to live around the world in freedom. The following Mercer County Italian American WWII soldiers were honored and present:
Anthony Capriotti, Frank Cuili, Ray E. Dooling, Quinton C. Erkoboni,Patrick L. Galati, Walter P. Kramarz, Anthony W. Melchiondo, Frank J. Parese
James W. Smith, William E Smith, Frank J. Uvegas and George S. Vitoritt
Certificates and gifts of appreciation were given by Cav. John Scarpati, President MCIAFA and Kathi Adie, Chairperson of Military & Veterans/Special Events Committees.
HIT WEEK 2016
ITALIAN MUSIC IN THE WORLD
The headliners of the"world tour" are Max Gazze and Negrita with Specail Guests Gio Sada, Coez, Zephiro and Kathryn Dean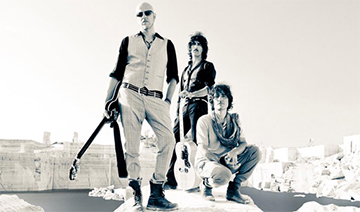 Hit Week is the most important festival in the world dedicated to the spreading of Italian music and culture: the only event, outside the country's borders, that promotes Italy's artistic creativity, in summary, the famous "made in Italy".
The 2016 edition will be held from October 7th through 24th in the USA, Canada, UK, Japan and China: new concerts - a unique "world tour" - in the most important cities of North America, the United Kingdom and Asia, with Max Gazzè and Negrita. 
The headliners:  Singer, songwriter and bassist Max Gazzè's 25 career has seen the artist become a leading statesman of Italian song.  Born in Rome and raised in Brussels, where his father served as a diplomat, Gazzè has collaborated with the likes of Franco Battiato and Carmen Consoli.  From the stage at Sanremo to being a founding member of a cantautori supergroup along with Niccolò Fabi and Daniele Silvestri, Gazzè's most recent solo album "MAXIMILIAN" has topped Italy's music and media channels since its release in 2015 being certified platinum this year.  Gazzè is a favorite on the European touring circuit.  Following his global Hit Week appearances Gazzè returns to Italy for a pair of arena dates in Rome (10/27 Palalottomatica) and Milan (10/29 Mediolanum Forum).
Tuscan rockers Negrita are considered one of the most influential acts on the Italian scene of the last generation.  Over a career born by taking their name from the Rolling Stones song "Hey Negrita", to Rolling Stone's Italian edition raking their album "Reset" among the country's 100 best of all time, the Arezzo-based band have earned multiple MTV Europe Award nominations and platinum certifications.  Negrita's ninth studio album "9" debuted at #1 on Italy's album chart upon its release in 2015.  Additionally, Negrita have developed a strong following in South America through their collaborations with the likes of Colombian mega-star Juanes and the socially conscious Brazilian rapper Gabriel o Pensador.  Negrita, "habitué" of Hit Week, return to its festival fold for the first time in four years with a highly anticipated show.

10/7: MONTREAL (Rialto Theatre) - MAX GAZZÈ
10/9: TORONTO (Mod Club) - MAX GAZZÈ
10/10: CHICAGO (Martyrs') - MAX GAZZÈ
10/12: NEW YORK (Highline Ballroom) - MAX GAZZÈ + GIÒ SADA special guest
10/13: BOSTON (Regattabar) - MAX GAZZÈ
10/14: MIAMI (North Beach Bandshell) - MAX GAZZÈ
10/16: LOS ANGELES (Whisky a Go Go) - MAX GAZZÈ
10/18: LONDON (The Garage) - NEGRITA + COEZ very special guest
10/20: TOKYO (Club Phase) - MAX GAZZÈ + ZEPHIRO special guest
10/21: TOKYO (Club Phase) - NEGRITA + ZEPHIRO special guest
10/22: SHANGHAI (Qsv Center Live House) - MAX GAZZÈ
10/24: LOS ANGELES (Whisky a Go Go) - NEGRITA + GIÒ SADA & KATHRYN DEAN special guest

HIT WEEK is produced by Music Experience Roma S.r.l Mela Inc.
BROOKLYN BASED PHOTOGRAPHER SHOWCASES HIS WORK AT THE MUSEO ITALO AMERICANO IN SAN FRANCISCO


William Castellana is an Italian American Brooklyn-based photographer whose images have been published internationally in periodicals such as Silvershotz, Rangefinder, Creative Quarterly, Newsweek, Time, New York, and others. His work resides in the permanent collections of over 40 museums in the US. He currently has an exhibition at the Museo Italo Americano in San Francisco, titled "Brooklyn & Botanicals," featuring photographs of Hasidic Jews where he lives and Williamsburg and the flowers and plant he captures in stunning black and white; https://museoitaloamericano.org/
For the majority of his 20 year career, Castellana focused primarily on the fine art of still life photography. Two years ago, however, he turned his lens on the street life that exists right outside his apartment in South Williamsburg, Brooklyn – where his neighbors are a large community of Satmar Hasidic Jews.The thirty-seven black and white images in this exhibit from Castellana's South Williamsburg series form a social document of a people and a place, capturing the rich textures, the unique dress, the old customs and strong traditions that make up the fabric of the Hasidic way of life. They provide a portrait of daily life in the Satmar community, which keeps itself insulated from the secular and ever more gentrified Brooklyn community that surrounds it.
"Street photography" Castellana has said, "is about fidelity and frankness. It's about the preservation of a time and place…"
His web site is http://www.williamcastellana.net/
HOST OF CHILDREN'S CABLE PROGRAM IN MASSACHUSETTS PUBLISHES GRAPHIC BOOK ON BULLYING


Since 1992, Fred M. Grandinetti has hosted the "Drawing with Fred" cable series in Watertown, Massachusetts. An expert on Popeye, he has four books and over 50 articles published on the cartoon and character. He also has a passion for classic television and has published articles on "I Dream of Jeannie," "The Avengers," "Batman," and "Bozo, The Clown." Grandinetti recently teamed up with actor Cuyle Carvin, whose credits include "Hawaii Five-O" and "NCIS: Los Angeles," to author a graphic styled book on bullying. Titled "Different Worlds, Best of Friends," the book presents a contrast with Carvin's high school experience as a star athlete and that of Grandinetti, who was bullied repeatedly. PRIMO interviewed Grandinetti about his book and his experience with bullying.
Your book captures your experience getting bullied at school. Briefly explain the extent of the bullying you had to endure?
In grade school it was typical name calling but this changed when I began the sixth grade. I was sent to school on a bus with kids I didn't know. That's when I was called a "fag" with no idea what this word meant. I suspect the kids doing the name calling had no idea either. Throughout the seventh to twelfth grade I was heavily involved with theatre. I was featured in several plays and won acting awards. Unfortunately this activity painted a big bull's eye on my chest. I was bullied due to my interest in performing because, at that time, my community was heavily into sports. I was tripped down flights of stairs, pushed on the ground, tackled, rammed into lockers, my artwork destroyed, a pocket knife held underneath my throat and gum thrown in my hair.
Did the principal or other officials at the school do anything to stop the bullying?
One experience, which is told in the book, was when a bully rammed me into a locker while I was in high school. He was a star player on the football team and I was called into the principal's office when word of what happened reached the ears of the school officials. The principal asked the bully why he assaulted me and his reply was "I just wanted to say hello". The bully was told to apologize which was the extent of his punishment. I never asked but I'm pretty sure his punishment wasn't more severe because he was a popular student and valued member of the football team. Unfortunately during my day, and sadly today, bullying is regarded as just part of growing up without fully realizing the long term damage these incidents cause to one's self confidence.
How will this book help kids who are today getting bullied?
This book is told with two perspectives towards bullying. My experience of being a victim and Cuyle Carvin's befriending a student who was bullied. Cuyle was known as a "jock" and on the football team. He saw an injustice being done and offered his friendship. I hope other sports minded individuals learn from the positive example Cuyle set.
What advice do you give parents of kids being bullied? How best to prepare the kids to defend themselves and overcome the assaults and harassment? Should they take the child out of school?
My opinion is parents have to be more aware of their child's behavior. Whether they're the victim or the bully, they shouldn't tolerate what's happening and forget the "it's all part of growing up" nonsense. Get teachers and school officials involved. If the violence increases call the police department. A crucial step is to make sure the child, if they're the bully, understands how words can hurt people before it escalates to physical behavior. To this day my self-confidence is very shaky due to all the verbal and physical abuse I suffered.
How did you overcome it? What did you do to get past the sting of the dark years of high school?
I have never truly overcome being bullied as the memories remain fresh in my memory. My interest in Popeye cartoons helped me persevere through the abuse. I'd come home from school and watch the sailor man's adventures on WMUR-TV's "The Uncle Gus Show." These five to eight minutes of enjoyment would help suppress the memories of any abuse I suffered that day. My interest in Popeye led to my freelance writing career, publishing five books, helping people with publicity and producing the award winning cable access series "Drawing With Fred" (https://www.facebook.com/DrawingWithFred/). In the book you see my interest in writing grow while I was being abused. Everyone has their passion and mine is Popeye. The sailor helped see me through a lot of dark times. I encourage anyone being bullied to discover their passion and stick with it despite the abuse. It's not easy by any stretch of the imagination but there are benefits.
Editor's Note: "Different Worlds, Best of Friends," is available at I AM Books which is the first Italian American Book store in the country. Their website is http://www.iambooksboston.com/ Grandinetti claims all proceeds from the book are going to The Buddy Dog Humane Society and The Troublemaker Foundation.
A COLORING BOOK FOR ADULTS
Diego Orlandini is the Creator of The Wynwood Coloring Book; an Interactive Showcase of the Outdoor Murals of Miami's Art District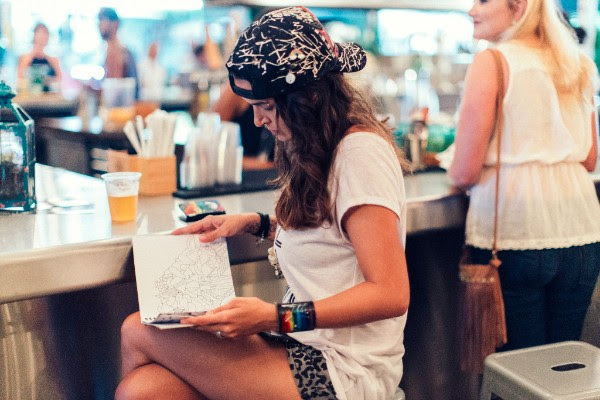 Wynwood is a thriving arts district in Miami known for its vibrant art scene and entrepreneurial spirit.  In April, The Wynwood Coloring Book launched and has grown in a short period of time as a true ambassador of the Wynwood community and its local businesses and creatives, by showcasing the art and artists who give the area it's colorful, vibrant spirit.
To further showcase the incredible vibe of the Wynwood community, the group of young entrepreneurs behind The Wynwood Coloring Book created a video clip to show people across the nation what Wynwood is all about and feel the unmatched energy of the community.   Wynwood has recently caught the national spotlight due to the Zika virus outbreak but the community has united to support each other, and the life of the small businesses and independent artists that make up Wynwood.  According to David Lombardi, pioneer of Wynwood Development, "local businesses have been hit hard and we ask locals and tourists that when you think about going out to eat, get a drink or to go shopping, please consider coming to one of Wynwood's many businesses.  Wynwood is full of award-winning restaurants, brewers, bakers; we have incredible retailers who are not backed by multi-national companies." The community invites the world with open arms to its "home" and wants to let everyone know that they are open for business and ready to welcome you.
Diego Orlandini, founder of AimfulMedia and creator of The Wynwood Coloring Book explains, "We wanted to show to the world that Wynwood stands strong together, it's safe and it welcomes visitors like always. We are a thriving community full of laughter, art, creativity and good people. Take a look at the video. Take a look at Wynwood and the amazing people that live and work here."  Enlisting the help of filmmaker and director Daniel Yankiver and the support of HGAB Studios, they created this commercial in under one week, from concept to completion. It was filmed guerrilla-style bringing together many local businesses who donated time and space to make this happen. They recruited the help of over one hundred volunteers, crew, artists, locals and tourists to accurately represent what makes Wynwood so special.
What the Wynwood Coloring Book attempts to do is to share the story of Wynwood with the world. Despite the effect that Zika has caused to local businesses, Wynwood is fun, alive, full of art, entrepreneurs and artists working together, and restaurants who welcome visitors with arms wide open. Wynwood is open for business.
 www.wynwoodcoloringbook.com
PRIMO REVIEW - "GOMORRAH"
An Extraordinary TV Series from Italy That Will Win Fans All Over America
The Series Begins on SundanceTV, Wednesday, August 24, 10/9C


What made a great book, made a great film, now makes a great TV series.

"Gomorrah," comes to America, direct from Italy, by way of SundanceTV, beginning on Wednesday, August 24, 10/9C
.
Viewers who yearn for a well-made action-packed drama, which is too few seen on today's cable, will not be disappointed. "Gomorrah" is riveting from the first to twelfth episodes, with engaging characters and a plot to keep audiences tuning in week after week.

In "Gomorrah," Americans will get an up close view of a place few know. That is Naples: Italy's third largest city and Europe's most densely populated. Naples is a dynamic metropolis but rarely celebrated due to bad press stemming from perpetual crime and violence there. Most Americans know Naples as the birthplace of pizza, but the city is much more than that.

"Gomorrah" was filmed in many parts of Naples and a number of scenes convey the city's spectacular scenery and beautiful landmarks. Assistance was given to the series by the Regione Campania Film Commission. We see a city far different than a narrative of decay and despondency hoisted upon it by outside observers. Indeed, Naples attains a youthful spirit with thriving industries, Millennial entrepreneurs and a nightlife that never sleeps. Although Americans might think Italy a land rich in past treasures, the country is also quite modern. The series is entirely contemporary and we see Italians as high-tech oriented as are Americans.

No doubt ironic is that a TV series based on the Camorra, the organized crime group at the root of Naples' negative reputation, gives new life to the city. The catalyst of it all is Roberto Saviano - one of history's most courageous journalists, whose book "Gomorrah" gave an unprecedented, behind-the-scenes look at the Camorra. Never mind the threats to his life, Saviano has continued to build on his success through extensive collaborations, this time in television. He is one of the creators of the series.

As the film and novel followed the exploits of different figures and clans inside the Camorra, the TV series is more focused. Written by Stefano Bises, Leonardo Fasoli, Ludovica Rampoldi and Giovanni Bianconi, the drama centers on the tribulations of a specific family, named after its godfather, Pietro Savastano (Fortunato Cerlino). A brutal yet well-dressed figure, Savastano leads a group of middle aged Neapolitan men who dominate much of the drug trade in the Naples suburb of Scampia. His most trusted lieutenant, and the series central character, is Ciro Di Marzio (Marco D'Amore). Tough yet smart, Ciro is ever-present. He is a man of the streets, sometimes honorable, sometimes despotic, but always fearless. D'Amore plays the character with divergent intensity, at times quietly brooding and at other times explosively expressive. D'Amore has a face of roughened innocence which makes him all the more fascinating to watch. He is the foundation of the series, one that builds in intensity after each episode.

The story of the Savastano clan is multi-faceted but always centered on its survival. Cerlino plays Pietro viperously, but with a thoughtfulness of a wise businessman. We see him sitting inside a Rococo inspired home office, surrounded by accountants, brokers and attorneys. His empire is strictly governed by the supply and demand of street addicts and when a new dealer, Salvatore Conte, played slyly by Marco Palvetti, encroaches on his territory, the threat becomes a crisis. Early in the series Pietro is arrested and imprisoned and the family is turned over to his wife Imma and son Genny. Played by Maria Pia Calzone, a beautiful Italian actress, the Lady Imma, as she is referred to by others, is quick to take over criminal operations. She uses a soft savvy touch to govern the male toughs, putting her at odds with Ciro, who finds his influence and power waning.

Genny is the most transitional character in the series. He is expertly played by Salvatore Esposito who goes from spoiled rich kid to hardened mafiosi. A different twist accompanies his rise in power, as he recruits young men his age. They come to the family not only with youthful impulsivity but with a need, different than Ciro and the older members, for an existential means of belonging. An inner civil war arises as the older members, more rudimentary in their approach, governed by the call for street profit, must fight it out with the young newcomers.

Directed by Stefano Sollima, Francesca Comencini, and Claudio Cupellini, "Gomorrah" presents the veracity of a crime drama with subplots that underscores Naples' hard truths of urban poverty, political corruption and unrestricted violence. The series, in Italian with English subtitles, is a phenomenal exploration of contemporary Southern Italy, a land more East than West, that moves forward with the times but changes little in the mores and customs of its people.

"Gomorrah" is highly recommended, an exceptional television series, one that will be sure to win fans throughout the United States this year and the years to come. For more information please log on to http://www.sundance.tv/series/gomorrah.
LE RAGAZZE DELL'ESTATE
Italian Female Singers and Songwriters Flaunt Their Creativity


Pictured in order: Rose Villain, LILI N, and lemandarle
Introducing Rose Villain a singer and songwriter from Milan based in New York City. Horror enthusiast and fashion devotee, her eclectic interests infuse poetry, criminology and natural catastrophes into her witty lyrics and moody vocals. Her music is a catchy cocktail that fuses alternative-pop sounds with hip-hop beats and an electronic slant. Villain's debut single "Get The Fuck Out Of My Pool" dropped in July via leading indie Machete in Italy and Adesso internationally. Produced by SIXPM, ex-member of the 2ndRoof production team, the song is about the classic toxic LA love story that takes place between a party boy who cannot commit, and a girl who's had enough.
LILI N delivered a pair of truly global tracks in July and August. The electronic pop songstress from Rome, and current Berklee College of Music student in Boston, features on the debut EP of Dillistone, the Copenhagen-born, Shanghai-rased, London-based producer and SoundCloud sensation. The song "Midas" was playlisted on Spotify's Fresh Finds as well as on YouTube's La Belle Musique. Additionally, LILI N's latest solo single "Paper Heart" hit Apple Music's Best of the Week Pop Playlist its week of release. Paper Heart was co-written in Stockholm with production team Hymer with additional production by Sanford in LA.
BIRTHH, fronted by Florence's Alice Bisi, followed up on their successful SXSW debut with the new video for "Queen of Failureland" featured in the influential UK fanzine "God is in the TV."
lemandorle bursts on to the scene with "Le ragazze", a retro slice of Italo electronic dance music, and candidate for Italy's song of the summer, or tormentone. A viral video for the track stars a pair of girlfriends searching for summer in their deserted city, Milan.
For more information, log on to https://www.facebook.com/MusicAdesso/.
LIBRARY OF CONGRESS EXHIBIT SHOWCASES ITALIAN OPERA STARS FROM EARLY 1900s
The Library of Congress features an exhibit of photographs of early opera stars from a collection assembled by the late authority on opera, Charles Jahant. The format explores how Jahant might have used an Instagram account had he lived today. "Opera Before Instagram: Portraits, 1890–1955" opened on August 18 in the Performing Arts Reading Room Foyer on the first level of the Library's James Madison Memorial Building, 101 Independence Ave. S.E., Washington, D.C. The exhibition is free and open to the public from 8:30 a.m. to 5 p.m., Monday through Saturday. It closes on Saturday, Jan. 7, 2017. Here are highlights: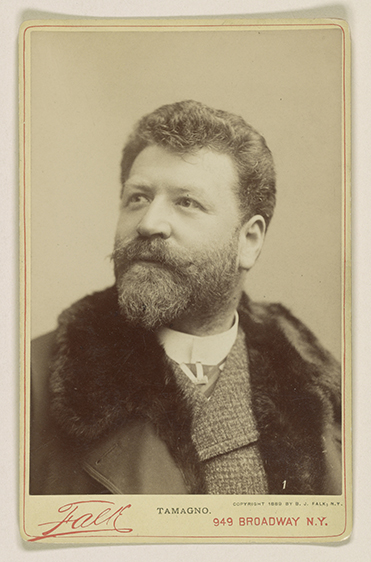 Francesco Tamagno (1850-1905) was the foremost Italian dramatic tenor of the 19th century. At first appearing in supporting roles in 1869, he was soon singing leads, due to his immensely powerful voice, which could hurl out high Bs and Cs from a seemingly endless supply. Composer Giuseppe Verdi chose him to inaugurate the title role in Otello in 1887 at La Scala in Milan, Italy. Tamagno was in demand everywhere, and expensive, and came to America in 1891 with the touring Abbey and Grau Company. He appeared in New York as a regular at the Metropolitan Opera during the 1894–1895 season. The photograph was taken in 1895 by Benjamin Falk.

Luisa Tetrazzini (1871-1940) was a truly great coloratura (vocal range of low B to high F). She made her debut in 1891 in Florence, Italy, and then left for a long stay in South America where she led a bohemian existence. She first sang in San Francisco in 1904 with a Mexican company and remained there for two seasons. Tetrazzini then went to London and was rapturously received. Oscar Hammerstein signed her immediately, and she soon conquered the New York public. When Hammerstein's Manhattan Opera failed, she joined the Chicago Opera from 1910 until 1913, singing briefly with the Metropolitan Opera, in 1911–1912. Her voice was uneven, and while superb in the upper register was somewhat undeveloped elsewhere. However, her joy of singing is apparent on her records. The photograph was taken in Denver by Wallace Kirkland in 1911.

Trained initially as a bass, Tito Gobbi (1913-1984) made his debut in La Sonnambula in 1935. Two years later, he went to Rome and then to Milan as a dramatic baritone. From there he travelled the world, appearing in San Francisco in 1948, Chicago in 1954, and finally at the Metropolitan Opera in 1956. This sovereign singing actor was the logical successor to baritone Lawrence Tibbett. Unfortunately, his appearances in America were sporadic. It is true that his vocal range was somewhat restricted, but he was irreplaceable in all that he did. Late in life Gobbi became a successful stage director, instructing others in the proper interpretation of the role of Scarpia (Tosca), one of his finest roles. The photograph shows him in the role of Figaro in Il Barber di Siviglia in Florence in 1947.

A lovely Italian lyric soprano, Rosetta Pampanini (1896-1973) made her 1920 debut in Rome as Micaëla in Carmen. She was soon heard in Naples and Bologna, and in 1925 was engaged by Toscanini to sing Madama Butterfly in the revival of the work at La Scala before performing internationally. Pampanini sang Puccini roles in Chicago for the 1931–1932 season, and from 1925 until 1940 she was considered perhaps the world's leading Puccini singer. In 1935 the Metropolitan Opera's newly-appointed general manager, Herbert Witherspoon, had intended to hire her, but he died suddenly, only a month after taking office, and the planned offer was not made. The soprano had a limpid (clear, bright) voice of fine quality and she was an affecting artist. The photograph 1931 shows Pampanini dressed in the lead role of Madame Butterfly for a performance in Chicago.

To learn more about this and other exhibits at the Library of Congress, please log on to https://www.loc.gov
PRIMO REVIEW: COSMO CELEBRATION SAUCES
Great Ingredients Come Together for Wonderful Marinara and Mushroom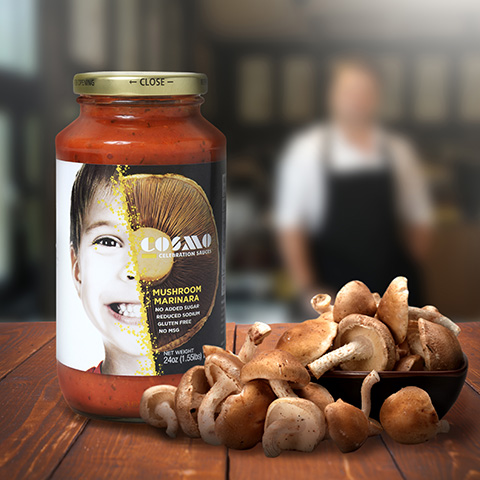 One thing you notice when you buy a jar of Cosmo Celebration Sauces are the ingredients: Just a few lines of text...And that's the way it should be!

Tomato sauces are supposed to be simply made with the key ingredient - tomatoes. Since so many companies mass produce their foods, artificial infusions and unnecessary ingredients dominate the final product. They often overpower their sauce with chemical additions that force it to taste bland. With Cosmo Celebration Sauces, there are absolutely no artificial flavors or colors. What they give the consumer are basic ingredients needed to make a great sauce. You taste the sweet and tangy tomatoes in every bite along with the other ingredients, i.e., onions, garlic, basil.

Cosmo currently offers two sauces - Mushroom Marinara and Classic Marinara. PRIMO cooked both jars of sauce for various pasta dishes. We began with the Mushroom Marinara. Our choice was a traditional Southern Italian meal of homemade linguine with Italian pork sausage and meatballs. The sauce's mushroom flavor was immediately apparent during cooking. The smokiness of the sauce was perfect for the robust sausages and meatballs. The texture was excellent! This sauce was not runny and allowed the pasta to fully absorb the tomato flavor.

An original recipe at PRIMO was utilized for Cosmo's Classic Marinara. Pancetta is a favorite of the publisher's and a pound of it was diced and sautéed with two cloves of crushed garlic and some olive oil. Added was one small onion, two celery stalks, a red pepper and a red chili pepper - all diced. After sautéing on high heat, an entire jar of Cosmo's Classic Marinara was added. The sauce simmered with additions of fresh thyme and red basil. The color was extraordinary. The redness of the sauce was immensely deep thanks mostly to the red basil, but also to the pancetta and peppers. Ziti was the pasta of choice and the sauce was served with Parmigiano-Reggiano grated cheese. Cosmo's marinara really came through as it perfectly condensed the pancetta and vegetable ingredients. Every bite was a taste of Italian perfection.

Italian recipes from the South rely on the sauce. It has to be as close to greatness in order for the other attributes of the meal to come through. Cosmo Celebration Sauces, with its quality ingredients, go beyond what's needed for the trusted family recipe.

PRIMO wholly recommends Cosmo Celebration Sauces. The flavor, texture and overall quality are excellent and will always add the perfect dose of Italy to any meal.

Editor's Note: To learn more about Cosmo Celebration Sauces, please log on to their web site at http://cosmosauces.com/market
CANZONIERE GRECANICO SALENTINO COMES TO AMERICA THIS FALL
Apulia's Pizzica Powerhouse Will Play in Five Cities in America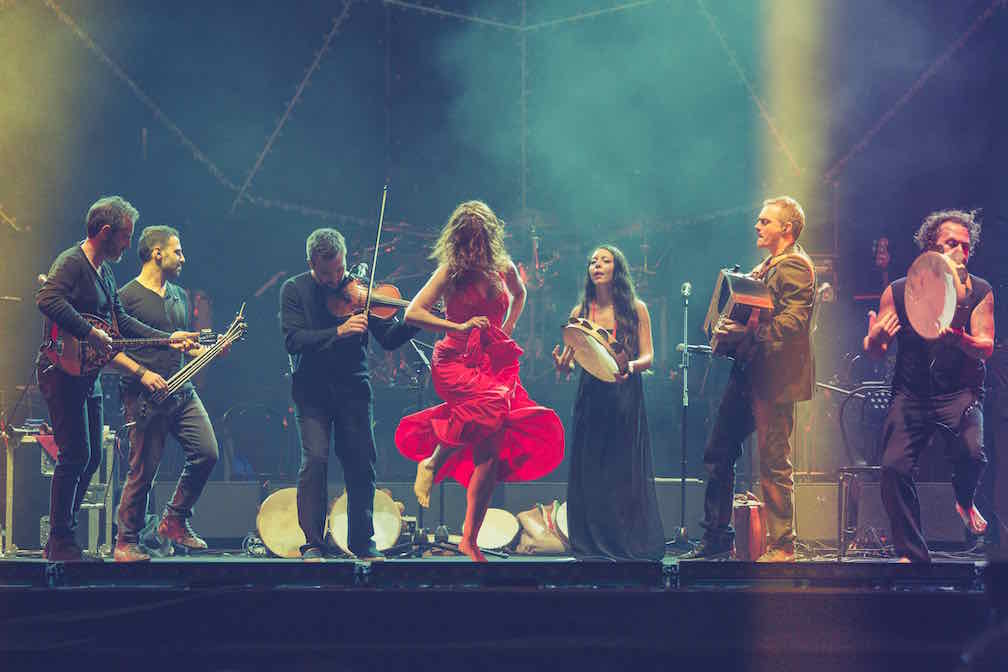 Italy's leading ensemble on the world music circuit, Canzoniere Grecanico Salentino returns Stateside for a series of Fall concert dates. Running from September 29th through October 10th, stops along CGS's 2016 mini-tour include Midwest performances at the Madison World Music Festival, Legion Arts (Cedar Rapids, IA) and Minneapolis's Cedar Cultural Center. The band then heads East for a one-off club show at New York City's now legendary spot, (Le) Poisson Rouge, before wrapping up its latest US jaunt with multiple appearances at the Richmond Folk Festival.
In 2015 CGS celebrated its 40th anniversary with the release of "Quaranta" (40), which was cited in Best of the Year world music album round-ups by the likes of Huffington Post and PopMatters. Quaranta was produced by Ian Brennan, 2012 Grammy Award winner in the Best World Music category for Tinariwen's "Tassili" album, and features guests such as composer/pianist Ludovico Einaudi and singer-songwriter Piers Faccini. A video for the song "Solo Andata" (One Way Ticket) received Amnesty International Italy's 2014 Arts and Human Rights Award. Set to text by author Erri de Luca, and directed by Alessandro Gassmann, the video tackles the ongoing issue of immigrants from North Africa to Italy's shores.
Lauded under the new leadership of Mauro Durante, the offspring of CGS's founding members, this second generation group has consistently garnered critical acclaim from the likes of The New York Times, NPR, The Guardian and the BBC. A whirlwind of touring on the international scene has included stops on prestigious stages including Womad (UK, Australia, New Zealand), Womex, SXSW and Sziget, as well as the Montreal Jazz and the Cambridge Folk Festivals.
Canzoniere Grecanico Salentino is currently developing a Taranta-themed theatrical production with the team that brought the show Fela! to Broadway. Following a first workshop in Lecce, CGS leader Mauro Durante has been collaborating with Grammy-winning songwriters and producers in New York to complete this body of work which will also form part of the group's forthcoming 2017 new album release.
CANZONIERE GRECANICO SALENTINO (CGS) "Quaranta" (40) Fall 2016 US TOUR:

September 29 Madison, WI, Terrance at the Memorial Union - Madison World Music Festival
https://union.wisc.edu/events-and-activities/event-calendar/event/canzoniere-grecanico-salentino
October 2 Cedar Rapids, IA CSPS Hall
http://legionarts.org
October 3 Minneapolis, MN The Cedar Cultural Center - Global Roots
http://www.thecedar.org/event/1191277-canzoniere-grecanico-salentino-minneapolis/
October 5 New York, NY (Le) Poisson Rouge
http://lpr.com/lpr_artists/canzoniere-grecanico-salentino/
October 7 - 9 Richmond, VA Richmond Folk Festival
http://www.richmondfolkfestival.org/docs/2016_performers/Canzoniere_grecanico.html
SOUTISSO - RECIPE
The Journey of an Italian Sausage from the Italian Alps to North Carolina
Featured in PRIMO's 2nd Edition 2016 by Dina Di Maio is the story of the Waldensians of the Piedmont Alps and their delectable sausage, known as Soutisso. We invite you to read the article on the migration of the Waldensians from Italy to North Carolina. Their rare sausage, outside Italy, is exclusively found in Valdese, North Carolina. If you cannot find the sausage, the next best step is to make it yourself. Here now is a recipe four Soutisso sausage.
As Dina writes: "it doesn't matter how one eats his soutisso. What matters is that soutisso is made, enjoyed, and most importantly, not forgotten.
Soutisso, courtesy of Le Phare des Alpes

10 pounds coarsely ground fresh pork
6 tablespoons salt to taste
1 tablespoon nutmeg
2 tablespoons cinnamon
1 tablespoon allspice
3 tablespoons coarse ground black pepper
6 tablespoons garlic buttons, chopped fine (optional)
Mix and let sit overnight before stuffing into the casings.
Soutisso, courtesy of Arvin Childers

25 pounds ground pork loin
1 cup salt
¼ cup coarse ground black pepper
¼ teaspoon nutmeg
¼ to 1 teaspoon garlic powder
Mix ingredients. Stuff into casings.
Editor's Note: Dina Di Maio is a freelance writer who writes a lot about her two loves, New York City and Italian food, on her blog, http://huntingfortheverybest.wordpress.com. She is also at work on a book about Italian food.
PAOLO VENINI AND HIS FURNACE
VENICE, ISLAND OF SAN GIORGIO MAGGIORE
11 SEPTEMBER 2016 – 8 JANUARY 2017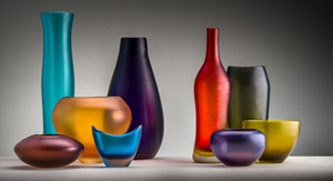 Milanese by birth and Muranese by choice, Paolo Venini (1895-1959) was a major protagonist of 20th-century glass, and made a decisive contribution to keeping it alive with his enthusiastic work over the course of almost 40 years.
Paolo Venini founded the V.S.M. Venini & C. glassworks together with Napoleone Martinuzzi and Francesco Zecchin in 1925. During his long career as an entrepreneur, he collaborated with great artists such as the sculptor Napoleone Martinuzzi, the architects Tomaso Buzzi, Carlo Scarpa, Gio Ponti, the designer Fulvio Bianconi, and many others. Venini was a skilled businessman, attentive to both contemporary artistic trends and to the needs of the international market. In parallel to the production of items made by several guest designers, Venini was himself the creator of a number of new series of glass pieces, which he realized with the help of the company's skilled technical department.
Curated by Marino Barovier, Paolo Venini and his Furnace will include more than 300 works. A catalogue will be published by Skira for LE STANZE DEL VETRO, with essays by Marino Barovier, Carla Sonego and many others. For more information on this and other exhibits, please log on to http://lestanzedelvetro.org/en/
PRIMO REVIEW - "THE EU: AN OBITUARY"
A New Book by John R. Gillingham Relays the Demise of the European Union
To Be Read by Those Who Yearn for Italy to Leave the EU
The timing could not be better for John R. Gillingham's "The EU: An Obituary."

The book is published on the heels of Brexit, the June 23 referendum vote that favored the United Kingdom withdrawing membership to the European Union.
The question now arises as to which country is next to leave.
Italy is the odds-on favorite.
The EU has fallen out of favor among Italians in recent years. The organization is blamed, either partly or entirely by many, for Italy's second lost decade of high unemployment and zero economic growth. The country's fortunes nosedived almost from the moment the Euro became the single currency in 1999.
Gillingham is no stranger to Italy. He was a visiting professor there in Florence in 1985. He knows how EU leaders and bureaucrats were once held in high esteem by Italians as the country's national and local politicians were mired in scandal. The Mani Pulite corruption probe of the early 1990s led to the indictments of almost half the members of the Italian parliament. The accusations of underaged peccadilloes of Prime Minister Silvio Berlusconi embarrassed and humiliated the country. Police investigations have portrayed village mayors and councillors as conduits of government contracts and tax money for mafiosi. No wonder Italians looked elsewhere for leadership.
Gillingham is a professor of history at the University of Missouri at St. Louis and has written books and articles on Europe's postwar economy. He knows his subject well.
In "The EU: An Obituary", he offers the EU as a vacuous organization behind the times and not much different than a crumbling building on a weak foundation. The time is now to leave and break up the membership.
The first part of the book shows how the EU existed in its own desert. Beyond the hype and headlines was an organization that struggled for relevance. Decades passed with countless treaties, charters, meetings, conferences, committees, sub-committees, white papers and reports. The acronyms never seemed to end. Compliant media repeated history making claims by European heads of state only to realize later that they were nothing more than pie-in-the-sky notions of well-dressed bureaucrats. The EU is faulted for lack of enforcement. Power is nonexistent to bind parties to agreements (although some have wanted the EU to start its own military force).
As Gillingham sees it: Much of the EU is based on myth. He doubts the assessments of some scholars that Europe's boom years were due to the EU. The theses of professors and economists who take EU grants are questioned. Their viewpoints may have been compromised by the inherent nature of EU grants that look askance at any criticism of the organization.
In contrast, independent analysis shows the EU a minor player, at best, in Europe's postwar prosperity. Indeed, the organization was not even in existence when the Marshall Plan provided needed capital for Europe's postwar recovery. Gillingham believes the turning point was when Germany and France broke free from wartime controls. The two countries took classical liberal approaches to their respective economies. They sought intense privatization and free markets. Their elimination of price controls and production quotas carried the continent forward.
The strength of this book is history. Few outside the inner offices of the EU know much about its past. As Gillingham reminds us the EU began in the classical liberal sense. It was a free market for coal and steel that came with the Treaty of Rome in 1959. That soon grew into a free market for other goods and services. Open travel and residency followed. Then came many regulatory agencies, a parliament, a flag, and a song. Consolidation was always the endgame, according to the author. Free trade was mostly a guise to push member nations towards a single continent-wide country.
Although Gillingham does not come out and say for countries to leave the EU, his conclusions are nevertheless grist for the mill of exit. He details the failures of the EU in regulating out of existence much of Europe's mining and heavy metal industries. The EU has done all it can to either outright ban or seriously curtail IT and biotech innovations. As a result, Europe has fallen behind not only the U.S. but also Asia. The recent refugee crisis and terrorist attacks underscore the social liberal tendencies of the EU and its impotency to secure the continent. Meanwhile, the Internet, social media and cloud technologies have eliminated the need for consolidation as cross-border collaborations become the norm.
Gillingham has done a great service in writing "The EU: An Obituary." He has separated facts from myth to show the EU a monster like organization that sucks the economic and cultural life bloods of Italy and other European countries. From its beginning to today, the EU has existed as a fiction of freedom when in fact tyranny has been its ultimate goal.
"The EU: An Obituary" is recommended by PRIMO as an ideal source of information and analysis to help Italian Americans and Italians persuade their family, friends and neighbors in Italy to vote to leave the EU.

Editor's Note: You can learn more about "The EU: An Obituary," by logging on to the book publisher's web site at https://www.versobooks.com/books/2200-the-eu.
PRiMO REVIEW: "THE OTHER SIDE"
An Italian Filmmaker Focuses on the Deep South
Roberto Minervini, of Le Marche, Gives Us "The Other Side" a Documentary Set in Louisiana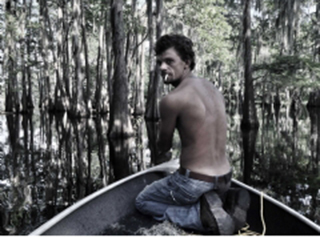 Scenes from "The Others Side," a new documentary by Italian filmmaker Roberto Minervini
Roberto Minervini

At first glance, "The Other Side" might seem a documentary about life in the Louisiana bayou. Its promotional poster shows a shirtless man in a canoe among cypress trees. One imagines a film about working class southerners struggling to preserve their unique traditions amidst technological changes. However, that is not "The Other Side." Instead, the film is a nihilistic turn on the ravages of drug abuse and the excesses of paramilitary subculture.
Director Roberto Minervini is to be commended for a depth and passion in making this film; one that might have ascended to masterpiece heights had it not been for a serious descent amidst an inexplainable premise that was further undermined by scenes of gratuitous sex.
Minervini is a contradiction. He a cosmopolitan figure who pursues with his camera the hot, rugged environs of East Texas and Northern Louisiana.
Minervini was born in Fermi, in the Le Marche region of Italy, and graduated with a Master's degree in Media Studies from New School University in Manhattan. Although he is now pursuing a Ph.D. in Spain, he considers Houston his home. Besides "The Other Side" he has three films completed, what he considers his Texas trilogy, "The Passage" "Low Tide" and "Stop the Pounding Heart." His choice of subjects are rodeo stars, trailer park inhabitants, Evangelicals and home schooled teenagers. His view of the Deep South is mixed, replete with an objective examination and appreciation for the culture and way of life there, while at the same time exposing the region's tendencies toward decadence and debauchery.

Minervini states his original intention in making "The Other Side" was to share real-life stories about rural poverty in West Monroe, a small city in Ouachita Parish, Louisiana. However, after researching the area, he became intrigued by the people's consumption of narcotics and alcohol and their extreme use of firearms. The film then should not be seen as a representation of the Deep South. Anywhere in America, not to mention Italy, a minority of people will consume illegal drugs or join a militia and other controversial groups. Just look at Minervini's home country of Italy, where in Naples, its third largest city struggles with an epidemic of drug abuse among young people there. Meanwhile, Camorra and other organized crime gangs in Naples and elsewhere in Italy, not to mention neo-fascists and other radical groups, brandish assault rifles and other high-powered weaponry in turf wars and political confrontations.
"The Other Side" takes its title from a reference among locals as to people who have firearms; a paramilitary group who stokes the fires of rebellion. The film opens with a shot of camouflaged men in the woods and then cuts abruptly to a naked man, Mark Kelley, asleep at the side of a road. The film follows him into town where a drug induced existence awaits. We see the subject producing, selling and smoking crystal-meth. When that isn't happening, he is at a strip club watching pole dancing, or breaking into the local school or having sex. Lots of sex.

What can you say about Minervini? He is relentless. Nothing is off bounds. The worst elements of humanity are shown, not to mention the most private. And here is a key flaw of the film. The director captures Mark in foreplay with his girlfriend in several scenes. An ethical question is then answered. When does a documentary become pornography? When we see a naked couple humping on the couch; as happens in "The Other Side."

The scene is a failure since it is neither shocking nor titillating. On-screen copulation is nothing new for American audiences. The scene only induces ambivalence in the viewer. The thought one has is why on earth would the subjects allow their most intimate moments recorded for viewing by strangers the world over. It undermines the story. It shows the characters as hopelessly depraved and undercuts the growing empathy we may have for them.

Outside that and some other scenes, Minervini's filmmaking is applauded for its courage and consistency. The camera is everywhere as we follow Mark on his daily runs and interactions with family and friends; all of whom are poor and either addicted to drugs or alcohol. Minervini believes these people are representative of this specific region of Louisiana. The area suffers from extreme poverty coupled with a loss of identity and self-determination. Federal encroachments come with a pullback in microeconomics, leaving the area empty and lifeless.
The most moving of moments are when Mark expresses love and softly hugs his mother, sister and girlfriend. He is a young southern gentleman caught up in the ravages of drug addiction. One can only hope he gets help. And that may be the ingenuity of Minervini as he gains sympathy from the viewer while showing the darkest and gloomiest aspects of the film's protagonist.

Why we go from there to the second part of the film would be a mystery if not for a viewer's follow up reading of an interview with Minervini. After we see Mark siting in the woods, we are suddenly transported, without a reason, to a scene of young men toting machine guns, revolvers and pistols. Our confusion is only overcome by the scene's quiet power, where a handheld camera captures the tension of armed men, inside a van, about to disembark on an intense paramilitary exercise.
Minervini takes us inside a local militia. We see young men swimming and partying with local girls at a nearby lake. They then gather at a friend's house where they continue to drink beer and shoot guns. Their camaraderie is apparent. We hear lectures from a leader, a combat veteran, about the risks of martial law in America and the government's effort to confiscate firearms. These men look to be younger than Mark and seem to have no connection to him or the other people in the first part of the film. One guesses as to the director's point. That there are two sides to the Other Side: One of drugs and one of guns. If so, how then is this unique to the Deep South, and Louisiana, in particular? The film does not answer this question outright. Rather, one has to read an interview with the director to better understand and appreciate the film's theme.

The great strength of "The Other Side" is Minervini's relentless direction and the dedication of the crew, most notably the extraordinary work of the cinematographer Diego Romero, from Spain. They are to be admired for their uncompromising pursuit of all aspects of their subjects, no matter the circumstances. Some of the scenes in the film are immensely powerful and that alone is reason to watch. The key flaw is a lack of explanation. Scenes come with no understanding on the part of the viewer. To truly appreciate "The Other Side" one must follow up after watching the film and read Minervini's interview and other commentary, as supplied by film distributor Film Movement.
To find out more about "The Other Side" and where to see the film, please log on to http://www.filmmovement.com .
GOMORRAH PREMIERES WEDNESDAY AUGUST 24 AT 10/9c SUNDANCE TV
What remains one of the best films of the past 15 years, "Gomorrah" now comes to the television screen, by way of the Sundance channel, as an ongoing series, direct from Italy.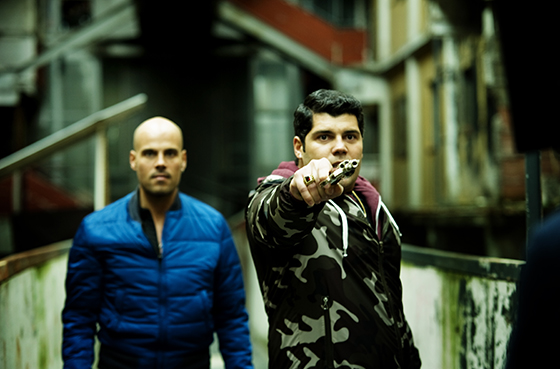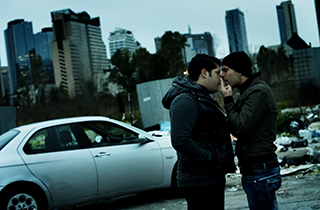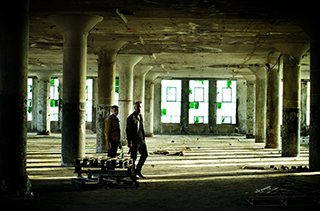 Based on the novel by Roberto Saviano, "Gomorrah" is a relentless and immersive analysis of the social, economic and political effects of the Camorra (the Neapolitan Mafia), the forces fighting against them and the evolution of the Italian criminal world. The series tells a completely original story chronicling the fate of a great criminal empire and paints a reality in which values often follow perverse, criminal logics dictated by the instinct of survival. However, "Gomorrah" also delves into the family ties and interpersonal dynamics within this emotionally fraught and dangerous world.
The tale depicts a powerful clan and the complex mechanisms that regulate the management and maintenance of a traditional mafia empire, from the everyday exercise of power to new expansion strategies to the ultimate tool for victory: armed struggle. Within the clan are figures both big and small who battle alongside and against their 'family members' and rivals, committing deeds ranging from heroic to insidious while attempting to maintain the family's stronghold and ascend its ranks.
"Gomorrah" was filmed on location in the Scampia suburb of Naples, as well as in Milan, Ferrara, Rome and Ventimiglia, with some exteriors shot in Barcelona; 156 locations were used for indoor scenes. Shooting lasted over 30 weeks for a total of 216 days, 92 of which employed special effects. Filming was made possible thanks to the support of the Regione Campania Film Commission.
The screenplay of "Gomorrah", written by Stefano Bises, Leonardo Fasoli, Ludovica Rampoldi and Giovanni Bianconi, is based on the deep and thorough research of journalist Roberto Saviano, which culminated in the 2006 non-fiction book Gomorrah. The novel went on to win numerous literary prizes and found worldwide success, boasting over 10 million copies sold and eventually being translated into 51 languages. A 2008 film adaptation was an international smash, garnering the Grand Prix at that year's Cannes Film Festival.
"Gomorrah", the television series is directed by Stefano Sollima, Francesca Comencini, and Claudio Cupellini and produced by Sky Atlantic, Catteya and Fandango in collaboration with La7, in association with Beta Film. The stars are Italian actress Maria Pia Calzone and actors Marco D'Amore, Fortunato Cerlino, Salvatore Esposito and Marco Palvetti. For more information please log on to http://www.sundance.tv/series/gomorrah.
JAZZ GUITARIST FROM PADUA, FABRIZIO SOTTI, RELEASES FIFTH ALBUM "FORTY"
(Fabrizio Sotti "The Bridge")
World renowned guitarist and composer Fabrizio Sotti is proud to announce today's release of "Forty", his fifth album as a leader. As of this morning, the album is officially available on iTunes and in stores.
The momentous occasion was celebrated with two different launch events. The first took place this past Wednesday, June 8, at the Ferrari North America Showroom in New York City. Fabrizio, who is one of the few jazz musicians to hold a major automobile endorsement, welcomed friends, fans and colleagues as they took part in an exclusive pre-release listening of "Forty". Famed celebrity photographer Johnny Nunez photographed the elegant affair.
On "Forty" Sotti collaborated with two jazz visionaries in their own right: bassist Peter Slavov and drummer Francisco Mela. "Peter is a complete musician with a strong melodic sense and a thorough classical music background. He's able to be free while respecting the tradition. Francisco also brings a melodic approach and is completely a free thinker. He's a force of nature. When he swings, it swings hard; when he's not swinging, it's so creative, he fills up the music with something magical," says Sotti.
A New Yorker since 1991, when he emigrated from Padua, Italy, as an ambitious, jazz obsessed 16-year-old, Sotti drew on a broad palette of jazz-imparted musical knowledge when producing hit tracks with artists like Dead Prez,Ghostface Killah, Q-Tip, Tupac, and Whitney Houston while still in his twenties, as well as two collaborations Glamoured, from 2003, and Another Country, from 2012, with the great jazz diva,Cassandra Wilson . In parallel, he built a distinguished career as a highly-respected jazz stylist, documented on three accomplished recordings—This World Upside Down, from 1999, with jazz titans Randy Brecker, John Patitucci and Al Foster;Through My Eyes, from 2003, a solo guitar recital; and Inner Dance, from 2010, with organist Sam Barsh, drummer Victor Jones, and percussionist Mino Cinelu.
To learn more about Fabrizio Sotti, please log on to his web site: http://www.sottientertainment.com
LUDOVICO EINAUDI ANNOUNCES U.S. TOUR
The Italian Composer and Pianist Will Play in Eight Cities from October 4-20
Italian composer and pianist Ludovico Einaudi announces October 2016 concert dates in the United States and Canada in support of his latest album "Elements". Upon its debut, "Elements" topped classical charts in 42 countries across the globe. In the United Kingdom it soared into the nation's mainstream album chart at #12, the first time in over a generation that a classical artist achieved such heights, surpassing releases by pop stars James Bay and Taylor Swift. Breaking all records with Elements, Einaudi held all top 10 positions in the UK iTunes classical chart while becoming the country's most streamed classical artist with over 130 million streams, 500,000 followers and 2 million monthly listeners on Spotify.
Ludovico Einaudi has evolved into one of the most successful musicians in the world. The Guardian points out that if you haven't heard his music, "then it's probably because you don't know it's by Ludovico Einaudi". His compositions have formed the soundtrack of film and TV productions including The Intouchables and the Black Swan working with a diverse range of directors from acclaimed Canadian Xavier Dolan to Oscar winner Clint Eastwood. Brands such as NIKE and American Airlines have seamlessly sync'd his works in their advertising campaigns. Einaudi's unique contemporary musical style, informed by minimalist, ambient, world and rock musics, has defied categories to become part of the fabric of popular culture being heard in shows such as X-Factor, live performances by rapper/singer Nicki Minaj and remixes by post-rockers Mogwai. In his own concert appearances, Ludovico Einaudi has likewise crossed genres as the first classical act to play the iTunes Festival on a line-up which included pop diva Lady Gaga, EDM superstar Avicii and Grammy-winning rapper Kendrick Lamar.
The Turin-born Ludovico Einaudi is intrinsically linked to Italy's modern history. His grandfather Luigi Einaudi was the first post-war president of the newly created Italian republic. The influential Einaudi book publishing house was created by his father Giulio Einaudi. The imprint published the early works of venerated Italian authors Italo Calvino and Primo Levi and brought translations of modern masters such as Brecht, Satre and Proust to the country for the first time. Ludovico Einaudi studied at Milan's "Giuseppe Verdi" Music Conservatory under composer Luciano Berio and is a holder of the OMRI (Order of Merit of the Italian Republic).
Ludovico Einaudi's "Elements Tour", which is currently selling out across the European Continent, will touch down this fall in the United States, where the album debuted at #2 on the Billboard classical chart. California concerts in San Francisco, Davis and Los Angeles will be followed by Canadian dates in Calgary, Toronto, Montreal and Quebec City. Crossing the US border, Einaudi performs in New York City before wrapping in the nation's capital on October 20th. The complete North American tour is as follows:
LUDOVICO EINAUDI "ELEMENTS" NORTH AMERICAN TOUR
DATE CITY/PROVINCE VENUE LINK
October 4, 2016 San Francisco, CA Herbst Theatre
October 5, 2016 San Francisco, CA Herbst Theatre
October 6, 2016 Davis, CA Mondavi Center - Jackson Hall
October 8, 2016 Los Angeles, CA Royce Hall Auditorium
October 11, 2016 Calgary, AB Jack Singer Concert Hall
October 13, 2016 Toronto, ON Koerner Concert Hall
October 14, 2016 Toronto, ON Koerner Concert Hall
October 15, 2016 Montreal, PQ Masion Symphonique de Montreal
October 16, 2016 Quebec, PQ Le Palais Montcalm - Maison de la Musique
October 18, 2016 New York, NY NYU Skirball Center for the Performing Arts
October 20, 2016 Washington, DC GWU Lisner Auditorium
TWO ITALIAN FILMMAKERS TAKE HOME AWARDS AT THIS YEAR'S BROOKLYN FILM FESTIVAL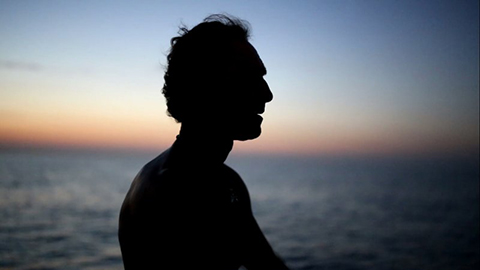 Daniele Raguso directed the film "Last Ship," which won the Audience Award for best Short Documentary. In the same places where "La Terra Trema" by Luchino Visconti (1948) was filmed, the Rodolico family has been building ships for four generations. If yesterday around these shipwrights a whole community used to gather and identify itself, today that world is disappearing because of the changing times. However, it is the Wood that still preserves and builds the memory of a very ancient knowledge: the one of the last shipwrights.

Francesca Scalisi directed and edited the film "Moriom" with Mark Olexa of Switzerland. The film won Best Short Documentary about the social activism of Moriom, a young woman from Bangladesh. She shares her story as representative of the lack of medical treatment for pregnant women in her country.
The Brooklyn Film Festival will be held next year from June 2-11. For more information, please log on to http://www.brooklynfilmfestival.org
THE 1930'S BEVERLY HILLS HOME OF COUNTESS DOROTHY DI FRASSO - FOR SALE
The Restorer of the Villa Madama in Italy Made a Stunning Home in California, Once Rented to Actress Marlene Dietrich; Now Selling for $26.9 Million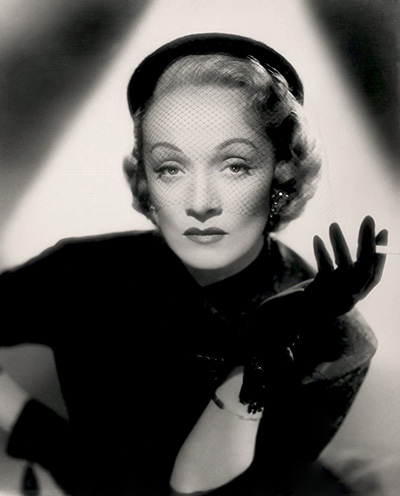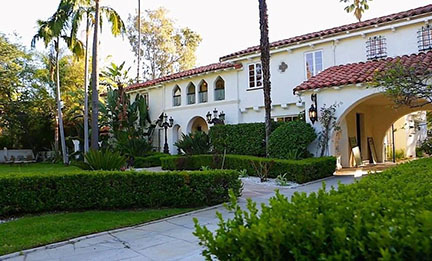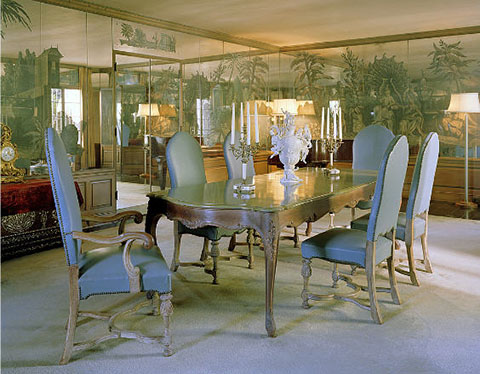 (Pictured: Top photos, exterior and interior of Villa Madama in Italy. Photo of Countess di Frasso and actor Gary Cooper; Actress Marlene Dietrich; and remaining photos of exterior and interior of di Frasso's Beverly Hills mansion.)
Article written by Terry Walsh

Before Paris Hilton and Kim Kardashian, socialite Dorothy Taylor may have been the first Hollywood celebrity who wasn't in the entertainment business. She was the ultimate party host and frequent 1930's scandal rag fodder. Her lovers included Gary Cooper, Bugsy Siegel, George Raft and an Italian count.

Dorothy's trip to celebrity fame began after she inherited $12 million in 1916, the equivalent of about $275 million today. The first thing she did with her money was divorce her British aviator husband, Claude Grahame-White, and embark on a long party in Europe's best circles. In 1923, she married Italian Count Carlo Dentice di Frasso, many years her senior. On the outskirts of Rome, the new countess acquired and restored one of Europe's most famous homes, Villa Madama, that had been designed in the sixteenth century by Raphael. It was later used by Benito Mussolini during World War II for National Fascist Party functions.

While residing in the villa, actor Gary Cooper was doing a movie in Rome and became quite ill. Dorothy took him in and during his recuperation began an intense affair with him under her husband's nose. Since she and the count were at that point leading separate lives, Dorothy went on with the affair and moved to Hollywood where she purchased a mansion in Beverly Hills. Making friends of some of Hollywood's most important stars through her Cooper connections, Dorothy called in the best decorators and landscapers and created a luxurious estate that was classic Art Deco filmdom glamour. Dorothy and Cooper eventually went their own ways but remained distant friends. She was always known as the woman who taught Gary Cooper how to dress, making him the most elegant man in Hollywood.

Through her new Hollywood friends, Dorothy eventually rented her mansion to Marlene Dietrich and headed off to search for sunken treasure on the studio-owned schooner, Metha Nelson; Captain Bligh's ship in the 1935 movie "Mutiny on the Bounty." Also on the ship was American gangster Bugsy Siegel.

Although the trip turned into a disaster when the schooner was tossed violently by 70 mile-per-hour gale winds that split the main mast and destroyed the sails, it was the start of a new affair with Bugsy. She always rejected gossip of her association with Bugsy, instead referring to him as Benjamin to her friends.
In 1947, Dorothy sold the Beverly Hills house to MGM pianist Jose Iturbi, who lived there until he died in 1980. In 1954, Dorothy died of heart failure in a train compartment while she was traveling with George Raft from Las Vegas to Los Angeles after attending one of Dietrich's performances.

Once again for sale, the beautifully preserved Spanish Revival estate hasn't changed much since its heyday in the 1930s when it was featured in "House and Garden." At approximately 8,000 square feet, it has four bedrooms and five baths on 1.12 acres. The home was built for entertaining with large public rooms and although it looks like wallpaper, the walls are covered in hand-painted murals. In the dining room, the walls are mirrored verre églomisé panels that depict towering palms. There is also a two-bedroom guest house and pool nestled within the mature landscaped grounds. The asking price is $26.9 million. Dimitri Velis of Hilton and Hyland in Beverly Hills is the listing agent.

For more information, please visit http://toptenrealestatedeals.com.
SONS OF ITALY SHOWCASES LEADERS IN PUBLIC SERVICE, INDUSTRY AND LABOR
Condoleezza Rice, Airline Industry Leader Nicholas Calio, Real Estate Developer Joseph Mattone, Philanthropist Mary Ann Mattone & Labor Leader Paul Rinaldi Honored by the Sons of Italy Foundation

Joe Mantegna and Gary Sinise, Joseph Sciame and Italy's Ambassador to the United States Armando Varricchio,
Condoleezza Rice, former Secretary of State, and real estate developer Joseph Mattone and wife Mary Ann.


The SIF's 28th Annual National Education & Leadership Award (NELA) Gala was held at the National Building Museum in Washington, D.C. on May 26.
Dr. Condoleezza Rice received the 2016 SIF Lifetime Achievement Award for Public Service for her commitment to country and education. President George W. Bush and NFL Commissioner Roger Goodell introduced Dr. Rice via video. The SIF Lifetime Achievement Award for Public Service is presented annually to a person who is not of Italian heritage. "You, the sons and daughters of Italians who believed (they) could come here and do great things, embody what is so great about America, which is that 'We the People' is an inclusive concept," Dr. Rice said in her speech. "You honor the heritage of your ancestors who came here and made this country what it is because they believed in the American dream."
Nicholas E. Calio received the 2016 SIF Award for Excellence in Business. Mr. Calio is President and CEO of Airlines for America (A4A), the trade association for the country's leading passenger and cargo airlines, whose members and affiliates transport more than 90 percent of all U.S. airline passenger and cargo traffic. In accepting the award, Mr. Calio recognized those who sacrificed for him, particularly his parents, saying that they "struggled to make ends meet, but they tried to make sure we could take advantage of every opportunity. To that end, my mother, who was such a huge influence on my life, went to work full-time in the 1950s."
Joseph M. Mattone, Sr. and Mary Ann Pessolano Mattone, RN/MPH were co-recipients of the night's highest honor-the 2016 SIF National Education & Leadership Award (NELA). Mr. Mattone is Chairman and President of The Mattone Group, a development, construction and property management company in Queens, New York. He also serves as a senior partner in law firm Mattone, Mattone, Mattone, LLP. Mr. Mattone shared an anecdote about the adversity his grandfather faced, ending it by saying that "you can have people throw rocks at you, and they can say bad things about you ... it's organizations like (OSIA) that give you the courage to stand your ground."
Mrs. Mattone is a registered nurse with a Master's in public health. She is also a noted philanthropist and community leader who has raised funds for many causes, such as the New York Mentoring Program and L'Aquila earthquake relief. She praised the line of strong women from which she came, saying that her maternal grandmother "would go to bed without enough food because she wanted the children to eat. But they were never poor of spirit. They shared everything."
Paul Rinaldi received the 2016 SIF Humanitarian Award. Mr. Rinaldi is in his third term as president of the National Air Traffic Controllers Association (NATCA), the first person to have been elected for three terms in the union. He credited such success to his upbringing, saying that "my mother and father instilled the workhorse mentality in me and my brother to understand that good enough is never acceptable and to always strive for greatness."
In addition to honoring these distinguished individuals, the SIF awarded 11 highly selective scholarships to undergraduate and graduate students of Italian descent for exemplary academic performance, school leadership, and community service.
For the 15th straight year, actor Joe Mantegna served as the Master of Ceremonies of the NELA Gala.
Dozens of wounded servicemen and women, veterans, and their families were special guests of the SIF and were recognized at the NELA Gala for their service to the country. Actor Gary Sinise spoke on behalf of The Gary Sinise Foundation, an organization that supports military veterans. "I want to thank (the SIF) for the generous donation to The Gary Sinise Foundation. We're going to do some good things with that money." Earlier this year, the SIF donated $10,000 to his foundation.
Nearly 900 guests come to the annual NELA Gala, the SIF's leading fundraising and public affairs event.
The Sons of Italy Foundation® has contributed nearly $165 million to scholarships, medical research, disaster relief efforts, cultural projects, veterans' causes and other special projects. The proceeds from the NELA Gala help fund these philanthropic programs. For more information please visit the web site http://www.osia.org.
EXHIBIT "INTO THE LABYRINTH": RICHARD DE CAL CAPTURES SURREAL NATURE OF VENICE ARCHITECTURE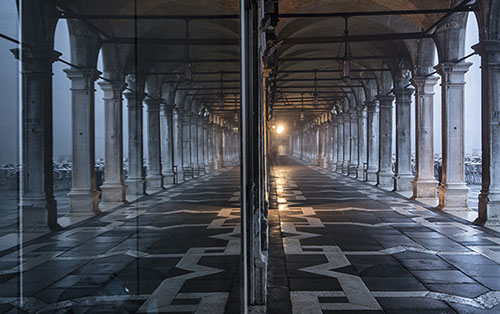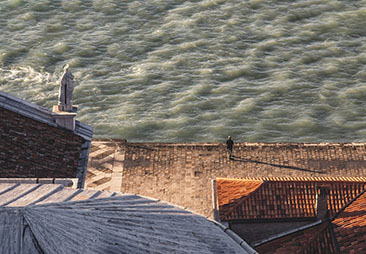 Riccardo De Cal presents his exhibit, Into the Labyrinth from June 17- August 21, 2016 at Fondazione Querini Stampalia in Venice, Italy. The exhibit will include 20 photographs, primarily selected from De Cal's new publication, Dream of Venice Architecture. Inspired by novelist Jorge Luis Borges's statement that the maze, "is a building built to confuse people," De Cal has created an interior environment of metal armatures, audio recordings and photography. Designed by Melissa Siben, the exhibit is a modern 3-dimensional representation of the labyrinthic structure of the city of Venice.
De Cal took the series of photographs over a three month period, from October-December 2015. For him the experience was, "like listening to a melody coming from the calli, and trying to find its origin within the labyrinth. I felt like a dowser in search of water. Photographing Venice was not an intellectual approach, but rather instinctive and subliminal, instead."
The audio recordings quote architects Tadao Ando, Guido Pietropoli, Louise Braverman, Massimiliano Fuksas, Oscar Niemeyer, Randy Bosch, Richard Murphy, Rocco Yim, Shun Kanda, Thomas Woltz, Vincenzo Casali, Mario Botta, and Valeriano Pastor; designer Enrico Baleri; and architecture critic William Menking.
Dream of Venice Architecture, the exhibit catalogue is published by Bella Figura Publications, an imprint dedicated to the investigation of Venice as a living city. www.bellafigurapublications.com
THE RUSSO BROTHERS MAKE A GREAT FILM IN "CAPTAIN AMERICA: CIVIL WAR"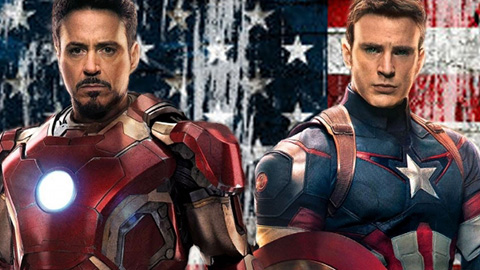 Whether you're Team Cap or Team Iron Man, there is one thing we can agree on: The most anticipated movie of the summer, "Captain America: Civil War," is a triumph in every way.

"Captain America: Civil War" is not only an excellent comic book film, which pleases comic book fans, but it is also an excellent action thriller that everyone will enjoy. The Italian American masterminds of "Captain America: Civil War," are directors Joe and Anthony Russo. The brothers deliver compelling action and storytelling, with likable characters, a compelling plot and great moments of drama and comedy.

There is no doubt that their directorial debut in the Marvel franchise, "Captain America: The Winter Soldier," was a huge success. They surpassed the first Captain America film in terms of critical reception. They managed to maintain their credibility by giving us a movie this summer that has all that, and more. One aspect are characters and we mean the newest additions in the Marvel universe, along with the returning favorites like Iron Man, Black Widow, Hawkeye, etc. Anyone who went see to this film knew what they wanted: The surprising reappearance of Ant-Man, the reveal of the mysterious Black Panther, and probably the most important addition, the uplifting and exciting Spider-Man.

If you are not a comic book fan, the film has plenty of action for you. Fight scenes are excellently choreographed and leaves you on the edge of your seat wondering what's going to happen next. Another plus in the film are its numerous film locations. Berlin, Vienna, and of course the great city of New York, accompany a fictional location in the country of Wakanda, the residence of Black Panther. All of these locations co-align with one another, to drive the plot forward. The film's pace is perfect, not too fast and not too slow.

Direction, being the most important part of any film, is especially vital here. The style of the Russo brothers appeals to the eye. The story here is more unique compared to previous Marvel films. The superheroes organize themselves in two rival groups when they disagree about a new governmental policy. We will not spoil as to what makes the story more than it is; but we can tell you that this is the Marvel film that makes you sympathize with the characters, as to what their motives are when why they fight each other.
One of the best features of the film is how the Russo brothers handle all the characters. There are over 15 iconic heroes and each has a distinct purpose in the story. The challenge was to retain their unique attributes without making the film feel overcrowded. Characters such as Iron Man, Spider-Man and Ant-Man call for unique directing styles, and the Russos capture them perfectly.

Although this is one of the best comic book films to date, we nonetheless could not overlook a minor flaw, (and we hate to be nit-picky). The overall story seemed at times more of an "Avengers" film rather than a "Captain America" one. It is not because of the new characters, but the way the story revolves around key heroes which, at times, takes your attention away from our beloved Steve Rogers, aka, Captain America.

Besides that minor flaw, the film is excellent, from start to finish. The characters and their motivations keep you captivated. The action will keep you on the edge of your seat. "Captain America: Civil War" is fantastic in every way, a must-see film, no matter if you are a comic book fan or not.
THE ITALIAN CARABINIERI BAND PLAYS AT THE LINCOLN MEMORIAL
One of the World's Greatest Military and Police Orchestras Performed at the Famous Washington, D.C. Landmark April 17, 2016

Founded in 1820, The Italian Carabinieri Band Has Charmed Audiences for Almost Two Centuries.
MARK MAZZETTI OF THE NEW YORK TIMES WINS THE 2016 URBINO PRESS AWARD


The New York Times reporter Mark Mazzetti is the winner of the 2016 Urbino Press Award, the Italian prize that is awarded annually to an American reporter or columnist. The official announcement of the prize will be delivered on May 17 by the Ambassador of Italy to the United States Armando Varricchio during a ceremony at the Embassy of Italy in Washington, D.C.. As tradition commands, following the announcement in Washington, the prize will be awarded during a ceremony to be held over the summer at the Palazzo Ducale in Urbino.

"The choice of Mark Mazzetti as winner of the 2016 Urbino Press Award is a testament to the recognition of the value of entrepreneurship and of journalistic dynamism" said the Italian Ambassador in Washington, D.C. Armando Varricchio." The partnership of the Embassy with the Urbino Press Award is the result of a significant cooperation that looks to the future of journalism and to the way foreign policy is narrated to the readers, and Mazzetti was therefore added to a list of important American journalists who have distinguished themselves in journalistic investigation."

Mark Mazzetti has been the Washington correspondent of the New York Times on national security issues since 2006. Prior to joining the New York Times Mazzetti was staff writer with the Los Angeles Times, Pentagon correspondent for US News & World Report, and Washington D.C. correspondent for the Economist. An investigation carried out in 2009 with other colleagues on the increase in violence in Pakistan and Afghanistan and on how US policy reacted to such violence won him the Pulitzer Prize. Mark Mazzetti is the author of the book "The Way of the Knife: The CIA, Secret Army, and a War at the Ends of the Earth" published in 2013.

The Urbino Press Award, with its Chairman Giovanni Lani, counts among its previous winners Diane Rehm, Michael Weisskopf, Martha Raddatz, Thomas Friedman, David Ignatius, Helene Cooper, Sebastian Rotella, Wolf Blitzer, Maria Bartiromo, and Gwenn Ifill. The award is made possible through the generous support of the Italian Embassy and the Italian Cultural Institute in Washington D.C., the Italian Institute for Foreign Trade (ICE), the fashion house Piero Guidi, the Marche Region, the City of Urbino, the Urbino International Centre, and the dairy industry Val D'Apsa. To learn more about the Urbino Press Award, please log on to http://www.urbinopressaward.org/


HOMAGE TO SUPREME COURT JUSTICE ANTONIN SCALIA (1936-2016)
Writer of the Cover Feature Article for PRIMO's 1st Edition 2015, Writer Santi Buscemi Recalls His Meeting with The Venerable Justice Antonin Scalia


I first met Antonin Scalia three years ago. It was purely by chance. I had sent him a copy of "Sicilian Tales", my translation of twenty fairy tales by Luigi Capuana. I knew his father was born in Sicily, and I thought he would enjoy the book. To my surprise, he wrote back almost immediately saying that he knew the author well, for Capuana was the subject of his father's doctoral dissertation in comparative literature at Columbia University. He offered to lend me the dissertation—his only copy—if I thought it might aid in my research.

After I read the book, I asked if I could return it to him personally so as not to risk its getting lost in the mail. I'm sure he saw through this flimsy excuse to meet him, but he was gracious enough to ask his assistant, Crystal Martin, to set up an appointment. In March of 2013, my wife and I entered the Justice's suite at the Supreme Court to the sounds of a warm, friendly voice, as Scalia came out of his inner office to greet us. We talked of many things that afternoon: Pope Francis, our families, our visits to Sicily, his strong Catholic faith, his wife and family, his colleagues on the Court, especially Justice Thomas, for whom he had great respect. His brilliance was apparent from the start, but we didn't talk much about his judicial philosophy. Our conversation became personal very quickly, and we soon felt as if we were sipping fragrant Sicilian wine on a neighbor's back porch.

He was upbeat, witty, even funny, and we left the office knowing we had made a new friend. We had learned so much about the man—in just a half hour— not because he had told us about himself, but because he had made such an effort to learn about us.

Before leaving, he mentioned how much he loved his children and his many grandchildren. I said that my grandson Matt, then 15, would love to have met him. He looked me straight in the eye and asked "Why didn't you bring him?" With that, he issued us a formal invitation to return and hear oral arguments in his own reserved seats at the Court.

We did so a few months later, this time with Matt in tow. Afterward, he invited us to lunch in chambers, where his attention seemed to focus on his youngest guest. He was particularly happy that Matt excelled in German, a language he too had mastered. I can never forget his interest in us that day, especially his attention to my grandson. I don't think I will ever be able to give Matt a greater gift.

Since that luncheon, I have studied the Justice's legal philosophy in depth and have cited several of his decisions in an earlier article for Primo. All of them demonstrate a legal acumen beyond measure. I have talked to a number of lawyers, who have only praise and admiration for the longest-serving Supreme Court justice in our history. Many of them have asked if they could accompany me on my next visit. Alas, that is no longer possible!

But what I came away with from my two visits with Antonin Scalia has little to do with law or government. It has to do with knowing that this was more than a legal giant; this was a great and good man who opened up to three ordinary people he had never known and invited them to break bread with him in the private space he occupied within the sanctuary of American democracy.

Recently, the Justice gave a colleague and me permission to re-issue his father's dissertation with an appropriate critical analysis, the proceeds of which would go to the Salvatore Eugene Scalia Library at Brooklyn College. He signed the email "Nino." That was the first thing I thought about when I heard of his passing, my eyes filled, my heart aching.

On our first visit, I noticed a statue on one of the bookcases. I asked if it was Thomas More, the patron saint of attorneys. "Yes," he said, "a great and courageous man." And so were you, "Nino," and so were you!


STATEMENT FROM SONS OF ITALY ON THE PASSING OF U.S. SUPREME COURT JUSTICE ANTONIN SCALIA


On behalf of its hundreds of thousands of family members in all 50 states and the District of Columbia, the Order of the Sons of Italy in America (OSIA), the oldest and largest organization representing Americans of Italian heritage, deeply mourns the passing of United States Surpreme Court Justice Antonin Scalia.

OSIA National President Daniel J. Longo of Maryland calls Scalia "a shining example of the very best the Italian American community has to offer, highlighting a brilliant career in public service and jurisprudence." Justice Scalia was recognized by the Sons of Italy Foundation (SIF) in 1991 for being that shining example, receiving the SIF's highest honor, the National Education and Leadership Award.

OSIA National Executive Director Dr. Philip R. Piccigallo, who knew Justice Scalia for more than a quarter of a century, states that "whether one agreed or disagreed with his strong legal and philosophical positions, it was impossible not to recognize Justice Scalia's intellectual acuity, command of prose, forceful impact on American law, the legal system, and culture, and the historical importance as the first Italian American appointed to the U.S. Supreme Court in 1986." Piccigallo adds, "moreover, virtually everyone respected and enjoyed Justice Scalia's company, irrepressible wit, and sense of humor."

OSIA extends its deepest condolences to Justice Scalia's devoted wife, Maureen, his nine children, and more than two dozen grandchildren. His indelible place in American history and jurisprudence is clear and firm.



STATEMENT FROM NATIONAL ITALIAN AMERICAN FOUNDATION ON THE PASSING OF U.S. SUPREME COURT JUSTICE ANTONIN SCALIA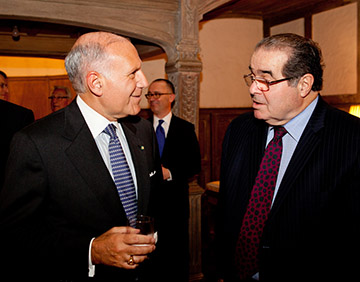 NIAF Chairman Joseph Del Raso and U.S. Supreme Court Justice Antonin Scalia, circa 2012



"On behalf of the National Italian American Foundation (NIAF) Board of Directors, we are deeply saddened by the passing of the United States Supreme Court Justice Antonin Scalia. We extend our heartfelt condolences to the Scalia family. Justice Scalia died at the age of 79 on February 12, 2016, in his sleep after a day of quail hunting at Cibolo Creek Ranch outside of Marfa, Texas.
According to Joseph Del Raso, "I am personally heartbroken over this loss. Justice Scalia was not only the most respected member of the Italian American community having been the first Italian American Justice nominated and confirmed to the Supreme Court, but he was also a true friend and respected scholar. He was always there for our community, and participated at so many NIAF-sponsored events. On a personal note, I will always cherish the memories of spending time with he and his wife, Maureen, here in the United States and during our trips to Italy together."
"Today the Italian American community has lost one of the most iconic figures in our history," John Viola said. "I think it's hard to quantify how important his elevation to the Supreme Court was for our community, and Italian-Americans of all political persuasions were incredibly proud of this man and his vast contributions to our nation. This is a loss that is deeply felt in the NIAF Family and throughout the Italian American community."
"His indelible legacy will be long remembered with great affection and admiration."
ITALIAN ARTISTS MIRCO PASQUALINI AND TOTO FEATURED AT AGORA GALLERY, NYC

Painting titled "The Golden Tiger" by Mirco Pasqualini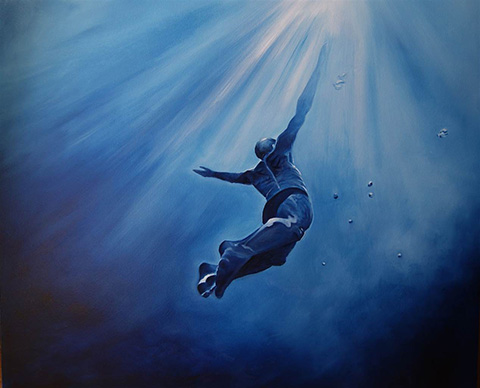 Painting titled "Risalita," by TOTO

The original work of two contemporary Italian artists Mirco Pasqualini and TOTO will be on display at Agora Gallery, NYC. The exhibitions open on May 20th and will run until June 9th, 2016. The opening reception will take place Thursday, May 26th, from 6-8 PM. Entrance is free.

Born in Italy, Mirco Pasqualini currently lives and works in Manhattan. He is noted for taking chaotic imagery of the city and creating paintings that transcend the cacophony of the city. Heavily influenced by the graphic design world, pop culture, and the work of such artists as Andy Warhol, Pasqualini produces cutting-edge paintings characterized by unconventional palettes and unexpected juxtapositions of texture, line, and form.

Born in Milazzo, Sicily where she continues to live and work today, TOTO is a painter tied equally to Romanticism and Surrealism. She looks deeply into the possibilities that lie in the use of colors to convey visceral emotions. Using shades of blue and white, TOTO traverses the space between dreams and waking perception. Her project is particularly benefited by her oceanic and atmospheric motifs, which highlight the way her palette obscures the difference between fantasy and reality. In this way, her figurative and sculptural paintings connect stylized realism and ethereal symbolism in a unified manner.

To learn more about the upcoming exhbition of these two artists at the Agora Gallery, please log on to www.agora-gallery.com
VALLI ART GALLERY, MIAMI, WILL PRESENT AT CONTEXT NEW YORK ART FAIR
Two of the artists will be Fabrizio Corneli and Giuseppe Amadio of Italy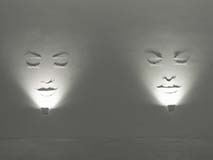 Two sample artworks from Fabrizio Cornelli and Giuseppe Amadio

Valli Art Gallery, based in Miami Florida, will be present at CONTEXT New York from May 3 to May 8, 2016 in Manhattan. The artists showcased will be: Javier Martin, Fabrizio Corneli, Kenor, Cveto Marsic and Giuseppe Amadio.

The fair will join Art New York at Pier 94, located on the Hudson River at 12th Avenue at 55th Street. A VIP Private Preview will kick off art week in New York City on Tuesday, May 3 from 2-5pm, before Frieze's opening. CONTEXT New York and Art New York will be open to the general public, May 3 - 8. CONTEXT New York will provide collectors with a leading alternative fair to acquire important works of contemporary art.

Like its hugely successful sister fair, CONTEXT Art Miami, which launched during Miami Art Week in 2012, CONTEXT New York's open atmosphere will create meaningful dialogue between collectors, participating galleries, and artists. CONTEXT New York will provide the ultimate platform for both the veteran and unseasoned collector to enjoy and acquire mid-career, emergent and cutting-edge talent by sixty participating emerging and established galleries during one of the most important weeks for contemporary art in New York City.
CONTEXT New York and Art New York will utilize Pier 94's entire 133,000 square-foot exhibition hall. Situated on the West Side Highway, Pier 94 is located in the heart of Midtown Manhattan within close proximity to the Chelsea art district, museums and major auction houses. For information: www.valliartllc.com
VANDALS STRIKE AGAIN AT MERCER COUNTY ITALIAN-AMERICAN FESTIVAL ASSOCIATION BUILDING


Over the weekend of April 9, 2016, vandals struck again at the Mercer County Italian American Festival Heritage building at the intersection of Newkirk and Liberty Streets, Trenton, New Jersey.

A beautiful Roman statue was destroyed valued at $800. This is the second incident of vandalism in the past year at the Italian American center. Last fall, a statue of Christopher Columbus had its face painted black, but was later repaired. For the destruction of the Roman statue, a reward will be given for any information leading to the arrest of the perpetrators. Please contact 609-631-7544 if you have any information. To learn more about the Mercer County Italian-American Festiva, please log on to www.italianamericanfestival.com.
CHET CAMPANELLA, OF CALIFORNIA, SEEKS OFFICIAL APOLOGY FROM CONGRESS FOR INTERNMENT OF ITALIAN AMERICANS IN WWII

Since 2010, Chet Campanella, 85, of California, has led an effort to inform the public about restrictions and internment imposed on Italian Americans in World War II.

In a report written by the Department of Justice and submitted to Congress in 2000, executive orders by President Franklin Roosevelt at the time of World War II seriously restricted the freedoms of some 600,000 "Italian-born immigrants in the United States." Thousands were forced to leave their homes along the West Coast and live under curfews, while hundreds of others were forcibly removed from their homes and relocated to internment camps.

Campanella was still a boy at the time but was an eyewitness to what happened to many Italian Americans during World War II. His effort got the attention and support from Congresswoman Zoe Lofgren, Democrat, of District 19 in California and the National Italian American Foundation (NIAF). Two bills were introduced by Lofgren in the House of Representatives, H.R. 4146 and H.R. 4147. The proposed legislation seeks "funds from the Department of Eduction to study the mistreatment of Italian Americans during World War II. The other asks for an official apology from Congress."

NIAF published an article on Campanella's effort in a recentl edition of Ambassador, the organization's flagship publication. They are now promoting a petition drive where Italian Americans can sign up and support the pending bills H.R. 4146 and 4147. If you would like to sign your name to the petition, please access this Link. To learn more about Campanella and his effort for an apology from Congress for the internment of Italian Americans, please log on to www.niaf.org.
FROM GAETA WITH LOVE:
Cosmo Salibello Captures His Italian Roots with Cosmo Celebration Sauces


(Pictured: Cosmo Salibello, his signature sauce, and Gaeta, where his family emigrated from in Italy.)


What drove you to start Cosmo Celebration Sauces?


One of the greatest joys of my childhood, in Brooklyn, was watching my mother cook. To me, it seemed that she was making magic happen in the kitchen. I asked questions and learned from her. When I left for college, I knew that what she had taught me would help sustain me away from home. When I was in my junior year, I lived in an apartment with two roommates. One did the dishes. The other one, and I, did all the cooking. That was before the ready availability of fast food. If one could not cook, one did not eat.

It was there that I practiced making my mom's Marinara sauce. Over the years which followed, I made good progress in recreating her recipe. The questions I asked, in that time, became more about familiarizing myself with her life in Gaeta, where she was born. She told me about the Patalano family lands, about her brothers who farmed and fished, about how she learned to be a seamstress (a skill which would support our family as I grew up), about how she didn't get beyond 4th grade in education, and about the Montagna Spacatta, which is said to have split at the moment Jesus died. It was an unforgettable connection to a very special history.
I knew my mom was proud of my culinary progress when one Christmas she was at my home and I was cooking. I asked her to tell me what she thought of my sauce and she said, "Why, that's pretty good!" I was thrilled. After she passed away in 2001, my desire to honor her memory and share with others her cooking, and her stories of Gaeta, became the motivation for me to venture into the process of creating Cosmo Celebration Sauces.


A Navy fighter pilot, an optometrist, an inventor and an amateur singer, you are no doubt a Renaissance Man. What qualities from these professional fields do you bring to Cosmo Celebration Sauces?


By nature, I have always wondered what was around the corner, or over the ridge. Curiosity led me along many paths. Nurture, how I was raised in that Italian family, gave me the skills and confidence to follow that curiosity.

I graduated from college with a degree in Management Engineering. That checked off a box for me, to qualify for US Navy flight training. In the Navy, I learned discipline and acquired the knowhow to take reasonable risks. Both are key skills for an entrepreneur.

A squadron flight surgeon gave me the push I needed to follow an interest in healthcare. So, I invested the time to earn a degree in Biology, on my way to Optometry school. Those four years of professional training gave me the compassion and patience I would need to treat others. Compassion and patience also provided the drive necessary to pursue, in the dark times, a medical device business. My engineering background supported my developing the technology for a new instrument to prescribe computer glasses for alleviating Computer Vision Syndrome.
Singing allows me to recharge when I need to. It is a creative release. And I love to listen to opera while I cook – ah, Puccini!! - the emotion, the passion- things I express in my cooking. Curiosity, discipline, confidence, compassion, patience, passion and creativity are the qualities which have supported me, as Cosmo Celebration Sauces became a part of my life.


Your parents came from Gaeta and settled in Brooklyn, New York. The two sides of the family were the Salibellos from your father's side and the Patalanos from your mother's side. How did your parents preserve the specific heritage from Gaeta while you and your siblings grew up here in the United States?



It is almost a given that any generation raised in two cultures will learn and remember the traditions of the parents, but will practice the culture of the adopted people, as adults. Sometimes it takes more than one generation; however, the end result is the same.

My mom's cooking kept me in touch with Gaeta, Her stories helped, too. And visiting with aunts and uncles and cousins every Sunday, and traveling to Boston each summer to visit her family helped keep the feeling of Gaeta alive. On the Salibello side, my dad grew up in the Red Hook section of Brooklyn. Now mostly gentrified, it was pretty rough and tumble back then. He told stories about how, during the time of Prohibition, my grandfather would make wine in his basement, and sell it to his neighbors. My dad was sent down to the wine cellar to fill a bottle for sale. He would delight in telling me how his father always reminded him to whistle while he filled the bottle. I still laugh when I think of that story.

My parents did all they could to keep us in touch with the Gaetani. Sadly, as their generation passed, the lessons faded. At least, I still have my mom's sauce, her recipes, her love of cooking and my memories.


Gaeta is an amazing little seaside city on the Tryrrhenian coastline. You have very close connections with Gaeta. How does your company capture the spirit of Gaeta in your sauces and foods?


There is much to do and much more to see in a relatively compact area there. But it has been many years since I was last in that region. The connections and experiences I came away with, then, have influenced the creation of the Classic Marinara and Mushroom Marinara sauces somewhat indirectly.

A 1992 movie, "Like Water for Chocolate," shares a message with us, that what we put into how we nurture others can create unintended consequences. I like to think that how I learned about and remember Gaeta infuses the spirit of the sauces. The spirit of Gaeta, and its people, brings nourishment and good health to those who experience the Festeggiamo! in every jar.


Your Classic and Mushroom Marinara are excellent. They are based on your mother Maria's secret recipes. Not to give away the secret, what can you tell us about why yours and your mother's sauce is so special in the way of ingredients, method of cooking and taste?


My mom was a genius in the kitchen. She taught me that what one does with food is as important as how one does it. The brands that begin, and end, with tomato puree, garlic, onions and oregano will produce a bitter, and somewhat goopy, product. It takes a lot of added sugar and salt to make that, even remotely, palatable.

What I learned from my mother was how to blend a complex mix of select herbs and spices (that's the secret part) in such a way that the taste buds experience sweet and salty, with just enough added salt (only 230 mg per serving) and no added sugar. So, the use of the right ingredients is important. Her insistence on using only the very best quality, freshest ingredients is definitely part of my brand's philosophy. And how those ingredients are mixed and stirred leaves a rich wholesome texture that really makes the taste. All of that goes into making Cosmo Celebration Sauces uniquely satisfying and authentic – I say it's "Real Italian. Real Easy."


Cosmo Celebration Sauces is winning a lot of interest from Vegans and Vegetarians. Why is that?


Those who have eliminated animal protein from their diets are setting an example for the future of food. In my family, we were pretty much omnivores, but the meat protein was an added ingredient. So everyone at the table could choose whether and how much to partake. The basic sauce was vegan. No meat, no soy, no dairy.

It still is today in Cosmo Celebration Sauces. And we add gluten-free, as well, in that the sauce is prepared without high-fructose corn syrup, which can be made from contaminated corn. Overall, we take the extra steps to maintain the gluten-free, no meat, no soy, no dairy conditions in the sauces to appeal to health-conscious consumers.

Many of my millennial friends are also looking for ways to be creative with marinara without using pasta – I have to tell you, I adore a good pasta, but I also love experimenting with ways to use my sauces sans noodles.


Tell us about Share Your Celebration, that aspect of your promotional activities.


That is embodied in our tag line: Festeggiamo! It's Italian for Let's Celebrate. There is a saying among chefs that a meal is not special unless it is shared with those we love; family, significant others, friends. Sharing creates the celebration. That's also one of the themes in Like Water for Chocolate. And the need to stay connected, using food cooked with love and joy, is more vital today than it has ever been, in my lifetime. So, Festeggiamo! Signore e Signori.


What is especially appealing about your pitch is that you remind people that tomato sauce is healthy for you. It is a very Italian concept: Health and taste. Please comment.


Count Basie often said about music that, if it sounds good, it is good. The same may not be universally applied to food, since we can objectively create dishes which taste wonderful, but which may contribute to problems for the body in later life. The Mediterranean-style diet, however, seems to be the embodiment of health and taste. It's a winner on so many fronts.

A wonderful study out of Harvard Medical School (with a principal investigator who is, ironically, Italian) reported that tomatoes are rich in Lycopene, an important antioxidant in the body. Lycopene has been found to be protective against heart disease in both sexes, and also protective against prostate cancer in men, and against breast cancer in women.

He also measured the bio-availability of Lycopene in raw tomatoes. That was one number to consider. Then he cooked the tomatoes, and found a higher level of Lycopene bio-availability. Finally, he cooked the tomatoes in olive oil, and found the greatest amount of bio-availability. So, what I said before, about what one does with food and how one does it, need to be considered together. Tomatoes - good. Cooked tomatoes - better. Tomatoes cooked in olive oil - best. Now notice how tomatoes and olive are an essential part of a Mediterranean diet. Health and taste, yes. But remember the process, too!

And that should suggest that not every red sauce on the grocery shelf is made with pure olive oil. If the consumer chooses those made with safflower oil or canola oil, the health benefits will be diminished or lost. What one does with food, and how one does it. They go hand-in-hand. I would argue that Italians have set a pretty high bar in what our cooking brings to the table.


The Washington Post recently listed the top foodie cities in the Country. Where you live, Portland, Oregon, made the list without being one of the choices. What can you tell us about the foodie scene in the Northwest and how your sauces are part of that?


Portland is an amazing city. About 500,000 population, but those folks bring a heart, a passion and a demand for quality art, music, wine, beer, and food that rivals San Francisco, in my opinion. The weekly TV series, Grimm, is filmed here. The Oregon Symphony Orchestra is an award-winning ensemble of world-class musicians. My choir director is a well-known singer/songwriter, who has been entertaining others with her music for over 25 years.
I'm not surprised that the known facts about Portland, and its quiet reputation, led The Washington Post to include Portland on their best-of list, even without being formally nominated.
Food carts and bistro restaurants dot the city. It is virtually impossible to get bored with the food scene here. And then Cosmo Celebration Sauces were introduced. Like Water for Chocolate, with its message of how love, passion and using the finest ingredients transform food into human nourishment, had Portland in its soul. Not deliberately, perhaps, but it is there.
Cosmo Celebration Sauces were created out of the same energy, the same commitment. And the ready availability of food and business mentors in Portland has been a key ingredient for CCS to establish itself in that scene. Good people know and appreciate good food. And they support those who produce it. We have been blessed with that support.


What's ahead for you and Cosmo Celebration Sauces?

Our current focus is to establish the brand and grow the awareness of Cosmo Celebration Sauces among consumers. With that will follow growth in sales and geographic reach.
We began that process at the beginning of 2015. At that time, we were producing batches of sauce about every six months. We were doing samplings in four area markets. Now, in 2016, we are featured in 28 markets, with a reach from Hood River, OR to Portland, OR to Eugene, OR and Vancouver, WA. That has been quite a ride, which has provided very satisfying growth in one year. It has allowed the company both to appreciate acceptance by the public, and to renew our commitment to artisanal cooking and quality.
In addition, we have been able to take the necessary steps to be available online, so that consumers, and especially the astute readers of PRIMO Magazine, can experience Cosmo Celebration Sauces, whenever they desire and wherever they live in the USA. The Web site is www.CosmoSauces.com.
The process, of starting and guiding this project, is taking on a personal magnum opus flavor. It's becoming my purpose in life. That's a good feeling!

Festeggiamo!
ITALY'S FAMOUS CARABINIERI BAND WILL PLAY AT THE KENNEDY CENTER ON APRIL 18, 2016


The famous Carabinieri Band – one of the greatest military orchestras in the world, founded in 1820 – will play at the Kennedy Center in Washington D.C. on April 18, 2016 in a free concert honoring defenders of the cultural heritage of humanity. In what promises to be a not-to-be-missed-event, 90 musicians in their distinctive uniforms will bring to life traditional marches as well as modern and classical music in the majestic Concert Hall. The rich repertoire will include the national anthems of Italy, the United States and the European Union, as well as music by Sousa, Dvorak, and Puccini.

"We warmly invite all lovers of culture to join us in this international musical tribute to the defenders of human heritage, in one of the most beautiful venues in America" said the Ambassador of Italy to the United States, Armando Varricchio. "We are very grateful to the Kennedy Center for giving our talented Carabinieri Band the opportunity to perform in the splendid Concert Hall, in an event which is free and open to the public. Today, after the recent horrific attacks to our culture and some of our fundamental values – just think of Paris, Tunis and Brussels, to mention but some - it reminds us of the importance of defending culture, and our very way of life, in its entirety".

The Carabinieri Band was founded in 1820 when the then Royal Carabinieri Corps assembled a group of buglers for the first time. In 1862 this became a fanfare, and by 1920 had developed into a full Band contingent of the Carabinieri Force. Under the direction of Maestro Luigi Cajoli the Band became famous for its quality of style, and in 1916 it travelled abroad for the first time for a series of concerts for injured allied soldiers. It performed with great success in Paris, and was highly acclaimed by the press. Many other prestigious tours abroad followed, from Europe to North and South America, the Middle East and Japan. Maestro Luigi Cirenei, who was a pupil of Pietro Mascagni, succeeded Cajoli in 1925. He improved the artistic skills of the Band and composed "LA FEDELISSIMA" the march theme adopted by the Carabinieri Force. Other band directors included: Maestro Domenico Fantini (1947), Maestro Vincenzo Borgia (1972) and Maestro Massimo Martinelli (2001), who is the present Director. The Carabinieri Band, with 103 musicians, each one an expert in a particular instrument, interprets the most famous compositions with a rich repertoire ranging from traditional military marches to modern and classical music.
The event will be held on Monday, April 18, 2016 at 6:00 p.m. and is free and open to the public. RSVP by accessing this Link.
"MONTEDORO" - A NEW FILM THAT CAPTURES THE GHOST CITY OF MATERA


In "Montedoro," Director Antonello Faretta follows the path blazed by Sergio Leone.

His film is replete with long panorama shots and stark close ups. The first scene is reminiscent of a Spaghetti Western where the filmgoer is given a wide angle view of the calanchi; the desolate pointed hills of Italy's Basilicata region that are not unlike the white sandstone hills of Spain where Leone often filmed. With a lone finger pacing the foreground, the loneliness of the frontier is palpable in "Montedoro"; yet we are not seeing a western but instead a contemporary film about self-exploration and family identity.

"Montedoro" is based in part on the film's lead actress Pia Marie Mann, who was born in Italy but was adopted by an American family. This film follows her character in Matera in search of her Italian roots and the background of the mother who abandoned her.

In the beginning, we are given one of the film's most touching scenes when Pia is taken by taxi to the abandoned city of Montedoro. The driver, played by Giovanni Capalbo, suddenly stops the car en route as he is overtaken by the view of Italy's wild country. He speaks holding back tears as he remembers his mother, who came from this land. He conveys a reminder to Pia that modernity separates us from nature. His soliloquy is all the more touching for its substantive message that an increasingly digital age leaves us empty and detached from our organic roots.

When the taxi reaches the city, Pia is overcome by its abandonment. She employs two local women to lead her among the winding pathways of the stone ruins. There she learns the tragic past of Montedoro and the destinies of its inhabitants.

"Montedoro" derives its title from what Craco, the film's location, used to be called when it was home to a Greek population in the 6th centuryA.D. The enclave of ruins is are found it in the province of Matera, near the border between the regions of Basilicata and Apulia.

One of the most famous landmarks in all of Europe, Craco has been the setting for a host of films, including Pier Paolo Pasolini's "The Gospel According to Matthew," Franceso Rosi's "Christ Stopped at Eboli" and Mel Gibson's "The Passion of the Christ." Coming in 2017 will be the film "Wonder Woman," which will put Craco in the limelight as many of that movie's scenes were filmed there.

Although Faretta is not breaking new ground in depicting Craco, his film nevertheless is different than others. Faretta makes Craco a central character in "Montedoro" instead of a scenic backdrop. He fuses home movies from the city that showed the people there living and working and celebrating among parades and other gatherings. Residents were ordered to leave Craco in 1963 when the city was bombarded by intense landslides which many believed were caused by poor sewage and waterworks.

"Montedoro" is a film about the past that is seemingly always alive in Italy. In our technological age where we meet people in an instant through smart phones and social media, we are still unable to connect to those closest to us in any meaningful way. Pia's struggle is to find life amidst the empty ruins of a dead Italian city. Hers is an excursion into the depths of genealogy that takes filmgoers into different haunting directions.

"Montedoro" is an independent film, now making the rounds of American film and art house festivals. To learn more about the film, please log on to http://montedorofilm.it/
NIAF ELECTS NEW MEMBERS TO BOARD OF DIRECTORS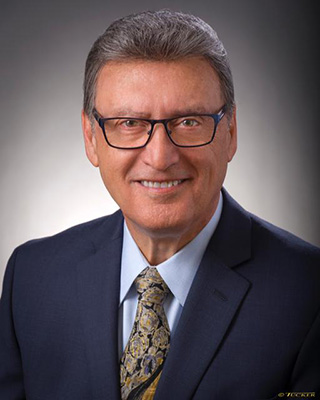 (Photo of Joe Piscopo and Joseph Guccione by Jay Isolini for NIAF. At right, photo of Basil Russo.)

Two notable Italian Americans with distinguished careers in federal law enforcement and community advocacy have been elected to the National Italian American Foundation (NIAF) Board of Directors for the 2016-2020 term during an April 29 meeting at the New York offices at Pepper Hamilton LLP. NIAF's new Board Members are Joseph R. Guccione, managing director of Freeh Group International Solutions LLC, and former U.S. Marshal for the Southern District of New York; and Basil M. Russo, national president of the Order Italian Sons and Daughters of America (ISDA), and the ISDA Fraternal Association.

During the Foundation's New York Gala in April, NIAF presented the second-annual Mario M. Cuomo Award in Public Service to Guccione.
"We are honored and proud to have Joseph Guccione and Basil Russo, two outstanding Italian Americans, serving on NIAF's Board of Directors," said NIAF President and COO John M. Viola. "The leadership that these men exhibit in their respective fields further strengthens the expertise of our distinguished board. We welcome their character, keen insight and dedication to the Italian American community."

The NIAF Board of Directors and its Board Officers includes some of the most prominent business executives in the United States, including Maria Bartiromo, global markets editor at FOX Business Network; John F. Calvelli, executive vice president for the Public Affairs Division of the Wildlife Conservation Society; Linda R. Carlozzi, a partner in the New York Office of Jackson Lewis LLP; Joseph V. Del Raso, Esq., a partner with Pepper Hamilton LLP; Hon. Mike Ferguson, a former member of Congress; Frank Giordano, president and CEO of The Philly POPS and Atlantic Trailer Leasing Corporation; Hon. Patricia de Stacy Harrison, president and chief executive officer of the Corporation of Public Broadcasting; Gerard S. LaRocca, chief administrative officer of the Americas at Barclays Capital; Hon. Anita Bevacqua McBride, executive in residence at American University School of Public Affairs and former chief of staff to First Lady Laura Bush; Charles Turano, executive vice president of the National Hockey League franchise Florida Panthers and director of Heritage Werks; and Michael J. Zarrelli, managing counsel and federal affairs manager for Alticor Inc., in Washington, D.C.

The National Italian American Foundation (NIAF) is a non-profit organization dedicated to preserving and promoting the heritage and culture of Americans of Italian descent. Visit www.niaf.org.


MOTT FOUNDATION TO CONFER 106 ACADEMIC SCHOLARSHIPS
The John R. Mott Scholarship Foundation, Inc., (the "Foundation") of Washington, D.C., dedicated to the education of the children of Calabria, Italy, has awarded 106 academic scholarships to deserving students from all over the Region of Calabria. Beginning in 2001, the Foundation has awarded scholarships for higher education to the young men and women of Calabria. The primary requisites for receiving a scholarship are the student's academic achievement, financial need and a commitment to use the benefit of this education to make a contribution to the Region of Calabria.
Mario V. Mirabelli, Esq., the President of the Mott Foundation stated "We are very proud of the quality of the academic credentials of this year's class of scholarship awardees. It is the hope of the Mott Foundation that receiving a Mott Scholarship will in the near future be recognized in Italy and elsewhere as an indication of superior academic achievement."
John R. Mott, the creator of the Foundation, was born Giovanni Motta in 1909 in the mountain village of Serra d'Aiello, Calabria, Italy and immigrated to the United States with his family in 1911. Although a man of significant means, Mr. Mott eschewed luxury, maintained a frugal lifestyle and preferred instead to invest his resources for a larger cause: his dream of eventually giving back to the beloved land of his birth, Calabria, Italy. Mr. Mott created the Foundation prior to his death in 1998.

The John R. Mott Scholarship Foundation is a supporting organization of the National Italian American Foundation. Visit www.niaf.org

The 2016 John R. Mott Scholarship Foundation Awardees are:
Claudia Aiello, Maria Luisa Anselmo, Raffaella Argiro, Nadia Antonella Astorino, Francesca Barletta, Sara Barreca, Gabriella Bastone, Teresa Bazzarelli, Antonella Bisardi, Agostina Bonavita, Giulia Bruni, Laura Bruno, Maria Bruno, Pierangelo Calvelli, Riccardo Candido, Concettina Caparello, Antonio Cappa, Rosalba Carnevale, Chiara Carrà, Francesca Chianello, Francesca Ciancio, Angela Ciricosta, Elvira Clausi, Francesco Condello, Giampiero Conte, Patrick Corapi, Mariangela Cozza, Daniele Croce, Mariateresa De Domenico, Carlotta De Filippis, Francesca De Rosa, Claudia Esposito, Lucia Francesca Filippelli, Francesca Forlini, Debora Grandinetti, Maria Cristina Guarascio, Antonio Iannopollo, Pasquale Iannucci, Fioravante Infusino, Caterina Italiano, Miriam Italiano, Gabriele Larocca, Andrea Larosa, Angela Le Pera, Antonio Lento, Serena Leo, Sara Leone, Rosanna Lettieri, Eva Azzurra Li Trenta, Laura Lipari, Giuseppe Lopez, Silvia Caterina Lorelli, Giulia Maida, Anna Mazzuca, Serena Mele, Marika Mesiano, Ilenia Metallo, Francesca Mollica, Claudia Morabito, Marco Morrone, Chiara Mullace, Chrisitan Musumeci, Alba Nicastri, Nicola Nicastri, Vera Nigri, Valentina Osso, Luca Pagliaro, Stefania Pagnotta, Ilenia Palella, Andrea Panza, Alessio Paradiso, Ilaria Pascuzzo, Mariaceleste Pascuzzo, Valentina Pascuzzo, Claudia Perri, Elisa Perri, Jessica Perri, Luca Serafino Perrone, Veronica Petrone, Ilaria Pezzaniti, Grazia Giuseppina Politano, Alfonso Prostamo, Sara Provenzano, Veronica Reda, Lara Riccio, Chiara Richichi, Daniela Rossiello, Carmine Salerni, Davide Scanga, Angela Schipani, Martina Sdao, Mariagiovanna Settino, Erika Sicilia, Gilda Sicilia, Fulvio Siciliano, Danilo Spadafora, Lucia Spadafora, Carla Tempestoso, Giuseppe Todaro, Francesco Tortorella, Pier Pasquale Trausi, Gianluca Tripepi, Rodolfo Tripepi, Adolfo Turco, Diletta Vito, Ruggero Vizza
MIKE PIAZZA AND LOU CARNESECCA HEADS LIST OF HONOREES FOR NIAF NYC GALA, APRIL 28


Leading the list of honorees at NIAF's annual New York Gala are sports greats Mike Piazza, 12-time MLB All-Star elected into the National Baseball Hall of Fame; and Luigi P. "Lou" Carnesecca, legendary coach of St. John's University's Red Storm men's basketball team and inductee of the Naismith Basket Ball Hall of Fame.

Honorees joining them include: Frank Bisignano, chairman and chief executive officer of First Data Corporation; Joseph R. Guccione, managing director of Freeh Group International Solutions LLC; Michael J. Inserra, Americas vice chairman at EY; and Arthur J. Mirante ll, principal and tri-state president at Avison Young.

The evening will include a posthumous honor for Honorable Marie L. Garibaldi, NIAF executive vice president and former New Jersey Supreme Court Justice, whose passing in mid-January affected the Italian American community in New York and New Jersey.

Held at the legendary Italian Renaissance-inspired Cipriani 42nd Street on April 28, the evening begins at 6:30 p.m. with a cocktail reception, followed by dinner at 7:30 p.m.
Proceeds from NIAF's New York Gala will benefit the Foundation's philanthropic and educational programs. Tickets: $500 (Gold Ticket); $1,000 (Platinum Ticket). Attire: Cocktail. For more information, visit: www.niaf.org/nyc.


JOHN VIOLA, PRESIDENT OF NIAF, SHARES HIS VIEW OF WHAT IT IS TO BE ITALIAN AMERICAN
Interviewed by Charles Marsala at the Induction Banquet for the Louisiana American Italian Sports Hall of Fame
ARTISTS PAOLO CANCIANI AND CHARLEY FAZIO FEATURED IN NYC AGORA GALLERY
("Fall in Love" by Paolo Canciani)

The original work of two innovative and talented Italian artists Paolo Canciani and Charely Fazio will be on display at Agora Gallery, 530 West 25th St, Chelsea, New York. The exhibitions open April 26th, 2016 and runs through May 17th, 2016. The opening reception will be held Thursday, April 28th from 6-8 pm. Entrance is free.

Inspired by the Greco-Roman art of his native Italy, Paolo Canciani is a classical modernist who paints ancient sculpture as if it was human and humans as if they were classical sculpture. Possessing the light, flawless, and impeccable appearance of marble, his figures are juxtaposed against contemporary accoutrements like bandanas. "I am inspired by… a certain image of Greek-Roman statues enhancing the parts of the body and face thanks to a continuous close-up," the artists says. Architectural details may also be included, although usually Canciani situates his figures simply, against a neutral background or dreamy sky. Canciani then crops and fragments the sculptures, giving them a surrealist mien that recalls the metaphysical paintings of Giorgio de Chirico. Canciani's statues appear strangely alive even as they seem frozen in time, inhabited by a sense of pathos that leaves the viewer unsure if these figures are gods or artifacts from past millennia. One could say Canciani's paintings are infused with a gentle irony, a kind of old-is-new-again circularity that makes his statues feel less like relics and more like nostalgic pop culture icons. This ambiguity allows Canciani to create paintings that, despite their classical subject matter, have a very modern sensibility. He also frequently employs symbolism in his work. The butterfly, for example, is a typical leitmotif the artist employs to symbolize longing and desire. The rose is another one of his favorite symbols, a metaphor for love.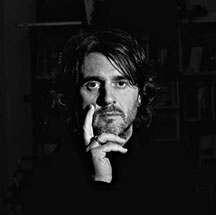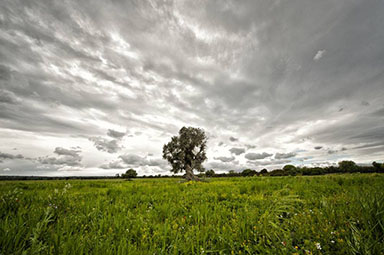 (Charley Fazio and his work "Calling," photograph on Hahnemuhle Paper, 12" x 18")

A native son of Sicily, Charley Fazio began his artistic journey as a painter. He describes his early work as consisting of "almost metaphysically lonely elements in open spaces filled with color." Fazio's eventual career as a geologist left him little time to paint, but the spectacular vistas of the natural world spoke deeply to him, and Fazio began photographing the volcanoes, islands, and sea that surrounded him. At first, he sought out the same isolated scenes he'd painted in the past, but in due course Fazio found himself moving to the theatre, to the streets, and to people. He eventually replaced melancholy with vibrancy, and his world was changed. Fazio believes that the intrinsic value of photography is in its ability to make the viewer and the artist one. The gift of photography is the gift of vision: for a moment, the viewer is able to see through the artist's eyes. This realization, for Fazio, was an illumination. "My life path has taken an exponential leap thanks to the light of my photographs," he says. "I will die with my camera in my hands."
To learn about the artists and their work displayed at the Agora Gallery, please log on to http://www.agora-gallery.com/
SONS OF ITALY HAVE SCHEDULED MAY 16 FOR ANNUAL NELA GALA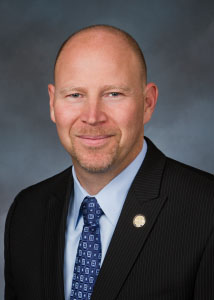 Pictured from left to right are honorees for this year's Sons of Italy's NELA Gala, Condoleeza Rice, Nicholas Calio, Joseph M. Mattone, Sr., and Paul Rinaldi.

Join the Sons of Italy Foundation® (SIF) on Thursday, May 26, 2016, for the 28th Annual National Education & Leadership Awards (NELA) Gala. The signature Washington event returns to the National Building Museum to honor Dr. Condoleezza Rice, Nicholas E. Calio, Joseph M. Mattone , Sr. , Mary Ann Pessolano Mattone, RN/MPH and Paul Rinaldi. In addition to these outstanding headline honorees, the SIF's national scholarship recipients -- chosen through a highly rigorous and competitive process -- will be showcased.
The NELA Gala is the SIF's most important fund-raising and public affairs event, highlighting the foundation's commitment to educational excellence, leadership and the betterment of society. To date, the NELA Gala has helped the SIF raise nearly $164 million for education, medical research, disaster relief, cultural preservation, veterans' causes, and other special projects, with more than $61 million in scholarships awarded. To find out more about the NELA Gala, please log on to http://www.osia.org/news/nela-gala.php.
WAITERS ART MUSEUM PRESENTS A RENAISSANCE ORIGINAL: CARLO CRIVELLI




Carlo Crivelli, (ca. 1435–ca. 1495) known for the dazzling quality of his paintings, is one of the most original artists of the Italian Renaissance. Over the course of his career, the artist worked along the eastern Adriatic coast of Italy, creating altarpieces for churches as well as paintings for private devotion. The Walters Art Museum will present A Renaissance Original: Carlo Crivelli, an exhibition of 14 works from collections in North America and Europe, from February 28 through May 22, 2016. Admission to the exhibition is free for everyone.
The centerpiece of the exhibition is a grouping of four of the six surviving panels from Crivelli's famed Porto San Giorgio Altarpiece (1470), reunited from institutions in the United States and Europe for the first time since the 19th century. Another highlight is the Walters' own Madonna and Child with Saints and Donor (ca. 1490), in which Mary is depicted in simple, monumental forms, wearing a crown as Queen of Heaven. Likely displayed on the altar of a private chapel, the piece includes St. Francis, St. Bernardino of Siena, and the work's donor, Fra Bernardino Ferretti.
Presented in the Walters' Italian Early Renaissance Gallery, the exhibition offers visitors the opportunity to reflect on Crivelli's paintings in the context of works by predecessors and contemporaries. By turning a corner from the show, visitors encounter time-honored masterpieces from the museum's collection, such as an early 15th-century gold-ground altarpiece, the masterpiece of Olivuccio di Ciccarello and one of the greatest works of the late medieval tradition from Italy's Adriatic coast.
The Walters Art Museum, located in downtown Baltimore's historic Mount Vernon Cultural District at North Charles and Centre Streets, is free and open to the public. To learn more, please log on to www.thewalters.org.
BLAUVELT SONS OF ITALY WELCOMES NEW MEMBERS AND AWARDS TWO HIGH SCHOOL STUDENTS WITH SCHOLARSHIPS
(Pictured: Miss Castelli, Mrs. Nilson, Mrs. Amos, Gregory DeCola and his father Greg DeCola, Catlin Hartnett and Mrs. Bruno all attended the dinner and ceremony. )

On March 30th the Blauvelt Sons of Italy hosted a dinner to welcome several new members into the organization. The group also honored two Rockland County students with scholarships for their commitment and dedication to learning the language of Italian.

Catlin Hartnett and Greg DeCola, both of Tappan Zee High School, received scholarships for their study of Italian and were accompanied by their parents as well as their teachers. Greg DeCola's father is the current president of the Lodge located in Blauvelt, NY.

The Rockland Lodge of the Order of The Sons of Italy in America was established in 1966 with the goal of enhancing the image of people of Italian descent and has grown into one of the most active organizations in the area. In addition to giving scholarship to students, funds raised through various events are donated to a variety of charitable organizations in and around the area. For more information, visit www.blauveltsonsofitaly.org or visit them on Facebook at www.facebook.com/blauveltsons
OCEAN COUNTY (NJ) COLUMBUS DAY PARADE COMMITTEE SEEKS GRAND MARSHAL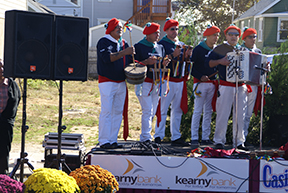 The Ocean County Columbus Day Parade Committee is currently accepting nominations for Grand Marshal of the Twenty-fifth Annual Parade and Italian Festival to be held in Seaside Heights from October 7th through October 9th.
"The Ocean County Columbus Day Parade and Italian Festival has grown into one of the most popular ethnic celebrations at the Jersey Shore, attracting thousands of tourists to Seaside Heights over the past 24 years," said Parade Chairman Michael A. Blandina. "Grand Marshal nominees should be civic minded individuals who are of good character as they will be the symbolic leader of the weekend's festivities as we celebrate our 25th Anniversary."
Past Grand Marshals from the Parade's first 24 years included, Mulberry Street Italian Food Center owner Michael Colasurdo, commercial developer Donato "Dan" D'Onfrio, Gary Lotano, Nina Anuaria, former Superior Court Judge Peter Giovine, Carol Camilli Wolfe, Stephen R. Leone, Kim Pascarella, Patrick L. Bottazzi, Luigi Marciante, Joseph Leone Introna, Paul Barlo and last years honoree Alan Floria, among other notable Ocean County figures.
"This selection process has been difficult over the years because there are always a number of worthy nominees," said Phyllis Shindle, Chairwoman of the Grand Marshal Search Committee. "The Selection Committee will work diligently to choose the right person to serve as Grand Marshal for this year's Parade and Italian Festival and one that will represent the Parade Committee and Ocean County in an admirable manner."
The deadline for nominations for Grand Marshal is April 1st. Nominations should be submitted with a letter of recommendation and biography or resume to:
Ocean County Columbus Day Parade Committee
c/o Michael A. Blandina
249 Hawaii Drive
Brick, NJ 08723
"Every nomination that is submitted will be carefully considered by the Selection Committee," said Chairman Blandina. "I am confident that they will once again select a most deserving individual and someone who will be an exemplary representative of the residents of Ocean County." The Grand Marshal selection will be announced the second week in April. The person chosen to be Grand Marshal will be honored at the Annual Dinner Dance, which will be held on June 16th At this dinner we will be celebrating our 25th Anniversary.
Anyone who is interested in becoming involved with the 2016 Ocean County Columbus Day Parade and Italian Festival, or joining the committee, please contact Michael Blandina at 732-477-6507.
REMEMBER FDR'S SURVEILLANCE OF ITALIAN AMERICANS IN WORLD WAR I I
Reader Responds to PRIMO's 3rd Edition 2015 Translation of President Roosevelt's Speech on the Taking of Rome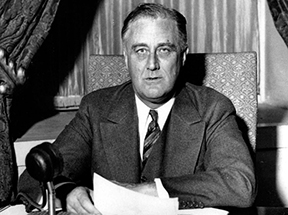 By John Romano, Attorney at Law

On this anniversary of this night of infamy December 7th, as a postscript to your story on President Franklin Roosevelt which gave the impression that he was a trusted friend, admirer, and respected Italians, you should have added an asterisk to the article, since FDR issued Presidential Executive Orders in WWII 1942-1944, proclaiming and declaring Italian Americans as "Enemy Aliens", requiring massive government family registrations with the Justice Department, internment of 13,000 Italians, and FBI squads of 24 hour surveillance on all Italian American families, late night searches of apartments, kidnapping, arrests, travel restrictions, etc.

The FBI campaign ot Terror, Fear and Horror was called, "The Secret War" against all Italian Americans who were labeled Domestic Enemies of America.
Today, you the Reader must answer these questions: There were 100,000 War casualties of Italian Americans in WWII and 1 million servicemen in the Armed Forces. Was the Mother who buried her son after he was killed fighting overseas an enemy alien, as declared by FDR? America wants no memory of this time. The silence of America remains today a betrayal of all the Italian Americans who served in WWII.
Yes - We Shall Not Forget FDR.
AUTHOR OF "SAVINO - GROWING UP IN AMERICA," SAYS WRITING THE BOOK INCREASED HIS APPRECIATION FOR THE SACRIFICES OF ITALIAN AMERICANS
(Pictured: Captain Sam Servadio and his father Savino; and the book cover for "Savino: Growing Up in America.")
What were the reasons for writing "Savino - Growing Up in America?"

I had written my Uncle's (Ralph Servadio) memoir of his unique service in the U.S. Coast Guard during WWII and submitted it to their historian. His story was so remarkable that it was published and made part of the U.S. Coast Guard's official history. I was pleased to have honored my family and our heritage. Accordingly, I thought that I should also capture my father's (and his father's) history. I already had the material because like most Italian-American families, his stories were ones that I had heard many times around the dinner table.
Where in Italy did your father's family originate? And what did your father tell you about Italy?
My Dad's family came from the province of Roma, and my Mother's family migrated to America from Sicily. My father, who was born in America, recalls the stories from his father who said life in Italy was very hard at that time (1900) and that poverty had encouraged his migration to America. I found it interesting that when I was stationed in Italy during service, I had the opportunity to visit my fathers family who lived in the countryside, just North of Rome. They had a beautiful, gated, palatial estate. I guess they had overcome the poverty issue!
The book explores your father's life through the 20th century with many humorous anecdotes. He witnessed many changes in technology and culture. What did he miss most about America during the changes he witnessed?
I know that he misses the "sense of place" of the local community and nearby family. During his day, his extended family all lived and worked in the same little village. His father was able to walk home from the factory during his lunch hour to stoke the coal furnace. The same with his grandparents, aunts, uncles and cousins, they all worked and lived, local. Consequently, getting together to celebrate holidays was a given. During his youth, this little village was a thriving community with many factories and opportunities for employment. It also had two opera houses, a dance hall, a theater, as well as its own hydro-electric plant. Sadly, now the factories are gone and only a Walmart is its cultural center and main employer. As such the circumstances have caused the family to move apart.
Why do you think readers will enjoy this book?
I think young readers like me (age 60) will enjoy nostalgia and readers of my father's age will reminisce with similar experiences, for these are stories that are the heart of family gatherings.
Did you learn anything new about your father when researching and writing the book?
Yes, among the many things that I learned about my grandfather was the tale of his WWI service. He was drafted when he went back to Italy to retrieve my grandmother, thus delaying this goal for several years. I had no idea how hard his tour of duty was. Despite fighting bravely for Italy, his unit was poorly equipped and he nearly starved to death.
How did the process of writing the book change you?
I think that whenever one looks back at our history [of Italian-Americans], one is humbled. They worked hard, sacrificed and persisted against great odds so that we, their children, could have a better life. I encourage all readers who have living relatives to sit down with them and record this most precious gift of our past. It has given me the gift of a grateful heart.

Editor's Note: You can purchase "Savino - Growing Up in America" by emailing the author directly at theoldskipper@gmail.com.
THOMAS JEFFERSON'S INTEREST IN ANCIENT ROME
The Library of Congress Contains Many Books from Jefferson Written by Rome's Greatest Philosophers and Historians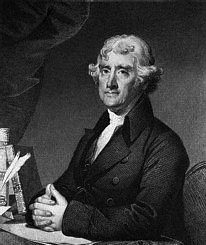 In a letter to his granddaughter Anne Cary Bankhead, Thomas Jefferson praised the work of the great Roman historian Tacitus. He wrote: "Tacitus I consider the first writer in the world without a single exception. His book is a compound of history and morality of which we have no other example." After he was president, he wrote John Adams "I have given up newspapers in exchange for Tacitus and Horace."

Jefferson read Tacitus and other Roman historians to help him establish a longlasting republic in America. Tyranny was to be avoided. Jefferson was especially interested in the fall of Rome and how transgressions among the political class there led to corruption and weakness. He did not want America to repeat the mistakes of Roman history.

The Constitution was a guide to retain the American republic. Laws enacted by the legislature had to be consistent with democratic principles. Jefferson and many of the founding fathers studied the Justinian Code, a set of laws necessary for a democracy. Justinian was one of Rome's last great emperors who ruled in Constantinople. A man of immense energy, Justinian reformed Roman law and established what became known as the Justinian Code; a key reference for many of the laws enacted by Congress and state legislatures in America.

Many figures from ancient Rome penned histories and firsthand experiences that were read by Jefferson. Julius Caesar's accounts of the Gallic War and Civil War in Rome helped Jefferson understand not only military strategy but how political divisions in a country could unravel and lead to armed insurrection and war. He read Titus Livius (Livy), the Roman historian who lived from 59 B.C. to 17 A.D. Originally from what is today Padua, Livy published an extensive history of Rome titled "Ab Urbe Condita Libri" or "Books since the city's founding"; more commonly known as "The History of Rome." Another historian Jefferson read was Plutarch. Born in Greece, Plutarch became a citizen of Rome and wrote biographies of famous figures of the classical period, many of whom were Romans such as Julius Caesar, Cato, Cicero, Fabius Maximus and others.

Since Jefferson was fluent in Latin, he could read the works of Roman historians and philosophers, written in their native language. He comprehended an unvarnished version of history and knew better than his educated peers the ideals and experiences of Rome.

More than any other figure from ancient Rome, Cicero had the most influence on Jefferson and other founding fathers such as John Adams and James Madison. Cicero's writings expounded on the nature of Republican democracy and its laws. Yet he wrote on other topics, as well, such as old age, friendship and skepticism. A key political figure during the era that preceded and followed Julius Caesar's reign, Cicero conveyed through his model the fragile nature of democracy, as he was eventually put to death by orders of Mark Anthony after Caesar was assassinated in the Senate.

The books are many that Jefferson sold to the Library of Congress. Those written by Roman philosophers, statesmen and historians remain a key source of reference, not only for members of Congress and their staff, but all Americans who wish to retain the republic as begun by the founding fathers.
BOOKS READ BY THOMAS JEFFERSON
A Current Exhibit at the Library of Congress Underscores Italy's Influence on
America's Third President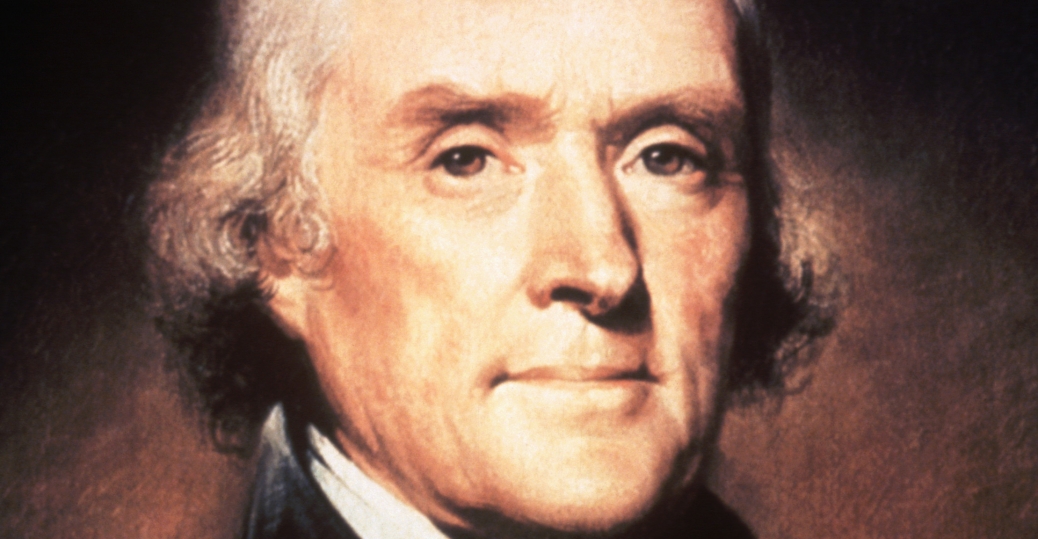 (First in a series of articles on the Library of Congress exhibiti, "Out of the Ashes.")
A win-win.
That's one way to describe the deal brokered between Thomas Jefferson and the U.S. government in 1815 that brought back to life the Library of Congress after a fire destroyed it.
Our third president and author of the Declaration of Independence was famous, among other things, for an immense library at his home in Monticello, Virginia. The United States government wanted to equal, if not surpass, Jefferson's and all other libraries. However, during the War of 1812, the British burned the U.S. Capitol building, which at the time housed the Library of Congress, and the government lost its entire stock - some 3,000 volumes.
To restart the Library, Jefferson agreed to sell his collection of books and journals to the United States. An accumulation by him of some 6,487 volumes was more than double the size of the government's lost inventory. He transferred his repository to the Library of Congress for the price of $23,950.
Today, the Library of Congress pays tribute to the historic transaction with an exhibit titled "Out of the Ashes." Free to the public, the display is a portion of the books Jefferson sold to the Library. On the second floor of the main building, visitors can examine the titles and authors of books through glass enclosed bookshelves. The collection highlights the scope of Jefferson's interests in science, art, history and language.
The exhibit is most notable for its inclusion of books published in Italy and written by Italian authors. As Jefferson was fluent in Italian, he was able to read and comprehend Italy's best writers and scholars. Such books underscore the enormous influence Italy had on Jefferson and the founding of America.
Take for exampe, one book, positioned at the outset of the exhibit, titled "Navigazioni e viaggi" (Navigations and Travels). Published in Venice in 1555 and 1556 by Giovanni Battista Ramusio, the two volume anthology details first-hand accounts of great explorers from Marco Polo to Ferdianand Magellan. Included in the book is an in-depth description of Africa, translated from Arabic to Italian, originally written by Leo Africanus, an explorer from Morocco who was captured by Spanish pirates, taken to Rome, and then freed after he was baptized by Pope Leo X.
"Navigation e viaggi" is one of many books from Italy and other countries that inspired Jefferson to acquire and explore new land for the country when he was president from 1801 to 1809. Under his watch the government brokered the Louisiana Purchase, which added much of what is today the country's Midwestern region. As president, he sponsored the Lewis and Clark expedition to explore and record the country's geography from the Appalachian Mountains to the Pacific Ocean.
Next up is Jefferson's interest in Ancient Rome.
To find out more about the Library of Congress exhibit "Out of the Ashes," please log on to http://www.loc.gov/visit/maps-and-floor-plans/thomas-jeffersons-library/.



CALL FOR APPLICATIONS: CULTURAL EXCHANGE PROGRAM SENDS ITALIAN AMERICAN WOMEN TO ROME & ANNUAL SCHOLARSHIP PROGRAM FOR GRAD STUDENTS

The National Organization of Italian American Women is now accepting application for its annual Cultural Exchange Program that will send a group of Italian American women, college age, to Rome June 2016 for a 10-day immerse cultural and educational experience, at no cost to participants.

Developed and funded by the National Organization of Italian American Women in collaboration with the Italian Ministry of Foreign Affairs, the program is designed to strengthen ties between the United States and Italy and inspire young women to explore their heritage.

Applications are available at NOIAW.org/cultural-exchange and must be submitted by March 31, 2016.

National Organization of Italian American Women is now accepting applications for its annual scholarship program which provides financial awards annually to highly qualified Italian American women enrolled in college and graduate school. Preferential consideration is given to applicants who have demonstrated excellence in fields of study of Italian language and/or culture.

Since 1980, NOIAW has awarded scholarships annually to women of Italian descent who have achieved academic success. While their academic passions vary, all of the scholarship winners share a strong connection to their Italian heritage and a history of academic excellence.

NOIAW is seeking applications from female students of Italian descent currently enrolled at an accredited US academic institution for undergraduate or graduate study. Applicants must be citizens of the United States and are required to demonstrate financial need. The minimum GPA required is 3.5.

Applications are available at NOIAW.org and must be submitted by March 10, 2016. Scholarship winners will be notified in late March and will be invited to NOIAW's 35th Anniversary Luncheon at the St. Regis New York on April 16, 2016. The scholarship program is funded by the National Organization of Italian American Women.

ABOUT NOIAW

The National Organization of Italian American Women is the only national organization for women of Italian ancestry. We celebrate and preserve Italian heritage, culture and language. Through cultural programs, special events, networking opportunities, mentoring, scholarship and cultural exchange initiatives we seek to promote and support the achievements of women of Italian ancestry in the workplace and the community.

For more information about NOIAW, its members and programs, or to become a member, visit www.noiaw.org, call (212) 642-2003, or follow us on Twitter (@NOIAW) and Facebook (www.facebook.com/noiaw.) The National Organization of Italian American Women, Inc. is a 501(c) (3) not-for-profit organization. Contributions are tax deductible to the full extent permitted by law.



EIGHT CALIFORNIA AND 24 NYC METROLPOLITAN RESIDENTS RECEIVE NATIONAL ITALIAN AMERICAN FOUNDATION (NIAF) SCHOLARSHIPS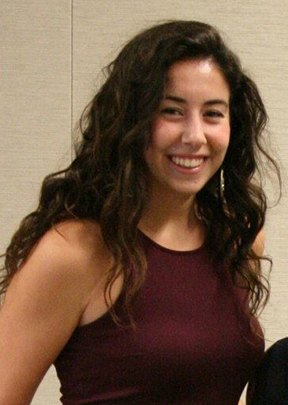 Pictured: Gian Paul Bergeron, Alex Bologna, Tristan Curnow, Max Galassi, Neal Huddon, Michael Law,
Ashley Robertson, and Alissa Wilson
National Italian America Foundation (NIAF) announced the awarding of scholarships to eight university students in California. They are Gian Paul Bergeron, Alex Bologna, Tristan Curnow, Max Galassi, Neal Huddon, Michael Law, Ashley Robertson and Alissa Wilson.

Since NIAF's inception 40 years ago, the scholarship program has grown from four scholarships of $250 each to dozens of annual scholarships ranging in value from $2,000 to $12,000, each in the Italian language and culture, medicine, engineering, business, law, music, and other specialized fields. Last year, the average scholarship to students in the United States was worth more than $6,000.

Scholarship applicants must be a NIAF member or have a parent or guardian who is a member of the Foundation. Applicants must be enrolled in or entering an accredited college or university in the United States in the fall of 2016. Students must be of Italian descent, with at least one ancestor who has emigrated from Italy. Additionally, applicants must be U.S. citizens or permanent resident aliens. NIAF scholarship recipients are selected based on academic merit and have an average GPA of 3.5 out of 4.0 to apply.


TWENTY-FOUR NEW YORK, NEW JERSEY and CONNECTICUT RESIDENTS RECEIVE NIAF SCHOLARSHIPS
Seventeen students in New York include: Tzintzun Aguilar Izzo of Colton; Thomas Alia and Joseph Bronzo of Staten Island; Alessandra Angelino of Katonah; Nina Angileri of Middletown; Alice Bongiorno of East Islip; Joseph Castiglione and Taylor Nardi of Brooklyn; Anthony Ferrara of Nesconset; Christian Greco of Briarcliff; Melinda Kiefer of Mt. Vernon; Nicholas Marinelli of Port Washington; Francesca Petrillo of Poughquag; Domenico Pietromonaco of New Hyde Park; Natalie Ricci of New York City; Gabrielle Rockwell of Endicott; and Jennifer Ryan of Liverpool.

Students from New Jersey include:Caroline Bilotti of Spring Lake; Jessica Isgro of Morris Plains; Justin Juliano of Ocean City; Daniel Malinconico of New Egypt; and Marco Salerno of Princeton Junction. Two students from Connecticut are Bryce Ciccaglione of Milford and Martina Costagliola of Shelton.

"Since 1975, NIAF has awarded millions of dollars in merit-based scholarships and cultural grants to undergraduate, graduate, post graduate, medical and law students from across the country. NIAF values the importance of education and the role it plays in helping deserving Italian American students build promising futures," said Anita Bevacqua McBride, co-chair of the Foundation's Education and Grants Committee.

Apply online for a 2016-2017 NIAF scholarship at www.niaf.org/scholarships. Application deadline is March 1, 2016. NIAF scholarship winners will be notified May 2, 2016.

NIAF AWARDS SCHOLARSHIP TO MELINDA KIEFER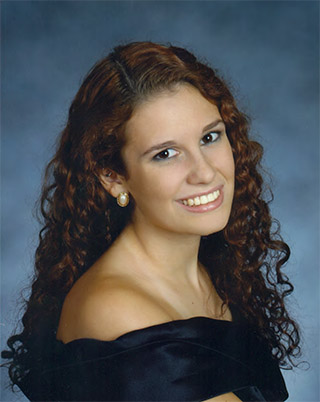 U.S. Representative Eliot Engel joins the leadership at the National Italian American Foundation (NIAF) in congratulating Melinda Kiefer of Mt. Vernon, for receiving a scholarship award through NIAF. The student was chosen from a pool of 1,262 student applicants.

Kiefer, who attends Purchase College, State University of New York, received the Filomena J. Peloro Scholarship. She is pursuing a master's degree in fine art.
"I want to congratulate Melinda on receiving this distinguished honor from NIAF, an organization that for 40 years has helped hundreds of scholars continue to advance their academic careers through higher learning," said Congressman Engel. "As a former school teacher myself, I always take great pride in knowing I represent such accomplished students in the community. Melinda has done Mount Vernon proud, and I know she will accomplish many great things upon the completion of her Master's program."

Apply online for a 2016-2017 NIAF scholarship at www.niaf.org/scholarships. Application deadline is March 1, 2016. NIAF scholarship winners will be notified May 2, 2016.
NIAF LAUNCHES CONGRESSIONAL FELLOWSHIP PROGRAM - APPLICATION DEADLINE MAY 2, 2016
The National Italian American Foundation is proud to announce the launch of the NIAF Congressional Fellowship Program to encourage and support the future generation of Italian American leadership.

"This program is one of NIAF's signature programs that afford students and the next generation of Italian American leaders an incredible opportunity for a direct and hands-on experience in public service," said NIAF Chairman of the Government Relations and Public Policy Committee Mark Valente III.

Five university students or recent graduates, of Italian American heritage, will be selected to work in offices of members of the Italian American Congressional Delegation during the fall of 2016. Program topics include learning about the legislative process and exploring issues facing Congress today, as well as experiencing the day-to-day operations of a congressional office.

The offices of U.S. Representatives Suzanne Bonacci (Ore.); Lou Barletta (Pa.); Rosa DeLauro (Conn.); Virginia Foxx (N.C.); John Garamendi (Calif.); John Mica (Fla.); Jim Renacci (Ohio); and Pat Tiberi (Ohio), will accept NIAF Congressional Fellows.

The NIAF fellows will receive a stipend of $1,000 to help with travel and living expenses while in Washington, D.C. As part of the program, fellows will receive training at NIAF headquarters and will be invited to participate in Foundation events throughout the fall, including NIAF Frank J. Guarini Public Policy Forums and the upcoming 41st Anniversary Gala Weekend, October 14-16, 2016, in our nation's capital.

To learn more about the eligibility requirements of the program, visit: www.niaf.org/fellowship.
ITALY RETURNS TO SOUTH X SOUTHWEST (ITALY @ SXSW) MUSIC FESTIVAL IN AUSTIN

From March 13th through 16th the Italian nation will spotlight its latest talents to the international music business delegates assembled in the Texas capital through a three-pronged effort consisting of: The Italy @ SXSW Trade Show stand; "Aperitivo Italiano", the official Italy @ SXSW music day party; and music festival performances by Joan Thiele, Kalàscima, Moustache Prawn, Brothers in Law, BIRTHH, Go!Zilla and Platonick Dive.

Synonymous with style, Italy @ SXSW shows that Made in Italy applies just as much to sound, showcasing its scene on the global stage at the 30th anniversary edition of the world's leading music industry event. From March 13th through 16th the Italy @ SXSW Trade Show Stand, (stand 1409 in the Austin Convention Center), will serve as the networking hub for Italian music professionals with their counterparts in the global industry. Under the flag of FIMI and ITA, five startups — Multiplay, Travel Appeal, Stylum, Rokivo and Souldesigner — join the Italy @ SXSW Trade Show Stand, showing off Italian innovation at SXSW Interactive for the first time.

On Wednesday March 16th from 2pm - 6pm, SXSW badge holders and VIP invitees can get acquainted over an "Aperitivo Italiano", the official Italy @ SXSW music day party at Numero 28 (428 W 2nd Street), where unplugged and DJ sets combine with Italian food and drink forming a "mixer" with the contemporary Italian lifestyle as a backdrop.

Nighttime SXSW Music Festival showcases running from March 16th through 19th will feature: Joan Thiele a promising singer-songwriter of European and South American heritage who hit the ground running in 2016 with her debut single "Save Me" as well as viral video cover of Drake's "Hotline Bling". Signed to Universal Music Italy, Joan's forthcoming debut EP is hotly tipped in her homeland. The red-hot Puglia region continues its run sponsoring a diverse pair of acts: Kalàscima, whose mix of traditional "Taranta" with modern electronics has made them a festival favorite on four continents garnering critical praise from the likes of the Huffington Post; and Moustache Prawn, an alternative power trio hitting SXSW on the heels of European events such as Liverpool Sound City and the Reeperbahn and Sziget Festivals. With bases in San Francisco and Italy the WWNBB (We Were Never Being Boring) Collective flies their banner of blog favorites with dream-pop band Brothers in Law making their SXSW return after sharing stages with the likes of Slowdive and the Dum Dum Girls and BIRTHH, the new solo project of 19 year old Alice Bisi —"Chlorine" her just released debut single immediately drawing comparisons to The XX and London Grammar. Brooklyn Vegan-cited psychedelic punk rockers and Primavera Sound vets Go!Zilla mark their SXSW debut following a January 2016 Eurosonic set. Rounding out the Italy @ SXSW 2016 line-up are electronic/experimentalists Platonick Dive who have previously slotted alongside Blonde Redhead and Gold Panda.


ALTERNATIVE ROCK BAND FROM APULIA "MOUSTACHE PRAWN" COMES TO AMERICA

Moustache Prawn, a three-piece alternative rock band from the Fasano province of Italy's Puglia region, recently released their second full length album "Erebus" on the PBP label distributed by The Orchard. Band members are Leo Ostuni (chitarra, voce), Ronny Gigante (basso, voce), Giancarlo Latartara (batteria, cori)

"Erebus" is a concept album, a fantasy tale that explores environmental issues and animal rights. The trio incorporate more exotic sounds and traditional Italian instrumentation into their already distinctive style. Above is a video from the band, titled "Solar", a song from the album.

Ostuni and Latartara first met at school in 2007 during gym class and quickly decided to start rehearsing together as a two piece. They were joined a year later by Gigante and formed their first official band Dystopia and began writing post-punk songs with Italian lyrics. After playing locally for the next year or so, the members went their separate ways on good terms. After taking several months to soak up fresh influences from American and British Indie and Alternative rock outfits like the Strokes, Arctic Monkeys, Radiohead, Interpol, The Smiths, and Jon Spencer Blues Explosion, the trio reconvened and began writing very in a very different style and decided to begin singing in English. The aesthetic differences were so substantial that they had essentially become a different group and therefore needed a new name: "Moustache Prawn" (shrimp whiskers in Italian).
"Erebus" is the second album by Moustache Prawn. The band will be performing in Austin, Texas at Palm Door on Sabine on March 16 and on the International Day Stage at the South by Southwest music festival on March 17. To learn more about Moustach Prawn, please visit their web site at http://www.moustacheprawn.com/

STALLONE IS BACK
"Rocky" Franchise Opens With a New Chapter in "Creed."
Stallone's Performance is Oscar Worthy - PRIMO's Review
Get ready to raise your fists in the air.

There is a new heavyweight champ at the box office.

"Creed"

The sixth and newest sequel in the "Rocky" franchise and "Rocky" fans will not be disappointed.

"Creed" stars Michael B. Jordan as Adonis Creed and Sylvester Stallone, who once again plays Rocky Balboa. The film is about Adonis and his struggle to become a professional boxer while carrying on the legacy of his father, Apollo Creed, portrayed by Carl Weathers, as the champion rival to Rocky in "Rocky" I and II. Creed was killed in "Rocky IV" while fighting the Russian boxer Ivan Drago, as played by Dolph Lundgren.
As in all "Rocky" films, the primary setting of "Creed" is Philadelphia. You simply cannot have a "Rocky" film without Philadelphia, the origin, birthplace, and hometown of the Italian Stallion. Although there are detours to Mexico, Los Angeles, and even England, the film spends much of its time in South Philadelphia, and succeeds in capturing the element of the neighborhood of the great fighter himself. Where "Creed" differs enough from the other sequels is its focus on Southwest Philadelphia in the predominantly African American enclaves near the Italian section. This is one of several key elements brought to life by Director Ryan Coogler to make "Creed" more unique than the other "Rocky" sequels.

"Creed" is Adonis' story, different than that of the original "Rocky." In "Creed" we see a young man trying to live up to his father's reputation wherein "Rocky," we see no family connection, no patriarchy, no legacy, just a down-and-out fighter with one last chance at greatness. In "Creed" Rocky becomes Adonis' trainer. He teaches Adonis not only how to become a great boxer, but also teaches young contender what his deceased father, the great Apollo was all about. The relationship between Rocky and Adonis is special, similar to the relationship Rocky had with his trainer Mickey Goldmill, played by Burgess Meredith, in the first three films of the franchise.
Where "Creed" mostly departs from the original "Rocky" and sequels is its music score. Bill Conti's amazing theme from the original, that resurfaced in the sequels, is noticeably absent here. It is this film's greatest flaw among hardcore "Rocky" fans. The score in "Creed" isn't bad, in fact it's pretty good, but you can't help but be disappointed in not hearing a score that has hooked us since the original, almost 40 years ago.
The film is also a bit too melodramatic. Characters are many, each with their own personal struggles. Too much time is spent in relaying their internal conflicts to the audience. It takes away from the interplay between the two main characters, Adonis and Rocky.
Nevertheless, "Creed" retains many aspects from the original "Rocky" that make it an incredibly enjoyable film.

The plot is as engaging and attention-getting as the first "Rocky." The fight scenes are brilliantly captured, in the tradition of "Rocky" where we see the brutal drama of boxing. The film's acting is also excellent. Michael B. Jordan does a great job playing Adonis Creed; with a believable resemblance to Carl Weathers. His antagonist is played by Tony Bellow, not an actor, but an actual boxer, with an outstanding performance as the unlikable champ.
The greatest strength of the film, however, has got to be Sylvester Stallone! He is at his best and should be an Oscar contender. Instead of being the one doing the fighting, Stallone plays the role of trainer. He resembles Mickey as a mentor to the young boxer but keeps the Rocky character with all his mannerisms and idiosyncrasies.
Although with a new and unique take on the franchise, (including a new director), the film does its best in retaining a connection to its Italian roots, as established in "Rocky." For example, the film features two new characters, Pete Sporino, played by Ritchie Coster, and his son Leo Sporino, played by Gabe Rosado. Pete is the new coach of Mighty Mick's Gym, and Leo is a heavyweight boxer that Adonis fights in the movie. Both are recognized as Italians in the film. The name "Adonis" is also an Italian name, although it has Greek roots. Adonis, in the movie, also makes an allusion to the 1972 film "The Godfather," in connection to Rocky's Italian heritage. Finally, there is the key scene where Adonis runs through the Italian Market, recreating the famous scene in the first "Rocky" film.

Overall, "Creed" lives up to the hype of the box office and the "Rocky" franchise. Although it lacks some of the musical magic of the original, it still embraces its Italian roots with edge-of-your-chair excitement. Rocky is back in "Creed."
AWARD WINNING "LOBSTER FRA DIAVOLO" NOW ON VIMEO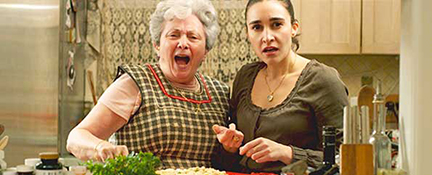 The award-winning short comedic film "Lobster fra Diavolo," which has just been released for rent on Vimeo in time for the holidays. The film centers on an Italian American family preparing food for the Feast of the Seven Fishes on Christmas Eve. The film was directed by Sicilian born filmmaker Oriana Oppice, written by Sicilian American Jane Barbara and stars the inimitable Harri Molese as "Nonna." The film was shot entirely in the Bronx and had corporate supporters such as Colavita and Bronx Little Italy. Log on to rent the film at vimeo.com/ondemand/lobsterfradiavolo


NATIONAL ORGANIZATION OF ITALIAN AMERICAN WOMEN HONORS THREE WISE WOMEN AT EPIPHANY EVENT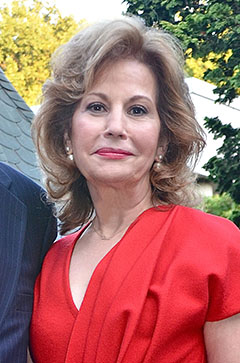 The Greater New York Region of the National Organization of Italian American Women (NOIAW) will honor three of New York's outstanding Italian American women at its annual Epiphany Celebration on Wednesday, Jan. 13, 2016, at 6:30 pm at the Columbus Citizens Foundation.
The event celebrates the achievements of Three "Wise Women": Donna Corrado, Ph.D., LCSW of the NYC Department of Aging; Carin Guarasci of Wagner College; and Sue Matthews of Conquering Kidz Cancer.

MaryRose Barranco Morris, EdD, President of NOIAW's Greater New York Region and Founder of the Staten Island Network, said, "Each of NOIAW's honorees serves as a role model to young women and an inspiration to the Italian American community. We are proud to recognize their accomplishments." To learn more about NOIAW, please log on to their web site: www.noiaw.org


BOYS AND GIRLS TOWN ITALY RECEIVE DONATION FROM MERCER COUNTY ITALIAN AMERICAN FESTIVAL


At a recent meeting held at the Mercer County Italian American Festival Heritage Center, 2421 Liberty St., Hamilton NJ 08629, Cav. John Scarpati, President presented to Lauren Ross, Development Director, Boys and Girls Town of Italy with their annual donation check. The Mercer County Italian American Festival has made a commitment to support the excellent work that Boys and Girls Towns of Italy are doing to continue their innovative approach to helping thousands of boys and girls to achieve a "chance in life.


COLLEGE STUDENTS IN AMERICAN CAN STUDY FOOD IN ITALY
Gustolab International Institute for Food Studies, the first center of study and research in Italy dedicated to Italian food


Gustolab International Institute for Food Studies is now accepting applications for the OPEN SUMMER 2016 CRITICAL STUDIES ON FOOD IN ITALY, a 5 week program that takes place from May 23 to June 25, 2016 in Rome, Italy.

The program is open to all university majors, and all students, degree seeking or not. It is also open to scholars, food lovers, foodies, professionals and independent researchers.

COURSES OFFERED:
Critical Studies on Food Culture (transfer credits from UMASS)
Food Media, Communication and Trends (transfer credits from UMASS)
Food, Nutrition and Culture in Italy (transfer credits from UMASS)
Italian Lexicon for Food Studies (transfer credits from UMASS)
Elementary Italian Language (transfer credits from UMASS)
Intensive Elementary Italian Language (transfer credits from UMASS)
Food Design - Sustainable Architecture in Italy

A description of the program is available at http://www.gustolab.com/summer-program/ If you would like to apply program, please write to info@gustolab.com
SONS OF ITALY FOUNDATION SCHOLARSHIPS

The Sons of Italy Foundation® (SIF) scholarship competition is underway! In past years, the SIF has offered 10 to 12 merit-based scholarships (National Leadership Grants) annually, ranging from $4,000 to $25,000, in a nationwide competition. These figures and the number of scholarships may vary according to funding this year.

U.S. citizens of Italian descent (at least one Italian or Italian-American grandparent) enrolled in an undergraduate or graduate program at a four-year, accredited U.S. academic institution for the 2016 Fall term are eligible. All application packets must be postmarked by February 29, 2016, to be considered. To find out more, log on to http://www.osia.org/students/scholarships.php.
FOR SALE: MICHELANGELO'S VILLA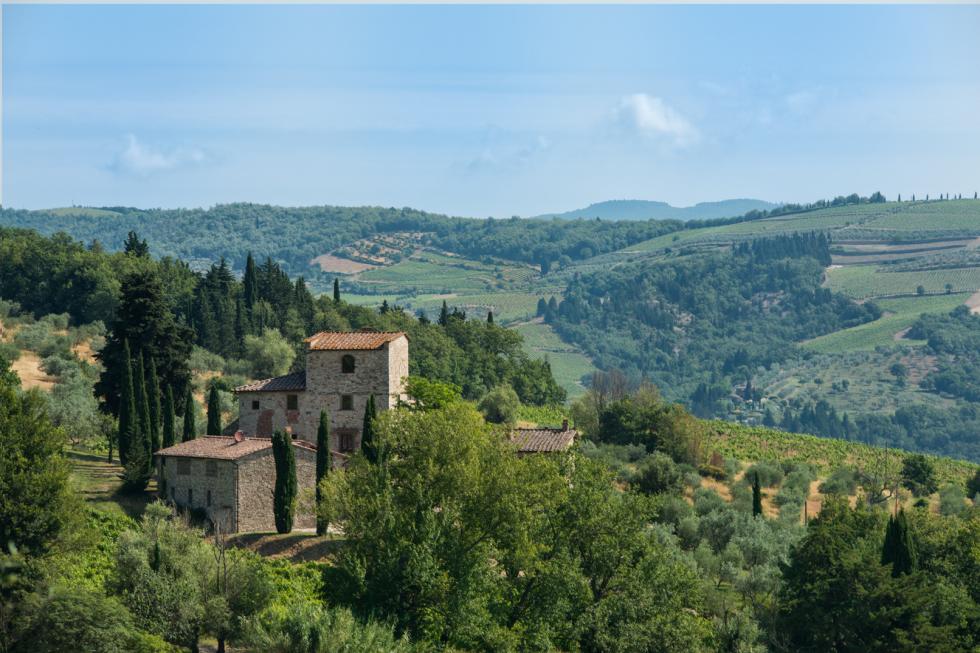 Are you in the market to buy a home? How about a villa in Tuscany...once owned by Michelangelo Buonarotti?
In 1549 at the age of 72, thirty years after completing the frescos in the Sistine Chapel, Michelangelo bought, and periodically lived in a villa in Tuscany, halfway between Florence and Siena that stayed in the Buonarroti family for over 300 years.

It has been preserved and restored by its current owner and is now for sale at $8,162,821. The original deed held by Michelangelo, wherein he was described as a "dear sculptor and Florentine citizen," will be passed on to the new owner.

Located on over six acres above the rolling hills, the 12,915 square feet of living space is contained in three multi-story buildings, including an ancient tower, believed to date back to the 11th century. The original architecture is accented throughout with large stone fireplaces, beamed and barrel ceilings. Consisting of eight bedrooms and seven full baths, all rooms pay homage to the period and modern conveniences, though all available, blend into the background. The kitchen has all the rustic romance of the early centuries with high-end appliances that do not take away from the original architecture. Grounds are park-like with lawns and mature plantings with a lemon orchard, olive grove and Chianti vineyards, as well as the original olive oil mill. The listing agent is Joni Hazelton of Handsome Properties International.
ANNIVERSARY OF THE DEDICATION OF THE LATERAN BASILICA IN ROME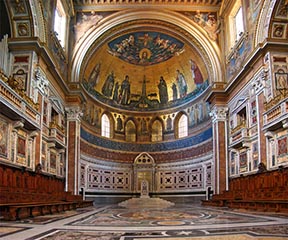 This November (9th) was the anniversary of the dedication of the Papal Archbasilica of Saint John in Lateran. The church was constructed on land once owned by the Laterani family in Rome. Pope Sylvester in 324 A.D. dedicated the church. Saint John in Lateran is one of seven Papal Basilicas. The other six are Saint Peter's in Constantinople, Saint Paul's in Alexandria, Saint Mary Major in Antioch, Saint Lawrence in Jerusalem, the Papal Basilica of Saint Francis of Assisi, and the Papal Basilica of Saint Mary of the Angels, also located in Assisi. Saint John in Lateran is considered the basilica of the patriarch of Rome and is said to be "the mother and head of all churches." The church was the home of popes until Pope Clement V who transferred the papacy to Avignon France in 1309, where it remained until returning to Rome in 1420. The Saint John Lateran Basilica was redecorated in the late 1600s by the architect Borromini with statues sculpted by Giuseppe Mazzuoli, Camillo Rusconi, and others. Across from the church is the Lateran Obelisk; taken from Egypt and installed in Rome at Circus Maximus, under orders of Caesar Augustus in 32 B.C. The obelisk fell into disrepair after the Fall of Rome but was rediscovered, restored and erected at its current location in 1588.
SYRIAN REFUGEE CRISIS DISCUSSED ON CAPITOL HILL
U.S. Representatives David Cicilline and Bill Pascrell Joined Panel of Experts on Italy and Syrian Refugee Crisis


U.S. Representatives David Cicline (D-RI) and Pat Tiberi (R-OH)


"The Syrian Refugee Crisis: Effects and Responses in Italy and the United States" was the topic at the National Italian American Foundation — Frank J. Guarini Public Policy Forum at the Rayburn House Office Building on November 19, 2015. Representatives David Cicilline (RI) and Bill Pascrell (NJ), who championed this issue, were joined by a panel of experts moderated by Senior Fellow and Deputy Director of the Europe Program at the Center for Strategic and International Studies (CSIS) Jeffrey Rathke.

"We know what evil is and we want to destroy this barbaric organization," Pascrell said of ISIS. "I will not take a back seat about the defense of the United States against foreign and domestic enemies." Rep. Pascrell also congratulated his colleague Rep. Pat Tiberi (OH), who recently was selected to chair the Health Subcommittee of the House Committee on Ways and Means.

Pascrell introduced Rep. Cicilline, who explained that while four million refugees have fled their homeland, only about 2,000 have been resettled in the United States. "Closing doors is misguided," Cicilline said. "If we turn our backs [on these refugees], we will give ISIS a victory."

The National Italian American Foundation (NIAF) is a non-profit organization dedicated to preserving and promoting the heritage of Italian Americans. Visit www.niaf.org.

BUSINESS AND GOVERNMENT EXECUTIVES RECEIVE NIAF AWARD IN ROME, ITALY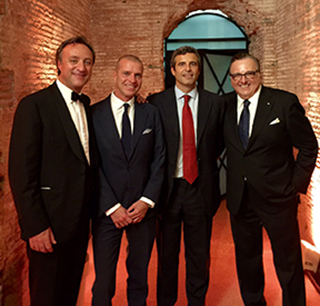 NIAF Italia Foundation, an Italian charitable foundation founded in 2014, honored industry leaders at its inaugural gala at Horti Sallustiani in Rome, Italy, on November 11, 2015.
This year's gala honorees included: Italy's Minister of Interior Angelino Alfano; ENI Chair Emma Marcegaglia; SACE Chair and former Italian Ambassador to the United States Giovanni Castellaneta; Chief Executive officer of Condè Nast Italia Giampaolo Grandi; and Chief Executive Officer of the Ewing Marion Kauffman Foundation Carl Schramm.
More than 200 guests joined United States Ambassador to Italy John Phillips; NIAF Italia President and a member of the NIAF Board of Directors Paolo Catalfamo; NIAF Chairman Joseph V. Del Raso; NIAF's General Counsel Arthur J. Furia; and United States Congressman Thomas Marino.
The National Italian American Foundation (NIAF) is a non-profit organization dedicated to preserving and promoting the heritage of Italian Americans. Visit www.niaf.org.
HOLIDAY CUP DESIGN CHANGES AT STARBUCKS SPARKS OUTRAGE
As Starbucks Lessens Its Connection to Christmas, So Too It Lessens a Connection to Its Italian Inspired Founding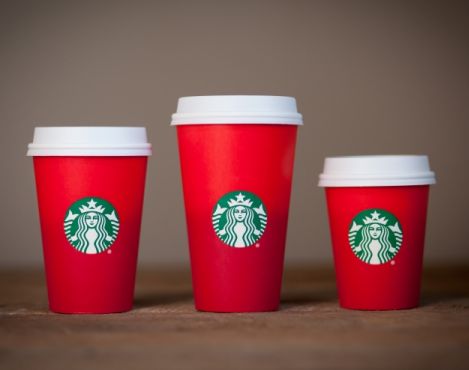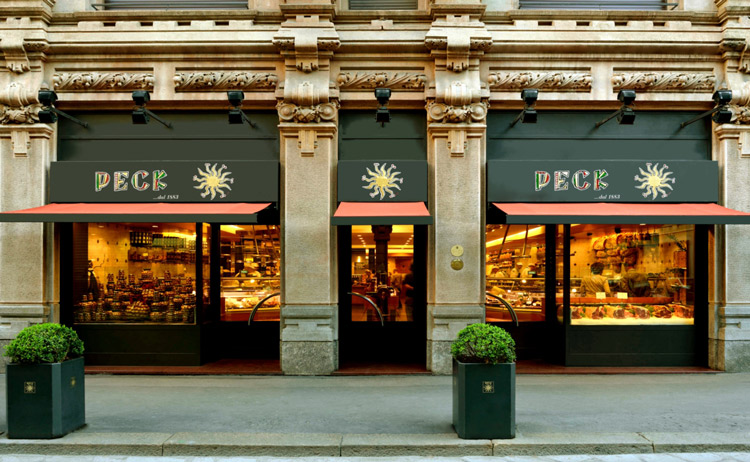 Starbucks coffee cups then and now. Only a year ago, the company offered Christmas-related illustrations on its cups; not so this year.
The Peck espresso bar, pictured, is in Milan, a city of many espresso bars that inspired the beginning of Starbucks. As do other espresso
bars, Peck enjoys an ideal location, as highlighted on its web site, that being near a beautiful Catholic church, the Duomo di Milano

Another front in the war on Christmas.

That's what many Americans see in the decision by Starbucks to change the design of its coffee cups for the holiday season.

In the past, Starbucks served its coffee drinks in cups that showcased Christmas red colors and illustrations celebrating the holiday, such as wooden soldiers, snowmen and angels. This year, the cups will retain the red color but not the Christmas illustrations.

Blogs and social media are now replete with condemnations of Starbucks for changing the design of its cups. They follow the lead of Evangelist Joshua Feurstein who posted his video rant against Starbucks that went viral on Facebook and other social media sites.

Feurstein and others may want to consider the history of Starbucks in their complaints. For the company would not exist today had it not been for the espresso bars in one of the most pious of cities - Milan.

Italy's second largest city, located in the Lombardia region, Milan, is credited by Starbucks CEO Howard Schultz as the setting for his inspiration to create a national chain of coffee houses in America. In the 1980s, Schultz was the marketing manager for Starbucks in Seattle. While on a business trip to Milan, he observed the plethora of espresso bars throughout the city and thus brought back the model to America. Starbucks was strictly a coffee roaster then and the owners did not support his idea to expand a coffee bar operation citywide. Schultz went on his own and eventually purchased the Starbucks name and trademark. However, at first, he named his coffee bar "Il Giornale" after Milan's newspaper of the same name, founded by anti-Communists, the Italian journalist Indro Montanelli and Italian novelist Enzo Bettiza.

As the model for Starbucks, Milan's espresso bars are independent and mostly family-run operations. They are quaint yet elaborately designed with quality espresso coffee drinks served amidst light fare and pastries.

Many of the espresso bars in Milan are within walking distance to Roman Catholic churches, schools and libraries.

Like elsewhere in Italy, religious freedom is the law of Milan, a city that contains a fair share of Jewish synagogues and a large Islamic center and mosque.

Nonetheless, Milan is still a Roman Catholic city where Christmas and other Christian holidays are celebrated citywide with great enthusiasm. The city was one of the first to embrace Christianity with Saint Barnabas, himself, bringing the Gospel there; as one of the earliest diocese was established around 200 A.D. Some of the first martyrs of the faith came from the city, including Saints Gervasius and Protasius, who were executed by the Roman emperor Diocletian.

Milan's Roman Catholic heritage is seen everywhere, among 200 Catholic churches; such as the Gothic masterpiece, Duomo di Milano, and Santa Maria delle Grazie, which contains the fresco "The Last Supper" by Leonardo da Vinci. Many of the beautiful palaces and homes there were founded by families active in the faith with members who went on to serve as popes and cardinals. Milan contains a number of schools, 17 of which are Catholic, including a renowned seminary. There are many private libraries, such as the Ambrosian Library, one of the most extensive in the world, founded by Cardinal Federigo Borromeo.

Espresso bars in Milan may promote themselves based on their locations near churches and other Catholic establishments. Like much of the city, they will decorate themselves for the Christmas season and offer holiday fare, such as Christmas cookies and panettone. The holiday season officially begins in Milan on December 7 when the city celebrates its patron saint - Saint Ambrosio.

For Starbucks to distance itself from Christmas by changing the decorations of its cups and other items, is to embark on a path quite different from its founding. The espresso bars of Milan, which together are the model for Starbucks, is as intrinsic to the city as is its Roman Catholic heritage.


Q & A WITH ARTIST AND ITALIAN AMERICAN ACTIVIST PATRICK MORELLI
He Seeks to Educate Italian American Organizations on the Power of American Mass Media


Top photo: U.S. Congressman Bill Pascrell, Jr. stands next to artist and sculptor Patrick Morelli. The Egale Rock 9/11 Memorial was created by Morelli, as two of his many of sculpted works, "La Bellisima America," and "Behold"; the latter of which stands today at the Martin Luther King, Jr. Center in Atlanta.


Patrick, how can people, young and old alike, from all races, nationalities, and diverse backgrounds benefit from attending one of your free seminars on American Mass Media?
In one-hour, or a half-day seminar, everyone will learn in a very informative and entertaining PowerPoint presentation the Nature of American Mass Media, where one stands in the media's social 'hierarchy," and how one can produce, promote and profit from the creation of positive, permanent portrayals of race, ethnicity, gender, and religion in American mass media--Entertainment, News, and Advertising.
Why have you devoted so much time and effort in educating people on the nature of American mass media and its effect on their lives?
American Mass Media--as the dominant media force in the world--is the single most powerful and influential educational force in human history--especially in its ability to shape, educate, and often stereotype and distort national and world images of race, ethnicity, gender, and religion. I believe that fundamental human rights and our quality of life, self-image, national and international image, and social and political progress are directly linked to, and related to, portrayals and representations of race, ethnicity, gender, and religion in entertainment, news, and advertising. For these reasons everyone, young and old alike, should have a fundamental understanding of the nature of mass media and how it affects their daily lives, fortunes, and ambitions.
Your primary professional efforts and achievements that have been recognized, internationally are in the creation of two, significant national monuments. Would you give us the background of each?
I worked with "Daddy" King (Dr. King's father) and Mrs. Coretta Scott King to create and, independently, raise $500,000 for the casting and installation of the ten foot, "Roots" inspired, father-and-infant "Behold" monument dedicated to the memory of Dr. Martin Luther King, Jr. Mrs. King unveiled "Behold" on January 11, 1990 after it was sited at the King National Historic Site in Atlanta, Georgia. 1,000,000 visitors from the United States and around the world visit the King National Historic Site to view Dr. King's tomb, his birth home, the new and old Ebenezer Baptist Churches, and "Behold." One month after 9/11 I was commissioned by Essex County New Jersey to design and cre-ate the first of the major September 11th memorials, the "Eagle Rock September 11th Memorial" in West Orange, New Jersey overlooking the former site of the Twin Towers.
I designed and managed the creation and installation of a 160-ft granite "Wall of Remembrance" on which are etched the more than 2,850 names, ages, and hometowns, or foreign countries, of all who perished in the September 11th attacks on the Twin Towers, the Pentagon, and the four, airline flights. Over 100,000 thousand American and foreign visitors view the "Eagle Rock" Memorial each year. It is, presently, under review by the National Park Service for designation as a National Historic Site.
Are you working on any art or literary projects at this time?
I currently concluded a major national art/education project entitled "We Are One" in the largest school district in the Hudson Valley, Shenendehowa Public Schools. The "We Are One" art/education program, I designed, teaches and encourages students to design and complete seven-foot, wood figures, "Mr. and Ms. Globehead," silhouettes suggesting universal male and female figures that students paint with colorful, origi-nal designs and texts they compose which promote tolerance and human understand-ing.
I conducted the pilot program for the "We Are One" art/education program in 1990 in sixteen New York City public schools when my studio was in Tribeca. The program was very successful among middle and high school students who participated in Queens, Brooklyn, and Manhattan. The program was formally recognized and commended by President Bill Clinton. Sixty "We Are One" figures were exhibited at Sotheby's, the National Arts Club, and New York City's Tweed Gallery at City Hall.
Any advice you would like to share with young people interested in following a career as a fine arts sculptor and designer, or novelist?
If you love creating visual artwork or literature, if your passion and highest ambition are in the arts, then pursue it with all your time, energy, and confidence. Don't be dis-couraged. Never abandon a project or goal in which you truly believe. Create, create, create, write, write, write. And enjoy life to the fullest. Oh, and--by the way--also make sure you have enough money every month for food and rent. Protect your bottom line. A struggling artist will eventually achieve his or her share of greatness and acclaim. A starving artist will find it very difficult to concentrate on anything except satisfying his or her hunger.
Editor's Note: Patrick Morelli is a renowned artist who also offers free lectures and seminars, nationally, to university students and all ethnic and racial organizations to teach proven techniques that create positive and profitable productions in American Mass Media. Email him at morelliart@aol.com. Patrick creates stunning works of art on commission, for individual, corporations, non-profit organizations and government agencies. Please visit his Website: www.MorelliART.com.
PREMIATA FORNERIA MARCONI (PFM)
Italy's All-Time Leading International Act Performs at Whisky a Go Go




Hit Week, the world's only festival showcasing Italy's music scene on the global stage, heads to Los Angeles for its 6th edition with Prog Rock legends Premiata Forneria Marconi (PFM) on Friday November, 13th at the Whisky a Go Go. The first Italian group to achieve international acclaim, between 1973 and 1977 PFM charted 5 English language albums in the US and UK, successfully touring both countries with highlights including appearances at England's Reading Festival as well as on US late night television.

PFM introduced new sounds, such as the synthesizer, to the Italian musical world. They were also among the first to combine symphonic classical and traditional Italian musical influences in a rock music context. Such innovations and their longevity have made them among the most important bands in the international Progressive Rock genre. From Japan to the US, from Korea to the UK, from Canada to Mexico, and everywhere in between, PFM is hailed as Prog Rock masterpiece.

PFM's Whisky show is a special celebration of the 40th anniversary of the band's 1 week residency at the legendary Sunset Strip spot.
For more information, log on to http://www.whiskyagogo.com/site/event/pfm-premiata-forneria-marconi/.
PHILLY POPS PRESIDENT AND CEO FRANK GIORDANO RECEIVES PHILADELPHIA MUSIC ALLIANCE PLATINUM AWARD

Frank Giordano with Bobby Rydell

For the first time in more than two decades, the Philadelphia Music Alliance (PMA) hosted a stellar evening gala to celebrate its newest group of inductees on the Philadelphia Music Walk of Fame. It was held at The Fillmore Philadelphia on October 26, 2015. At the induction ceremony that took place during the day on the Avenue of the Arts in front of The Kimmel Center for the Performing Arts, two special awards were also presented. The Platinum Award for Outstanding Contribution to the Philadelphia Music Community was given to Frank Giordano, President and CEO of The Philly POPS and past chairman of the Philadelphia Youth Orchestra. The CAPA Foundation received the Educational Award for Outstanding Excellence in Arts and Music.
Giordano, a resident of Moorestown and also Medford Lakes, NJ, was honored to receive this prestigious award that is given to an individual, organization or company that has been a leader and champion in supporting the music making community in a significant way.

The Philly POPS, the largest standalone pops orchestra in the United States, delights audiences with the inspired performance of American popular music. The POPS celebrates this distinctive musical heritage through an expanding repertoire of innovative concert presentations and a robust set of educational and engagement initiatives.
Now in its 37th season, the official POPS orchestra of Pennsylvania serves a consistently growing audience of over 75,000 annually. Music Director Michael Krajewski and the 65-person Philly POPS orchestra keeps listeners tapping their toes to an impressive repertoire of songs from the 1920s up through 2015. One day, The Philly POPS is performing Frank Sinatra. The next, Rock 'n' Roll. Then, Broadway, ABBA, Billy Joel and on into contemporary chart toppers. The Philly POPS performs as a founding resident company of The Kimmel Center for the Performing Arts, and at venues throughout the mid-Atlantic region. For more information about The Philly POPS, please visit phillypops.org.
PRIMO's Italian Legal Column by Attorney Giandomenico De Tullio, of Italy
MUNICIPAL TAXES IN ITALY





Starting from year 2014, the new Municipal tax is called IUC (Single Municipal tax). It consists of three separate taxes, more specifically:

• IMU: tax on possession of real estate assets. This does not apply anymore to properties where the owner sets his main residence.
• TASI: is the tax financing the services provided by local administrations (such us public lighting, maintenance of roads etc). It is connected with possession, under any legal title, of Italian properties.
• TARI: is the tax concerning waste management; This is due by any individual occupying or simply using a property which could potentially produce wastes.

Such taxes do not have uniform rates applying to the whole Italian territory, but can vary, within limits set by the law. This means that mayors have some margins of discretion when applying them. As a natural consequence they must be assessed in each different Municipality.

IMU

Properties where owners have officially set their main residence are exempted from the payment of this tax unless classified as luxurious dwellings (cadastral cat. A1, A8 and A9). All individuals owning properties on the Italian territory are called to pay this tax. The same obligation falls on individuals entitled to real rights such us usufruct or right of use. The same obligation falls on parties who have inherited an Italian property. Whoever inherits an Italian property should pay this tax from the day of the decease of the former owner. Even if time to lodge a statement of succession is one year since the decease, the debts are transferred to the heir immediately. This tax applies both to urban and rural building, rural and buildable land.

MAIN RESIDENCE

As previously mentioned, properties classified as "main residence" will be exempt from such tax. The only exception will be represented by luxurious properties, under cadastral classification A1, A8 and A9. In order to be entitled to the exemption it is necessary having the official residence in such property and live therein on a regular basis. According to IMU rules also subject to the exemption are the appurtenances of the main residence, such as:
• Cellars, storage rooms ( cadastral classification C2);
• Car box (C6);
• Canopy (C7);
The Municipalities have the right to exempt from the payment of IMU properties owned by Italian citizens resident abroad, under condition that they are not rented out.

DEADLINES FOR PAYMENT
IMU can be paid in two instalments of same amount:
– First one to be paid before 16 of June;
– Second one before 16 of December;

TASI

As previously mentioned this is the tax concerning municipal services for general use such us public lighting, road maintenance etc.
WHO SHOULD PAY IT? Whomever has possession under any legal title of:
– buildings (including properties used as main residence)
– buildable land;
It is irrelevant for what purpose such properties are used. Rural lands are exempted. When the property is rented out, the tenant should pay the quota established by the Municipality (ranging between 10% and 30% of the full amount). The balance (ranging between 70% and 90%) should be paid by the landlord; Each Municipality can offer reductions for:
– Dwelling with a single occupant;
– Holiday homes;
– Dwelling occupied by individuals residing out of Italy for more than six months a year;
– Rural buildings used for residential purposes;

WHEN TO PAY IT
It should be paid in two installments, the first one before the 16 of June, the second one before the 16 of December. The two instalments can be of different amounts (opposite to IMU). It must be highlighted that 71% of Municipalities have postponed the payment of the first instalment to the month of September 2014.

TARI

It is the tax concerning waste management. It applies to any party possessing, under any legal title, properties which can potentially produce wastes.
Unroofed surfaces are exempted from the payment of this tax considered appurtenant or annexed to taxable properties and also condominium surfaces.
The floor area is considered as taxable. Some Municipalities have aligned their data base to the cadastral ones, in such case the tax is determined on 80% of the cadastral surface. Municipalities can deliberate for specific reductions. Just as example this can be applied to properties with a single occupant, or holiday homes used for a limited period of time. Each Municipality will establish the number of instalments for payments and the connected deadlines.

Contact us today. We can help. Please note, any statement made in this article is intended to be a general practical introductory explanation only and not formal legal advice. This firm accepts no liability or any responsibility for any statement made. For more help and advice please visit us at www.detulliolawfirm.com


Q & A WITH "BIRDS OF PASSAGE" AUTHOR JOE GIORDANO
With Family Origins in Naples, the Writer Holds Nothing Back in a Gritty Novel about the Immigrant Experience


Pictured: The author, today, and with family in Brooklyn circa 1950



"Birds of Passage" has as its setting both New York and the area around Naples, specifically a small village Capodimonte. We know New York is close to your heart since you grew up in Brooklyn. But why Capodimonte? What made you choose this village as the Italian setting? What can you tell us about Capodimonte?

My father came from Capodimonte. There are numerous references to my family throughout Birds of Passage, but they're recognizable only to insiders. The novel is not about my family, but I'm old enough to have known Italians born in the nineteenth-century, and in the book I tried to capture how they thought and acted. Capodimonte is famous for a spectacular museum, home of the Farnese Collection, and for porcelain. I've been to Naples a number of times and stay in contact with the Italian side of my family through Facebook. Of course, the Capodimonte of my father's time was quite different.
Leonardo Robustelli and Carlo Mazzi are the two protagonists in "Birds of Passage." Leonardo is poor and Carlo is rich and yet America holds promise of a new and better life for both of them. You write sympathetically about both Leonardo and Carlo; far different from the current literary and political trend of class warfare. Explain your view of the two main characters. Did class distinction end for most Italians when they arrived in Ellis Island?

Leonardo Robustelli represents the more typical Italian immigrant of the time, leaving the impoverished Mezzogiorno for work in the United States. Carlo Mazzi is an aristocrat and forced to leave. Carlo's father is padrone to Leonardo's tenant farmer father in Italy. The client-patron relationship was critical for an Italian of that era. In 1905, Victor Emmanuel was Italy's king and some Italians living in the U.S. still "genuflected" to aristocracy. In Birds of Passage, I tried to capture that feeling through the actions of Isabella Medina. Early Italian immigrants faced a difficult ocean trip and harsh working and living conditions in the United States. So, why did they decide to stay? There were economic incentives, sure. But I also believe that Italian men and women found a sense of social freedom in the U.S. not available to them in Italy.
Several scenes in "Birds of Passage" recount how Italians were discriminated against in New York. Based on your in-depth research, explain how pervasive was discrimination and ethnocentrism against Italians at the turn of the century.

Well, to quote Jacob Riis in How the Other Half Lives, an 1890 exposé on the deplorable conditions of tenement life, Italians were the lowest of the new immigrants and "dirtier than the Negro." Italian immigrant labors were given the worst jobs, and while they were instrumental in building New York's subways and skyscrapers, were often used like human steam shovels. The Immigration Restriction League out of Boston, New York, Chicago and San Francisco in the 1890s believed southern and eastern Europeans were racially inferior and threatened the American way of life. The Dillingham Commission consisting of both Senate and House members agreed with the Immigration League and in 1911 recommended reducing southern and eastern European immigration. United States immigration laws were tightened after World War I.
Organized crime is intrinsic in the story. Two groups have an important presence: the Camorra and the Black Hand. For those not familiar with organized crime, please tell us about the two crime groups and how they differed from each other, based on your research.
In 1905, there were numerous Jewish, Italian, and other gangs in New York. The Camorra were clan based, Neapolitan gangs. Years later, they were extinguished by Sicilian gangs. Ignazio Terranova, the character in Birds of Passage, more closely resembles the Sicilian hoodlums of the time than Vito Corleone in "The Godfather." Prohibition, and the lucrative trade in bootlegged liquor that provided the income for organized crime to flourish was still a decade and a half away. Successful Italians were susceptible to extortion and kidnapping, the specialty of the Black Hand. Many Black Hand thugs were Italian criminals put on boats to the U.S. by Italian authorities. In New York, they quickly picked up their former illegal trade. In 1908, Joseph Petrosino was appointed lieutenant, leader of the Italian Squad in the New York Police Department, specifically to go after Black Handers. Petrosino was assassinated in Palermo in 1909.
As a son of Italian immigrants, "Birds of Passage" must have been a book that meant a lot to you. What inspired you to write the book and how did the book change you?
All my grandparents and my father were immigrants from Naples. They entered the United States during the Progressive Era. I was curious about the period and took a graduate course at UT Austin. My term paper focused on Italians who were called "birds of passage" because they were the first immigrants who returned to their home country. During the semester, I wrote a short story, "The Sour Smell of Pain" about an Italian immigrant's experience. Afterwards, I decided to write Birds of Passage, An Italian Immigrant Coming of Age Story. The process of writing put me back in touch with my roots. My parents and grandparents have been gone for years. My wife and I have traveled extensively and lived in many places, so some of the memories and feelings about growing up began to fade. The book helped me crystalize my heritage
What books do you have planned in the future? Do you plan to revisit the immigrant saga?

I'm working on a literary thriller about an Italian-American from New York who runs afoul of the Russian mob. I hope you won't be able to put it down. I continue to write short stories; over seventy have been published. A sequel to Birds of Passage will be written if demanded by readers.
Editor's Note: You can purchase Joe Giordano's new book, "Birds of Passage," by logging on to his web site, http://joe-giordano.com/ or by emailing him at jagintx@austin.rr.com.
NIAF 40TH ANNIVERSARY GALA HONOREES
The list includes, among others, Sergio Marchione, Richard E. Caruso, Ph.D., Josephine J. (Gargiulo) Templeton M.D., and Franco Nuschese


Sergio Marchionne, CEO of Fiat Chrysler Automobiles N.V., and chairman of Ferrari S.p.A., receives the NIAF Special Achievement Award in International Business. Marchionne began his professional career in Canada, working for Deloitte & Touche from 1983 to 1985. After numerous positions at companies in Canada, he held jobs of increasing responsibility at Algroup, headquartered in Switzerland, between 1994 and 2000, and eventually became its CEO. Marchionne became a member of the Fiat S.p.A. Board of Directors in 2003 and CEO the following year. In 2009, he was appointed CEO of Chrysler Group LLC (renamed FCA US LLC in 2014), and in September 2011, also became its chairman. In October 2014, Marchionne became CEO of Fiat Chrysler Automobiles N.V., and chairman of Ferrari S.p.A., the positions he holds today. Currently, Marchionne serves as a member of the boards of Phillip Morris International Inc., and the Peterson Institute for International Economics; and chairman of the Council for the United States and Italy. Born in Chieti, Italy, in 1952, Marchionne has dual Canadian and Italian citizenship. He holds a Bachelor of Arts in Philosophy from the University of Toronto and a Bachelor of Laws from Osgoode Hall Law School at York University in Toronto. He also has a Master of Business Administration and a Bachelor of Commerce from the University of Windsor, Canada. He is the recipient of numerous honorary degrees from universities throughout, Italy, Canada and the United States.

Richard E. Caruso, Ph.D., founder and director of Integra LifeSciences, a world leader in medical technology, will receive the NIAF Special Achievement Award in Business and Health. Caruso began his career with PriceWaterhouse & Co. in Philadelphia as a certified public accountant. He then joined LFC Financial Corporation and served as the company's executive vice president and director. He founded a number of companies, including Integra LifeSciences in 1989. Caruso built Integra by acquiring unused technology from other companies to create a new branch of medicine known as regenerative medicine. He is also the founder and director of The Uncommon Individual Foundation, which encourages others to become entrepreneurs. In 2000, Caruso was the recipient of the New Jersey Entrepreneurial Leadership Award in Biomaterial Science. He received the Ernest & Young and Kauffman Foundation sponsored Greater Philadelphia Entrepreneur of the Year Award for his work with Integra LifeSciences Corporation in 2006. His book, "Mentoring in the Business Environment," was published by Dartmouth Publishing Co. Ltd. in 1992. Caruso received a Bachelor of Science from Susquehanna University, a Master of Science in business analysis from Bucknell University, and a Ph.D. from the London School of Economics.

Josephine J. (Gargiulo) Templeton M.D., trustee of the John Templeton Foundation, will receive the NIAF Special Achievement Award in Philanthropy .Born in Capri, Italy, Templeton spent much of her early education in the United States and returned to Italy in 1961 to attend medical school. Upon her return to the United States for her post-graduate training at the Medical College of Virginia, she met her husband, John M. Templeton Jr. After a residency in anesthesiology at the hospital of the University of Pennsylvania, and a fellowship in pediatric anesthesiology and critical care at the Children's Hospital of Philadelphia, she accompanied her husband to Virginia while he was stationed in the Navy. Templeton then returned to Children's Hospital in Philadelphia as senior clinical anesthesiologist. She retired from medicine in 1999. Her involvement in philanthropic and community activities are numerous. She serves as a trustee of The John Templeton Foundation, and a member of the boards of Templeton Press, The Museum of American Revolution, and the Scholarship Foundation of the Union League of Philadelphia. She has served as a former board member of The Opera Company of Philadelphia, Opportunity International, and the Ladies Committee of the Salvation Army. Templeton was honored by the Salvation Army in 2005, and together with her husband, John, received the 2006 Heroes of Liberty Award by the National Liberty Museum.

Franco Nuschese, president of Georgetown Entertainment Group LLC, will receive Award for Leadership and Service. Born in Minori on the Amalfi Coast of Italy, Nuschese began his professional career in marketing in London and Las Vegas. From 1983 to 1991, he managed restaurants for Caesars Palace and later opened two restaurants at the MGM Grand Hotel/Casino. Nuschese arrived in Washington, D.C., in 1991 and was general manager for the Italian restaurant, Bice. A year later, Nuschese opened Cafe Milano, using his marketing background to propel the restaurant to top-ranked status. In addition to serving as president of Georgetown Entertainment Group LLC providing professional services focused on public relations, strategy, marketing and organization, Nuschese is president of Capital Wines LLC, a producer of fine Italian wines. One of his personal achievements was hosting a lunch for Pope Benedict XVI's 81st birthday at the Vatican Embassy during the Pope's visit to the nation's capital. Nuschese is active in organizations that support Italian culture in America. He serves on the boards of the University of Maryland's Institute of Human Virology; the Global Virus Network; the Georgetown University Italian Research Institute; and the Atlantic Council. He also contributes to Spanish Catholic Charities, and to events benefiting American military troops and veterans.

NIAF's 40th Anniversary Weekend is presented by Alitalia, the airline that brings the best of Italy to the world. Tickets to Saturday's Gala begin at $400 per person. Young professional tickets cost $200 per person available only by phone. Tickets to Friday evening's celebration of Frank Sinatra's 100th birthday cost $200 per person. Proceeds benefit NIAF's educational programs. For tickets or sponsor information, contact Jerry Jones at 202-387-0600 or jerry@niaf.org, or register online at https://www.niaf.org/40.


PRIMO's Italian Legal Column by Attorney Giandomenico De Tullio, of Italy
RENOVATING PROPERTY IN ITALY



No matter how experienced you are, renovating is a stressful and time--consuming process. Even more so if you are abroad, since you can only visit Italy periodically and you may not be a fluent Italian speaker, or familiar with the processes in Italy. A lawyer that can translate all documentation into English for your U.S. records is invaluable. Unless a project is guaranteed to give you your dream home, or make you money, you may be taking on the wrong property. It is vital you assess the property's potential and have a clear idea of your goals.
Make Sure You Know What You Are Buying
Don't wait to discover major structural defects or additions built without planning permission until it is too late. Engage an Italian lawyer who speaks English if you are used to living and working in English. Your lawyer will work on your behalf to conduct thorough due diligence during the purchasing process – any non-- compliant additions, features or legal issues will be discovered before you buy or begin renovation on the property. A lawyer can also assist you with obtaining a building survey. Undertaken by a geometra, a survey will provide information on the construction and materials used, and will give details of any defects found, their remedy and an indication of the likely cost. It is also worth commissioning a measured survey of the building, providing you with a detailed set of floor plans and elevations upon which to base your proposed alterations.
Builders
Even minor renovation can turn into a nightmare if your builders or subcontractors fail to do a good job. Always ask for references, and speak to previous clients. Your lawyer can help you make sure that you hire reputable builders and can also act as project manager on your behalf throughout the project.
Renovation Costs
Work always costs more than you expect. This is because some problems are not revealed until work is started. Often items are forgotten from the budget, or you change your mind and alter the design or specification. Always have a contingency of 10--20% to cover unforeseen costs and fully expect to spend it. Make sure your plans are as detailed as possible; prepare your budget by listing all tasks, materials required, and who is going to do the work. Don't forget to allow for skips, scaffold hire, plant hire, and tools. Estimate costs by looking at similar projects in the area. Make sure you, and or your lawyer, get builders' quotes. I would recommend that you instruct your lawyer to draft a building contract with your chosen builder. A building contract makes the builder's quote legally binding.
Rules & Regulations
Under no circumstances, should you ignore requirements of the Italian law, as it will eventually catch up with you, so do not undertake any work without first checking whether the following are required:
• Planning permission
• Building Regulations approval
• Notification of neighbors
• Notification or permission from others.
Your lawyer will be able to advise you if the deeds containing restrictive covenants, leases or other overriding interests in the property and land estate.
If you do not obtain advance planning permission where required, you may be able to apply retrospectively, but this is not always possible and if your retrospective application is rejected, your illegal works can be deemed to constitute a criminal offense and your property may be seized by the Italian State. It is likely to be a very lengthy and costly process to get your property back.
If you fail to get Building Regulations approval, you will have to prove compliance. This may mean undoing completed work.
Breaching a restrictive covenant or the terms of a lease can lead to an injunction, and you may have to make a financial settlement or remove your alterations or extensions. Mainly because building materials need to be disposed of carefully, demolition work is a procedure which requires authorization. This applies both to existing building features you wish to alter and works carried out without relevant permission. Therefore, unauthorized work can turn out to be both complex and costly. Ask your lawyer to assist you with permits and authorizations.
If you buy or renovate a property in Italy with the correct help and advice the experience can result in an incredible investment. The benefits of the Italian lifestyle will far outweigh any of the negatives. It is hard to conceive of the various issues that could arise, for example ensuring the swimming pool you excavate does not exceed the legal limit, something so simple could cost thousands in fines and renovations, however these can all be easily avoided with a bit of local knowledge.
Please note, any statement made in this article is intended to be a general practical introductory explanation only and not formal legal advice. This firm accepts no liability or any responsibility for any statement made. For more help and advice please visit us at www.detulliolawfirm.com
HAMILTON TOWNSHIP, NJ, CHRISTOPHER COLUMBUS STATUE RESTORED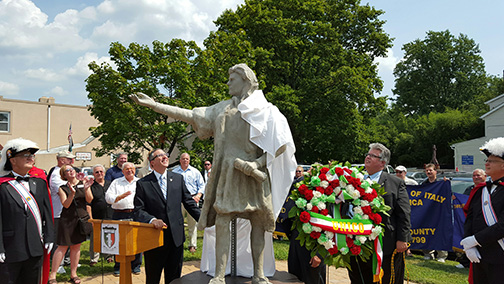 Members of the Italian American One Voice Coalition were pleased to join the Mercer County Italian American Festival Association, New Jersey State Senator President Stephen Sweeney, and other dignitaries, in rededicating the Christopher Columbus statue at the Italian American Heritage Center in Hamilton Township, New Jersey.

John Scarpati, founder of the Mercer County Italian American Festival, was instrumental in erecting the statue of Columbus, whom he claims is "one of his heroes." Dedicated in October 2014, the statue of Columbus was nearly destroyed by vandals this past July. Parts of the statue, most notably the face, were covered in black paint and the number 13 was written on the figure's chest. The statue of the great Italian navigator has since been repaired.
"We are proud to be part of this rededication and pleased that it has happened well in advance of Columbus Day 2015. It is a tribute to the resilience of all Italians-Americans and of course the greatest of all Italians, Christopher Columbus," said Dr. Manny Alfano, president of the Italian American One Voice Coalition.
Doctor Alfano also donated a check on behalf of the Anti-Bias Committee of UNICO National to the Mercer County Italian American Festival Association to assist in its continuing efforts to advance the great achievements of this nation's many Italian Americans. To learn more about the efforts of Dr. Alfano and others of the Italian American One Voice Coalition, please log on to www.iaovc.org. For the Mercer County Italian American Festival, please log on to their web site at www.italianamericanfestival.com.
ITALIAN EMBASSY PRESENTS MOVIE 'N' FOOD - SAPORE DI CINEMA




What connects a photo of Sharon Stone baking pizza at a restaurant in Piazza Navona, a gown made by Gattinoni inspired by the color of olive oil, the renown Antonio de Curtis – also known as Totò – in Poverty and Nobility, the famous timbal dish prepared for The Leopard, portrayed by Burt Lancaster, and the locally grown creations of the great chef Pietro Parisi?

A fascinating virtual trip through Made in Italy high fashion, cinema and gastronomy, this is the underlying theme of Movie'n'Food a unique event conceptualized and curated by Elisabetta Cantone and Francesca Silvestri of Dress in Dreams and developed with the collaboration of the Embassy of Italy in Washington DC, the Italian Ministry for Economic Development, the Italian Cultural Institute and the ITA – Italian Trade Agency. Many events in one, on September 30th, to mark in the US capital, EXPO Milano 2015 celebrating Italian style, elegance and creativity.

The program will include concurrently two exhibits, a movie and a conference. First, the Couture a la Carte exhibit of gowns inspired by food by the historic Maison Gattinoni fashion house. This exhibit will stay opened in the Embassy until October 6. The event continues with photos of the "King of the Paparazzi", the legendary photographer Rino Barillari, who from the period of the "Dolce Vita" captures the stars of Hollywood. On this occasion, he will exhibit photos of celebrities "caught in the act" such as director Ron Howard selecting his fish for dinner, Cameron Diaz juggling a huge "gelato", Bo Derek cooking pasta, and other shots of Richard Gere, Mel Gibson, Jean Paul Belmondo, Antonio Banderas and Liza Minelli all in the act of interacting with Italian delicacies. This exhibit will be on view up to October 23rd in the Auditorium of the Embassy. Third stop, an inspiring eight minute video that mixes epicurean sequences of cult movies such as: Ratatouille; Les saveurs du Palais (Haute Cuisine); The Hundred-Foot Journey; Eat, Pray Love; Pretty Woman; L'Oro di Napoli (The Gold of Naples); Lady and the Tramp; Il Gattopardo (The Leopard) and Big Night. To conclude, a conference by Pietro Parisi, the 35 year old wizard at the stove trained in the stellar kitchens of Alain Ducasse and Gualtiero Marchesi. His requirements, locally produced "zero mileage" products and no wastage – because in the kitchen everything can be reutilized, from stems to peels to leaves. Parisi will recount his experience of fulfilling the dream of his very own restaurant: Era Ora, in Palma Campania in the province of Naples also revealing a series of recipes that have made him famous worldwide.

"The convergence of various forms of art has often been an inspirational theme in our various cultural initiatives," commented the Ambassador to Italy in Washington Claudio Bisogniero. "This is because every Italian creation is the fruit of a special human journey which, for millennia, has been generating talent, imagination, ideas and inspiration. On this point, Movie'n'Food, hits the mark and will allow us to enjoy a complete experience. Italian genius in served." http://www.iicwashington.esteri.it/iic_washington/en/gli_eventi/calendario/2015/10/movie-n-food.html
FRESCO BY SCOTTO: AN ITALIAN RESTAURANT FOR NEW YORK'S ENTERTAINMENT POWER BROKERS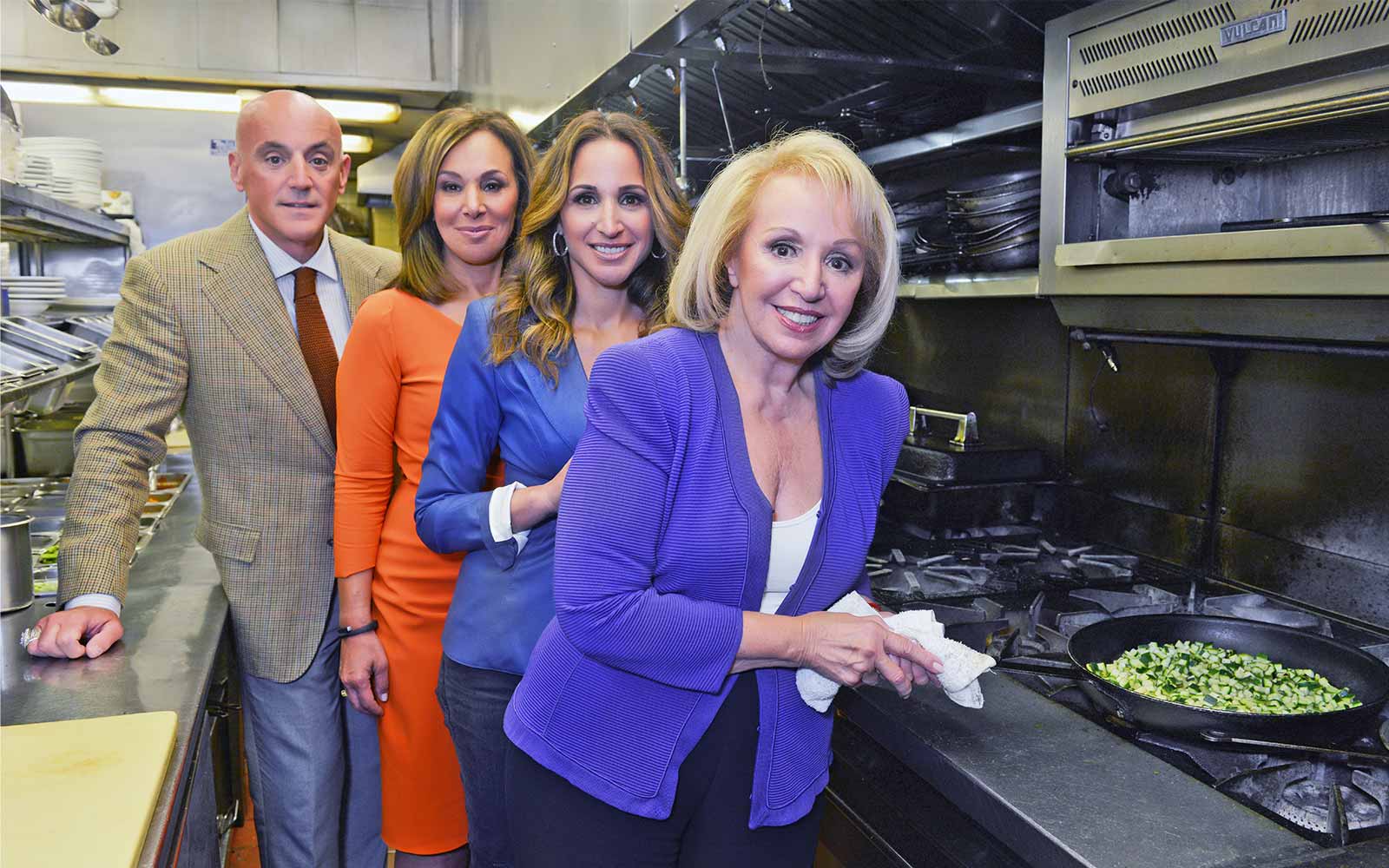 The Scottos in the kitchen: Anthony, Jr., Rosanna, Elaina and Marion.
The restaurant is located on 34 East 52nd Street in Manhattan.

Fresco by Scotto® restaurant has been opened since November 1993 and today is well known as the power broker's lunch and star-filled entertainment industry dinner. Fresco by Scotto® is often referred to as the "NBC Commissary". Fresco by Scotto® is owned and operated by the Scotto Family—Marion, Rosanna, Elaina and Anthony Jr. Scotto.

Marion was coordinator of special events for the Borough of Brooklyn in New York City, under Howard Golden, and then went on to do charitable and political fund raising. Known affectionately as "The Boss," Marion runs front-of-the-house duties in the restaurant and was even voted one of New York's Most Gracious Hosts by Zagat Survey. She lives in New York City with her husband, and has eight grandchildren.

Rosanna is co-host of Good Day New York and has been a member of WNYW-FOX 5 News since 1986. Rosanna began her career in television at WTBS, Ted Turner's UHF television station in Atlanta, Georgia, where she was a reporter for two local programs and an associate producer of the station's evening newscast. She returned to her native New York in the early 1980's as a reporter for WABC's Good Morning New York, which eventually became Live with Regis and Kathie Lee. After a year with Good Morning New York and The Morning Show, Rosanna joined WABC-TV's Eyewitness News as a reporter, where she remained until she joined WNYW. When Rosanna is not at Fox, she can usually be found welcoming people to Fresco at lunchtime and most Saturday nights.

Elaina worked in public relations for famous fashion designers such as Yves Saint Laurent, Bill Robinson, and Mary Ann Restivo and now manages Fresco on the go® at 40 East 52nd Street in midtown. Most recently, Elaina has been managing Fresco by Scotto's deal with Live Nation, overseeing catering backstage at all concert venues in the Tri-State area with a strong presence at the Barclays Center in Brooklyn. Fresco by Scotto® is also a contributor to the "Legends Seating" area at Yankee Stadium.

Anthony Jr., creator of Fresco's award-wining wine list, began his career in New York City at Le Perigord Restaurant and opened the first California franchise for Bobby Rubino's Restaurant in San Francisco. Today, Anthony lives in New York City with his wife and two children.

Fresco by Scotto® has received outstanding reviews in New York Magazine, Gourmet, The New York Times and 3 stars in Crain's New York Business. The Scotto Family can often be seen demonstrating cooking segments on NBC's Today Show, Live with Regis & Kelly, The Ellen DeGeneres Show, Extra, The Wendy Williams Show and Fox 5 Good Day New York. Fresco by Scotto is located at 34 East 52nd Street in Manhattan. The web site is http://www.frescobyscotto.com/.
SCRANTON FESTA CELEBRATES 40TH ANNIVERSARY
La Festa Italiana is Set for This Labor Day Weekend, September 4-7



As La Festa Italiana celebrates its 40th year, the annual end-of-summer festival in downtown Scranton, Pennsylvania is expanding by opening Friday evening for the first time.

La Festa will be held Labor Day weekend (Friday through Monday, September 4-7, 2015) on Courthouse Square in the heart of the city. Hours are Friday, 4 p.m. to 10 p.m.; Saturday and Sunday 11 a.m. to 10 p.m.; Monday 11 a.m. to 8 p.m. As usual, more than 80 vendors will be offering great Italian food, and continuous live entertainment will be featured on multiple stages around the square. There is no admission charge. This year's event also coincides with First Friday in the city, giving visitors a full array of entertainment, culinary and cultural activities at nearby venues – all within walking distance.

La Festa's inaugural Friday night will feature one of the festival's most popular acts – the famous Duprees will be on the main stage at 7 p.m.

The Duprees Featured Friday Night to Open Festival

The Duprees are known the world over for their romantic interpretations of the most beautiful love songs ever written. They have made a career out of giving new life to old hits. Starting out in the early '60s, in Jersey City, N.J., The Duprees were discovered by George Paxton of Coed Records and former big band leader. Impressed with their smooth vocal quality, he had them record Jo Stafford's 1950s ballad "You Belong To Me" with big band arrangements. It was an instant national hit and the group's first million seller.

The unmistakable sound was born and the hits kept coming: 1962 You Belong To Me; 1962 My Own True Love; 1963 Gone With The Wind; 1963 Take Me As I Am; 1963 Why Don't You Believe Me; 1963 Have You Heard; 1963 Love Eyes; 1963 It's No Sin; 1963 The Sand And The Sea; 1964 It Isn't Fair; 1966 Let Them Talk; 1966 Exodus.

Along with their unique sound and outstanding vocal harmonies, The Duprees perform with showmanship that is, individually and collectively, second to none. Thousands of fans around the globe are captivated with their wonderful mixture of romance, energy and fun. When The Duprees take the stage, be prepared to be thoroughly entertained.

Bronx Wanderers Make Festival Debut to Close Event

La Festa Italiana will conclude with a superb act that will be making its debut performance at the event.

The Bronx Wanderers will hit the stage on Monday, Sept. 7, at 6:30 p.m. This group consists of a father and his two sons who are living the American rock n' roll dream by performing '50s, '60s and '70s hits – including a tribute to Frankie Valli and The Four Seasons.

Among the many other acts that will perform are the famous Poets, Italian tenor Christopher Macchio, comedian Uncle Floyd, Ray Massa's "EuroRhythms" from Ohio, Chris DiMattio's tribute to Sinatra, a Connie Francis tribute featuring Nikki Rasmus, Deano Noto's tribute to Billy Joel, Los Vega New York Italian Show Band, the Italian Continentals, The Magics, Gene Dempsey Orchestra, Paul LaBelle's Exact Change, country recording artist Dani-Elle plus many others including jugglers, magicians, street acts, cooking demonstrations, favorite local bands and dance groups.
The annual Mass in Italian will be celebrated at 10 a.m. on Sunday, Sept. 6, in St. Peter's Cathedral, located one block from the festival site. Reverend David Cappelloni, La Festa chaplain, will be the principal celebrant. The Most Reverend Joseph C. Bambera, D.D., J.C.L., Bishop of Scranton, will preside and give the homily. The Mass will also be televised live by CTV: Catholic Television of the Diocese of Scranton. Fireworks will be displayed on Sunday night.

A new tradition will also continue this year. While Coney Island has its hot dog eating contest, and Philadelphia is the site for Wing Bowl, La Festa will crown a Cannoli Eating Champion. The contest will take place on Monday, Sept. 7, at 3 p.m. in front of the main stage. For more information and the complete entertainment schedule, visit the festival Web site at: www.lafestaitaliana.org.


SAVE SAINT PETER'S
A Plea by Advocate Robin Mainella to Prevent Demolition of Her Beloved Church


From top: A recent photograph of St. Peter's, a plaque showing the year built, an interior shot of the stained glass window,
and a historical photo of some of the Italian immigrants who built the church for their Italian community in Duluth.


I would like to tell you about a wonderful, one-of-a-kind historic church.
Closed in 2010 by the Duluth Diocese, St. Peter's Church in Duluth, Minnesota's 'Little Italy' is For Sale. Their asking price is $150,000. I pray that somebody will buy this gem and restore and repurpose in a manner that would celebrate the lives of the Italians who built their very own church out of necessity.
The Old-World skills of the Italian stonemasons make this 'landmark' stand out as a treasure that beckons awe. St. Peter's is located at 810 W. 3rd St., Duluth, MN 55806.
Standing tall and proud on hallowed ground on the steep, rocky hillside overlooking our beautiful harbor, this structure is the only example in Duluth of a Romanesque/Gothic Revival Church built of solid stone. St. Peter's needs a lot of TLC by someone who will understand and appreciate its rich history.
St. Peter's represents the cultural heritage of the Italian immigrants who settled in Duluth in the early 1880's. Closed churches are successfully being repurposed; Historical and Cultural Centers and Museums, Music Centers, Restaurants, Microbreweries utilizing the high ceilings, just to name a few. St. Peter's meets four out of seven criteria for Local Historical Landmark designation. Only one criteria must be met to be eligible.
January 2015, after 4 ½ years of perseverance, the Nomination for Landmark designation finally went before the Duluth City Council for their decision, but the Duluth Diocese opposed and the Council therefore unanimously voted against Landmark status. That was a huge disappointment. A new owner of St. Peter's would have the opportunity to nominate again and I will help! Without opposition St. Peter's will certainly be given the recognition it deserves. With Landmark Designation there are many benefits; it would be eligible for Legacy Grants, CLG (Certified Local Government) Grants, and state tax credits which would help with restoration.
May this plea find that special someone who will love St. Peter's Italian Church as much as I do. Learning from our past is crucial to our present and future.
St. Peter's is looking for a new purpose to serve our community today and tomorrow. Thank you for this opportunity to share.
Editor's Note: If you would like to help save St. Peter's Italian Church, please contact Robin L. Mainella at rlmainella@charter.net. The location of St. Peter's is 810 W 3rd St, Duluth, MN; MLS 6014323. Real estate agent is Frank Messina.

PIAZZA NAPOLI AT MANHATTAN'S SAN GENNARO FEAST IS LOOKING FOR PERFORMERS, WRITERS, AND ARTISTS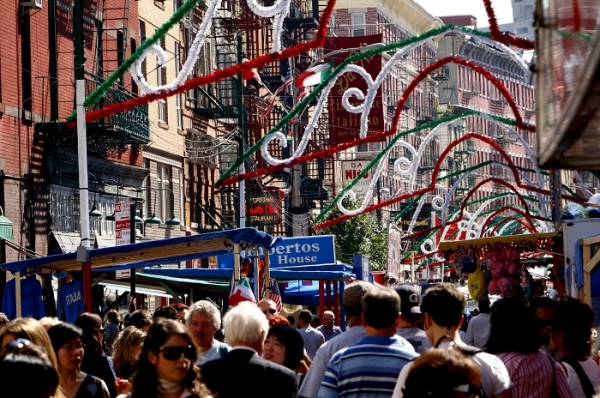 The Piazza Napoli exhibit at the San Gennaro Festa in Manhattan is seeking musicians, performance artists, actors, singers, writers, graphic artists, readers, jugglers, acrobats, original acts.

The upcoming San Gennaro Feast is the largest and most visible annual Italian cultural expression in New York City. The Lt. Joseph Petrosino Lodge, through the auspices of its Chaplain Msgr. Sakano, has hosted an Italian Cultural Boothduring the Feast for the last three years on the block of St. Patrick's Church on Mulberry Street between Prince Street and Houston Street. This is a lovely quiet block called the "Piazza Napoli" with only 2 vendors and our cultural table, so there is no distraction to interfere with presentations.

Last year we expanded it to include additional artists such as musicians, performance artists, actors, singers, graphic artists, writers, authors and filmmakers. We had some wonderful presentations last year: singing, guitar playing, books on display, dramatic readings, poetry readings. This year we have the benefit of the booth once again. We would like to invite anyone in these artistic areas to join us in presenting our cultural display again this year. No pay, of course.

If you know anyone who is interested, have them contact Bob Agnoli at Rdiangelica@aol.com as soon as possible. The Feast runs from September 10 through September 20. You may attend any time from 11 am to 11 pm but the best times for display are weekday evenings and full days on Friday, Saturday and Sunday.


ELDORADO GREAT ITALIAN FESTIVAL SET FOR OCTOBER 10 & 11, RENO, NEVADA

In its 34th year, the Eldorado Great Italian Festival will turn downtown Reno into a temporary Italian province.
The festival, held each year during Columbus Day weekend, is a celebration of Italian culture and traditions. This year, it's sponsored by IGT and the Silver Legacy Resort Casino. A wine and food event called Vintage Eldorado and the annual Paesano Open Putt for Pets charity golf tournament give guests a chance to celebrate the Italian Festival all week long.
The Eldorado Resort Casino and Southern Wine & Spirits is presenting Vintage Eldorado, an Italian wine and food pairing event, set for 5:30 p.m. Thursday, Oct. 8 in the Eldorado Convention Center. Guests must be adults 21 or older. Attendees will be treated to Italian food stations, domestic and imported Italian wines, Italian beer and spirits, and silent auction benefitting the Boys & Girls Club of Truckee Meadows. Tickets cost $65 per person in advance and $75 per person at the door.
Kick off this year's Eldorado Great Italian Festival with the Paesano Open Putt for Pets charity golf tournament on Friday, Oct. 9 to benefit the Nevada Humane Society. Golf for the pets on Oct. 9 at Wolf Run Golf Club. Lunch and registration begins at 11 a.m. with a 12:30 p.m. shotgun start. The format is four-person scramble. Entry fees are as follows: $850 foursome and sponsorship; $200 individual or $250 hole sponsorship.
Running from 10 a.m. to 6 p.m. Saturday, Oct. 10 and 10 a.m. to 5 p.m. Sunday, Oct. 11, the Eldorado Great Italian Festival transforms downtown Reno into Little Italy with a grape stomp, sauce cookers competition, wine walk, an Italian farmers market, children's gelato-eating contest, Italian Buffet and incredible free, live entertainment all weekend long.
Celebrate everything Italian with the 34th annual Great Eldorado Italian Festival on Saturday, Oct. 10 and Sunday, Oct. 11. For Italian Festival information, call 775-786-5700 or visit www.eldoradoreno.com. The latest Eldorado updates are also available on Facebook, Twitter, YouTube and the Eldorado's interactive iPhone and Android Apps.


INTRODUCING: PRIMO'S ITALIAN LEGAL COLUMN
Published Every Month Will be News and Commentary about Italy Property and Estate Law, and Other Legal Matters, by Attorney Giandomenico De Tullio, of Italy

Searching for Wills in Italy
There are three main forms of Will in Italy:

• A Formal Will (Testamento Pubblico), drawn up by a Public Notary on the testator's instructions. Witnessed and deposited with Public Notary until testator's death.

• A Holographic Will (Testamento Olografo), hand written, dated and signed by the testator. No witnesses required. May be deposited with a lawyer, Notary Public or kept by the testator until testator's death.

• A Sealed or Secret Will (Testamento Segreto), hand written by the testator, placed in a sealed envelope and deposited with a Public Notary until testator's death.
All three types of Will must be written in Italian to comply with Italian civil code. To avoid potentially significant difficulties following death of a testator, we recommend engaging a lawyer to assist you with all formal legal requirements when making an Italian Will.

If it is deemed that someone had a Formal or Holographic Will, which was deposited with a Public Notary, a request with a death certificate attached can be submitted to the District Chamber of Notaries (Consiglio Notarile distrettuale), who will forward a search request to all Public Notaries within a district.
It is also advisable to submit a request to the Notary Archives Registry Office, in charge of keeping the deeds and wills deposited by the notaries who have ceased business. The General Will Registry Bureau (Registro Generale dei Testamenti), whose headquarters are at the Main Office of the Notary Archives (Ufficio Centrale degli Archivi Notarili) in Rome, can also be consulted.
The General Will Registry Bureau provides the possibility to find out if the deceased had a Will or not, whether in Italy or abroad. The request for the issuance of a decedent's Will can also be submitted through the Bureau, to the relevant entity of a foreign country which has adhered to the International Basel Convention. Other than Italy, the countries which have signed the Basel Convention are: Belgium, Cyprus, Estonia, France, Lithuania, Luxembourg,
Netherlands, Portugal, Spain, Turkey and Ukraine.
Interested parties may request a subscription certificate, in the name of the deceased, from the General Will Registry Bureau, as well as the reference to the district notary archive where the Will was deposited, in case the notary has ceased business.
The following records are held in the General Will Registry:
1. Formal Wills;
2. Sealed /Secret Wills;
3. Special Wills;
4. Holographic Wills which have been formally deposited with a Public Notary;
5. Memorandum of publication of Holographic Wills, whether or not deposited with a Public Notary;
6. Withdrawal of Holographic and Sealed / Secret Wills, which were formally deposited at a Public Notary's office;
7. Suspension of previous arrangements caused by death, providing some had been made by means of a new Will.
Editor's Note: De Tullio Law Firm is an international Law Firm based in Italy and the UK specialized in advising property buyers worldwide and providing legal support to expats on all aspects of residential and commercial property law and in dealing with cross-border inheritance matters in Italy, wills and probates. De Tullio Law Firm is listed on the websites of the British and American embassies. Giandomenico De Tullio is a full member of STEP (Society of Trust and Estate Practitioners), the leading worldwide professional body for practitioners in the fields of trusts, estates and related issues. You can contact attorney Giandomenico De Tullio and find out more information about De Tullio Law Firm at www.detulliolawfirm.com.
POPE FRANCIS COMES TO AMERICA IN SEPTEMBER
Italian Americans anxiously await Il Papa, born Jorge Mario Bergoglio; family came from Italy's Piemonte region





Pope Francis will visit the United States from September 22 to September 27 with stays in Washington, D.C., New York and Philadelphia. Here is the official schedule:
Washington D.C.
Tuesday, September 22, 2015

4pm: Pope Francis arrives in D.C. at Joint Base Andrews at 4 p.m.
Wednesday, September 23, 2015

9:15 a.m: White House Welcoming Ceremony and personal meeting with President Barack Obama
11:30 a.m: Midday Prayer with U.S. bishops at Saint Matthew's Cathedral in D.C.
4:15 p.m: Junipero Serra Canonization Mass at the Basilica of the National Shrine of the Immaculate Conception
Thursday, September 24, 2015

9:20 a.m: Speech to the Senate and House of Representatives (Joint Session of Congress)
11:15 a.m: Visit to St. Patrick's Catholic Church in D.C. and Catholic Charities of the Archdiocese of Washington
4 p.m: Departure for New York from Joint Base Andrews (D.C.)
5 p.m. Arrival at John F. Kennedy International Airport (New York)
6:45 p.m. Evening prayer at St. Patrick's Cathedral (New York)
Pope Francis Visits New York
Friday, September 25, 2015

8:30 a.m United Nations General-Assembly
11:30 a.m Multi-religious service at 9/11 Memorial and Museum, World Trade Center
4 p.m. Visit to Our Lady Queen of Angels School in East Harlem
6 p.m. Madison Square Garden Mass
Pope Francis Visits Philadelphia
Saturday, September 26, 2015

8:40 a.m Departure for Philadelphia from John F. Kennedy International Airport
9:30 a.m Arrival in Atlantic Aviation hangar at Philadelphia International Airport Philadelphia
10:30 a.m Mass at Cathedral Basilica of Sts. Peter and Paul
4:45 p.m Visit to Independence Mall
7:30 p.m Visit to Festival of Families at Benjamin Franklin Parkway and Prayer Vigil with World Meeting of Families
Sunday, September 27, 2015

9:15 a.m Papal meeting with Bishops at St. Martin's Chapel, St. Charles Borromeo Seminary
11 a.m Visit to Curran-Fromhold Correctional Facility
4 p.m Papal Mass for World Meeting of Families
7 p.m. Visit with organizers, volunteers and benefactors of the World Meeting of Families at Atlantic Aviation
8 p.m Departure for return to Rome

Q & A WITH "EDGE CITY" AUTHOR ROBERT AGNOLI
The author gives voice to Italian Americans who grew up in America's postwar years.
Poet and writer Robert Agnoli looks back on his life as an Italian American coming of age in America's postwar years in his new book "Edge City: The Chronicles of Bobby A Un Italian' in the USA." A review in PRIMO says "Edge City" is "an extraordinary work by Robert Agnoli should be had by all Italian Americans." Here now is an interview with the author about his background, his new book and what he does to keep alive his Italian ethnic connection.
Why the title "Edge City"?
Upon reflection, I'd say that the phrase comes from a type of beat/hip jargon which was used to characterize conflict. I have used it to exemplify the sociological/psychological conflict of ethnic assimilation. In this case Italiano vs. Americano- the tension of living on the edge of two identities.

Your family came from a village - Valle di Cadore - you mention frequently in "Edge City". Please tell us about this village in the Veneto region.
The family village Valle di Cadore is in a valley (Cadore) of the Dolomite mountains. It is in the province of Belluno. Cortina d'Ampezzo is on one end and Pieve di Cadore (ancestral town of the artist Titian) at the other. Locals could identify where there was an historic Roman road rising through the mountains from the south (le base). Tallest mountain in the area is called Antelao. Other towns: Soto Val, Tai, St. Vito. During my experiences there most of this area was cooperative agriculture with increasing tourism.
The narrative and poems cover your life from the 40s onward. What do you miss most about your early days growing up in New Jersey?
Family gatherings - warmth, values, haven, love. Jersey Shore.

The supposed dichotomy between North and South Italy is famous. Your family has Northern Italians roots and you grew up in an area of mostly Southern Italian families. Did you feel different from other Italians growing up?
No, the specific community within which I grew up was focused Northern Italian. The local Italian American Cooperative hall had a major annual dinner dance for immigrants from the Cadore region. Also part of my extended family were Sicilian whom, to me, were Italians like myself. So, although earlier immigrant generations felt differently North to South, I did not. Italians were Italians.
In what ways do you try and stay true to your Italian heritage today?
Recognize honor, cherish family/ancestors, value your word - the handshake.
Editor's Note: You can purchase Robert Agnoli's "Edge City: The Chronicles of Bobby A Un Italian' in the USA" by calling the author directly at 917-816-9916 or emailing him at rdiangelica@aol.com



SCALIA'S DISSENTS IN TWO MAJOR SUPREME COURT RULINGS ARE NOTED FOR WIT AND SUBSTANCE

Obergefell v. Hodges and King v. Burwell are two cases decided by the U.S. Supreme of Court last week (June 25 and 26) that orders states to recognize marriages between people of the same sex and the conclusion that the Patient Protection and Affordable Care Act, better known as Obamacare, allows state health exchanges to provide tax credits and subsidies.
Both cases are politically controversial. Not just the majority opinion, but the dissent, as written by Associate Justice Antonin Scalia, is important in legal analysis. Lawyers will use the words of Scalia as a foundation to further litigate the Court's interpretation and precedent. What will make their job easier than otherwise is the witty and substantive analysis by Scalia. Here are excerpts of Scalia's dissents:
Obergefell v Hodges (Gay Marriage is Legal in all 50 States)
"Those civil consequences—and the public approval that conferring the name of marriage evidences—can perhaps have adverse social effects, but no more adverse than the effects of many other controversial laws. So it is not of special importance to me what the law says about marriage. It is of overwhelming importance, however, who it is that rules me. Today's decree says that my Ruler, and the Ruler of 320 million Americans coast-to-coast, is a majority of the nine lawyers on the Supreme Court. The opinion in these cases is the furthest extension in fact— and the furthest extension one can even imagine—of the Court's claimed power to create "liberties" that the Constitution and its Amendments neglect to mention. This practice of constitutional revision by an unelected committee of nine, always accompanied (as it is today) by extravagant praise of liberty, robs the People of the most important liberty they asserted in the Declaration of Independence and won in the Revolution of 1776: the freedom to govern themselves."
"[W]hat really astounds is the hubris reflected in today's judicial Putsch. The five Justices who compose today's majority are entirely comfortable concluding that every State violated the Constitution for all of the 135 years between the Fourteenth Amendment's ratification and Massachusetts' permitting of same-sex marriages in 2003. They have discovered in the Fourteenth Amendment a "fundamental right" overlooked by every person alive at the time of ratification, and almost everyone else in the time since. They see what lesser legal minds—minds like Thomas Cooley, John Marshall Harlan, Oliver Wendell Holmes, Jr., Learned Hand, Louis Brandeis, William Howard Taft, Benjamin Cardozo, Hugo Black, Felix Frankfurter, Robert Jackson, and Henry Friendly—could not."
"Of course the opinion's showy profundities are often profoundly incoherent. "The nature of marriage is that, through its enduring bond, two persons together can find other freedoms, such as expression, intimacy, and spirituality." (Really? Who ever thought that intimacy and spirituality [whatever that means] were freedoms? And if intimacy is, one would think Freedom of Intimacy is abridged rather than expanded by marriage. Ask the nearest hippie. Expression, sure enough, is a freedom, but anyone in a long-lasting marriage will attest that that happy state constricts, rather than expands, what one can prudently say.)"

"If, even as the price to be paid for a fifth vote, I ever joined an opinion for the Court that began: "The Constitution promises liberty to all within its reach, a liberty that includes certain specific rights that allow persons, within a lawful realm, to define and express their identity," I would hide my head in a bag. The Supreme Court of the United States has descended from the disciplined legal reasoning of John Marshall and Joseph Story to the mystical aphorisms of the fortune cookie."
King v. Burwell (Wording of Obamacare Allows State Exchange Subsidies and Tax Credits)
"Words no longer have meaning if an Exchange that is not established by a State is 'established by the State.' It is hard to come up with a clearer way to limit tax credits to state Exchanges than to use the words "established by the State."
"Under all the usual rules of interpretation, in short, the Government should lose this case. But normal rules of interpretation seem always to yield to the overriding principle of the present Court: The Affordable Care Act must be saved."
"Today's interpretation is not merely unnatural; it is unheard of. Who would ever have dreamt that "Exchange established by the State" means 'Exchange established by the State or the Federal Government?'"
"It is bad enough for a court to cross out 'by the State' once. But seven times?"
"The Court's next bit of interpretive jiggery-pokery involves other parts of the Act that purportedly presuppose the availability of tax credits on both federal and state Exchanges."
"The Court has not come close to presenting the compelling contextual case necessary to justify departing from the ordinary meaning of the terms of the law. Quite the contrary, context only underscores the outlandishness of the Court's interpretation. Reading the Act as a whole leaves no doubt about the matter: "Exchange established by the State" means what it looks like it means."
"Perhaps the Patient Protection and Affordable Care Act will attain the enduring status of the Social Security Act or the Taft-Hartley Act; perhaps not. But this Court's two decisions on the Act will surely be remembered through the years. The somersaults of statutory interpretation they have performed ("penalty" means tax, "further [Medicaid] payments to the State" means only incremental Medicaid payments to the State, "established by the State" means not established by the State) will be cited by litigants endlessly, to the confusion of honest jurisprudence. And the cases will publish forever the discouraging truth that the Supreme Court of the United States favors some laws over others, and is prepared to do whatever it takes to uphold and assist its favorites. I dissent."


AUTHOR WRITES TO INSPIRE OTHERS TO FIND THEIR ETHNIC ORIGINS

"The book is my way of reconnecting to my Italian ethnic roots," says Joanna Leone. "By sharing my words with others, I hope to inspire people to better know their family origins, wherever they may have begun."


Photo courtesy of Seth Block of Fairfield, Connecticut


Joanna Leone is on a mission.
She has appeared on local radio and on television in her home state of Connecticut and has spoken at libraries, civic groups and schools. A member of the North Haven Sons and Daughters of Italy Lodge 2805, she has volunteered for veterans and senior citizen groups .the Trumbull Arts Department, and has worked on a few political campaigns.

Her compelling book "Slices of Life: Italian-American Stories" Collective Memoirs" is the topic for discussion.

Her detailed recollections successfully transport the reader to another time and place - mostly Connecticut of the 1970s and 1980s.
An early chapter, "Italian American Summers" sets the mood. Joanna writes: "I remember eating red Italian ice in the summer, no matter what the occasion! Our summer picnics and family gatherings were very different from the rest of the neighborhood even though my parents really tried hard to include the American traditions as well…At our Italian house we did not have a dinner bell. The only bell we heard as Italians were the bells at St. Margaret's Shrine in Bridgeport or at St. Teresa's Church in Trumbull. We had more civilized ways of being called to dinner, with my mother screaming at the top of her lungs, 'Dove siete?'"
Joanna's parents, Antonetta and Donato came to America from their home village of San Donato Val Di Comino in the Frosinone province of the Lazio region.

"They traveled on a ship called the Saturnia, built a home in Bridgeport, Connecticut and raised six children," writes Joanna. "My parents learned the English language and found work on their own while making sacrifices...They paid for our education and even bought us our first car."
When asked if she visited San Donato Val Di Comino, Joanna says after a pause, "Yes, I have travelled to Italy extensively. I immersed myself in the sights and sounds of Italy. it is where my father is buried." A teenager, she and her parents made the trek there. "During my family vacation, my father had complained of some pain in his chest. We thought it was indigestion but it was obviously more serious. He died in his home village of a heart attack; the trip was his only vacation with me."
In "Slices of Life" we read how she and her mother Antonetta and siblings survive the death of Joanna's father but also one of her older sisters. They and other deceased family members are profiled along with surviving family members, friends and acquaintances.
"In writing the book, I met with people who shared with me their memories of growing up Italian American," says Joanna. "They would start out with a quaint recollection that became something greater, an important occurrence in their lives that changed and made them the way they are today."
Stories in "Slices of Life" are amazing in their dramatic retelling. There is the story of Gaetano, the tailor, who "made the pattern for the Apollo 12 astronaut uniforms;" the story of Uncle Rocco Fabrizio, an architect who shared his creativity with the author; the story of romance between Isabella and Roberto, and many more.
What we get from "Slices in Life" is a reminder of the depth and diversity of our collective Italian American experience. The book is a wonder to behold and recommended for all to read.

Editor's Note: You can purchase Joanna's book "Slices of Life: Italian-American Collective Memoirs" by emailing her at jmaria165@hotmail.com or on Amazon.com. Barnes&Noble.com, Authorhouse.com and other retail sites.
NIAF CHAIRMAN JOSEPH DEL RASO, BOARD MEMBER FRANK GIORDANO, RECEIVE ORDER OF MERIT OF THE ITALIAN REPUBLIC


On behalf of President of the Republic of Italy, Sergio Mattarella, Italy's Ambassador Claudio Bisogniero bestowed the prestigious Order of the Merit of the Italian Republic (Ordine al Merito della Repubblica Italiana) to Joseph V. Del Raso, chairman of the National Italian American Foundation (NIAF) and Frank Giordano, member of the Foundation's board of directors, during a private ceremony at Villa Firenze in Washington, D.C., on Tuesday, July 14, 2015.

At the Ambassador's residence, Del Raso received the Grande Ufficiale Ordine al Merito della Repubblica for fostering greater relationships and partnerships between Italy and the United States. Giordano received the Cavaliere Ufficiale Ordine al Merito della Repubblica Italiana for his tireless work within Philadelphia's Italian American community and his leadership with the Italian language initiative in that city.

Family members joined NIAF President John M. Viola, the Foundation's Vice Chair Patricia de Stacy Harrison, NIAF Treasurer Robert E. Carlucci, Italy's Consul General in Philadelphia Andrea Canepari, and embassy officials at the afternoon reception.

The Order of Merit of the Italian Republic was founded in 1951 as the senior order of knighthood by President Luigi Einaudi. Known as the highest ranking of honor of the Republic, it is awarded to individuals for merit in the fields of literature, the arts, public service, philanthropic and humanitarian activities, as well as notable service in civilian and military careers.

The badge bears the inscription "Al Merito della Repubblica" encircling the national emblem on the front, and "Patriae Unitati" and "Civium Libertati" encircling the head of Italia Turrita on the reverse side. The order is bestowed by decree of the president of the Italian Republic, as head of the orders of knighthood, on the recommendation of the president of the council.

The National Italian American Foundation (NIAF) is a non-profit organization dedicated to preserving and promoting the heritage of Italian Americans. Visit www.niaf.org.


ITALIAN AMERICAN SET TO FILM "MIRACLE OF FERRAGOSTO"

Long before George Clooney got hundreds of thousands of Euro to hype Martini, American Actors have been raking in the lira doing Italian TV Ads. But in the year 2000, the biggest name on the small screen was Eugenio Accomando.

Thus, we hear the premise of a new film, "Miracle of Ferragosto," now in the pre-production stage by director Frank Ciota. Mavexcaffe is an international media initiative Ciota currently operates, where he hopes to facilitate creative ideas and financial resources between the United States and Italy. With locations in Boston and Rome, we are poised to capitalize on and access investment capital in the US and inspiration from Italy in an effort to realize grand visions both cinematic and cultural.

The plot of "Miracle of Ferragosto" centers on a struggling New York thespian who finds opportunity and romance in the land of his ancestors playing the swashbuckling "lead" in an Italian espresso commercial. But when his success fails to cross over to the big screen, he loses it all, including the love of his life. Defeated and heartbroken, Eugenio resolves to return to New York but not before visiting the small town his grandparents fled some 60 years earlier. There through a miracle, the timid method actor gets cast back in time only to find himself in the unlikely role of "action hero" in a plot to assassinate Mussolini.

Based on a family legend, "Miracle of Ferragosto" is a romantic homage to the era of Great Italian Cinema and the story of what one man is willing to risk to find true love. For more information about our projects contact mavexcaffe, 189 North Street, The North End, Boston MA 02113 Tel +1 617 275-2513. mavexfilmproductions.com
JULY 21 IS PROCLAIMED DONNA DISTEFANO DAY IN PITTSBURGH




On July 21st, celebrated goldsmith and jewelry artist Donna Distefano will be honored with a Proclamation from the Council of the City of Pittsburgh for her participation in the acclaimed Carnegie Museum exhibit, Out of This World! Jewelry in the Space Age. Declaring a Donna Distefano Day in Pittsburgh is a grand gesture of appreciation by the city for Distefano's work and her agreement to lend her masterpiece ring, titled The Love that moves the sun and the other stars, to the well-publicized display.

One of the most widely covered rings created by a living artist in the exhibit, Distefano's masterpiece has been featured in InStyle Magazine, Town & Country, Forbes, CIJ Jewellery Magazine Trends & Colours, Zappos Couture, Luxury Jewels 24 Magazine, Rapaport Magazine, and is also featured on the back cover of the modern designer jewelry compendium, Jewelry's Shining Stars by Beth Bernstein. Distefano has also appeared in the Pittsburgh Tribune-Review in connection with the opening of Out of This World! Jewelry in the Space Age.

Distefano says, "I am thrilled with this recognition from the Council of the City of Pittsburgh. I love that Pittsburgh is a metalworking city; I understand the connection between metal, economy, art, and dreams. To be exhibited at the Carnegie Museum is an honor."?

Distefano's ring was featured in The Forbes Galleries in New York City before it was requested by curator Elyse Karlin to join the storied exhibit in Pittsburgh. And for Distefano, this particular destination for her masterpiece has a deeper significance. The lending of the ring to the Carnegie Museum is in honor of the memory of her sister, Nancy Distefano.
The Love that moves the sun and the other stars, named for the final line of the 33rd canto of Dante Alighieri's Paradiso will be on display through January 2016. To see more of Donna's exceptional work in jewelry, please log on to www.donnadistefanoltd.com.
PBS TO SHOW ROSSINI'S "LA DONNA DEL LAG." IN AUGUST
The Met's First Production of the Bel Canto Showcase, on
PBS Great Performances at the Met

Joyce DiDonato and Juan Diego Flórez headline Rossini's bel canto tour-de-force La Donna del Lago on THIRTEEN'S Great Performances at the Met Sunday, August 2 at 12 p.m. on PBS. (Check local listings.)
In this Rossini classic based on the work by Sir Walter Scott, DiDonato sings the title role of Elena, the lady of the lake pursued by two men, with Flórez in the role of Giacomo, the benevolent king of Scotland.
Michele Mariotti, last featured in the Great Performance at the Met broadcast of Rigoletto, conducts debuting Scottish director Paul Curran's staging, a co-production with Santa Fe Opera. The cast also includes Daniela Barcellona in the trouser role of Malcolm, John Osborn as Rodrigo, and Oren Gradus as Duglas.

"The wondrous Ms. DiDonato and Mr. Mariotti, the fast-rising young Italian conductor, seemed almost in competition to see who could make music with more delicacy," noted The New York Times earlier this year, and "Mr. Mariotti drew hushed gentle and transparent playing from the inspired Met orchestra."

And NY Classical Review raved, "Joyce DiDonato...was beyond perfect... a performance that may ultimately stand as a high point in her already lofty career... her tone was pure honey, her coloratura effortlessly fluttering, her ornamentation fearless."

Soprano Patricia Racette hosts the broadcast.
La Donna del Lago was originally seen live in movie theaters on March 14, 2015 as part of the groundbreaking The Met: Live in HD series, which transmits live performances to more than 2,000 movie theaters and performing arts centers in over 70 countries around the world. The Live in HD series has reached a record-breaking 17 million viewers since its inception in 2006.
Great Performances at the Metis a presentation of THIRTEEN Productions LLC for WNET, one of America's most prolific and respected public media providers. Corporate support for Great Performances at the Metis provided by Toll Brothers, America's luxury home builder®. Major funding for the Met Opera presentation is provided by the National Endowment for the Arts. This Great Performances presentation is funded by the Irene Diamond Fund, the Anna-Maria and Stephen Kellen Arts Fund, The Philip and Janice Levin Foundation, The Agnes Varis Trust, and public television viewers.
Visit Great Performances online at www.pbs.org/gperf for additional information on this and other Great Performances programs.
NEW EXHIBITION SHOWS THE WORK OF ARTIST SANDRO GIORDANO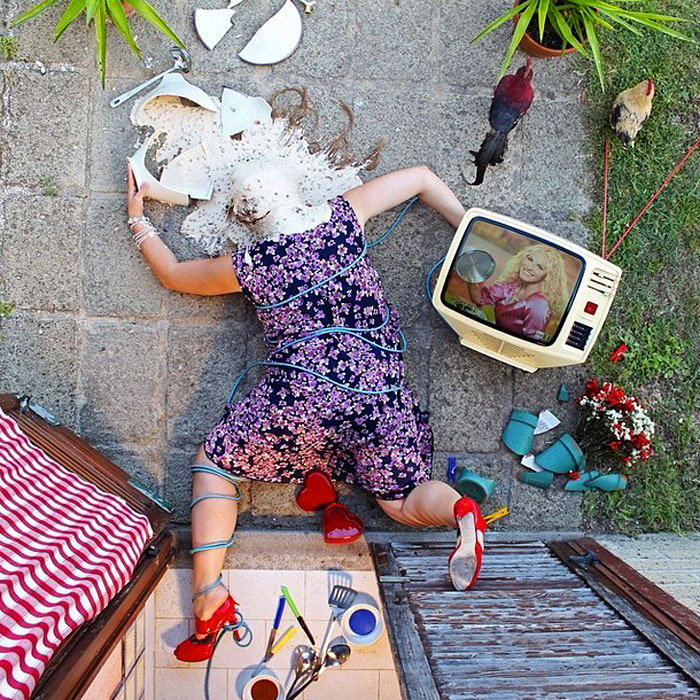 This July 23, Life Gallery in Manhattan opens "Tripping," an exhibtion of the satirical photographs by Sandro Giordano.

How many times have you clumsily stumbled or fallen? How about while holding on to an object of importance that you refuse to let go?

Last year, Giordano conceived of the photographic series while riding his bicycle and falling. A few weeks later, a friend broke his leg in an accident. He fell, all the while holding on to his smartphone. Giordano refers to his photographic series as In Extremis (Bodies With No Regret). He captures the fall of man, literally, with his or her face down covered by debris.
Born in Rome in 1972, Giordano studied set design at Instito di cinematografia e televisionedi Roberto Rossellini, before he studied acting and appeared in plays directed byt Dario Argento, Luciano Melchionna, and Carlo Verdone, among others.
Life Gallery is located at 617 West 27th Street in Manhattan. To learn more about this and other ehxibitions, please log on to www.lifegallerynyc.com.
THE LATEST FROM BRUNELLA GATTO
THE 90TH ANNUAL SAN ROCCO FESTA NEW LOCATION WITH EXPANDED FESTA GROUNDS!



The San Rocco Cultural Committee is pleased to announce the 90th Annual San Rocco Festa. The San Rocco Festa is one of the longest, continuous running ethnic festivals in the country. This year is history in the making—not just for the Festa, but for the entire region. For the first time, the Licinio Refice band from Patrica, Italy, the town where the Festa originated, will celebrate with us. In continuing the tradition of San Rocco and the connection to our Italian roots, we encourage American-Italians and non-Italians alike to join us in welcoming our special guests.
The Festa will be held on August 7th, 8th & 9th at Center Township Municipal Park, just north of the Pittsburgh International Airport. The new location offers free onsite parking and expanded Festa grounds - including new food vendors, a larger children's area, a showcase of our 90 year history, and free nightly Italian lessons, along with old favorites, great entertainment, and much more.
Admission is $2 for those 13 and over. Children under 13 are free, but must be accompanied by a responsible adult. For more information, including all events and directions, please visit our redesigned website www.sanrocco.org or call (724) 252-7732.
SONS OF ITALY FOUNDATION GALA HIGHLIGHTS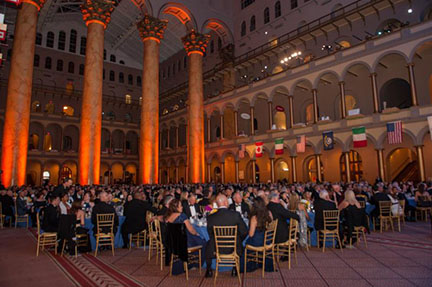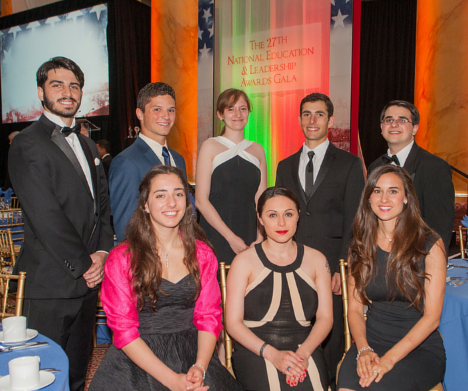 General Raymond Odierno, Terry O'Sullivan, Dr. Anthony Fauci, Alfred Grasso, Geno Auriemma, Captain Anthony Odierno, Armand Sabitoni, Joe Mantegna, sponsors, supporters, volunteers and more than 900 guests made up the Sons of Italy Foundation's (SIF) 27th Annual National Education & Leadership Awards (NELA) Gala on May 21.
The 2015 NELA Gala was an incredible representation of the best of Italy and the United States, showcasing achievement and leadership at the highest levels. The Gala also paid tribute to America's military men and women and their families.
Enjoy the highlights below; visit our Facebook, Twitter and YouTube pages for more; view the NELA Gala journal online ; and tag your Gala photos on Facebook and Twitter (#nelagala & @Sons_of_Italy).
Don't forget to save the date of May 26, 2016, for the Sons of Italy Foundation's 28th Annual NELA Gala. All photos © Max Taylor.
No reprint or reproduction without permission.
MOTT FOUNDATION TO CONFER 148 ACADEMIC SCHOLARSHIPS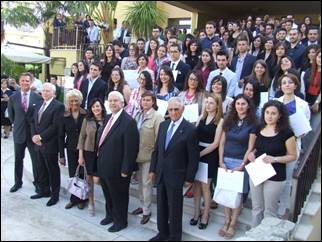 Last year's scholarship recipients
The John R. Mott Scholarship Foundation, Inc., (the "Foundation") of Washington, D.C., dedicated to the education of the children of Calabria, Italy, will hold its Annual Award Ceremony and Reception at 4:00 p.m. on June 19, 2015 at the Principessa Hotel in Campora San Giovani, Cosenza, Italy. At the Ceremony, 148 academic scholarships will be awarded to students from all over the Region of Calabria. Beginning in 2001, the Foundation has awarded scholarships for higher education to the young men and women of Calabria. The primary requisites for receiving a scholarship are the student's academic achievement, financial need and a commitment to use the benefit of this education to make a contribution to the Region of Calabria.
Mario V. Mirabelli, Esq., the President of the Mott Foundation stated "We are very proud of the quality of the academic credentials of this year's class of scholarship awardees. It is the hope of the Mott Foundation that receiving a Mott Scholarship will in the near future be recognized in Italy and elsewhere as an indication of superior academic achievement."
John R. Mott, the creator of the Foundation, was born Giovanni Motta in 1909 in the mountain village of Serra d'Aiello, Calabria, Italy and immigrated to the United States with his family in 1911. Although a man of significant means, Mr. Mott eschewed luxury, maintained a frugal lifestyle and preferred instead to invest his resources for a larger cause: his dream of eventually giving back to the beloved land of his birth, Calabria, Italy. Mr. Mott created the Foundation prior to his death in 1998.
The John R. Mott Scholarship Foundation is a supporting organization of the National Italian American Foundation. Visit www.niaf.org.
The 2015 John R. Mott Scholarship Foundation Awardees are:
Claudia Aiello
Daniele Aiello
Debora Aloisio
Chiara Altimari
Maria Luisa Anselmo
Sergio Aprigliano
Arianna Aprile
Raffaella Argiro
Alfonso Argiro'
Emanuele Arifi
Giacomo Azzarito
Francesca Ida Barletta
Gabriella Bastone
Maria Grazia Bazzarelli
Teresa Bazzarelli
Maria Francesca Beatino
Anna Belcastro
Paola Belfiore
Angelo Bellocco
Maria Pia Belmonte
Valeria Bianco
Stefano Bigagnoli
Antonella Bisardi
Agostina Bonavita
Marilisa Bonavita
Giuseppe Borelli
Francesco Bruni
Giulia Bruni
Laura Bruno
Mario Bruno
Vincenzo Bruno
Riccardo Candido
Antonio Cappa
Rosalba Carnevale
Federica Cassano
Ida Cello
Francesco Celso
Francesca Ciancio
Miriam Cirone
Elvira Clausi
Francesco Condello
Giampiero Conte
Patrick Corapi
Diego Costanzo
Mariangela Cozza
Mariateresa De Domenico
Carlotta De Filippis
Amelia De Franco
Alessia De Marco

Caterina Fedele
Valeria Fortino
Francesco Franco
Erica Fuoco
Rossella Gagliardi
Raffaella Galizia
Elisabetta Gallo
Antonietta Giampa'
Christian Girone
Elisabeth Gramigna
Bruno Grandinetti
Francesca Greco
Luigi Greco
Maria Cristina Guarascio
Veronica Iachetta
Antonio Iannopollo
Pasquale Iannucci
Stefania Imbrogno
Fioravante Infusino
Mattia Pascal Innocenti
Valentina Innocenti
Severino Iritano
Caterina Italiano
Noemi Laprovitera
Gabriele Larocca
Angela Le Pera
Serena Leo
Sara Leone
Miriam Lioi
SilVia Caterina Lorelli
Rossella Magnocavallo
Elena Mannarino
Lorella Mannarino
Paolo Marghella
Romina Marghella
Laura Marino
Maria Valeria Marino
Raffaele Marrello
Anna Mazzuca
Serena Mele
Marika Mesiano
Francesco Mesiti
Giuseppe Mesiti
lenia Metallo
Claudia Morabito
Francesca Muccari
Chiara Mullace
Nicola Nicastri
Mario Orrico
Gemma Osso
Luca Pagliaro

Giuseppe Palella
Ilenia Palella
Valentina Pascuzzo
Claudia Perri
Elisa Perri
Giulio Perri
Jessica Perri
Ylenia Perri
Mariafrancesca Perrone
Adele Pesce
Veronica Petrone
Domenica Pirrotta
Grazia Politano
Margaret Posa
Francesca Prioli
Daniele Pronesti
Giovanni Riga
Daniela Rossiello
Fiorella Runco
Antonietta Sacco
Carmine Salerni
Davide Scanga
Angela Schipani
Jessika Schipani
Chiara Scopelliti
Gianfranco Scuteri
Martina Sdao
Jacopo Settino
Mariagiovanna Settino
Martina Settino
Gilda Sicilia
Fulvio Siciliano
Maria Siciliano
Francesca Spadafora
Letizia Spadafora
Naomi Spadafora
Annamaria Suriano
Salvatore Suriano
Sonia Suriano
Sara Tedesco
Giuseppe Todaro
Rosita Torino
Maria Laura Trausi
Pier Pasquale Trausi
Rodolfo Tripepi
Adolfo Turco
Ortensia Vito
Ruggero Vizza
THE ROCKLAND COUNTY LODGE ITALIAN FEAST AND CARNIVAL OFFERS SOMETHING FOR EVERY MEMBER OF THE FAMILY
The Rockland Lodge 2176 of the Sons of Italy will host the 6th Annual Italian Feast and Carnival this September 17th through the 20th The event draws thousands of people from around the tri-state area during the four day celebration of all things Italian and has been recognized as one of the biggest events in Rockland County. The festival features excellent entertainment all four days including local performers, a variety of vendor and gift booths, great food, rides for the kids, games for all ages, games of chance for the adults and more.

Hours for the festival are Thursday 5pm – 11pm, Friday 5pm – midnight, Saturday 11am – midnight and Sunday will begin with an outdoor mass at 10:30am and the Festival will be open from noon until 9pm. The festival takes place at Masonic Park located at 89 Western Highway in Tappan, New York. Updated information can be found on the Sons of Italy website at www.blauveltsonsofitaly.org.

The Rockland Lodge 2176 Order of The Sons of Italy was established in 1966 with the goal of enhancing the image of people of Italian descent and has grown into one of the most active organizations in the area. The group, with over 200 members from Rockland and Bergen County, donates funds to a variety of non-profits from the proceeds of the Italian Feast and also provides scholarships to students. For more information visit www.blauveltsonsofitaly.org.
FIVE STUDENTS FROM NEW JERSEY RECEIVE TRAVEL GRANT TO ITALY THROUGH A NATIONAL ITALIAN AMERICAN FOUNDATION PROGRAM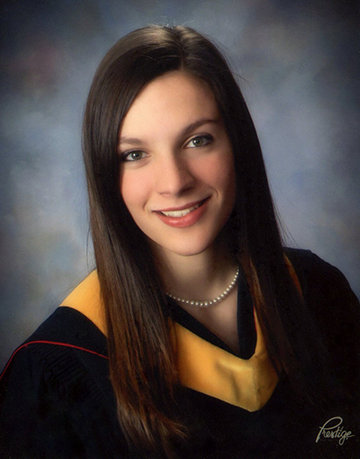 Five university students who reside in New Jersey will participate in the Ambassador Peter F. Secchia Voyage of Discovery Program, an all-expenses-paid educational and cultural initiative that sends Italian American students to Italy. Sponsored by the National Italian American Foundation (NIAF), the tour will visit Italy's Lombardia region, NIAF's 2015 Region of Honor, from June 9 to June 23, 2015.

The student participants are: Alexandra Calderaro of Colts Neck, N.J., who attends The Pennsylvania State University; Breanna Cerniglia of Saddle Brook, N.J., who attends Rutgers University Graduate School of Social Work; Nikki Dombrowski of Carlstadt, N.J., who attends University of Delaware; Natalie Salinardo of Cranford, N.J., who attends Franklin and Marshall College; and Victoria Treboschi of Cranford, N.J., who attends Duke University.

For the third consecutive year, participants are giving back to the Italian community with a service project at Cascina Rossago, at the Fondazione Genitori per l'Autismo ONLUS, a residential farming community for autistic adults. Last year, the students worked with women and children in difficult situations, was coordinated through the HandsOn Network, a Point of Light Enterprise.

"This signature program at the National Italian American Foundation gives these fortunate Italian American students an incredible opportunity to discover and immerse themselves in the land and beautiful culture of their ancestors," said NIAF Director of Programs Gabriella Mileti. "For the future of our Italian American community, it is necessary for young Italian Americans to understand the value of heritage, tradition and roots, and this program emphasizes exactly that."

Now in its 16th year, the 14-day NIAF program will include tours of historic sites throughout the city of Pavia with a visit to the Certosa, and a walking tour of the city of Monza and Villa Reale. While in Milan, students will attend a lecture at the Politecnico University, tour the university's design studios, and visit the renowned Italian tailor store Brioni. A day at Expo Milan 2015 to explore the pavilions is part of the itinerary. Students will also view the restored masterpiece by Leonardo da Vinci and tour La Scala Theatre and Sant' Ambrogio Church in Milan.

The schedule includes: a tour of the Auricchio Cheese factory and the Stradivari Museum in Cremona; visits to Lake Como and Lake Garda with walking tours of Sirmione and the Roman ruins (Grotte di Catullo). The students will participate in an excursion by ferry on Lake Maggiore to Isola Bella, Isola dei Pescatori and Isola Madre. The trip will conclude with a farewell dinner in Milan with the Foundation's Board of Directors.

The package includes round-trip airfare between the United States and Italy, accommodations, meals, guided tours and transfers, all financed by NIAF. For more information, visit www.niaf.org/voyageofdiscovery. The National Italian American Foundation (NIAF) is a non-profit organization dedicated to preserving and promoting the heritage of Italian Americans. Visit www.niaf.org.
THE FILM "LOBSTER FRA DIAVOLO" SHOWN AT THE CANNES FILM FESTIVAL

Film Director Oriana Oppice
An Italian-American film production has returned from the Cannes Film Festival of May 13 through May 24: "Lobster fra Diavolo."

Set and shot in New York City, "Lobster fra Diavolo" pits 80-yr-old Nonna against a lobster. It's the holidays and Nonna plans to serve the lobster as part o f the Feast of the Seven Fishes. Angela, Nonna's granddaughter, is vegan and doesn't approve of Nonna's plans. For that matter, neither does the lobster...
Directed by Sicilian American Oriana Oppice and produced by Testa Dura Media and Trinacria Pictures, The film received a warm welcome at Cannes and won for best comedy at Eureka Springs and is now included in a number of film festivals here in the United States. The film's screenplay was by Sicilian American screenwriter Jane Barbara and the cinematography and film editing was done by Violetta D'Agata, of Italy.
With supporters like Colavita and Bronx Little Italy, the film has found a wide audience of viewers looking for something other than mafia tie-ins. "There is so much more to our culture and way of life," says Oppice. "We wanted to celebrate a small part of that - La Nonna. For Italians, she's everything."
To learn more about "Lobster fra Diavolo," log on to www.facebook.com/lobsterfradiavolo.com.
LAUNCH FOR "EDGE CITY," A BOOK OF NARRATIVE AND POETRY ON THE ITALIAN AMERICAN EXPERIENCE BY ROBERT AGNOLI
This Friday, June 19, is the launch gala of "Edge City," a new book by Robert Agnoli. The event will be held 6:30-11 PM at Lounge at Elmo, 156 Seventh Avenue, between 19 & 20th Street, Manhattan. Included will be light food, a cash bar and music.

"Edge City" is a book of poetry and narrative by Robert Agnoli, a man who has lived the Italian American during America's tumultuous postwar history. Upcoming readings for "Edge City" are June 27 at the CSJ-OSIA Spring Heritage Festival Authors Outreach, November 14, IAWA featured reader at Cornelia Street Cafe. To RSVP, contact Mr. Agnoli at rdiangelica@aol.com
THE ITALIAN AMERICAN MUSEUM OF ALBANY, NEW YORK, REMEMBERS THE ARMENIAN GENOCIDE OF 1915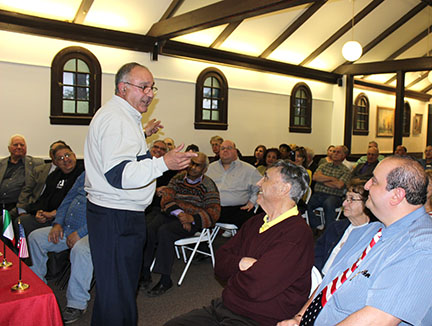 Ralph Enokian from the Armenian American community spoke about the Armenian Genocide
Professor/Cavalliere Phlip J. DiNovo, president and executive director of The American Italian Heritage Association and Museum has forged a connection between Armenian Americans and Italian Americans in Albany. On May 21st, the association held an event, "The 100th Rememberance of the Armenian Genocide of 1915" at their Italian American museum. Ralph Enokian, an American of Armenian descent, and expert on the Amernian Genocide spoke to a capcity crowd at the museum. "This year marks the 100th year rememberance of the Armenan genocide," say DiNovo." My hope is other ethnic groups will make note of the Armenian Genocide." The American Italian Heritage Museum of Albany is the largest Italian American museum on the East Coast. For more information, please log on to www.americanitalianmuseum.org or email info@americanitalianmuseum.org.
Historical Background on Italian and Armenian Relations
Italians and Armernians share many attributes including a migratory status throughout much of history coupled with sincere pride over the achievements of their respective homelands.
As does Italian civilization, Armenian civilization goes back many thousands of years. The first great meeting between the two cultures occurred under the dominion of the Roman Empire, which conquered part of the Armenian Kingdom in 1st Century, AD; while the other part of the Armenian Kingdom remained independent. Today, you will see remnants of Roman culture in Armenia in the way of ruins, such as temples that were erected to Roman gods many centuries ago.
In the Early Middle Ages, Italians and Armenians shared a zeal for capitalism, with a focus on international trade.Treaties were established between Armenia and Italian independent city states such as Genoa, Milan, Padua and most noteworthy Venice. One treaty brokered between Venice and Armenia allowed Italian factories to be built in Armenia in exchange for Armenian factories to be built in Venetian territory. Armenian manufactuers, merchants and workers flocked to Venice, so much so, that an island was set aside to serve their religious needs with a settlement of monks of the Mekhitarst Order. This island was named San Lazzaro degli Armeni and is today a major center for Armenian Catholicism and Armenian culture. Monks still live there and have published a variety of historical books on Armenia. The island library is today one of the largest in the world with over 150,000 volumes on Armenia and other cultures of Asia Minor and Eastern Mediterranean.
Today, estimates range between 4,000 to 5,000 Armenians living in Italy. Some Italian families were orginally from Armenia but understandably have lost touch with their cultural roots since they have lived in Italy for hundreds of years. Armenians have made a serious contribution to the betterment of Italy in a number of fields such as in medicine through the work of Giorgio Baglivi, in engineering through the work of Anton Sourian, in chemistry through the work of Giacomo Luigi Ciamician, and many more in other fields.
In 2000, Italy passed a law that made it illegal for any Italian to deny the existence of the Armenian Genocide. This past April Pope Francis addressed the Armenian genocide during Mass at Saint Peter's Basilica when he said, "In the past century, our human family has lived through three massive and unprecedented tragedies. The first, which is widely considered 'the first genocide of the 20th century,' struck your own Armenian people."
NEW FULBRIGHT PROGRAM AIMS TO HELP FIGHT ORGANIZED CRIME IN ITALY
Fulbright Program in Italy: signed academic partnership with Fondazione Falcone and The National Italian American Foundation (NIAF)
The Commission for Cultural Exchanges between Italy and the United States – the bi-national agency that on the behalf of the Italian Ministry of Foreign Affairs and the U.S. Department of State has been managing since 1948 the Fulbright Program in Italy promoting study, research and teaching opportunities in Italy and the U.S. through a program of scholarships for Italian and U.S. citizens - has signed an academic partnership with Fondazione Falcone and The National Italian American Foundation (NIAF) for the Academic Years 2016 - 17, 2017-18 and 2018-19.

Fondazione Giovanni e Francesca Falcone was constituted in Palermo, Italy, on the 10th of December 1992. The principal aim of the Foundation is to implement initiatives of the highest social interest, such as the promotion of study, research and cultural and assistance activities in order to promote the development of the anti – mafia culture in the society and in particular among young people, as well as the promotion of professional specialization in the investigative and judicial apparatuses committed in the action of prevention and fight against the mafia organized crime.

The National Italian American Foundation (NIAF) is a nonprofit, nonpartisan educational foundation based in Washington D.C. that promotes Italian American culture and heritage. NIAF serves as a resource on the Italian American community and has educational and youth programs including scholarships, grants, heritage travel, and mentoring.

According to the Fulbright – Fondazione Falcone - NIAF agreement during the academic years 2016-17, 2017-18 and 2018-19 3 scholarships – up to Euro 12,700 each – will be offered to U.S. citizens to carry out research activities in the field of criminology at Fondazione Falcone in Palermo; 3 scholarships - up to $ 12,000 each - will be offered to Italian citizens to carry out research activities in the field of criminology at U.S. Universities.
For more information on the Fulbright Program to Italy at www.fulbright.it, www.facebook.com/FulbrightCommissionItaly
Per more information on Fondazione Giovanni e Francesca Falcone http://www.fondazionefalcone.it/
For more information on The National Italian American Foundation http://www.niaf.org/
FINE ART PHOTOGRAPHER PAOLO BONGIANINO TO SHOWCASE HIS WORK IN NEW YORK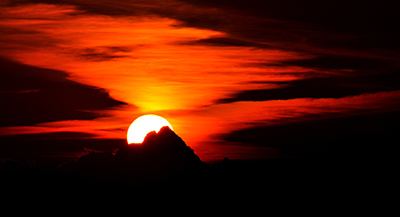 Sunset Behind Mount Monviso Photograph on Hahnemühle Paper 12 x 24, By Paolo Bongianino


Agora Gallery, located in Manhattan at 530 West 25th Street, will feature an exhibition, from July 7 through July 28, on the works of Italian fine art photographer Paolo Bongianino.

Born in Trivero, of the Biella province, in the Piemonte region, Bongianino currently lives in Milan, where he has spent most of his life. He has had exhibitions in London, New York, and Milan among other cities.
The artist's breathtaking views of nature come with considerable attention to detail. He photographs mountains, oceans, forests, and even clouds of fog rolling across the land. His perspective is often sweeping, with the camera raised above eye level to create both grandeur and a sense of longevity. The compositions, devoid of human effect and filled to all edges, imply timelessness. Image and emotion: that is the summary of his approach to photography.
"I'm fond of nature and everyday life; city scenes, landscapes, and seascapes are often fascinating to me," says Bongianino. "Sunrises and sunsets are everyday stories, but they are always different. Sometimes details of nature or of everyday tools and objects may be an appealing photo: people do not realize how shapes, shadows, and colors may come together in nice combinations. The image alone is not enough, it must somehow move the imagination and emotions of the viewer; this is my approach when shooting."
To achieve such a deep-seated emotional resonance, Bongianino uses saturated colors to carefully mark aesthetic high and low notes throughout each image. He photographs the land as if photographing sports, with the sharpest possible resolution. And above all, he is attuned to the subtle ways a detail can change a picture – how the texture of one tree's leaves informs a photograph's symmetry, how the pattern of sunlight creates varying lighting elements, or how a few degrees' shift in perspective can tilt an image onto an entirely different plane.
Bongianino became a fine art photographer after years of working with a camera. "In 2014, after searching for a new job for one year, I decided to take advantage of my image database to develop myself as a fine art photographer," he says. "I set up my own website and I continued to shoot. I had two solo exhibitions in Milan, a group exhibition in London (May 25th - June 8th, 2015) and an exhibition in New York."
One aspect of Bongianino's works are their rare availability. He says, "I produce my works only as fine art inkjet prints on cotton paper. Maybe in the future I'll move on to something different, but for the time being this is my choice. I limit the number of copies for each size to five."
The coming exhibition at the Agora Gallery, will give Americans, New Yorkers especially, a unique glimpse at the work of this Italian artist. To find out more, please log on to http://www.agora-gallery.com/artistpage/Paolo_Bongianino.aspx.
NEW DATABASE TO DOCUMENT ITALIAN AMERICANS WITH ORIGINS IN CILENTO
A festival honoring the Madonna and family roots in the Cilento- May 30!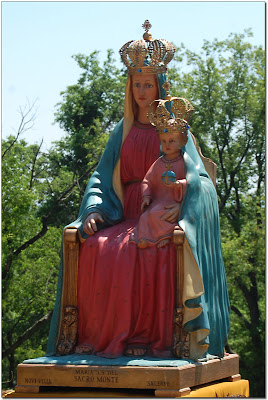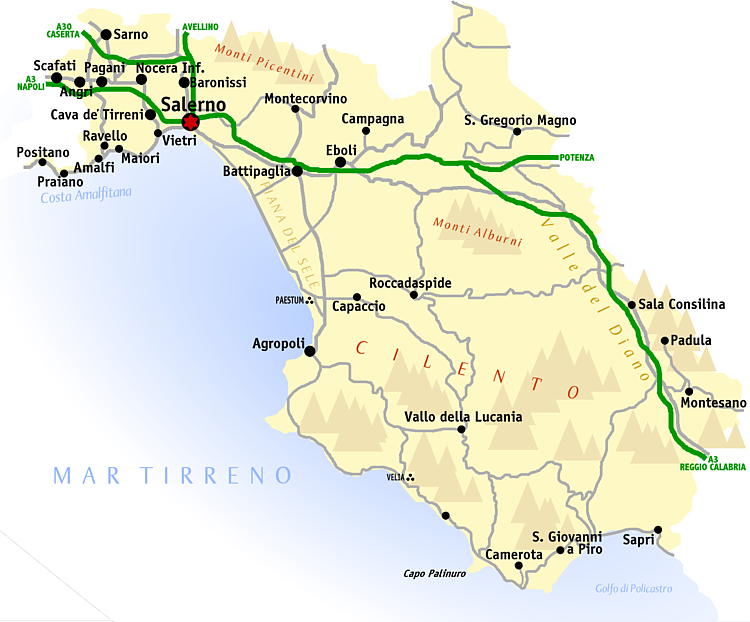 If your family is from Italy's Cilento, in the Province of Salerno, The Madonna del Monte Society which is working on a national Cilento festival and assembling a database of the Cilentani communities across the world wants to speak with you. Please contact: info@madonnadelsacromonteusa.com.

On Saturday, May 30, 2015, at 11:30 a.m., at Holy Face Monastery, 1697 Route 3, Clifton, New Jersey, there will be celebrated a Solemn High Mass with Gregorian chant in honor of Our Lady of Sacro Monte of Novi Velia, Salerno. Following Mass there will be a grand procession on the monastery grounds with the statue of Our Lady, her canopy and authentic cinte (Italian candle-houses), all accompanied by the Tony Neglia Italian Feast Band. This will be a festival for all who love Mary, but moist especially for those with roots in the Cilento.

The miraculous image of Our Lady of Sacro Monte of Novi Velia, crowned by pontifical decree in 1889, rests atop Mount Gelbison in the town of Novi Velia in the Cilento region of the Province of Salerno, Italy. Mount Gelbison which soars 5,594 ft above sea level, was most probably first used as a place of religious worship by the ancient Oenotrian peoples of Southern Italy and later by the ancient Greeks who colonized the Cilento area in the centuries before Christ, and constructed a temple atop the mountain dedicated to the goddess Hera. With the dawn of Christianity and the embrace of the salvific Gospel of Our Lord Jesus Christ by the people of the Cilento, a shrine to the Blessed Virgin Mary was built upon the ruins of the former pagan temple which was eventually maintained by Greek monks fleeing the ravages of the Iconoclast heresy.

Devotion to the Virgin Mary is so strong in the Cilento and her sanctuaries are so numerous that the region has become known as, "La Terra di Maria, The Land of Mary". The shrine at Novi Velia is continuously besieged by pilgrims from its opening on the last Sunday of May until its closing on the last Sunday in October. (In the intervening months the mount is covered in snow).

From the time of the shrine's foundation until the 1950s, whole towns of the Cilento as well as towns in the surrounding areas of Lucania, Basilicata and Calabria would annually travel on foot, often barefooted as an act of penance, to visit the sanctuary. Arrival at the shrine and the return trip home took many days. The pilgrims would walk by day carrying banners and singing hymns in the Cilentano dialect dedicated specifically to the Blessed Lady of Sacro Monte, the hymns themselves being varied and often particular to the hometowns of the pilgrims. Many women would carry on their heads tall cinte or candle houses as votive offerings to the Virgin.

The candle houses would be constructed by creating immense towers of one hundred or so beeswax candles decorated with flowers and ribbons, regaled with images of saints, often the patron of the town as well as the Madonna del Sacro Monte. After days of carrying the candle houses atop their heads, these votive offerings, often as acts of thanksgiving for favors received, would be left at the shrine by the female pilgrims so that the candles could be used to light the sanctuary in the days before electricity.

At night, in those times of unimaginable hardship and poverty, large groups of pilgrims would camp in the fields or on the streets of the villages and towns that lined the pilgrimage routes. The singing would continue as it had during the day, men and boys playing the zampogna and organetto to accompany the traditional Sacro Monte pilgrimage hymns. The zampogna is an Italian bagpipe, an ancient instrument of the area, the origin of which predates recorded history. It is made from goat skins by shepherds, the Cilento breed of goat being profuse in the area and famed for the cheese made from its milk. Cheese, dried sausage, soppressata and the rustic whole grain bread unique to the area would be the meal for the journeying pilgrims, the food having been carried through the trip in baskets on top of the heads of some of the female members of the party.

These pilgrimages were for the impoverished people of this area the one time during the year when they would be able to leave behind the daily hardship and work of their native villages and towns. It was a time of great joy and festivity, families and neighbors uniting in preparations for the journey. Young people would often make the pilgrimage in hopes of finding a spouse, the girls especially praying for a good husband. These pilgrimages were one of the very rare opportunities in those years for the young boys and girls of the Cilento to actually interact.

When the pilgrims would arrive close to the summit of Monte Gelbison and Our Lady's sanctuary, they would encounter the stone Cross of Rofrano, a monument indicating that they were very close to the shrine of their most beloved Madonna. At the Cross of Rofrano, the pilgrim groups would circle three times, leaving at the foot of the cross stones they had gathered along their pilgrimage routes. Passing the cross they would soon come to the doors of the church, and after another series of rituals, by tradition the youngest member of the party would enter first, followed in order by the musicians playing the zampogna and organetto, the banner carrier, the women with their cinte followed by the rest of the group. In the shrine's piazza the pilgrims would break into song and dance celebrating the joy of being in a place where they felt so close to their celestial Mother.

Love for the Madonna of Sacro Monte was carried to the United States by Cilentano immigrants who arrived in the United States at the turn of the last century. In Jersey City, where many of them settled, an annual devotion was started, celebrated at Holy Rosary Church every May where a statue of "Maronna ru Monte" would be carried in procession. In the late 1960s the devotees from Jersey City moved their celebration to Holy Face Monastery in Clifton, New Jersey. At the Monastery they constructed a stunning outdoor shrine to the Madonna and brought a small statue for veneration.

The annual celebration at Holy Face Monastery ended in 1980. It was revived in 2012 by Cilentani and their descendants in New Jersey inspired by what they perceive to be a number of miraculous events which they felt were a very clear indication that Heaven wished this devotion in New Jersey to be not only revived, but to spread and flourish.

Musical entertainment will begin at 10:30 a.m. with a performance of the Bloomfield Mandolin Orchestra, followed after Mass by the Tony Neglia Italian Feast Band, Italian American singing sensation Maestro Marcantonio Pezzano, and. DJ Stefano. Delicious meals and desserts will be sold throughout the day and there will be activities for young and old to enjoy. For more information about this grande festa, you can contact us at info@madonnadelsacromonteusa.com or call Pat at (201) 658-0775.Hope to see you there! If you or your family is from the Cilento please contact us! We would love to hear from you!

Editor's Note: The article was submitted by Elissa Ruffino, Director of Communications at The National Italian American Federation (NIAF), www.niaf.org.
GIVE YOGI BERRA THE PRESIDENTIAL MEDAL OF FREEDOM
New White House Petition Drive Seeks Support in Acknowledging the Yankee Catcher for His Work In and Outside of Baseball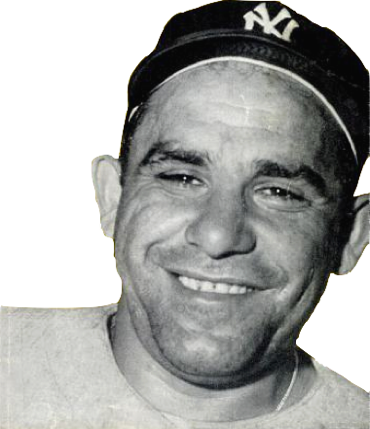 "Yogi Berra should be awarded the Presidential Medal of Freedom," is the opening sentence of a new petition drive featured on the White House web site.

Berra, who celebrated his 90th birthday yesterday has attained folklore status; not just from being one of the best catchers to play the game, specifically for the New York Yankees, or a Major League manager and coach, but also for his incomparable quotes and sayings.

Currently, the White House petition has 83,637 signatorees.

As the petition states: "(Berra) A man of unimpeachable integrity and respect, he befriended the first black and Latino baseball players in Major League Baseball...Berra enlisted in the U. S. Navy during World War Il and served during the D-Day invasion. He continues to be an avid supporter of our armed forces. Berra greatly values education. While with the Yankees, he created a scholarship at Columbia University that is still active 50 years later. His namesake Museum & Learning Center serves 20,000 students annually with character education programs and teaches the values of respect, sportsmanship and inclusion that Berra has demonstrated throughout his life and career."

You can log on and sign the petition at https://petitions.whitehouse.gov/petition/award-yogi-berra-presidential-medal-freedom-his-military-service-and-civil-rights-and-educational-activism
THOUSANDS VISITED THE EMBASSY OF ITALY ON MAY 9 FOR THE EUROPEAN UNION OPEN HOUSE TOUR EVENT IN WASHINGTON, D.C.




On Saturday May 9, the Embassy of Italy participated in the annual European Union Embassies' Open House tour event in Washington, D.C.; where embassies of the Member States of the EU celebrate Europe Day in the US capital.

Sport and healthy nutrition were the topics chosen this year as inspired by "Feeding the Planet. Energy for Life," the motto of Expo Milano 2015, the world fair gathering 145 countries in Milan ongoing now until October 31st, 2015. The event will also feature the legendary Giro d'Italia bicycle race which starts on the same day in Sanremo.

"A healthy lifestyle–the Italian lifestyle: the theme of this year is inspired by Expo Milano," said Ambassador of Italy to the US Claudio Bisogniero. "For the thousands of visitors who traditionally visit the embassy during the Open House we will offer a full program of quality entertainment. Acknowledgment goes to the many partners from the cultural and business communities. This day will be both a celebration and an important showcase of Italy in the US."

Visitors enjoyed a full range of activities dedicated to art, food, design, history, music and science. The large sky-lit atrium of the Embassy hosted Kataklò, an athletic dance theatre company from Milan, with performances combining body movements, dance steps, acrobatic athleticism, mime, humor, sound, lights and costumes. For those passionate about sports, the Embassy prepared a karate demonstration, performed by 2014 world champion of karate, Sara Cardin. Ample space was dedicated to experiencing "Made in Italy" on wheels with famous Italian brands such as Ducati, Fiat Chrysler, and Maserati. Inside the Embassy auditorium various informative videos on Italy were shown including a preview of "On the Trails of the Glaciers: Mission Alaska", the documentary filmed by an Italian crew aimed at studying the health conditions of Alaskan glaciers, and other videos that explain and celebrate the start of the famous Italian bicycle race "Giro d'Italia". Visitors also had the opportunity to explore art exhibits on display at the Embassy: "The Symposium: Food for Mind, Body and Soul" a collection of smuggled artifacts recovered by the Guardia di Finanza" and photographer Francesco Nonino's "Selected Works". Children were entertained with tailored activities such as face painting and tattoo stations and, as in the past years, the Italian Fairy will be there to play with them.

To tease the palate, samples and tastings of authentic Italian beverages and food were offered, sponsored by Bauli, Ferrero, Lavazza, and Domori, while a pasta workshop guided participants through the artisanal making of pasta.

Lastly, a solidarity corner showcased the efforts of Daybreak Children's Rare Disease Fund and Fondazione Telethon Italia, two organizations dealing with research on diseases.

The event is made possible thanks to the support of many Italian companies: Alcantara, Bauli, B3, Beretta, Bracco, Caligaris, Enel, ENI, Expert System, FCA, Ferrero, International Gaming Technology (IGT), Lamborghini, Pirelli, and Venistyle. Contributing organizations are: American Association of Teachers of Italian Chapter DC (AATI), Casa Italiana, Connect4Climate, Daybreak Children Rare Disease Fund and Fondazione Telethon Italians in DC, Italians in DC, Italian Cultural Society, Le DIVE, Macromicro, School of Languages-Department of French and Italian- of the University of Maryland, and SMATCH –Scientific Methodology Applied to Cultural Heritage. To learn more about the Italian Embassy log on to http://www.ambwashingtondc.esteri.it/
THE ITALIAN AMERICAN ONE VOICE COALITION WILL CONVENE A FORUM ON MAY 16
The Italian American ONE VOICE Coalition's stated mission is to "secure the rightful representation of Americans of Italian origin and of all peoples whose paths toward social equality have been impeded. The powers of Intellect, Wisdom and Due Process of Law will be brought to bear on all inequities."

On May 16, The Italian American ONE VOICE Coalition will host a forum on topics and issues of importance to Italian Americans. The event will be held, beginning at 10 a.m. at Vinnie's Pizzeria, 414 Broad Street, in Bloomfield, New Jersey.

Especially active is the organization's president Dr. Manny Alfano who reports on biases and stereotypes of Italians and Italian Americans as potrayed often in the media. The organization's web site includes the Hall of Shame, where highlighted are a number of television commercials, children's programming, news reports, and other items that negatively portray Italians and Italian Americans.

The Italian American ONE VOICE Coalition is a nationwide army of anti-bias activists that fight discrimination and defend Italian American heritage. ONE VOICE's goal is to act as one united voice when dealing with defamation, discrimination and negative stereotyping of our culture and heritage.

ONE VOICE is different from all other Italian American groups in that its' primary focus and objective is to fight bias in mass media and combat stereotyping and discrimination against Italian Americans. It is the only national Italian American organization of its type that focuses solely on defending the great heritage and culture of Italian Americans.

If you would like to learn more about The Italian American ONE VOICE Coalition and/or attend their upcoming forum, please log on to http://www.iaovc.org.
ITALIAN HERITAGE & CULTURE COMMITTEE OF NEW YORK, INC. ANNOUNCES 2015 ITALIAN HERITAGE & CULTURE THEME

Italian Creativity: Celebrating 50 years of Science and Technology 1965 New York World's Fair - 2015 Expo Milano
The IHCC-NY, Inc. Board of Directors, consisting of Italian and Italian American leaders in the greater N.Y. area, has announced its 2015 Italian Heritage and Culture theme: Italian Creativity: Celebrating 50 Years of Science and Technology - 1965 New York World's Fair-2015 Expo Milano.
New York, Milano: Two great cosmopolitan cities of industry, design, creativity…symbols of the 21st century and all its innovation with Italians and Italian Americans always in the forefront of the creativity for the betterment of mankind. The past 50 years only brings more of the discoveries of the Italian genius.
Both cities are hosts of World Expos: New York (1964-1965) with the international exposition, "Peace through Understanding" dedicated to "Man's Achievement on a Shrinking Globe and Expanding Universe." EXPO Milano 2015 proclaims "Feeding the Planet; Energy for Life". Both showcase advances in science and technology.
This year's poster, designed by John Battista DeSantis, Creative Director Webb Communications and IHCC Artistic Director, depicts an abstract image of New York, Milan and technology.
In announcing the Theme, Joseph Sciame, president/chair of the IHCC-NY, Inc., commented "During the year, there will be events, with a special focus on highlighting the Italian and Italian American scientific and technological advances over the past five decades. There will be related lectures, panels, receptions and proclamations at every level of government, in collaboration with the Italian Consulate, educational institutions and other community organizations. We welcome all to join in this salute to Science and Technology with its Italian and Italian American contributions."
Entries for the 2015 calendar listing and contributions to support the publication of the IHCC-NY theme posters, calendar of events booklets, bookmarks and brochures can be made through IHCC-NY Board member, Joan Migliori: joan.migliori@qc.cuny.edu; Tel: 212-642-2094 or Fax: 212-642-2030 by July 1, 2015. www.italyculturemonth.org.
"HUMAN CAPITAL," ITALY'S SUBMISSION IN THE ACADEMY AWARDS FOR BEST FOREIGN FILM COMES TO DVD
Human Capital begins at the end, as a cyclist is run off the road by a careening SUV the night before Christmas Eve. As details emerge of the events leading up to the accident, the lives of the well-to-do Bernaschi family, privileged and detached, will intertwine with the Ossolas, struggling to keep their comfortable middle-class life, in ways neither could have expected. The film is set in both Brianza and Milan and stars Dino Ossola (Fabrizio Bentivoglio), who plays a character in dire financial straits, as he anticipates the birth of twins with his second wife (Valeria Golino). Meanwhile, Dino's teenage daughter's relationship with hedge-fund manager Giovanni Bernaschi's playboy son complicates an already tricky social dance of status, money and ambition. Among the film's stars is Valeria Bruni Tedeschi, the older sister of Carla Bruni.
PAUL GENTILE'S FAMILY MEMOIR HIGHLIGHTS AMERICA'S CONTENTIOUS LABOR HISTORY
Paul Gentile has written about labor issues for publications in Western Pennsylvania for many years. "Salvatore and Maria Finding Paradise" is one part a review of his grandparents' immigrant experience in the United States and the labor conflicts that occurred here in the early years of the 20th century. PRIMO recently spoke with the author about his experiences writing his new book.
What made you want to write "Salvatore and Maria Finding Paradise"?
I was always fascinated by my grandfather's story, and for years thought I should write it down so that it would not to become lost to future generations. Upon retirement, I finally had the time to devote to it.
We think of the Italian immigrant experience either an East Coast or California phenomenon in America. But the protagonist, Salvatore, makes his first foray in America, in Colorado. What can you tell us about the Italian immigrant experience of the Wild West?
In the beginning of the 20th century the Colorado Fuel and Iron Company was recruiting Italians and Greeks to work in its mines. This was actually illegal because the immigration laws at the time prohibited companies from recruiting outside the country. It's interesting that concern over "immigrants taking American jobs" cycles throughout our history; each time, with the current large group being the subject of the fear. At that time, Colorado was the Wild West. Just 40 years before Salvatore arrived, the trip would have been dangerous because the Plains Indians were conducting raids to protect their land. And 20 year before he arrived, Bat Masterson had been hired to clean up the town of Trinidad because it was a wild and rough frontier. Of course, the new immigrants were looked on by the locals with suspicion.
History comes alive in the book. Tell us about the level of research you put into "Salvatore and Maria Finding Paradise."
I had all the family stories from my grandfather, mother and other relatives, but I wanted to validate dates and places. I also wanted to tell the whole story in the context of what was happening at the key times in his life because our lives are shaped by the history that is forming around us. My wife and I traveled to every location in the book. I researched libraries in those locations and government offices plus extensive internet research. Our Carnegie library in Pittsburgh has an excellent genealogy section where I spent many days. The research fascinates me and I spent hours on little side trips of research that yielded little pieces of facts for the book, but I found it all fascinating in looking at the total picture.
You bring to life some of the inner-Italian ethnic clashes. Tell us about the regional rivalries of Italy that come to light in the book.
I think because Italy wasn't united until the 19th century that there was a lot of regional pride, and identifying with a town or province rather than the totality of the country. There was also the difference of perception between north and south. It seems the government spent money industrializing the north and fitting it with mass transportation and all while neglecting the south. In "Christ Stopped at Eboli", Carlo Levi describes the feeling that civilization ended around Eboli because that is where the government stopped building the railroads, never went any father south. My grandmother's family was from Piedmont, around Torino, and Italians would refer to the region as "alta Italaina", or high Italian, and there was some resentment about that designation. However, in these mining towns there was a larger distrust between the various ethnic groups, the Mexicans, and the locals who were referred to as the "white" people.
As you have spent many years writing on labor and workplace issues, this book is a culmination of your work. After writing the book, what can you tell us about labor in America? Is it better now than it was then?
The working and living conditions for the labor force were dismal then, dangerous and unhealthy. If people tried to form unions they were fired, thrown out of town, and/or shot. Changing labor and immigration laws were slow to help, many were not implemented. It wasn't really until World War II and the GI bill that the labor class was able to lift itself out of near poverty. But we have short memories, and now after a few generations of prosperity, I feel we are in danger of losing many of the hard earned gains. Also, those industries that employed huge numbers of immigrants who couldn't speak the language no longer exist in this country. So we face a real challenge. That is why I felt it was so important to write this story now.
Editor's Note: Among many of its attributes, "Salvatore and Maria Finding Paradise" shows that labor issues can be the premise for exciting literature. You can purchase the book at http://smithdocs.net.
ROCKLAND SONS OF ITALY LODGE 2176 AWARDS YEAR-END SCHOLARSHIPS


Group Winners Shot: May 6th Awards Dinner, from left to right: Rockland Sons of Italy Lodge 2176 President Greg DeCola, Dr. John Guglielmucci, Madison Nalback, Domenick Rocchio, Erica Bosso, Alexandra Bonardi, Michael Chiapperino, Jonathan Ascatigno, NYS Senator David Carlucci, Sara Rotundo, Jenna Ciallella, Amanda Violetto, Margaret Mitard, Julia Cicalo, Dr. John Bosso.
(Rockland) May 11 – The Rockland Sons of Italy Lodge 2176 awards scholarships each month to students who study the Italian language during high school. They also offer several scholarships at the end of the school year to students who have excelled in a particular area and demonstrate a strong ability to continue on to a successful college career.

On April 22 they awarded two students with scholarships for their study of the Italian language. Jenna Woulfe and Amanda Violetto, both from Tappan Zee High School, received the award as did Melissa Zeller of Clarkstown High School South.

On May 6th the Lodge 2176 awarded 12 year end scholarships to area students. The event took place at the Lodge location on Van Wyck Road in Blauvelt, New York. On hand for the event were Lodge President Greg DeCola, Jr., Dr. John Bosso and Dr. John Guglielmucci, Co-Chairman of the Scholarship Awards Committee for Lodge 2176, New York State Senator David Carlucci who presented the Keynote speech for the evening, as well as the parents and family members of the winners.

Domenick Rocchio of Nanuet High School, Julia Cicalo and Cara Cicalo both of Tappan Zee High school, received the Charter Member Awards for Academic Excellence. The Michael LoRusso Award for Community Service was presented to Jonathan Ascatigno of Farmingdale Senior High School. Jenna Ciallella of Tappan Zee High School received the Gennaro Gentile Award for Special Education Achievement. The Fred Sica Award for Outstanding Business Leadership was presented to Erica Bosso of Clarkstown High School South. The Rockland Lodge 2176 Achievement Awards were presented to Margaret Mitard of Tappan Zee High School, Sara Rotundo of Pearl River High School and Madison Nalback of Minisink Valley High School. The Joseph Scaringe Award for Athletic Dedication was presented to Michael Chiapperino of Tappan Zee High School. The John DeSimone Award for Excellence in Italian Language was presented to Amanda Violetto of Tappan Zee High School and the Vic Ascatigno Award for Leadership was presented to Alexandra Bonardi of Tappan Zee High School.

The Rockland Lodge 2176 of the Order of The Sons of Italy in America was established in 1966 with the goal of enhancing the image of people of Italian descent and has grown into one of the most active organizations in the area. They will host the Sixth Annual Italian Feast and Carnival, one of Rockland County's largest events, September 17 to 20, this year. In addition to giving scholarship to students, funds raised through various events are donated to a variety of charitable organizations in and around the area. For more information visit www.blauveltsonsofitaly.org or visit them on Facebook at www.facebook.com/blauveltsons
NYC ITALIAN RESTAURANT BECOMES THE FIRST TO OFFER HEALTHY PASTA TO LOSE WEIGHT
New York State officials joined Chef Donato Deserio, of Il Bastado, and Italy's foremost healthy eating authority Gianluca Mech (pictured), as well as local Italian American groups and officials at Il Bastardo Restaurant, located in Manhattan at 191 Seventh Ave, to launch - Dieta Tisanoreica - Italy's groundbreaking new Diet Pasta in New York City.

Il Bastardo restaurant is the first New York City venue to serve the one-of-its-kind Dieta Tisanoreica, a new product created by Italy's foremost healthy eating authority Gianluca Mech, which is low in carbohydrates and high in enriched vegetable proteins. Dieta Tisanoreica contains only 12 grams of carbohydrates per 55 gram serving or just four percent of the daily recommended intake value (DV), as opposed to grain rooted pasta's 32 to 78 gram range which represents up to 26 percent of the DV. The Tisanoreica penne and fusilli boast 28 grams of protein, representing 50 percent of the DV and seven grams of fiber, 28 percent of DV. While regular pasta contains only four to 14 protein grams, just up to 28 percent DV and fiber typically ranges from three-to-five grams or no more than 20 percent DV.

One of the most popular foods in New York City is pasta, but the very word provokes fear of weight gain. With Dieta Tisanoreica, that no longer has to be the case. The average person in Italy eats over 51 pounds of pasta a year. In 2000 over 1.3 million pounds of pasta were sold in American grocery stores. If 1.3 million pounds of 16-ounce spaghetti packages were lined up, they would circle the equator almost nine times.
To learn more about Dieta Tisanoreica, log on to the pasta company's web site at http://www.tisanoreica.it/. For the restaurant, Il Bastardo, in New York, please log on to their web site at http://nycrg.com/il-bastardo.
SONS OF ITALY FOUNDATION 27TH ANNUAL NATIONAL EDUCATION & LEADERSHIP AWARDS GALA SCHEDULED FOR MAY 21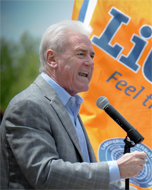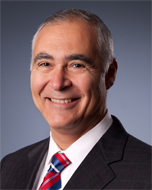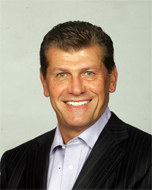 The Sons of Italy Foundation announced that tickets, tables and sponsorships for the 27 Annual National Education Leadership Awards Gala, scheduled for May 21, will have an extended deadline of May 7.
The gathering will take place in Washington, D.C., at the beautiful National Building Museum, on Thursday, May 21.
Pictured in order are the awards recipients: Gen. Raymond T. Odierno, Chief of Staff, United States Army, National Education Leadership Award; Terry O'Sullivan, General President, Laborers' International Union of North America, Lifetime Achievement Award for Public Service; Anthony S. Fauci, M.D., Director, National Institute of Allergy and Infectious Diseases, NIH, Special Recognition Award for Science & Medicine; Alfred Grasso, President & CEO, The Mitre Corporation, Humanitarian Award; Geno Auriemma, Head Coach, University of Connecticut Women's Basketball, Special Award for Excellence in Sports Leadership.
Actor Joe Mantegna will be the Master of Ceremonies of the gathering where included will be 2015 Sons of Italy Foundation Scholarship Winners.
Please direct questions to nelagala@osia.org and to learn more about the gala, please log on to http://www.osia.org/news/nela-gala.php
THE RELATED GROUP CELEBRATES 1100 MILLECENTO'S COMPLETION WITH A ROOF TOP SOIREE IN THE HEART OF BRICKELL
Celebration in Honor of Paolo Pininfarina, Designer for Ferrari, and His First Residential Design in the U.S.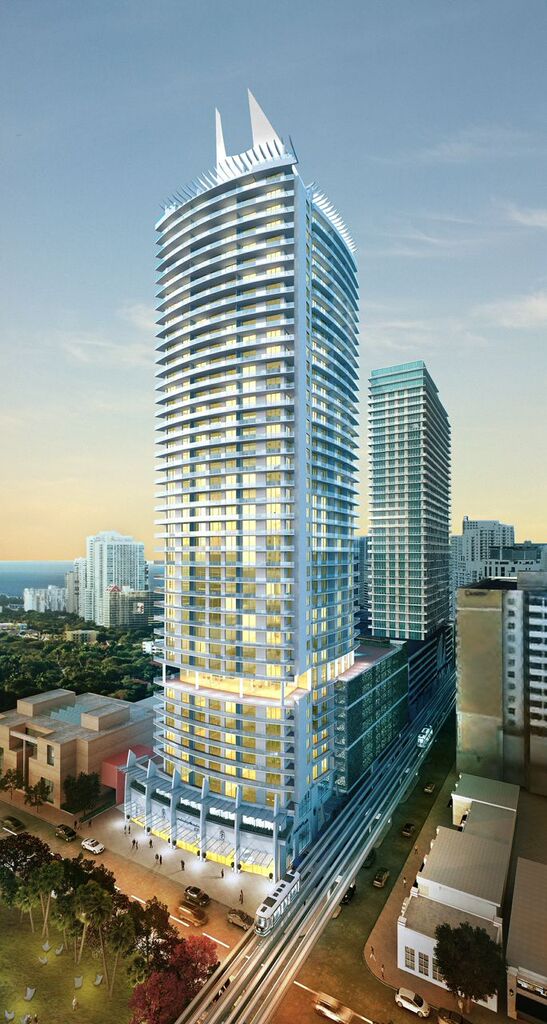 Key figures in the development of Millicento, in Miami, from right, Carlos Rosso, Sonia Figueroa, Paolo Pininfarina, and Jorge M. Perez (Photos by Alberto Tamargo)
MIAMI (April 8, 2015)—1100 Millecento Residences, the highly anticipated high-rise in Brickell from The Related Group, celebrated the property's completion with an exclusive event on the tower's roof top poolside terrace and clubrooms.
The 42-story luxury tower features a second full level of amenities on the 9th floor, including billiards, library, party room, theatre, spa, children's play room, fitness center, pool deck and zero-edge pool all wrapped with an expansive terrace to take in the views of the city and Biscayne Bay. Paolo Pininfarina, CEO of the eponymous Italian design firm, known primarily for high-end sports cars, designed the interiors for Millecento - his first high rise residential project in the world, www.pininfarina.com. Over 60 percent of the residences have been delivered to its purchasers. Guests enjoyed Italian inspired light bites and sounds while taking in the stunning sunset over Biscayne Bay and the Miami skyline.

Notable Guests: Paolo Pininfarina, Chairman and Designer, Pininfarina SpA; Jorge M. Pérez, CEO and Chairman, The Related Group; Marc Sarnoff, City of Miami Commissioner; Alice N. Bravo, Deputy City Manager; Carlos Rosso, President Condominium Division, The Related Group; Sonia Figueroa, Senior Vice President, The Related Group. www.relatedgroup.com.
TWENTY UNIVERSITY STUDENTS RECEIVE TRAVEL GRANT TO ITALY THROUGH A NATIONAL ITALIAN AMERICAN FOUNDATION PROGRAM
Twenty college students from across the nation will participate in the Ambassador Peter F. Secchia Voyage of Discovery Program, an all-expenses-paid educational and cultural initiative that sends Italian American students to Italy. Sponsored by the National Italian American Foundation (NIAF), the tour will visit Italy's Lombardia region, NIAF's 2015 Region of Honor, from June 9 to June 23, 2015.

For the third consecutive year, participants are giving back to the Italian community with a service project in Cascina Rossigo at the Fondazione Genitori per l'Autismo ONLUS, a residential farming community for autistic adults. Last year, the students worked with women and children in difficult situations, was coordinated through the HandsOn Network, a Point of Light Enterprise.

"This signature program at the National Italian American Foundation gives these fortunate Italian American students an incredible opportunity to discover and immerse themselves in the land and beautiful culture of their ancestors," said NIAF Director of Programs Gabriella Mileti. "For the future of our Italian American community, it is necessary for young Italian Americans to understand the value of heritage, tradition and roots, and this program emphasizes exactly that."

Now in its 16th year, the 14-day NIAF program will include tours of historic sites throughout the city of Pavia with a visit to the Certosa, and a walking tour of the city of Monza and Villa Reale. While in Milan, students will attend a lecture at the Politecnico University, tour the university's design studios, and visit the renowned Italian tailor store Brioni. A day at Expo Milan 2015 to explore the pavilions is part of the itinerary. Students will also view the restored masterpiece by Leonardo da Vinci and tour La Scala Theatre and Sant' Ambrogio Church in Milan.

The schedule includes: a tour of the Auricchio Cheese factory and the Stradivari Museum in Cremona; visits to Lake Como and Lake Garda with walking tours of Sirmione and the Roman ruins (Grotte di Catullo). The students will participate in an excursion by ferry on Lake Maggiore to Isola Bella, Isola dei Pescatori and Isola Madre. The trip will conclude with a farewell dinner in Milan with the Foundation's Board of Directors.

The package includes round-trip airfare between the United States and Italy, accommodations, meals, guided tours and transfers, all financed by NIAF. For more information, visit www.niaf.org/voyageofdiscovery.

The National Italian American Foundation (NIAF) is a non-profit organization dedicated to preserving and promoting the heritage of Italian Americans. Visit www.niaf.org.
FOUR NEW ALBUMS BRING THE POWER OF TARANTA TO THE UNITED STATES
Milan-based record label Ponderosa Music & Art announces a slate of US releases offering a sonic survey of "Taranta", the music of southeastern Italy's Salento peninsula.
All modern takes on a centuries-old tradition, albums by Ludovico Einaudi, Canzoniere Grecanico Salentino (CGS), Kalàscima and Antonio Castrignanò are available digitally beginning in April, and, for the first time, physically available in May via Harmonia Mundi Distribution. The mystical tale of a spider's bite and a frenzied dance for life — a metaphor for curing one's emotional ills through the power of community — draws the listener into a timeless musical web of hypnotic melodies and trance-inducing rhythms.
LUDOVICO EINAUDI - Piemonte-born pianist and composer Ludovico Einaudi's relationship to the Taranta began with the maestro's two year tenure as Conductor of Puglia's renown La Notte della Taranta music festival in 2010 and 2011. On the "Taranta Project" the minimalist master processes this previous work though his own compositional influences, expanding the music into new directions of epic proportions. A kaleidoscope of global sounds joins the mix from African and Middle Eastern to Electronic Music and Rock. International guest artists such as Mercan Dede, Ballaké Sissoko, Justin Adams and Juldeh Camara are featured side by side with Salento talent such as Canzoniere Grecanico Salentino's Mauro Durante, Einaudi's long time musical companion on his Taranta journey. A stirring video for the title-inspired song "Taranta" features rare film footage from healing rituals in 1960's Salento. Taranta Project EPK: https://www.youtube.com/watch?v=9k5r_-gy9EY
CANZONIERE GRECANICO SALENTINO - Italy's leading band on the world music scene, Canzoniere Grecanico Salentino celebrates its 40th year with the release of "Quaranta" (40). Lauded under the new leadership of Mauro Durante, the offspring of CGS's founding members, this second generation group has recently garnered critical acclaim from the likes of The New York Times, NPR, The Guardian and the BBC. A whirlwind of touring on the international circuit has included stops on prestigious stages including Womad (UK, Australia, New Zealand), Womex, SXSW, Sziget, Montreal Jazz as well as a scheduled set at this summer's Cambridge Folk Festival. Quaranta was produced by Ian Brennan, 2012 Grammy Award winner in the Best World Music category for Tinariwen's "Tassili" album, and features guests such as Ludovico Einaudi and Piers Faccini. A video for the song "Solo Andata" (One Way Ticket) has already earned Amnesty International Italy's 2014 Arts and Human Rights Award. Set to text by author Erri de Luca, and director Alessandro Gassmann, the video tackles the ongoing issue of immigrants from North Africa to Italy's shores. Canzoniere Grecanico Salentino are also in the process of developing a Taranta-themed theatrical production with the team who took the show Fela! to Broadway. Solo andata: https://www.youtube.com/watch?v=Tf-bH-aaLB4
KALASCIMA - A Top-10 debut for "Psychedelic Trance Tarantella" in the global trend-setting World Music Charts Europe for April 2015, marks the second album for Kalàscima and their first release on Ponderosa. The Salento-based 6-piece's innovative mix of Electronic music and Southern Italian Folk has made them a festival favorite for the past fifteen years, from La Notte della Taranta to international tours in Australia, Latin America, the Middle East and Northern Europe. "Psychedelic Trance Tarantella" features the piano work of maestro Ludovico Einaudi on the track "Due mari" (Two seas). Psychedelic Trance Tarantella: https://soundcloud.com/riccardo-lagan/sets/psychedelic-trance-tarantella-kalascima-2014/s-eCucb
ANTONIO CASTRIGNANO - A featured performer in the La Notte della Taranta festival, singer, musician and composer Antonio Castrignanò has collaborated with Italian and international artists such as Stewart Copeland, Mauro Pagani, Giuliano Sangiorgi/Negramaro, The Chieftains, Goran Bregovic, Ludovico Einaudi, Ballakè Sissoko and Mercan Dede. FOMENTA: Ilenu De Taranta is Castrignanò's sophomore solo set and was produced by Dede, the noted Turkish multi-instrumentalist and DJ. Castrignanò made his recording debut as the composer for the original soundtrack to the 2006 film "Nuovomondo", which picked up 6 wins at the Venice Film Festival before making its US debut under the title of "The Golden Door" at the 2007 Tribeca Flm Festival, where it was presented by Martin Scorsese. Fomenta: https://www.youtube.com/watch?v=amq-0gyG-gs
NIAF ANNOUNCES $100,000 GRANT TO "SAVE THE SAINT" RESTORATION PROJECT AT THE DUOMO DI MILANO

(WASHINGTON- D.C. April 20, 2015) The National Italian American Foundation (NIAF) Board of Directors recently voted to create a special one-time NIAF Emanuele and Emilia Inglese Memorial Grant of $100,000 to support the "Save the Saint" restoration project by the International Patrons of Duomo di Milano.
"It is our hope that this grant will serve as a leadership gift to encourage the rest of the Italian American community to raise the remaining funds necessary for the full restoration of the Saint Francesca Cabrini spire and this most valuable project," NIAF President John M. Viola said.
The statue of the first American Saint, Frances Xavier Cabrini, is one of the 135 spires available for restoration through the "Save the Saint" project. Mother Frances Cabrini arrived in New York in 1889 from Sant' Angelo Lodigiano, in Italy's Region of Lombardy. She worked with the Italian American Community, cared for its orphans, and constructed schools and hospitals. Later she founded the Missionary Sisters of the Sacred Heart to aid Italian immigrants in New York. She became an American citizen in 1909 and the first American saint in 1946. Her statue was placed in the Duomo in 1956 in remembrance of her beatification.
NIAF is pleased to work with the International Patrons of Duomo di Milano, a charitable New York City based organization, established in 2014 to raise awareness of the Duomo in Milan. Its mission is to collect donations to support the conservation, restoration, protection and valorization of the cathedral. www.duomopatrons.org.
Restoration operations are executed and supervised by Veneranda Fabbrica del Duomo di Milano, the institution responsible for the conservation of the Duomo since 1387. This year's program, "Fabbrica Del Duomo: Committed to the Youth" will train and educate 58 young people under the age of 35 through a series of training programs to restore, manage and promote cultural sites including the Duomo.
Donations are accepted through www.Foritaly.org/niaf.asp, the crowd-funding campaign dedicated to safeguarding Italian culture. The deadline to raise $150,000 is April 30, 2015. A $50 donation entitles the supporter to have their name engraved on a plate and placed near the spire of St. Frances Cabrini.
The National Italian American Foundation (NIAF) is a non-profit organization dedicated to preserving and promoting the heritage of Italian Americans. Visit www.niaf.org.
NEW NOVEL BY ATTORNEY ANDREW ANSELMI FOCUSES ON FAMILY AND ETHNIC CLASHES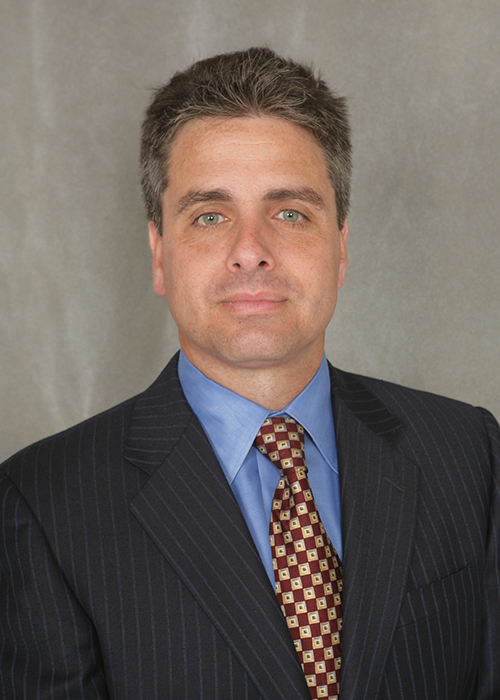 Attorney and author Andrew Anselmi gives new life to what it takes to attain the American Dream, in "The Autumn Crush." The story not only depicts the struggles between generations of Italian Americans but also between Italian Americans and other ethnic groups. PRIMO spoke with Mr. Anselmi about aspects of his new novel and what led him to write "The Autumn Crush."
What inspired you to write "The Autumn Crush?"
I have always enjoyed writing. Whether it was in school, politics or in the practice of law, I found putting words to paper to be an exercise that not only invigorated me, but also took my mind and soul to another place. I was not inspired to create a novel, however, until my father, a successful yet quiet businessman, shared with me his handwritten fictional account of the day his father left his family's grape fields in Southern Italy in 1920 to set out for America. Although dad's grammar was less than perfect, the dialogue and scenery were beautiful in their simplicity. I set out to build a novel around his prose, and the result was "The Autumn Crush," which is an allusion to the Italian American tradition of making wine.
The main character is Guy Bennett, whose family is from Aquino, Italy. What led you to include this particular Italian village in the novel?
I am embarassed to admit that your review was the first time I realized that Aquino was a real place. I created the name as a fictional hybrid of my paternal grandfather's hometown or paese - Acqua Viva Delle Fonti in Apulia - and my mother's paese of Laviano in Campagnia.
We see a number of scenes where ethnic groups clash but also work together. What led you to focus on ethnic interaction in the novel?
Growing up, my grandparents, parents, aunts and uncles spoke often of the discrimination Italian immigrants endured in the early twentieth century. Yet, they did not hesitate to place labels on other ethnic or racial groups. All the while, they broke bread with everyone, be it in church, school or in the workplace. What started as a rub more often became a relishing of differences, which was a very real part of the twentieth century New American experience that I wanted to present in a novel rather than through political or social commentary.
As an attorney, how often did you use real-life experiences in the novel?
I used my real-life legal experiences quite a bit. Criminal law in particular, given the stakes, provides the deepest mining of emotions and richness of drama.
Throughout the novel, family is ever present. How pervasive was family in your life?
Family has been everywhere and everything. As a child, it was best represented by Sunday dinner after mass and the making of wine in the autumn. As an adult in a fast-paced modern age, family is more of a frame of mind - the place that gives me the courage and strength to set off to work, comforts me during the day and draws me home at night. In terms of "The Autumn Crush," family not only pervades the story line, but was also a driving force in the writing of the book. At 49, I speak to my mother every day. My father's felt-tip draft was my initial inspiration. The love and editorial thoughts of my wife and children helped shape the plot and choose the right words. At my book signings, my brother does the readings, as he is the one who read the entire book out loud to my father, who has poor eyesight. I slept at my sister's house the night before my first studio interview. Unfortunately, in the years since the setting of "The Autumn Crush" (the late 1980s), the pace and grind precipitated by what we hail as the advance of modern technology has made family time more challenging. I hope that the dust will someday settle on instant communication, and we will be able to rediscover the joy of sitting around the table for hours, and once a year, stand around a cask to make our own wine.
Editor's Note: Andrew Anselmi's new novel, "The Autumn Crush," is available on Amazon.com
NGA EXHIBITION ON METALPOINT HIGHLIGHTS WORK OF LEONARDO DA VINCI
The great Italian artist was a pioneer in using a metal stylus to create complex works of art

Leonardo da Vinci, A Bust of a Warrior, c. 1475/1480 silverpoint on cream prepared paper;
On loan from The British Museum, London © The Trustees of The British Museum, London
Washington, DC—In the first comprehensive exhibition on the evocative medium of metalpoint—the art of drawing with a metal stylus—some 100 works showcase the surprising range of effects created by master draftsmen for centuries. On view at the National Gallery of Art, Washington, from May 3 through July 26, 2015, Drawing in Silver and Gold: Leonardo to Jasper Johns includes works from the Middle Ages to the present, on loan from major museums in Europe and the United States, with nearly half on loan from the British Museum, London.

"Artists since the Renaissance have used metalpoint to create some of the most magnificent and technically accomplished drawings in the history of art," said Earl A. Powell III, director, National Gallery of Art, Washington. "We are delighted to present this exhibition in collaboration with the British Museum, and hope that these discoveries and the beauty of the drawings will appeal to scholars, artists, and visitors."

The exhibition is organized by the National Gallery of Art in association with The British Museum, where it will be on view from September 10 through December 6, 2015.

The exhibition is made possible by a generous gift in memory of Melvin R. Seiden. The Exhibition Circle of the National Gallery of Art is also supporting the exhibition. The exhibition is supported by an indemnity from the Federal Council on the Arts and the Humanities. An artist working with metalpoint draws with a metal stylus on a specially prepared surface. As the stylus travels across this slightly abrasive ground, it leaves behind a small amount of metal, creating a shimmering line. Almost any metal can be used, including lead, tin, and even gold, but silver is the most common choice. Often regarded as an unforgiving material suited only for skilled artists and delicate subjects, metalpoint actually enables the artist to achieve a surprising range of effects, from bold sketches to meticulously detailed studies.

A display case within the exhibition includes tools and materials as well as an explanation of the techniques and process of the metalpoint medium. The Gallery has produced a short silent film, on view in the exhibition, which demonstrates the medium's technical intricacies.

Organized chronologically, Drawing in Silver and Gold showcases the practice of metalpoint in the work of artists ranging from Leonardo, Albrecht Dürer, and Rembrandt to Otto Dix and Jasper Johns. While the exhibition offers fresh insights into well-known works of the Renaissance by the artists most commonly associated with the medium, it also sheds new light on other periods and regions, such as 17th-century Netherlands, Victorian Britain, and the continued exploration of metalpoint by modern and contemporary artists.

"Viewing the technique of metalpoint in this broad context provides a unique opportunity to recognize patterns in drawing practices and affords a striking demonstration of the versatility of the medium," said Stacey Sell, associate curator, department of old master drawings, National Gallery of Art, Washington. "Even to curators and conservators with years of exposure to this medium, these drawings seem almost miraculous."

Four works by Leonardo are featured in the Washington exhibition, including Bust of a Warrior (c. 1475/1480), one of the most widely admired drawings in the history of art. The Italian Renaissance section also includes a spectacular selection of silverpoints by other masters, such as two sheets from Raphael's famous "pink sketchbook."
The National Gallery of Art is free to the public. To check the latest artt exhibitions, please log on to the museum's web site at: http://www.nga.gov
ITALIAN INFLUENCE IN THE DEPICTION OF THE CRUCIFIXION.
The article appeared in the Publisher's Note column in PRIMO 2011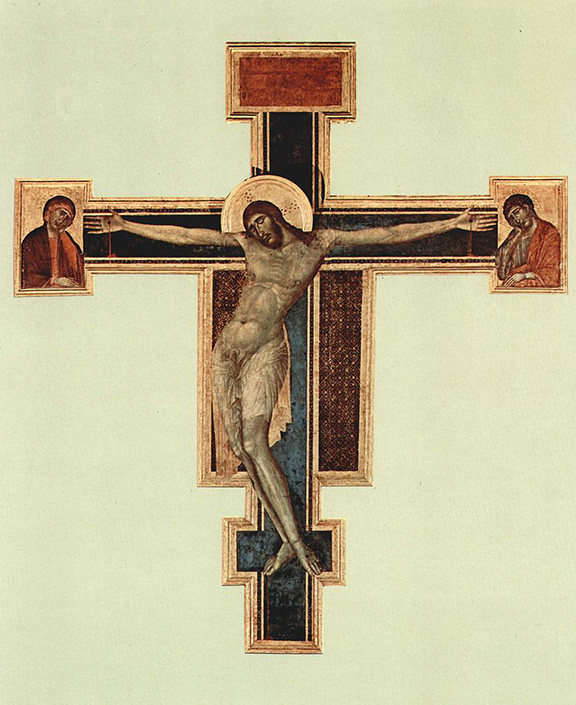 Bencivieni di Pepo's painting, "Crucifix," completed in the 13th century, found inside the Basilica di Santa Croce in Florence and a stone carving of the crucifixion found in Rome's basilica of Santa Sabina all'Aventino, completed in the early 600s.
The crucifix that originated in Italy is what we see today in both Roman Catholic and Protestant churches. The three dimensional rendering of Jesus Christ on the cross grew out of a theological debate in Italy along with the country's innovations in art, sculpture, and lapidary crafts. Almost 900 years ago Franciscan priests sought a fuller understanding of Jesus Christ's last hours on the cross. They concluded that a realistic depiction of Jesus Christ was necessary to capture his humanity.
For much of early Christendom, the Greek concept held Christ in a glorified manner with illustrations that were stiff and understated. Rome's basilica of Santa Sabina all'Aventino contains a stone carving of the crucifixion completed in the early 600s. Jesus Christ is seen here as emotionless and standing away from the cross. In stark contrast, Bencivieni di Pepo's painting, "Crucifix," completed in the 13th century, found inside the Basilica di Santa Croce in Florence, depicts Christ as frightened and destitute. It is one of the first among artworks to emphasize the human emotions of Christ on the cross.
Through art, Italians established a central tenet of the faith: That Jesus Christ suffered before death. His humanity was ever present, underscoring the self-sacrifice for our sins. Art benefited from the changing view of Jesus Christ as Italians mastered linear perspective, shape and proportion. The human anatomy was studied to better capture Jesus Christ in paintings and sculpture. The crucifix became a major part of the interior of churches. Sculptors rendered Christ in marble, attached to large wooden crosses made from olive wood. Milan's Municipal Antiquity Museum located in the Castello Sforzesco, today, contains an enormous collection of crosses and crucifixes made in workshops throughout Italy from the 8th through 19th centuries. We see the evolution of Italian craftsmen creating crucifixes in gold and sliver, inlaid with precious gems, attached to rosary beads. The faith became mobile as Italians held the symbol of Christ far from houses of worship.
Today, crucifixes hang in all of Italy's public schools and buildings.
GOVERNMENT OFFICAL, INDUSTRY LEADERS, TV JOURNALISTS HONORED IN NEW YORK CITY MARIO M. CUOMO AWARD IN PUBLIC SERVICE AWARDED AT NIAF GALA NEW YORK GOVERNOR ANDREW CUOMO JOINS GALA HONOREES

(Washington, D.C. – April 13, 2015) New York Governor Andrew M. Cuomo, business executives, Italian American community leaders, friends and supporters of the National Italian American Foundation (NIAF) gathered in Manhattan for the Foundation's annual New York Spring Gala on April 8, 2015.

During the cocktail reception, guests were served the famous Bellini cocktail under the towering marble columns at the Italian Renaissance-inspired Cipriani 42nd Street. They also viewed the sports memorabilia, fine jewelry and designer women's purses that were part of the silent auction.

NIAF's Chairman Joseph V. Del Raso welcomed everyone to the Foundation's dinner. "Tonight we celebrate NIAF's 40th Anniversary to begin on April 26. It is my honor to unveil the Italian American Leadership Council (IALC) for members to commit themselves to being leaders and stakeholders in NIAF, the Italian American community and our future. Join us in this endeavor," Del Raso said. Besides welcoming honorees and guests, Del Raso introduced Bishop Frank Joseph Caggiano of the Diocese of Bridgeport who gave the invocation.

Governor Cuomo joined the more than 500 guests to present the inaugural Mario M. Cuomo Award in Public Service to Janet DiFiore, the Westchester County, N.Y., district attorney. The award recognizes Italian American public servants who are known for their passion, conviction and dedication to serving the Italian American community.

At the podium, Cuomo spoke about his father's legacy. "My father was dedicated to represent the best of the Italian American people and he wanted to model the best of the Italian American culture," Cuomo said. "He led a life of principle, dignity and honor. He was about honor and commitment and living up to his word."

DiFiore thanked Governor Cuomo for taking the time to be at the NIAF Gala. "This evening is about scholarship and education. Thank you for the fight for quality education and educational opportunities for every child in the State of New York," DiFiore said. "Mario Cuomo is a model, the most cherished Italian American to call our own."

New York Gala dinner chairman Gerard S. LaRocca, a member of NIAF's Board of Directors and the Italian American Leadership Council, and chief administrative officer, Americas, Barclays Capital, thanked the Foundation's New York committee for rebuilding the NIAF New York Gala into the institution it is today.

LaRocca was joined by this year's master of ceremonies, Chazz Palminteri, Academy-Award nominated actor and writer, who was warmly welcomed by the guests. "As you may recall, I, too was a NIAF New York Gala honoree in the recent past. This is a great organization that does a great deal for the Italian American community. I am proud to be a supporter," Palminteri said.

Before the guests dined on Italian specialties, including thinly sliced prosciutto with fresh mozzarella and roasted pear and frisee salad, Christina Carlucci, a New York City based performer, recently in the national tour of "Annie," sang the United States national anthem and "Inno di Mameli," Italy's national anthem.
After dinner was served, Palminteri opened the awards ceremony with a posthumous honor for WABC 7's Lisa Colagrossi, Emmy Award-winning reporter, whose sudden passing in mid-March has greatly affected the Italian American community in New York. Her colleague at WABC-TV Ken Rosato accepted the award on behalf of her family. "I accept this award on behalf of our beloved colleague and will present it to her husband Todd and the boys upon their return from Florida visiting family," Rosato said.
Rosato, Channel 7's anchor at Eyewitness News This Morning and Eyewitness News at Noon, was also honored with the NIAF Special Achievement Award in Media. Rosato, a veteran news reporter, received the New York Emmy Award five times and is a recipient of a New York State-Associated Press Award. He joined WABC's Eyewitness Team as a freelance reporter 12 years ago and has worked in media markets, including Elmira-Binghamton, N.Y. and Miami-Ft. Lauderdale. A graduate of New York University's Tisch School of the Arts with a Master of Arts in languages, Rosato speaks five languages fluently, including Spanish and Italian.
A dual father-and-son award in real estate was presented to Edward A. Riguardi and Peter G. Riguardi. NIAF recognized Edward Riguardi's more than 50-year career in commercial real estate. Edward retired in 2010 as managing director in the New York Transaction Group of Jones Lang LaSalle. His son Peter is president of the New York region of Jones Lang LaSalle and leads all operations for the company in the New York, New Jersey and the Connecticut area, overseeing a team of approximately 1,700 professionals.

NIAF recognized their careers in the industry with the Foundation's Special Achievement Award in Real Estate. "They represent the family success that all Italian Americans aspire to," said Palminteri.

"These five honorees and their stories are a testament to why we gathered here tonight and telling their stories is the core of NIAF's mission," Palminteri added.

NIAF's President and Chief Operating Officer John M. Viola introduced special guest Piero Corsini, director of RAI World, who travelled from Rome, Italy, to present a video about the new channels and initiatives the media company has launched to showcase Italians and Italian Americans in Italy and abroad.

Joining the honorees and guests were Italy's Consul General in New York Natalia Quintavalle; actor Ralph George Macchio Jr., best known for his roles in the "Karate Kid," and "My Cousin Vinny"; Miss New York Jillian Tapper; television news host Tom Murro; athletic director at Sacred Heart University and former manager of the New York Mets Bobby Valentine; the Region of Lombardia's Education Training and Employment Assessor Valentina Aprea, with representatives from Italy's Lombardy region, NIAF 2015 Region of Honor; as well as NIAF's vice presidents in the Greater New York region Susan Paolercio and Nicholas R. Caiazzo.

To close the evening's festivities, Alfio, Italian-Australian vocalist, came to the stage and performed the melodramatic Italian ballad "Il Mondo." Several guests danced in the aisles as he continued to sing Italian melodies.

The NIAF New York Spring Gala proceeds support the Foundation's philanthropic and educational programs. NIAF thanks this year's Presenting Sponsors Jones Lang LaSalle and the Viola Foundation Inc.
The National Italian American Foundation (NIAF) is a non-profit organization dedicated to preserving and promoting the heritage of Italian Americans. www.niaf.org.
MOU RESTRICTIONS GO TOO FAR, SAYS ITALIAN AMERICAN EDUCATOR
Private collectors in the United States of artifacts and relics from Italy have had their activities seriously curtailed under the Obama administration through the Memo of Understanding (MOU).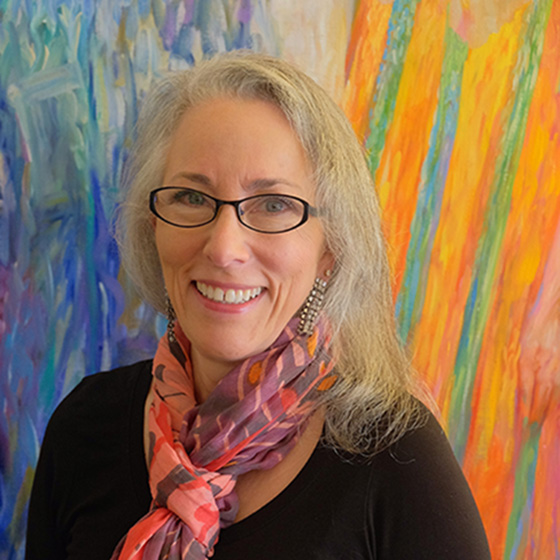 Italian language teacher and translator, Karen Antonelli
American collectors of Italian artifacts and relics have had their activities seriously curtailed under the Obama administration through the Memo of Understanding (MOU). Karen Antonelli, of San Francisco, recently submitted a letter to the Cultural Property Affairs Committee, of the U.S. State Department, protesting the restrictions. Here is the text of her letter.
Dear Cultural Property Affairs [Advisory] Committee,
I am a dual citizen of the United States and of Italy living in San Francisco, California. I have a Ph.D. in Italian Literature from the University of California at Los Angeles as well as an M.B.A. from the University of Southern California. Although I lived most of my first 20 years in Italy (but born of American parents of Italian descent who were working for the U.S. government at the time), I have resided, full time, in the United States for more than 40 years and treasure both my U.S. and my Italian heritage. I get tremendous satisfaction sharing my Italian heritage and culture with my fellow Americans and promote business relationships between Italy and the U.S. by teaching Italian language, literature and film classes as well as by performing professional translations for individuals and companies.
Unfortunately, the proposed extension (and perhaps expansion) of the present Memorandum of Understanding with Italy will do little to help, and a great deal to harm, the study and understanding of Italian heritage and culture, at the very least to the extent that it will restrict the import into the United States of abundant small objects like coins and other common artifacts. This is especially true as these objects were intended to, and did, travel great distances. These objects are useful not only in teaching the history of ancient Rome, its successor city-states and the modern Italian Republic, but in understanding so many aspects of its culture...societal relationships, religion, cultural tropes, trade and economics.
The proposed MOU only harms United States citizens...restricting the import of the coins and similar common artifacts here, while they continue to be bought and sold, and travel widely, throughout Europe and even in Asia.
As an Italian citizen, if I can purchase these objects in Italy as my heritage, why may I not bring them to the U.S. to share and teach?
Of course, I support the suppression of looting of archaeological sites (as I understand it, the purported reason for the ban on importation) but there are much better ways to do this than the extension of the MOU. Please do not renew it, or at least exempt from the extended MOU all common, abundant artifacts like coins. The goal of the Committee should be to preserve culture, not as an end in itself, but to promote the availability and awareness of culture to the citizens of the United States.
Editor's Note: The letter was courtesy of the web blog Cultural Property Observer, hosted by Peter Tompa at http://culturalpropertyobserver.blogspot.com. Karen Antonelli teaches and translates the Italian language. Please visit her web site at http://www.italianwithantonelli.com/home.html. If you would like to learn more about the law and restrictions of buying and selling artifacts from Italy, please visit the web site of the Cultural Property Committee of the U.S. State Department at: http://eca.state.gov/cultural-heritage-center/cultural-property-protection/process-and-purpose/cultural-property-advisory.
"SAVE THE SAINT" WITH US. A CROWD-FUNDING CAMPAIGN TO SAFEGUARD THE ITALIAN AMERICAN CULTURAL HERITAGE - THE CABRINI SPIRE IN MILAN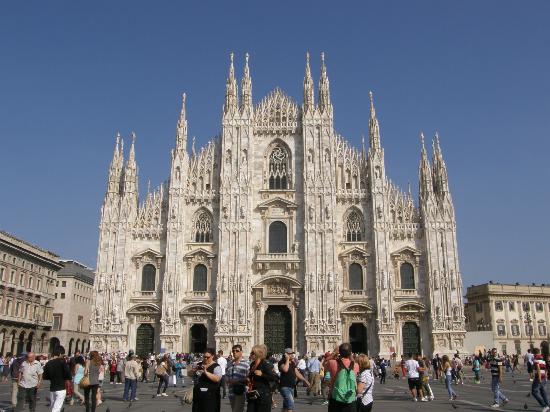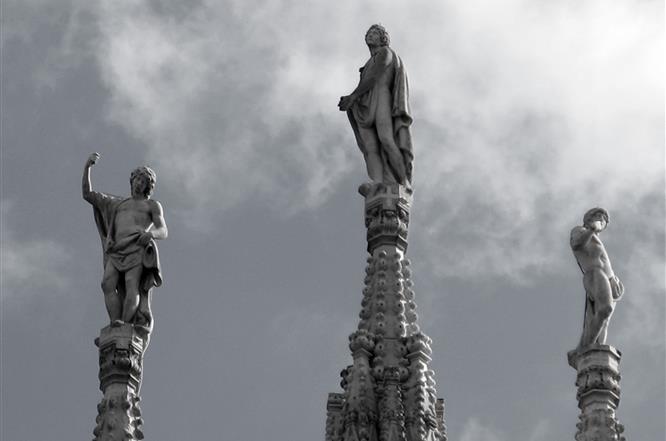 New York and Milan, two important cities, divided by an ocean yet so alike in the respect for culture, food and love of the arts. A new project, Save the Saint, is bringing the two closer by revealing an extremely interesting element of shared history.
Save the Saint is a crowd-funding campaign launched by International Patrons of Duomo di Milano ( www.duomopatrons.org ) on the platform ForItaly.org ( www.foritaly.org ), in collaboration with Eataly NYC which is hosting a once-in-a-lifetime exhibition called 'Eataly per Duomo'. The expositions showcases, for the first time in U.S. history, original architectural elements that were temporarily removed from the Duomo and that can now be found in Eataly's New York store (October 2014-May 2015).
The campaign Save the Saint was created and brought to the US public through International Patrons of Duomo di Milano, a charitable NYC-based organization, established in 2014, whose mission is to raise awareness towards the necessities of the Duomo. It aims is to collect donations to support the conservation, protection, restoration and valorization of the Cathedral. International Patrons of Duomo di Milano is dedicating the spire of Saint Frances Cabrini to its American supporters and offering a unique opportunity to help in the shared cause of preserving invaluable heritage.
The campaign focuses on the statue of the first American Saint, Frances Xavier Cabrini, and its spire on the Milanese Cathedral, one of the most important in Italy, in need of continuous restorations to shine for future generations. By donating to this project, therefore, individuals will be contributing to the overall preservation of the Duomo Cathedral.
Mother Frances Xavier Cabrini arrived in New York in 1889 from Sant'Angelo Lodigiano, in Lombardy (Northern Italy). Although Mother Cabrini initially intended to visit China for her missionary work, when asking for his blessing, the Pope suggested that she should turn her attention to the West. During her first years in the United States, she worked with the Italian-American community and cared for orphans and the less fortunate while helping in the construction of schools and hospitals. She later went on to found the Catholic Institution of the Missionary Sisters of the Sacred Heart to aid all Italian immigrants in New York. In her later years, she opened 67 more institutions in Chicago, Des Plaines, Illinois, Seattle, New Orleans, Denver, Golden, Colorado, Los Angeles and Philadelphia. Cabrini became an official American citizen in 1909 and the first American Saint in 1946. Her statue was later placed on the Duomo Cathedral in 1956, in remembrance of her sanctification. Since then, she has looked down upon the city of Milan from up high, bridging the gap between Italy and America, Milan and New York.
All restoration operations are supervised by experts on the Cathedral and executed in the laboratory of the Veneranda Fabbrica del Duomo, the historical Italian institution charged with the conservation and enhancement of the Cathedral, since 1387. Furthermore, the Duomo is the only monument in the world to have direct access to a quarry for the supply of its construction material. The pink marble is sourced from the Candoglia quarry and used in all restorations of the Duomo. The quarry, as well at the restoration laboratory of the Veneranda Fabbrica del Duomo, can be visited upon request.
The crowd-funding campaign was launched in the US on March 3rd with the aim of raising $150,000 by April 30th 2015. What distinguishes the campaign is its modern approach to the subject. The campaign is aimed at a public who values the importance of the arts and who is open to innovative platforms and means of communication.
The campaign also offers the opportunity of being a part of what is considered one of the biggest open sky museum in the world - with over 3,400 statues built in the span of 7 centuries. With a $50 donation you can have your name engraved on a plate and placed nearby the spire of Saint Frances Cabrini. When donating on Foritaly.org , rewards will also include trendy and humorous graphic t-shirts that are hip and embrace the spirit of the campaign.
Arts Council and ARPANet , two entities dedicated to preserving culture and funders of Foritaly.org , collaborate with International Patrons of Duomo di Milano on this campaign in order to accomplish its mission of safeguarding the Milanese Cathedral for generations to come. Foritaly.org is a crowd-funding platform dedicated to safeguarding Italian culture, the heritage of the whole world. With this campaign, Foritaly.org strives to raise awareness in the Italian-American community as well as invites all American and Italian residents in the US to value and protect their common roots. Save the Saint was thus born through the union and know-how of Foritaly.org and International Patrons of Duomo di Milano.
INTERNATIONAL PATRONS OF DUOMO DI MILANO
The mission of International Patrons of Duomo di Milano is to raise international public awareness towards the necessities of the Duomo, symbol of Milan throughout the world, by collecting donations to support the conservation, protection, restoration and valorization of the Cathedral. This non-profit was established in 2014 under section 501(c)3 of the Internal Revenue Code with the aim of ensuring the preservation and safeguard of the Cathedral of Milan. www.duomopatrons.org

Foritaly.org is a crowd-funding platform exclusively dedicated to preserving Italian heritage. Thanks to Foritaly.org, it is possible to make contributions to help maintain and protect the heritage of Italy in terms of art and culture. Join the campaigns of Foritaly.org and become associated with the greatest Italian masterpieces. As highlighted by Federica Olivares, Italian art publisher: "the challenge of this platform answers a real need: it creates a virtual place where all the lovers of Italy and its excellences, wherever in the world, can take part in tangible projects to bring into the future of mankind the Italian artistic and cultural heritage".
www.foritaly.org
NEW BOOK GIVES FRESH ACCOUNT OF CALABRIA
Karen Haid's "Calabria: The Other Italy," is a fascinating new book that gives a firsthand, contemporary account of Calabria.

Karen taught English in Calabria for four years, first in Locri, a small town there and then Reggio, the largest city in the region, located on the Strait of Messina. She was not a stranger to Italy since she had spent considerable time in a number of Italian cities. Wanting to stay in Italy, she gained a teaching job at a private language school in Locri, a small town in Calabria. To learn more about Karen and "Calabria: The Other Italy," please visit her web site at www.calabriatheotheritaly.com.

PRIMO interviewed Karen about her new book and her thoughts and observations on Calabria.
Why did you title your book, "The Other Italy," in reference to Calabria?
Most people have a clear picture in their mind's eye when they think of Italy. For some it's food, for others it's family. Many visualize one of the country's famous monuments or panoramas. But what image does Calabria conjure? Or does it evoke anything at all?
This region that fills out the toe of the Italian boot is off the radar for most visitors to Italy and largely unknown even to its fellow countrymen. Both Italians and non regularly ask me, "But why Calabria?" I often respond, "Why not Calabria?" It is a land whose potential is yet to be achieved. It's waiting to be discovered and explored. Calabria is an Italy less traveled, the "other Italy."
What did you find "different" about Calabria from other regions where you also worked and lived?
One of the first things that struck me stepping on or off a train, for example, was that if I faltered or appeared to be struggling in any way with my bag, there was always someone there to lend a hand. This is not the norm in Rome and points further north. Motivations may be disputed; however, it won't get your suitcase carried up the steps for you.
Although Italy has been a unified nation for a relatively short period of time, Italians up and down the boot do share many personality traits. Even so, there will always be those who focus on dissimilarities, particularly between the north and south. Thus said, one particularly noteworthy characteristic of Calabrians is their steadfast determination, which goes hand in hand with an emphasis on life's essentials.
If the natural world were the judge, Calabria would definitely win the prize. Dramatic coastlines with beautiful beaches, quaint hamlets and excellent food are par for the course in Italy. But the bergamot? If there's ever need for proof that the region is unique, this citrus would be it, as nowhere else in the world does this remarkable fruit truly flourish.
When we think of Mount Etna, we think of Sicily. Yet, you write how the Sicilian volcano had as much impact, if not more, on you and the people of Reggio di Calabria. Please explain.
Mount Etna looms large for the people of Reggio (the Reggini). To tell you the truth, the first time I saw the volcano from the train window as I rounded the tip of the peninsula and up the coast towards Reggio, I was surprised. It hadn't crossed my mind that it would have been so close to Calabria. I certainly wouldn't want to take anything away from the good citizens of Sicily who not only have gorgeous views of the volcano but are also graced with the wonderful agricultural products grown in the soil enriched by its ash. Suffice it to say, however, that for the Reggini, Mt. Etna together with the Sicilian coast and the Strait of Messina compose a spectacular picture-postcard view. Frequently cited by the media, writer Gabriele d'Annunzio defined Reggio's seaside promenade as "il più bel chilometro d'Italia" (Italy's most beautiful kilometer).
Please tell us about the number of dialects and hybrid languages you experienced in Calabria.
Language is an interesting and complex topic. Before moving to Calabria, I had studied Italian for many years and had attained a fairly advanced level, but the first time I went to the fruit and vegetable market I felt as though I was back to square one. Luckily for me, physical gestures and facial expressions featured prominently on that occasion!
I quickly learned that dialects were very much alive in Calabria. In fact, many families speak exclusively in dialect at home. And although the dialects spoken within the region's borders are referred to as Calabrian (or Calabrese, in Italian), they vary greatly, reflecting the region's rich history. While having Latin origins, southern Calabrian dialects have a greater Greek influence and have more in common with those in Sicily. And understandably, northern Calabrian leans towards the Neapolitan dialect, or so I've been told. Struggling to make heads or tails of the utterances of a friendly seat companion while riding public transportation, I admittedly wasn't focused on how the past tense had been constructed. Likewise, when I'd flip to one of the regional TV channels that was always presenting locally produced theater pieces in a Calabrian dialect.
Calabria also has pockets of three other languages: a Grecanic or type of Greek in the Province of Reggio Calabria; Arbëreshë or a form of Albanian found predominantly in the Province of Cosenza; and Guardiolo, an Occitan (French-based) language in one small northern town. The diversity is mind-boggling. Created by colonization, various dominations and incursions, these languages still exist in large part due to geographical isolation. My teenaged English students were proud of their dialect. Every so often, they'd share an expression that perfectly encapsulated the situation at hand. Fifty or a hundred miles away, other students were probably using different expressions. For a region with just two million inhabitants, there certainly is a lot of diversity.
You mention a number of writers, such as yourself, not native to Calabria, that felt a profound love for the region. What is it about the region that is so appealing to outsiders?
The writers I quote in my book were real adventurers. If Calabria is off the beaten path today, it was even more so 100-200 years ago when these hearty souls visited the region. These explorers went well beyond the European "Grand Tour." They weren't the sort of travelers that were looking to be coddled. Although they came from the educated and well-to-do classes and knew their way around a drawing room, they engaged in active, in-depth travel that included thorough acquaintance with the language and customs. Incredibly, they often traveled by foot. These individuals took the time to look past the surface, to meet the locals and to really appreciate whatever they came across. Like any place, you can visit Calabria by checking off the major sites, and be on your way. Many people do. A quick glance at the unparalleled Riace Bronzes in Reggio's Archeological Museum, a few nights in Tropea, its best-known resort town, a couple plates of pasta and a hunk of pecorino and a few salami for the road. As another stop on the "Grand Tour," the visitor wouldn't be disappointed. However, those who slow the pace and really smell the roses or the pasta sauce along the way will find that Calabria has a way of getting under their skin.
ITALIAN AMERICAN SCHOLAR WINS PRAISE FOR HER BIOGRAPHY OF AMERICAN INDIAN CHIEF
Dr. Mary Contini Gordon carries on the Italian academic tradition of biographical history and ethnography.
She follows the path blazed by Paolo Giovio, a physician from Lake Como, who spearheaded the development of the biography and by Lamberto Loria who was instrumental in creating the section of ethnography in the museum of Florence in the early 1900s
Ethnography is the systematic recording of people and cultures. Oral history is the recording of individual stories which as a whole can inform about a culture. In her case, she wanted to bring to life through the story of one man and his cohorts, the struggle in recent decades that Native Americans have made to get the recognition that they are here today reviving and sharing their heritages and values.
Living today in Arizona, Dr. Contini Gordon writes American history focused on the individual or families. Her biography of Charlie Cooke TIQ SLO'W: The Making of a Modern Day Chief has won the support of academics and non-academics alike, currently used at a major university. TIQ SLO'W, Charlie Cooke's Indian name meaning Eye of the Eagle, is rigorously researched but written in an engaging manner based on interviews with over 75 people. Dr. Gordon has given 20 talks this past year on the book at the invitation of NPS and related agencies. She has also done two radio shows and a TV show.
If you enjoy the beautiful scenery along the highway in and around Santa Barbara and Los Angeles, then Cooke is one person you have to thank for it. After that land was set aside by federal mandate, he went to work with park officials, anthropologists, archaeologists, civic leaders, and developers, Indian and non-Indian alike, to make sure that the native heritage in the mountains and coastal islands along the Pacific Coast Highway in Southern California were not destroyed. He was not alone in this but he was a significant galvanizing factor. He became active in Native American affairs in the 1950s helping Indians reclaim their heritages and property rights lost in Mission days. He was the son of a cowboy and rodeo champions (mother and father) who grew to be himself a cowboy and rodeo team roper. To support his family, he drove a concrete mixer truck and saw possible devastation from hastily planned development. He learned from his family that he was Indian, but it was professors at the University of California who helped him discover his actual lineage which is of several Southern California tribes. After one meeting, he was told by one professor that he had some Chumash Indian blood. He was living in Chumash territory at the time and hearing that the Chumash were extinct pushed him to delve into a lifelong quest to revive that and other lost heritages. In the 1980s, because of his relentless work to preserve sites and heritage along the coast, Charlie Cooke became known as the chief of the Southern Chumash.
Dr. Contini Gordon credits her grandmother Rosaria Cultrona Contini, whose family is originally from San Lorenzo in the Campania region, as an inspiration for the theme of Cooke's biography. Nearing 100 years old, Rosaria wondered aloud to her family about the lost histories of Native Americans who had lived in the mountains around her California home. She had heard the talk that they were all gone, but were they, she wondered. Rosaria was a proponent of respecting the heritages of all, regardless of background. She came to know and admire Cooke who eventually spent a week at her ancestral home and farmland still maintained by her family in the mountains of Southern Italy.

Dr. Contini Gordon is full Italian; her paternal and maternal sides from different regions of Italy. "My father was from Castellucio Valmaggiore in the province of Foggia in the Apulia region," she says. "My mother's family was from San Lorenzo Maggiore near Benevento and not too far from the Amalfi Coast—Campania region. Charlie (TIQ SLO'W) and his wife, Linda, visited San Lorenzo and stayed in Mom's house there."
From extensive research, Dr. Contini recounts how Cooke, without great means or official authority, harnessed the energies of people across boundaries to restore Indian heritage and preserve spectacular lands and sacred Indian sites in Southern California. "TIQ SLO'W" chronicles his leadership and activism, over decades with the backdrops of the American Indian Movement, the growth of national and state parks, and the explosive growth of California municipalities. It also tells of open minded park personnel, civic leaders, anthropologists/archaeologists, and even developers who were willing to think past those who said people like Charlie were extinct. His biography is an inspiration to us all as the story of one man who brought together people of different backgrounds and perspectives to realize a truer vision of America yesterday and today.
(Photos: Mary Gordon; Charlie Cooke, Mati Waiya, March 2010. Mati is the founder of Wishtoyo Foundation, including a recreated Chumash Village, photo by ML Contini Gordon; Wishtoyo Chumash Village, Malibu Coast, photo by Mati Waiya, Sunset, October 2012.)
Editor's Note:
TIQ SLO'W: THE MAKING A MODERN DAY CHIEF
Written by Mary Contini Gordon
Biography, published by Amethyst Moon Publishing
Available on Amazon in paperback and Kindle and at Southern California NPS sites.
Order Information: contini_gordon@cox.net; www.ampubbooks.com/books/tiqslow.html
A BRIEF HISTORY OF NATIVE AMERICAN STUDIES IN ITALY
Dr. Contini Gordon joins a number of Italian scholars who have written about the history and heritage of Native Americans.
Italians were mavericks in Native American studies. As far back as the 1700s, Indian tribes were topics of study in Italy. The trend among Europeans at the time was to interpret the cultural attributes of Native Americans according to what Jean-Jacque Rousseau supposedly proclaimed in his description of them as "noble savages." Italians took a different approach.
In the late 18th century, a count from Milan, Gian Rinaldo Carli announced that Incan and Mayan civilizations were equal if not superior to the duchies and kingdoms of Europe. Carli wrote, "We know there are savages also in Europe and in Africa," to counter Rousseau's description of indigenous people of the New World. As such, Carli led anthropology and ethnography in a new direction. Mexican Jesuit priest Francisco Clavijero went so far as to credit Carli as inspiration in writing his influential treatise, completed in Italy, "Storia Antica del Messico" and "Storia della California," about Native Americans in the west.
Italy was the first to allow Native Americans to attend college. A number of indigenous people were accepted into the College of Propaganda, in Rome. The purpose was to educate Indians to become priests and return them to the New World to spread the faith.
Few compared with Italian scholars in collections of Native American artifacts. Zoologist Enrico Hillyer Giglioli amassed thousands of relics from his travels throughout the Americas; enough to help establish the National Museum of Prehistory in Rome.

In studying the facial features of Native Americans, some Italian scholars floated the theory that indigenous people may have originated from Europe. They thought explorers from ancient Greece had made the trek across the Atlantic thousands of years prior to Columbus with their bloodline firmly in place among native tribes.
As in many endeavors, Italy led the way in changing the way we study Native Americans.
JOHN PADOVANO AND "POESIA AND CHANSON"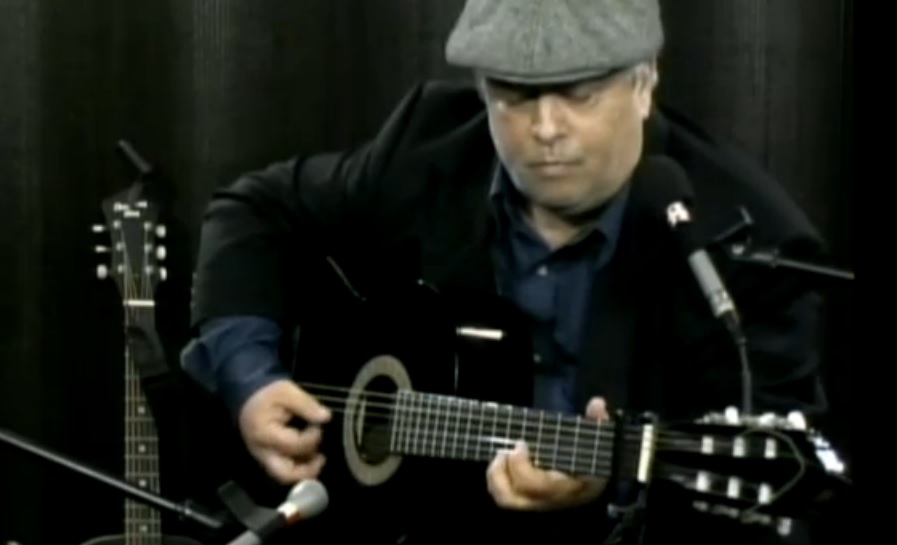 Padovano returns this season with his "Poesia and Chanson" solo show at New Jersey venues, starting with his Princeton Junction concert.
John "Giovanni" Padovano will be performing a solo concert of original songs at West Windsor Branch Library, Saturday, April 25th at 1:00 p.m., located at 333 North Post Road, Princeton Junction, New Jersey.
"Poesia and Chanson" is the title of his concert of original music, which Is a concert of poetic song based mostly on Padovano's last three song collections: "solo recordings at Baroque Park," "at Poesia and Chanson," and "Vedo Mandaradoni di Limbadi," along with some other compositions selected from his 19 original song collections. Padovano has in the past performed at Princeton University and at other places in Princeton. He is also known as The Ironbound Crooner, having originally come from the Ironbound Section of Newark. In his book "From Italy to Baroque Park" Padovano tells the story about his music that he calls "Poesia and Chanson". www.johnpadovano.com
DR. EMELISE ALEANDRI HONORED AT LT. JOSEPH PETROSINO LODGE (OSIA)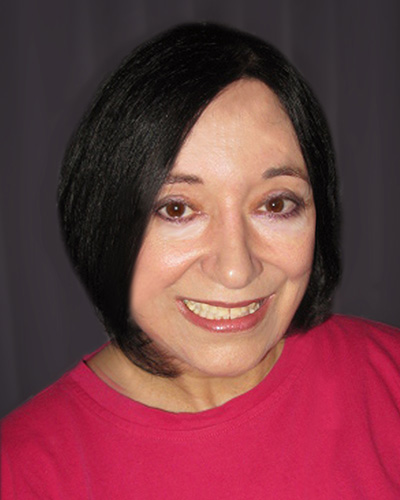 Outgoing President of the Lt. Joseph Petrosino Lodge (OSIA), Dr. Emelise Aleandri, will be honored for her service to the lodge at its Annual Dinner Dance and Fundraiser on Sunday, April 19, 2015 from 12 noon to 5 p.m. at Sirico's Caterers, 8023 13th Avenue, Brooklyn, NY. The Lodge will also honor Msgr. David L. Cassato, OSIA Chaplain, and Michael Bove, of the Sanitation Columbia Association; the ceremony will also include a posthumous tribute to the late Agnes Fratta, Lodge Charter Member.
For the past two years Emelise has functioned as President, moving up from First Vice-President and also serving on various committees since joining the lodge in 2007. She also chairs two Committees for the NY State Grand Lodge: the Elena Cornaro Award for a woman with a doctorate, and the Literary Award in honor of John Fante and Pietro Di Donato. Emelise was recently featured in the PBS special, The Italian-Americans, which aired nationally in February. She is also the author of many books on Italian-American culture, an actress, and a documentary producer, as well as Artistic Director of the Frizzi & Lazzi Musical Theatre Company.
Entertainment for the evening will be provided by Music Flex. Ticket Price of $90 must be purchased in advance. Please RSVP no later than April 10th. Seating for this popular event is strictly limited so reservations must be made early. Ads for the Souvenir Journal to be published in conjunction with the dinner dance will fund the Petrosino Lodge scholarships and charities. For further information or tickets, please call: John Fratta 212-619-0602 or Joseph Fratta 917-548-1889.
Stationed in downtown Manhattan's Little Italy, the Lt. Joseph Petrosino Lodge was formed by John Fratta and Robert Fonte in February 1999, and remains the only lodge in Manhattan. The current President is William Bray. The Order Sons of Italy was formed in 1905 in the very same neighborhood. The Lodge is named after Lt. Giuseppe (Joe) Petrosino (1860-1909) who lived at Lafayette Street and Cleveland Place across from Kenmare Square Park (now Petrosino Park). He was made a police Lieutenant in 1905 and was called the "Detective in the Derby" because he wore his signature derby to camouflage his short frame. Petrosino was murdered in Sicily as he was investigating organized crime. His funeral procession in Little Italy was attended by 250,000 people.
THE BLAUVELT SONS OF ITALY INSTALLS NEW OFFICERS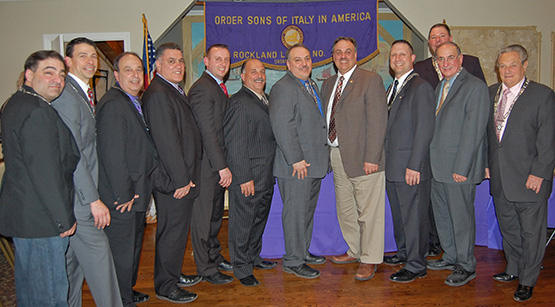 Newest Members of the Council for the Blauvelt Sons of Italy Lodge 2176, from left to right: Paul Borghese, Michael Cocilovo, Nick Sfraga, Jerry Verdicchio, Mike Guzzino, Joseph Rondinelli (NYS President of the Order of the Sons of Italy), Greg DeCola, Lou Falco (Rockland County Sheriff), Rich Bonardi, Pete Costanzo, Lou Maiello and in the back Bill Barbera. Photo by Risa B. Hoag.
On March 25th, the Blauvelt Sons of Italy hosted a dinner to thank the outgoing Council and install the new slate of officers. A total of 15 members make up the board which governs the Lodge's activities over a two year period. The dinner, held at the newly renovated Sons of Italy lodge on Van Wyck Road in Blauvelt, in Rockland County, New York, was attended by over 100 members, friends and family as well as Joseph Rondinelli, New York State President of the Order of the Sons of Italy.
The 2015 – 2017 slate includes:
President: Greg Decola Jr. who follows in his father's footsteps; his father was president in 1985
1st Vice President: Mike Guzzino
2nd Vice President: Jerry Verdicchio
Orator: Michael Cocilovo
Recording Secretary: Pete Costanzo
Financial Secretary: Lou Crispo
Corresponding Secretary: Bill Velto
Treasurer: Mark Kroenung
Trustees: Anthony Siciliano, Richard Bonardi, Lou Maiello, Bill Barbera
Master of Ceremonies: Paul Borghese and John Durso
Sentinel: Phil Altomare
Immediate Past President: Nick Sfraga
The Rockland Lodge of the Order of The Sons of Italy in America was established in 1966 with the goal of enhancing the image of people of Italian descent and has grown into one of the most active organizations in the area. They recently held the 5th Annual Italian Feast and Carnival which has quickly become one of the largest events in Rockland County and spans four days. In addition to giving scholarship to students, funds raised through various events are donated to a variety of charitable organizations in and around the area.
The Blauvelt Sons of Italy Lodge 2176 will host their 6th Annual Italian Feast and Carnival, Thursday, September 17 through Sunday, September 20. Join us for one of the County's largest events featuring entertainment all four days, rides and games for all ages, vendors, Italian Food, and games of chance.
For more information or to become a member, visit www.blauveltsonsofitaly.org or on Facebook at www.facebook.com/blauveltsons.
CREATIVITY AND THE ITALIAN IMMIGRANT



By Michael Gallant

Artist Bernadette Amore discusses the impact of the immigration experience on her work—and
American art as a whole.

American artist Bernadette Amore has earned international renown for her evocative sculptures and insightful
writings, all deeply creative works touched by the same, central theme: di passaggio.

"It's Italian for 'in passage,' " says the artist, who goes by the name B. Amore and currently lives and works in
Vermont. "I've always thought about the temporary nature of life, how we are all here for such a short time. I
consider immigration the metaphor for the human journey." Artistic explorations of the immigrant experience
have, in fact, directly inspired many of Amore's most famous works, including sculptures in the United States,
Japan, Italy and beyond.

The seeds of Amore's fascination with immigration were planted at an early age. "I'm not an immigrant myself, but
I am third-generation Italian American, I grew up with my grandmother who was born in Italy, and Italian was the
language spoken at home," she recalls. Amore always had a strong sense of herself as Italian, and not
American, she continues with a laugh. "That lasted until sometime in my 20s, when I discovered the term 'Italian
American.' "

Amore's artistic path was further shaped by her mother, who worked at the International Institute in Boston,
helping refugees from Europe find their way in the United States. "Many of the displaced persons were from
concentration camps after World War II," says Amore. "My mother would often cry at dinner, recounting the tragic
stories of the people she'd met. On weekends, my brother and I would go to the Institute with her and meet these
refugees, many of whom became lifelong friends."

"So I grew up in a sea of immigrant groups," Amore continues, "people displaced by events that they had no
control over."

Though the disciplines of visual art and writing electrified her from an early age, Amore began a career in social
work before deciding to become a professional artist. She pursued artistic studies at the University of Rome and
Accademia di Belle Arti di Carrara, both in Italy, earning prestigious awards, including a Fulbright Grant and
Mellon Fellowship along the way.

One of Amore's largest immigration-themed works came to public attention in 1999, premiering at Ellis Island,
home of the Statue of Liberty in New York, and traveling internationally afterward. "Life line—filo della vita," a sixroom
installation, included artifacts and writings from Amore's family, as well as copiously researched quotes and
photos from hundreds of Italian immigrants who came to the United States through Ellis Island in the 1900s. "The
exhibit dealt with the immigrant journey and my family members were like characters in that journey," she says.
"They existed in the whole novel of immigration." The exhibit was also published as a bilingual book entitled "An
Italian American Odyssey."

The nexus of immigration and art from which Amore draws so much inspiration is, itself, part of a longstanding
American tradition. "Even in colonial times, there were artists from multiple countries coexisting, building on
European and native traditions," says Drew Sawyer, a Ph.D. candidate studying art history at Columbia
University and a fellow at New York's Museum of Modern Art. "Even in the 20th century, it's hard to think of an
important American artistic movement or community that wasn't impacted in some way by immigrants in the
United States."

Perhaps today more than ever, Amore says, immigration continues to fuel explosively original art within the
United States. "American art is such a complex entity, and what people see in glossy magazines and museums is
just one splinter," she says. "Especially in larger cities like Los Angeles, New York and Boston, we're seeing
more art made by more diverse kinds of people and, as a result, the art is much richer. There's a color, form and
message that is much more personal. It all reflects the immigrants, and their stories and experiences, that have
made America such a rich experiment."
SAINT JOHN XXIII

Opinion: Pope John XXIII, A Worthy Saint, Yes, but Vatican II Still Taints His Legacy

By Truby Chiaviello
When historians write about the Roman Catholic Church of the postwar era, they will begin and end with Vatican II.

The stellar event of Roman Catholicism in the last 100 years, the Church was forever changed…and, some might say for the worse.

The architect behind Vatican II was Pope John XXIII, who was canonized a saint, and rightly so, by Pope Francis I. Born Angelo Roncalli, Pope John is one of the great Catholics of all centuries. He came from the worst poverty, growing up in the Lombardia region hinterlands, going for days without food as a boy because his family was so poor. After he became a priest, he rose the ranks of the Church. When he was apostolic delegate in Turkey and Greece, he proved himself the hero when he saved scores of Jewish refugees from Holocaust gas chambers by issuing them visas, claiming they were Catholics. Most Jews consider Roncalli one of the great heroes of World War II, right up there with Oskar Schindler.

When Roncalli became pope, he became a hero of the Cold War when his speech during the Cuban Missile Crisis pushed Kennedy and Kruschev to compromise. He is grossly overlooked by historians for the part he played in averting nuclear war.

As pontiff, Pope John held himself both honorably and stoically, with approachable ease and a quick sense of humor that won him accolades from Catholics all over the world. Although he was one of the oldest ever to become pope, he broke all stereotypes when at the ripe age of 78 he sought to reform Roman Catholicism.

Vatican II will make up much of Pope John's legacy.

It was his idea, his vision, and his urging to organize a council to reform and transform the church. That indeed happened and Roman Catholicism may be suffering as a result.

The Church after Vatican II is far less important and influential to society at large than it was prior. One purpose of Vatican II was to allow the Church to grow in Africa and Asia and that is indeed happening. Yet, Church attendance is declining in Europe and America. Vatican II was meant to bring the Church more in line with the times. Yet, the more the Church seems to acquaint itself with pop culture, and embrace the latest societal trends and fashions, the less people seem to care where the Church stands on morality. Today's politicians have no fear of the Church. Roman Catholic influence regarding social issues wanes more and more each year. Not only is abortion the law of the land here in the U.S., as well as a host of other countries in the Americas and Europe, but soon to come is gay marriage and even euthanasia. Thanks to Obamacare, the Church may now have to cover contraceptives in the health care Roman Catholic organizations offer their employees. The Church is fighting the mandate, but not with the vigor one might expect. Roman Catholic universities, here and abroad, seem Catholic in name only. School officials have all but forgotten the tutorial of Church principles to incoming freshmen. Catholic university presidents seem to care more about America's president than they do the pope. No wonder William Blatty, author of "The Exorcist" and Georgetown University alum has led a petition to deny his alma mater's Catholic designation.

Is the precarious state of the Roman Catholic Church today the fault of Vatican II? I believe it is. Church principles did not change as a result of Vatican II but the passion to uphold them, as instilled in priests, nuns, bishops and Vatican officials, did.

True, we can't go back to the days of stern priests, unwilling to accept the slightest of human frailties. Nonetheless, we could use some passion in the promotion of morality during Sunday Masses. One senses that priests have been taught in seminary not to be so judgmental. The education of priests is likely focused on a push for inclusiveness, as is so intrinsic in Vatican II. Thus, it is increasingly rare these days to go to Mass and actually be moved by sermons. The messages are almost always centered on forgiveness, acceptance and charity. Rarely, do we hear the impassioned pleas for compliance with church principles. The effects of sin, transgression and moral equivocation seem out of bounds in Mass during the age of political correctness. The logic of absolutes and the worthiness of strict enforcement of Church dogma is an infrequent topic in most parishes.

What we have today is a Church, far more friendlier and approachable than it was before Vatican II, but without the zeal for moral standards that made it the lead institution of the world. The Church has become banal, contrived and, yes, dull. As a result, moral clarity loses more ground each year to moral relativism. This may have more of an impact on Pope John's legacy than his sainthood.


PEPPE VOLTARELLI "STA CITTA"
Calabria's Multi-Dimensional Singer-Songwriter Gains Popularity in America
Peppe Voltarelli was born and raised in the province of Cosnenza in the region of Calabria.
He explained to PRIMO what led him to write "Sta Citta"

"I wrote 'Sta Citta' in 2007 during my period in Rome," Peppe says. "It is a song dedicated to the difficulties of living in a big city for a man, such as myself, born in a small village by the sea. I look at the life in the city from the running life of traffic to how people are attracted to the city. The video was shot in Berlin in the spring of 2011 and I found it iterating how different Rome and Berlin were."
The tradition of a troubadour singing and telling stories has been with us for eons. Whether it's griots in West Africa, bluesmen in Mississippi or Moroccan gnawa players, these traveling musicians inform and entertain with a mix of political and social satire, love songs, comedy, praise of a deity or whatever else inspires them.

Italian singer-songwriter Peppe Voltarelli comes out of this tradition, putting a distinctly modern and Italian twist on it. Hailing from Calabria (that's the toe of Italy's boot), Voltarelli sings his tales with a distinctly Calabrian point of view and dialect, pointing out the hypocrisy and deep political corruption in one of Italy's most troubled regions, but balancing that with a dash of humor and catchy melodies often delivered on acoustic guitar.

"I think its kind of Mediterranean blues," Voltarelli says of his music. "I'm a modern songwriter looking at the culture that has dominated our land and then creating imaginary place where a tribal African rhythm meets the sweetness of Greek serenata."

This restless soul brought his Mediterranean blues with a touch of babalu to Germany, Argentina, the U.S. and elsewhere, settling down for a while before moving along to the next country or returning home for another major concert, television appearance or collaboration with noted Calabrian film director Giuseppe Gagliardi.

"It is an escape," Voltarelli says of his time away. "The people of other countries help me to understand life from different point of view. It's a never-ending exodus and Italian emigrants are my mirror, my music is like blotting paper that preserves the memories of my peoples."

While Voltarelli cites such Italian artists as Pier Paolo Pasolini, Roberto Saviano and particularly Domenico Modugno (composer of the standard "Volare") as influences, his music moves well beyond its Italian roots. This is a performer that transcends his bloodlines with a swagger that recalls fellow global pop iconoclasts like Gogol Bordello's Eugene Hutz, Billy Bragg, Manu Chao or Shane MacGowan, delivering his message with a dynamic intensity and singular style.

Voltarelli got his start in music at the ripe old age of 11, eventually founding the popular alternative rock band Il Parto delle Nuvole Pesanti (The Birth of the Heavy Clouds). A band that mixed punk rock and Calabrian folk traditions, it became one of Italy's seminal bands of the 1990's. He eventually left that band in 2006 to pursue a solo career.

His first album "Distratto Ma Però" was released in 2007 and it was among the finalists for Italy's prestigious Tenco Prize. Distributed in Europe by Universal, Voltarelli's second solo album, "Ultima Notte A Malà Strana," came out in 2010 and won the Tenco Prize for the Best Album in Dialect. It is the first album in Calabrese to do so.

"The basis of my music is the Calabrian dialect and the place itself," he explains. "Then I translate everything to the present, but not to succumb to the stereotypes (mafia, corruption, etc.) associated with it. This, for me, begins the challenge write the song and become a better person for doing so."
Like all great satirists there has to be strong element of humor to help the message along. Voltarelli takes this tradition into the digital age, making hilarious YouTube videos often directed by Giuseppe Gagliardi that feature the singer goofing around with people he meets on the street, in restaurants and bars, or at his shows.

He's also done formal film work with Gagliardi, most notably in the mockumentary "La Vera Leggenda di Tony Vilar" (The Real Legend of Tony Vilar). The film, which appeared at 2007's Tribeca Film Festival, features a Calabrian present day singer-songwriter (Voltarelli) searching of his rock star hero who came from the same village and became a huge star in Argentina back in the '60s, but then disappeared after all his hair fell out under mysterious circumstances. The trail eventually leads to the famed Italian-American community centered on Arthur Avenue in the Bronx.

While Gagliardi and Voltarelli first collaborated on "Doichlanda," a serious 2003 documentary about Italian immigration to Germany, the most recent collaboration is 2011's "Tatanka" -- Voltarelli wrote the score for the film, which was adapted from the Roberto Saviano's best-selling novel entitled "Gomorra."
"Bella Ciao"
Festa della Liberazione

Scheduled for April 25 is one of Italy's most important holidays.

Liberation Day - in English - is celebrated all over Italy, from the Alps of Lombardia to the southern shores of Sicily, from the bleached beaches of Apulia to the austere coastline of Golfo de Poeti.

Italy's government is closed on Liberation Day and so are the country's schools, banks and many businesses.
Parades are held in Rome and other Italian cities. Political rallies are held as are street festivals and outdoor concerts. It is a national celebration where Italians come together to mark their country's independence in World War II.

Liberation Day stems from the events of April, 1945, the most harrowing month in Italy's modern history. The day itself marks the liberation of Milan and
Torino from Nazi occupation. Allied forces and Italian partisans went on the offensive. In a span of a few weeks, the country saw the liberation of not only Milan and Torino, but also Venice, Genoa and Bologna. Mussolini was captured and executed and Italy began a new era of freedom.

It was also this month in 1945 when the Communists became an established political force in Italy. They led Italy away from American-style democracy, steeped in Christian civility and capitalism, towards a European social democracy, a mix of intense parliamentary activity and socialism.

The Communists had earned the respect of the Italian people. From day one, they opposed Mussolini and his Fascists. Mussolini's error of embracing Hitler was compounded by his becoming the puppet of the Fuhrer's. The partisans came alive to fight a clandestine war throughout Italy. Mussolini lost the trust of the people when he stood by as Nazis brutalized Italians everywhere.

Communists were not the only ones who made up the tough and savvy partisan ranks of Italy. Anarchists were among them; indeed, they were partisan fighters even before the Communists. There were also socialists and labor activists. There were disillusioned Fascists; many of whom became Communists after witnessing the disaster of Mussolini. There were democrats, those who wanted Italy to be more like America. There were Jews and other ethnic minorities who's brothers and sisters were hauled off to Nazi concentration camps. And then there were those, not of a political party or cause, who deplored occupation, be it the Nazis or anyone.

The partisans were diverse and divergent. They did not like each other. They came together for the sole purpose of freeing Italy from the Nazis and avenging the failures of Mussolini. Unity was important but fragile. The ideological differences among them were too great to last beyond the war. How then to keep this ragtag group together to win the fight?

The answer was music. A song was needed to solidify and rally the partisans. But what kind of song? It had to be one where the melody was easily obtainable, simple yet memorable, sad yet hopeful. It had to be a song that touched the heart more than the mind. It had to be a song that told a story. A story of love, something all Italians knew, no matter they be rich or poor.
The song was "Bella Ciao."

Some songs contain a melody that a listener may repeat after hearing it for the first time. These are special songs that transcend age groups and people of all creeds and backgrounds. This is the essence of "Bella Ciao." The song is easy to play, little in way of change; just five chords and eight notes, far less than most songs. "Bella Ciao" is perfect for a guitar, accordion or group acapella. It can be adapted for a marching brass band or whole orchestra. The chorus is repetitive, containing a two words that most everyone, Italian or otherwise, knows - the title of the song, bella and ciao.

"Bella Ciao," is an ode of love from a man to a woman. He is a partisan and may not return to her from battle. It is his last chance for his beloved to know how much she means to him. The song is a rallying cry. The message is clear: The greater deed is the fight for freedom, a sacrifice that reaches beyond a life of complacency and simple survival.

Like many things Italian, "Bella Ciao" is embraced now more outside Italy than inside. The apex of the song's popularity was the partisan victory and the year or two that followed the end of the war. Although Italians still sing "Bella Ciao" today among Communist and Socialist politicians and party members, labor activists and fringe political groups, the song has more impact in other countries that face turmoil and revolutionary upheaval. "Bella Ciao" was sung most recently among street demonstrators in Venezuela, among outback rebels in Mexico's Chiappas region and among demonstrators against the government in Turkey.

"Bella Ciao" is different than its main rival "The Internationale" as its origins were not motivated to spur socialist revolution. "Bella Ciao" was sung many years prior to World War II. It was a love ballad believed to have been sung first by a worker in the Po Valley rice fields. Debate ensued from a discovery of a Yiddish song from early 20th century America that sounded much like "Bella Ciao." Thus it was believed that the song was of Jewish origins. Recently, inquiries into the location of the song's birth has brought it back to Italy. Jewish migrants from Eastern Europe, especially Hungary, who relocated to Italy may have heard the song there sung by Italians. A number of gelato parlors and cafes in Hungary in the 19th century were owned and operated by Italians. It is believed that the song may have been heard in Hungary sung by Italians working there and then spread back to Italy or adopted by Jewish migrants and others, including gypsies and Russians.

Outside its political meanings, "Bella Ciao" is a song that is enjoyed for its musical qualities, its rhythm and melody. Here now are different versions of "Bella Ciao."
Lyrics of "Bella Ciao" in Italian
Stamattina mi sono alzato,
o bella ciao, bella ciao, bella ciao ciao ciao,
|: Stamatina mi sono alzato
Eho trovato l'invasor.
O partigiano portami via
o bella ciao, bella ciao, bella ciao ciao ciao,
|: O partigiano portami via
Che mi sento di morir.
E se io muoio da partigiano
o bella ciao, bella ciao, bella ciao ciao ciao,
|: E se io muoio da partigiano
Tu mi devi seppellir.
Seppellire lassú in montagna,
o bella ciao, bella ciao, bella ciao ciao ciao,
|: Seppellire lassú in montagna
Sotto l'ombra di un bel fior.
E le genti che passeranno
o bella ciao, bella ciao, bella ciao ciao ciao,
|: E le genti che passeranno
Ti diranno o che bel fior.
E' questo il fiore del partigiano
o bella ciao, bella ciao, bella ciao ciao ciao,
|: E' questo il fiore del partigino
Morto per la libertá.
Lyrics of "Bella Ciao" in English
One morning I woke up
goodbye my Beautiful, goodbye my Beautiful, goodbye my Beautiful, goodbye
one morning I woke up
and I found the invader (that means the German troups).

Oh partisan take me away
goodbye my Beautiful, goodbye my Beautiful, goodbye my Beautiful, goodbye
oh partisan take me away
that I'm feeling like dieing

And if I die as partisan
goodbye my Beautiful, goodbye my Beautiful, goodbye my Beautiful, goodbye
and if I die as partisan
you must bury me

You will bury me over there, on the mountain
goodbye my Beautiful, goodbye my Beautiful, goodbye my Beautiful, goodbye
you will bury me over there on the mountain
under the shadow of a wonderful flower

And all the people passing by
goodbye my Beautiful, goodbye my Beautiful, goodbye my Beautiful, goodbye
and all the people passing by
will say "what a wonderful flower!"

Ad this is the flower of the partisan
goodbye my Beautiful, goodbye my Beautiful, goodbye my Beautiful, goodbye
dead for our freedom
and this is the flower of the partisan
dead for our freedom

Italian American Activist Seeks to Stop Destruction of Church
Time is Short for St. Peter's of Duluth, Founded by Italian Immigrants 90 Years Ago
No one can argue that St. Peter's is a beautiful church.

Not Saint Peter's in Rome but rather a smaller and no less profound church in Duluth, Minnesota.

Built almost 90 years ago by Italian immigrants, the church conveys the intimate and loving craftsmanship of a community that sought to establish a structure of faith to last for eternity.

Thus, St. Peter's faces a sad and ironic end as it is soon to be destroyed.

Church officials of the city have put in place the final phase of St. Peter's demise. The church is to be razed with no stone remaining; soon to be a pile of rubble, a monument in dust to generations past who once sacrificed their time, their money, their sweat, to erect a stone castle, worthy of their love and devotion to God.

Robin Mainella might be seen as the warrior in a lost battle of a lost war. She is the point person of the cause to keep St. Peter's standing for generations to come. Her pleadings to designate St. Peter's a landmark, saved from destruction, have thus far failed. Still, she is committed to do all she can to save a church she loves. She is motivated by heritage; her family is Pugliese, her native land is Bari and Campobasso. St. Peter is the link to Italy she shares with other Italian Americans of Duluth.


"My great grandparents, Peter and Mattie Mainella were among the first to arrive," says Mainella. "My connection with our Italian community is very important to me. I am very proud of my Italian heritage and am doing all I can to protect this church, a true labor of love, from being torn down and lost forever."
The story of St. Peter's is a familiar one, a real life plot that has been set in other neighborhoods of other cities with main characters who are Italian Americans. We see old churches, built of stone, or brick, or innovative concrete; modeled after chapels from the rural provinces immigrants came from in Italy. These churches are often greeted with ambivalence by Roman Catholic officials today. Churches, such as St. Peter's, are increasingly seen by them as urban relics whose time has passed. They point to changing demographics, neighborhoods once dominated by Italian families are either taken over by another ethnic group, not Roman Catholic, or taken over by vagrancy and blight. Bishops and priests are disinclined to restore and upkeep such structures. As such, the task falls on Italian Americans who currently live or once lived in neighborhoods of the church's locales to fight to retain the tangible testament of faith built by their Italian immigrant forefathers and foremothers.

For Italian Americans of Duluth, their families' adopted country was what they found in the city's Point of Rocks neighborhood in the 1880s. Italians came from regions Campania, Calabria, Basilicata, Sicily and Apulia. They came to work the burgeoning industries of a growing city. Although practicing Roman Catholics, they were not always welcomed in other churches formed many years prior by Irish and German immigrants. They needed a church of their own, with Mass said in their own language, with homilies that connected faith to their cultural experiences, with parishioners who were just like them. It was only a matter of time when the neighborhood pitched in to purchase an abandoned church in their midst, Jean-Baptiste, a remnant of French pioneers who once settled the area.

When the neighborhood grew with more Italian immigrants, Jean-Baptiste was transformed into St. Peter's.

Mainella explains, "The church was just too small. In 1925, the congregation built a Romanesque-Gothic church, the church located today at 818 West 3rd Street. St. Peter's was designed by parishioner Peter Summers, a son of the city's first Italian immigrants. Many in the neighborhood worked in construction. There was no shortage of carpenters, bricklayers, and stone masons. Many of them were highly skilled working to build or maintain some of the world's most prolific buildings in Italy. These artisans volunteered to build the church. They used blue, yellow, and gray native stones dug up from right hear in Duluth, on the hillside near Twin Ponds. St. Peter's was the heart and soul of Duluth's Italian American community for the next 75 years."
From afar, St. Peter's might seem a church of uniformed stone, dark brown in color. Up close, however, is a different sight; the church's stones, large and bulky, confirm the overlooked diversity of earth tones, a collection of colors, tan, ecru, brown, gray, blue and magenta.

"The stone facade is crafted of native basalt by the same artisans who built the foundations for most of the city's East End mansions," says Mainella. "The Gothic windows and doors convey a sense of permanence, the architectural style that first took root in Italy when the faith began to spread."
St. Peter's was closed in 2010 for a review of the church's interior and exterior. Many parishioners thought the church would soon reopen, but it never did. Instead, officials of the diocese decided the church was past redemption. They pointed to an estimate of $500,000 for restoration; neither the diocese nor the parish could be expected to pay such a bill.

Mainella and others take a different view. They claim the church is a solid structure built by some of the most skilled artisans of the city's history. If the church has lasted this long, some 88 years, it can last longer, they say. Their estimate is far less than the diocese's; not $500,000 but instead $100,000 to repair flashings and reinforce walls. With so many Italian Americans in the construction trade today, they believe many, not all, will donate their time and material to ensure the church remains standing.

What may come in place of the church is unknown to Mainella. She wonders if St. Peter's is torn down, will another church rise in its place. Or, will the ground host new condominiums? Or perhaps a shopping mall, a new headquarters for a corporation, or maybe, a chain of fast food restaurants?
No doubt, time may be short for St. Peter's, unless Mainella can stop its destruction. What drives her is the understanding that when the past is lost so too might be the future of a people. For more information about St. Peter's, please contact robin.mainella.annala@gmail.com.

Q&A WITH SUSAN TEJADA, AUTHOR OF "IN SEARCH OF SACCO & VANZETTI"
Susan Tejada
Two Italian immigrants, Nicola Sacco and Bartolomeo Vanzetti, were arrested in May 1920 in Brockton, Massachusetts. They were charged with murdering two guards in nearby South Braintree one month earlier, and escaping with fifteen thousand dollars in payroll cash that the guards had been delivering to a shoe factory. Sacco, a skilled worker at another shoe factory, and Vanzetti, a self-employed fish peddler, went on trial a year later. They swore they were innocent, but were convicted after what is almost universally recognized today as an unfair trial. Their motions for a new trial were repeatedly turned down, and they were executed in 1927. Susan Tejada (www.susantejada.com) is a former editor for the National Geographic Society. She spent years investigating the case, sifting through police reports and studying the turbulent background of world war and domestic terrorism against which the case unfolded. In her new book, In Search of Sacco and Vanzetti, she uncovers startling and previously unreported information about the defendants, their lawyer, their executioner, and the two murder victims. PRIMO recently interviewed Tejada about the case. Here is what she had to say…
What led you to write a book about Sacco and Vanzetti?
In Search of
Sacco & Vanzetti

For me, there's a strong hometown connection. Providence, Rhode Island, where I grew up, was the base of operations for the criminal gang suspected of committing the crime for which Sacco and Vanzetti were executed. And as I discovered in my research, one of the South Braintree murder victims also had family ties to Providence. Beyond that, however, I've always had a great curiosity about Nick and Bartolo as individuals, and wanted to find out what made them tick, what they were really like, behind the many myths that enshroud them.

A strength of your book is how you capture the times, the 1910s and 1920s and the anarchist and labor movements in America. Share with us how Italian immigrants were leaders of these movements.

Some important anarchists—Errico Malatesta and Pietro Gori, for example—came from Italy to the United States on relatively short speaking tours, but others remained much longer—most notably, Carlo Tresca, who arrived in 1898, and Luigi Galleani, in 1901. Tresca and Galleani would eventually become bitter rivals. They wrote and published influential Italian-language newspapers in America, widely read by their compatriots in the self-contained world of Italian-American anarchism.

Within the labor movement, Joseph Ettor was an exciting speaker and effective organizer for the Industrial Workers of the World, a militant union founded in 1905. The Brooklyn-born child of Italian immigrants, Ettor could inspire a crowd in several languages—not just English and Italian, but Polish, Hungarian, and Yiddish as well.
You bring to life the prejudices and outright bigotry back then that a host of politicians, journalists, and community leaders displayed against Italian immigrants. Share with us some of the most egregious examples of anti-Italianism in the era of Sacco and Vanzetti.
The most egregious example would have to be the largest mass lynching in American history, when eleven jailed Italians were killed in a single night in New Orleans in 1891. Five of them were awaiting trial for the murder of the city's chief of police; of the other six, three had experienced a mistrial in the same case and three had already been acquitted. Another egregious example is the 1911 report by the U.S. Immigration Commission, stating that "certain kinds of criminality are inherent in the Italian race."

Of course, Italians weren't the only immigrants who experienced bigotry. Almost 70 percent of immigrants to the United States between 1900 and 1909 came from Italy, Russia, and Austria-Hungary, and nativists viewed them all as worthless riffraff, "the lowest stratum of the Mediterranean basin and the Balkans," in the opinion of Madison Grant, the chairman of the New York Zoological Society.
Tell us a little about Nicola Sacco and Bartolomeo Vanzetti. What were they like as individuals? Did you find anything in their background that might suggest they had the acumen to become cold-blooded killers?
Sacco & Vanzetti

Let me start by emphasizing that they were complex individuals full of contradictions—like most human beings! Sacco, from southern Italy, was the third son in a very large family. He was 16 when he immigrated to America with an older brother in 1908. He became a skilled factory worker, earned a good living, married, and started a family. He was achieving the American dream yet felt compelled to support striking workers (although he himself never joined a union, and in fact was on excellent terms with his own boss). Vanzetti, from northern Italy, was the eldest son in a smaller family; he was close to one sister, but barely knew the two younger siblings who were born after his father had sent him away from home at age 13 to learn a trade. At age 20, grieving the recent death of his mother, Vanzetti resolved to come to America on his own, also in 1908. He never married. He never became a skilled worker or earned a steady paycheck. His relationship with his father was strained; the two men stopped corresponding two years into Vanzetti's seven-year imprisonment.

Vanzetti read widely in prison and kept up a large correspondence with his supporters. His English fluency was better than Sacco's. As a result, many people assumed that he was more intelligent than his co-defendant, but Vanzetti himself disagreed. "I am a better babbler than he is," Vanzetti wrote, "but many, many times…remembering his heroism I felt small small at the presence of his greatness."

Apart from Sacco's arrest in 1916 for speaking without a permit, a charge later dismissed, neither Sacco nor Vanzetti had a prior arrest record. They were kind and gentle men in their private lives, yet they did support Galleani, who condoned violence in some situations, and whose followers were the likely perpetrators of two terrifying waves of bombing in the United States in 1919. However, there is no evidence that Sacco or Vanzetti participated in bomb plots or any other acts of anarchist violence, and I think it unlikely that they ever did. In the book I also explain at some length why I think it's unlikely that that they had anything to do with the crime in South Braintree.
The convictions and deaths of Sacco and Vanzetti are met with doubt by a growing number of historians, scholars, and writers. Part of your book examines the evidence at the time of the case and what was uncovered later. If you had to choose, what key evidence or lack thereof exonerates the duo or confirms their guilt?
The only evidence ever presented to a jury was the evidence offered by the more than 150 witnesses who testified at the trial in 1921. Later, between 1921 and 1927, defense attorneys filed five motions for a new trial, based on new evidence. And since 1927, new evidence has continued to surface, most notably in 1977 when state police files were released. Out of this staggering mass of evidence, the most influential concerned the guns that Sacco and Vanzetti were carrying at the time of their arrest. (Vanzetti handled cash on his fish-selling route and owned a gun, he said, to defend himself in case of robbery. Sacco needed a gun for his night job as a factory watchman.)

The prosecution said that Vanzetti's gun had been lifted off the body of one of the murder victims, guard Alessandro Berardelli. However, no witness saw Berardelli with a gun on the day of the crime; no witness saw a bandit take a gun from Berardelli; and three witnesses testified to a completely different ownership trail for Vanzetti's gun. Police files released in 1977 imply that the prosecution knew that Vanzetti's gun was not Berardelli's, but suppressed the evidence. The prosecution also said that, of four bullets removed from Berardelli's body, the one that actually killed him, and only that one, was fired by Sacco's Colt automatic. Two years after the trial, one of the prosecution's expert witnesses recanted, swearing that there was no "affirmative evidence whatever" that the fatal bullet had come from Sacco's pistol. Six years after the trial, defense attorneys alleged that the prosecution actually tampered with the fatal bullet. This cannot be proven. If it were true, however, it would help explain the inexplicable—how it was possible that only one of the four bullets taken from Berardelli's body could have come from a Colt, even though no witness saw one bandit shoot two guns, and the only witness who claimed to have seen two bandits shoot Berardelli did not identify either Sacco or Vanzetti.

Ballistics evidence was the most important factor for at least five of the jurors in 1921. In light of later revelations, however, I believe that the ballistics evidence at the trial was deeply flawed and should not have convicted either Sacco or Vanzetti.
How did writing the book change or alter your understanding of the Italian American experience?
It made me more aware of the complexity of that experience—about the discrimination against, and exploitation of, Italians (and other ethnic groups) during the great wave of immigration from southern and eastern Europe, and about the "lost world" of Italian-American radicals, a world dominated by anarchists at the beginning of the twentieth century.
Editor's Note: You can order Susan Tejada's "In Search of Sacco & Vanzetti," by logging on to her web site www.susantejada.com. Her book is also available for sale on Amazon.com, Barnes & Noble.com and University Press of New England.com.

ITALIANS OF THE MONONGAH MINES
By Robert Bartus, Jr
The writer recalls the worst coal mine disaster in history and how it affected the Italian American community of West Virginia
West Virginia is home to rolling hills, meandering rivers, beautiful vistas and winding country roads.
These are some of the characteristics that brought Italian Americans to this part of the country. Italians (along with immigrants from other countries) came to the United States in search of the American dream. Looking for work and a place to raise a family, many Italians chose North Central West Virginia as their destination to begin a life as a coal miner.
Living in the "Mountain State" in the early 1900s brought many hardships. Most men who worked as coal miners lived with their families in coal camps. A coal camp was a neighborhood near a coal mine where families lived in homes owned by the coal company, called "company houses."
Italian families made the best of a tough life. Most homes with backyards were used for gardens. Today, most of us raise a garden for seasonal fruits and vegetables. If the garden doesn't do well, we go to the grocery store to supplement what we need. But for many families of the coal camps, a garden was a necessity.
A typical garden consisted of tomatoes, bell peppers, onions and other assorted fruits and vegetables. Besides using the bounty of the land during the growing season, vegetables and fruits were canned for use during the winter months. Along with gardens, families also raised chickens, hogs and cows. Some families, with the help of a bricklayer (often a family member) built a brick-oven in the backyard where the aroma of fresh bread drifted through the air. If the needs of the families outpaced the reserves of homegrown food, there was always the option of going to the company-store, which was owned by the coal company, where scrip (currency issued by the coal company and paid to the miners) was used for purchases instead of U.S. currency.
With all of their struggles, Italian families still found the strength and desire for a better life. With few options for employment, the coal mines supplied the needed jobs to keep families fed and a roof over their heads.
Life below the surface for a coal miner was brutal and dangerous. In the early 1900s miners were still using the hand-loading method. Once the miner entered his section of the mine, a pick and a no.4 size shovel were the tools of the trade. Pay was based on the amount of coal that was dug and loaded. A workday schedule was "in at dawn, out at dusk."
Hand-mining was incredibly hard work. There were times when a miner would lay on his side in standing water to undercut the coal with a pick several feet deep, in preparation for manually drilling the coal face for placing explosives. Once the explosives loosened the coal, the miner would shovel the coal into a mine car to be hauled out by a mule (mules were still used as part of the hauling process). This was the daily ritual of a hand-loading (pick-and-shovel) coal miner.
On December 6, 1907, everything changed: At approximately 10:20 a.m. the worst mine disaster in U.S. history occurred at the #6 and #8 mines within the Monongah Mine. At least 361 coal miners were killed in the Monongah mine explosion in Marion County, West Virginia. Of the 361 that were killed, about half (45 percent – 47 percent) were of Italian descent, along with immigrants from Ireland, Hungary, Poland, Russia and other countries. The actual number of miners that died in the mine is probably higher, since the miner identification records were destroyed in the explosion. To this day, there is no definitive answer for the cause of the disaster.
This mine tragedy brought greater attention to the dangerous conditions of coal mining, and in 1910, the United States government established the Bureau of Mines. There were investigations of mine accidents, safety research, and accident prevention.
To honor the miners on the 100-year anniversary, a memorial bell was made by the Marinelli foundry of Agnone, a town in Molise, Italy. The six-foot bell was presented at a ceremony in the town of Monongah, on December 6, 2007. With dignitaries in attendance from the U.S. and Italy, the day was filled with solemn words about the tragedy, along with a mass in remembrance to honor the fallen. Italian-Americans, along with other nationalities, will always be remembered for their dedication to hard work and the pursuit of the American dream.
***
Through the years, people of Italian ancestry have attained success in many fields. These are some noted Italian Americans, who are connected to the coal industry:
Richard (Bertugli) Trumka, president of the AFL-CIO, and former president of the United Mine Workers of America (UMWA) was a coal miner and came from a family of coal miners.
Kathy Mattea, award-winning country music singer. Her grandfather was a coal miner.
F. Murray Abraham, actor, whose mother was Italian (last name, Stello). His maternal grandfather was a coal miner.
U.S. Sen. Joe Manchin, D-W.Va., had an uncle that was killed in a coal mine disaster in his hometown of Farmington in 1968, that claimed the lives of 78 miners.
Editor's Note: PRIMO featured the stories of Italian American coal miners and interviewed AFL-CIO President Richard Trumka about contributions Italian Americans made to the labor movement in our November/December 2009 edition. The author can be reached at bodoras@msn.com

Special Announcements:
Buy "Italian Sketches: The Faces of Modern Italy," a new book offered exclusively by PRIMO Magazine. "Italian Sketches" profiles the most influential Italians of the 20th century. From Maria Montessori to Sophia Loren, from Federico Fellini to Bruno Cavalieri Ducati, "Italian Sketches" brings the stories of modern Italy's greatest men and women to Americans. Extensively researched, written, and edited, the book comes with original drawings from one of Italy's top illustrators. You won't read about Italy's modern icons anywhere else. Buy "Italian Sketches" today!

Browse Our Inventory of DVDs and CDs.

From Italy's classic era of cinema to contemporary documentaries on all things Italian and Italian American, PRIMO has a film perfect for you and and your family. Our inventory grows each day. Now on sale is our newest addition: "The Bicycle Thief," directed by Vittorio DeSica; considered one of the best films in history. Also, we have CDs of Italian folk music on sale. These are songs sung in Italy's regional dialects. Check out our DVDs and CDs today!

Buy PRIMO Earrings
Italian pride never looked so beautiful. Our earrings are handmade, right here in the USA, from the finest material: Sterling silver, beads of jade, carnelian and agate - in the colors of the Italian flag – red, white and green! Buy them today! Just $14.95; the price includes shipping and handling.


PRIMO In Italy..
3rd Edition 2014 Article Locations On The Map