PRIMO will be published every ten weeks during 2013. The next issue and dates of distribution follow:
The Latest News…from an Italian American Perspective:
Q&A WITH SUSAN TEJADA, AUTHOR OF "IN SEARCH OF SACCO & VANZETTI"
Susan Tejada
Two Italian immigrants, Nicola Sacco and Bartolomeo Vanzetti, were arrested in May 1920 in Brockton, Massachusetts. They were charged with murdering two guards in nearby South Braintree one month earlier, and escaping with fifteen thousand dollars in payroll cash that the guards had been delivering to a shoe factory. Sacco, a skilled worker at another shoe factory, and Vanzetti, a self-employed fish peddler, went on trial a year later. They swore they were innocent, but were convicted after what is almost universally recognized today as an unfair trial. Their motions for a new trial were repeatedly turned down, and they were executed in 1927. Susan Tejada (www.susantejada.com) is a former editor for the National Geographic Society. She spent years investigating the case, sifting through police reports and studying the turbulent background of world war and domestic terrorism against which the case unfolded. In her new book, In Search of Sacco and Vanzetti, she uncovers startling and previously unreported information about the defendants, their lawyer, their executioner, and the two murder victims. PRIMO recently interviewed Tejada about the case. Here is what she had to say…
What led you to write a book about Sacco and Vanzetti?
In Search of
Sacco & Vanzetti

For me, there's a strong hometown connection. Providence, Rhode Island, where I grew up, was the base of operations for the criminal gang suspected of committing the crime for which Sacco and Vanzetti were executed. And as I discovered in my research, one of the South Braintree murder victims also had family ties to Providence. Beyond that, however, I've always had a great curiosity about Nick and Bartolo as individuals, and wanted to find out what made them tick, what they were really like, behind the many myths that enshroud them.

A strength of your book is how you capture the times, the 1910s and 1920s and the anarchist and labor movements in America. Share with us how Italian immigrants were leaders of these movements.

Some important anarchists—Errico Malatesta and Pietro Gori, for example—came from Italy to the United States on relatively short speaking tours, but others remained much longer—most notably, Carlo Tresca, who arrived in 1898, and Luigi Galleani, in 1901. Tresca and Galleani would eventually become bitter rivals. They wrote and published influential Italian-language newspapers in America, widely read by their compatriots in the self-contained world of Italian-American anarchism.

Within the labor movement, Joseph Ettor was an exciting speaker and effective organizer for the Industrial Workers of the World, a militant union founded in 1905. The Brooklyn-born child of Italian immigrants, Ettor could inspire a crowd in several languages—not just English and Italian, but Polish, Hungarian, and Yiddish as well.
You bring to life the prejudices and outright bigotry back then that a host of politicians, journalists, and community leaders displayed against Italian immigrants. Share with us some of the most egregious examples of anti-Italianism in the era of Sacco and Vanzetti.
The most egregious example would have to be the largest mass lynching in American history, when eleven jailed Italians were killed in a single night in New Orleans in 1891. Five of them were awaiting trial for the murder of the city's chief of police; of the other six, three had experienced a mistrial in the same case and three had already been acquitted. Another egregious example is the 1911 report by the U.S. Immigration Commission, stating that "certain kinds of criminality are inherent in the Italian race."

Of course, Italians weren't the only immigrants who experienced bigotry. Almost 70 percent of immigrants to the United States between 1900 and 1909 came from Italy, Russia, and Austria-Hungary, and nativists viewed them all as worthless riffraff, "the lowest stratum of the Mediterranean basin and the Balkans," in the opinion of Madison Grant, the chairman of the New York Zoological Society.
Tell us a little about Nicola Sacco and Bartolomeo Vanzetti. What were they like as individuals? Did you find anything in their background that might suggest they had the acumen to become cold-blooded killers?
Sacco & Vanzetti

Let me start by emphasizing that they were complex individuals full of contradictions—like most human beings! Sacco, from southern Italy, was the third son in a very large family. He was 16 when he immigrated to America with an older brother in 1908. He became a skilled factory worker, earned a good living, married, and started a family. He was achieving the American dream yet felt compelled to support striking workers (although he himself never joined a union, and in fact was on excellent terms with his own boss). Vanzetti, from northern Italy, was the eldest son in a smaller family; he was close to one sister, but barely knew the two younger siblings who were born after his father had sent him away from home at age 13 to learn a trade. At age 20, grieving the recent death of his mother, Vanzetti resolved to come to America on his own, also in 1908. He never married. He never became a skilled worker or earned a steady paycheck. His relationship with his father was strained; the two men stopped corresponding two years into Vanzetti's seven-year imprisonment.

Vanzetti read widely in prison and kept up a large correspondence with his supporters. His English fluency was better than Sacco's. As a result, many people assumed that he was more intelligent than his co-defendant, but Vanzetti himself disagreed. "I am a better babbler than he is," Vanzetti wrote, "but many, many times…remembering his heroism I felt small small at the presence of his greatness."

Apart from Sacco's arrest in 1916 for speaking without a permit, a charge later dismissed, neither Sacco nor Vanzetti had a prior arrest record. They were kind and gentle men in their private lives, yet they did support Galleani, who condoned violence in some situations, and whose followers were the likely perpetrators of two terrifying waves of bombing in the United States in 1919. However, there is no evidence that Sacco or Vanzetti participated in bomb plots or any other acts of anarchist violence, and I think it unlikely that they ever did. In the book I also explain at some length why I think it's unlikely that that they had anything to do with the crime in South Braintree.
The convictions and deaths of Sacco and Vanzetti are met with doubt by a growing number of historians, scholars, and writers. Part of your book examines the evidence at the time of the case and what was uncovered later. If you had to choose, what key evidence or lack thereof exonerates the duo or confirms their guilt?
The only evidence ever presented to a jury was the evidence offered by the more than 150 witnesses who testified at the trial in 1921. Later, between 1921 and 1927, defense attorneys filed five motions for a new trial, based on new evidence. And since 1927, new evidence has continued to surface, most notably in 1977 when state police files were released. Out of this staggering mass of evidence, the most influential concerned the guns that Sacco and Vanzetti were carrying at the time of their arrest. (Vanzetti handled cash on his fish-selling route and owned a gun, he said, to defend himself in case of robbery. Sacco needed a gun for his night job as a factory watchman.)

The prosecution said that Vanzetti's gun had been lifted off the body of one of the murder victims, guard Alessandro Berardelli. However, no witness saw Berardelli with a gun on the day of the crime; no witness saw a bandit take a gun from Berardelli; and three witnesses testified to a completely different ownership trail for Vanzetti's gun. Police files released in 1977 imply that the prosecution knew that Vanzetti's gun was not Berardelli's, but suppressed the evidence. The prosecution also said that, of four bullets removed from Berardelli's body, the one that actually killed him, and only that one, was fired by Sacco's Colt automatic. Two years after the trial, one of the prosecution's expert witnesses recanted, swearing that there was no "affirmative evidence whatever" that the fatal bullet had come from Sacco's pistol. Six years after the trial, defense attorneys alleged that the prosecution actually tampered with the fatal bullet. This cannot be proven. If it were true, however, it would help explain the inexplicable—how it was possible that only one of the four bullets taken from Berardelli's body could have come from a Colt, even though no witness saw one bandit shoot two guns, and the only witness who claimed to have seen two bandits shoot Berardelli did not identify either Sacco or Vanzetti.

Ballistics evidence was the most important factor for at least five of the jurors in 1921. In light of later revelations, however, I believe that the ballistics evidence at the trial was deeply flawed and should not have convicted either Sacco or Vanzetti.
How did writing the book change or alter your understanding of the Italian American experience?
It made me more aware of the complexity of that experience—about the discrimination against, and exploitation of, Italians (and other ethnic groups) during the great wave of immigration from southern and eastern Europe, and about the "lost world" of Italian-American radicals, a world dominated by anarchists at the beginning of the twentieth century.
Editor's Note: You can order Susan Tejada's "In Search of Sacco & Vanzetti," by logging on to her web site www.susantejada.com. Her book is also available for sale on Amazon.com, Barnes & Noble.com and University Press of New England.com.

BRIOSCHI IS BACK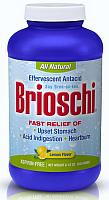 Brioschi
You can't miss it on the shelves of your local pharmacy: In a label of bold red letters attached to a bright blue bottle is Brioschi.
The effervescent antacid relieves the pesky upset stomach that might come from stress after a fine Italian meal. A whole generation of Americans grew up on the jingle: "Eat too much, drink too much, take Brioschi, take Brioschi!"
Available throughout the United States today, as it has been for over 80 years, Brioschi is the Italian invented antacid that rivals Maalox and Alka-Seltzer. In the form of squiggly white pellets, Brioschi turns a glass of water into a bubbling celebration. Those who have taken the product swear to its effectiveness. With better than average sales, a loyal customer base, and its time-tested quality, the future looks bright for Brioschi.
Such, however, was not the case in 2010.
That year, Brioschi was headed for extinction.
Michael Brizzolara, company president, wrote wholesalers and retailers that the production of Brioschi was to cease. High manufacturing costs for an increasingly regulated pharmaceutical market in the United States was the reason for phasing out the product. Not mentioned was another factor. Brioschi had changed…the company, not the product. Increasingly typical of Italian corporations, Brioschi had delved into an entirely different market from its origins. It was now a real estate company, Brioschi Sviluppo Immobiliare SPA, owned by the Cabassi family with its holding company Raggio di Luna. The company has found impressive success in property development. They have brought to life high end architectural designs in the construction of upscale apartment complexes in Milan and Lecce.
Neither the marketing resources nor the passion to keep the antacid going, Brioschi decided to give up its signature product and focus entirely on real estate management and development.
Enter a plastic company headed by the Dessein family of Syracuse. They manufactured the bright blue bottles synonymous with the product. Seeing an opportunity, the Desseins purchased Brioschi, the formula and brand name. Now underway is their new marketing campaign highlighting the organic nature of Brioschi, a way to relieve an upset stomach naturally consistent with the body's needs.
Touted is the essence of the formula, ingeniously simple, invented by Achille Antonio Brioschi more than 100 years ago. After working for a host of chemical companies, Brioschi, only 20 years old, came up with effervescente Brioschi in 1880. The purpose of the product was not to serve as an antacid but rather as means of levity: To transform any liquid into a bubbly drink. The main ingredient was first magnesium citrate, which became effervescent when mixed with anything containing water. Later, Brioschi changed the ingredients from magnesium citrate to sodium bicarbonate and tartaric acid, a derivative from tamarinds. This is the formula still in use today.
The company was firmly established some 27 years after the invention of the main product. Achille Brioschi & Co. began in 1907 and went public on the Milan stock exchange in 1914. Although a number of products were made at its factories such as cologne, pain relievers, and disinfectants, Brioschi's antacids were its primary and most popular line of products. Packaged in a sky blue bottle, its contents were squiggly pellets; resembling crooked coils of snow.
What separates Brioschi from other antacids is not so much what it contains in the way of ingredients, but rather what it does not. You will not find aspirin in Brioschi as you will in Alka-Seltzer Blue (Alka-Seltzer Gold does not contain aspirin). The company claims that aspirin can eat away the lining of the stomach and thus cause more pain than it may relieve. Aluminum and magnesium are some other chemical elements found in popular antacids. Not so with Brioschi. The company likes it that the formula remains basically simple and true to origin, with relief coming from natural ingredients rather than factory-made chemicals.

ITALIANS OF THE MONONGAH MINES
By Robert Bartus, Jr
The writer recalls the worst coal mine disaster in history and how it affected the Italian American community of West Virginia
West Virginia is home to rolling hills, meandering rivers, beautiful vistas and winding country roads.
These are some of the characteristics that brought Italian Americans to this part of the country. Italians (along with immigrants from other countries) came to the United States in search of the American dream. Looking for work and a place to raise a family, many Italians chose North Central West Virginia as their destination to begin a life as a coal miner.
Living in the "Mountain State" in the early 1900s brought many hardships. Most men who worked as coal miners lived with their families in coal camps. A coal camp was a neighborhood near a coal mine where families lived in homes owned by the coal company, called "company houses."
Italian families made the best of a tough life. Most homes with backyards were used for gardens. Today, most of us raise a garden for seasonal fruits and vegetables. If the garden doesn't do well, we go to the grocery store to supplement what we need. But for many families of the coal camps, a garden was a necessity.
A typical garden consisted of tomatoes, bell peppers, onions and other assorted fruits and vegetables. Besides using the bounty of the land during the growing season, vegetables and fruits were canned for use during the winter months. Along with gardens, families also raised chickens, hogs and cows. Some families, with the help of a bricklayer (often a family member) built a brick-oven in the backyard where the aroma of fresh bread drifted through the air. If the needs of the families outpaced the reserves of homegrown food, there was always the option of going to the company-store, which was owned by the coal company, where scrip (currency issued by the coal company and paid to the miners) was used for purchases instead of U.S. currency.
With all of their struggles, Italian families still found the strength and desire for a better life. With few options for employment, the coal mines supplied the needed jobs to keep families fed and a roof over their heads.
Life below the surface for a coal miner was brutal and dangerous. In the early 1900s miners were still using the hand-loading method. Once the miner entered his section of the mine, a pick and a no.4 size shovel were the tools of the trade. Pay was based on the amount of coal that was dug and loaded. A workday schedule was "in at dawn, out at dusk."
Hand-mining was incredibly hard work. There were times when a miner would lay on his side in standing water to undercut the coal with a pick several feet deep, in preparation for manually drilling the coal face for placing explosives. Once the explosives loosened the coal, the miner would shovel the coal into a mine car to be hauled out by a mule (mules were still used as part of the hauling process). This was the daily ritual of a hand-loading (pick-and-shovel) coal miner.
On December 6, 1907, everything changed: At approximately 10:20 a.m. the worst mine disaster in U.S. history occurred at the #6 and #8 mines within the Monongah Mine. At least 361 coal miners were killed in the Monongah mine explosion in Marion County, West Virginia. Of the 361 that were killed, about half (45 percent – 47 percent) were of Italian descent, along with immigrants from Ireland, Hungary, Poland, Russia and other countries. The actual number of miners that died in the mine is probably higher, since the miner identification records were destroyed in the explosion. To this day, there is no definitive answer for the cause of the disaster.
This mine tragedy brought greater attention to the dangerous conditions of coal mining, and in 1910, the United States government established the Bureau of Mines. There were investigations of mine accidents, safety research, and accident prevention.
To honor the miners on the 100-year anniversary, a memorial bell was made by the Marinelli foundry of Agnone, a town in Molise, Italy. The six-foot bell was presented at a ceremony in the town of Monongah, on December 6, 2007. With dignitaries in attendance from the U.S. and Italy, the day was filled with solemn words about the tragedy, along with a mass in remembrance to honor the fallen. Italian-Americans, along with other nationalities, will always be remembered for their dedication to hard work and the pursuit of the American dream.
***
Through the years, people of Italian ancestry have attained success in many fields. These are some noted Italian Americans, who are connected to the coal industry:
Richard (Bertugli) Trumka, president of the AFL-CIO, and former president of the United Mine Workers of America (UMWA) was a coal miner and came from a family of coal miners.
Kathy Mattea, award-winning country music singer. Her grandfather was a coal miner.
F. Murray Abraham, actor, whose mother was Italian (last name, Stello). His maternal grandfather was a coal miner.
U.S. Sen. Joe Manchin, D-W.Va., had an uncle that was killed in a coal mine disaster in his hometown of Farmington in 1968, that claimed the lives of 78 miners.
Editor's Note: PRIMO featured the stories of Italian American coal miners and interviewed AFL-CIO President Richard Trumka about contributions Italian Americans made to the labor movement in our November/December 2009 edition. The author can be reached at bodoras@msn.com

VENICE AND FLOODS
Venice is no stranger to floods.
Back in November, Venice saw the Adriatic rise five feet above normal levels and swamp upwards of 70 percent of the city. That was the sixth highest level of water to rise in Venice's history since 1879.
The stellar year for flooding will likely always be 1966. That year Venice witnessed her highest rise of over six feet. The aftereffect was the beginning of migration away from the city onto the mainland.
What comes to mind when we think of Venice is the historic city of waterways. But Venice is actually a commune of some 118 islands and a stretch of mainland consisting of some 270,000 people, only 60,000 of which live in the historic city today.
How Venetians cope with so many floods is a tribute to their ingenuity. Floors inside homes are slanted to drain unwanted waters. Furniture is covered in plastic on most days to resist soaking.
Mostly, Venetians cope with flooding through vigilance and humor.
Elena Padova of Italy was out and about in Venice when the waters flowed up from the canals and flooded the city. She shares with us the following photographs.
Click on the image for a larger view. Use arrow buttons below to go to the next picture.

PRIMO Third Edition 2011
(Volume 12, Issue 3)
Annette Funicello
Annette Funicello's Fan Forum
PRIMO Readers Pay Tribute to Ms. Funicello…In Their Own Words.

Special Announcements:
Buy "Italian Sketches: The Faces of Modern Italy," a new book offered exclusively by PRIMO Magazine. Written by Deirdre Pirro, a writer based in Florence whose work has been published in PRIMO, "Italian Sketches" profiles the most influential Italians of the 20th century. The world we live in today is in many ways shaped by Italian inventors, thinkers, artists, writers, film directors and performers who perfected their ideas, crafts and innovations within the past 75 to 100 years. From Maria Montessori to Sophia Loren, from Federico Fellini to Bruno Cavalieri Ducati, to many, many others, "Italian Sketches" brings the stories of modern Italy's greatest men and women to Americans. Extensively researched, written, and edited, the book comes with original drawings from one of Italy's top illustrators. You won't read about Italy's modern icons anywhere else. "Italian Sketches" will surely inspire pride in all Italian Americans. Buy "Italian Sketches" today. Just $17.90, the price includes shipping and handling.
Buy PRIMO's 2012 Calendar. Special Edition: The Italian Popes

"Risorgimento: 150 Years of Italian Unity" Poster. Buy it today!

All original, beautifully designed, this poster can only be purchased from PRIMO. Special tribute to three figures who led Italians to unify the peninsula the first time since ancient Rome. Depicted is Alessandro Manzoni, a novelist who wrote "The Betrothed," a book that inspired Italian unity; Giuseppe Mazzini, a journalist and activist who led the first effort to unifying Italy and expel foreign forces; and the great Giuseppe Garibaldi, a soldier of fortune turned Italian general who led military forces to expel foreign invaders and unify Italy.

Buy PRIMO Earrings
Italian pride never looked so beautiful. Our earrings are handmade, right here in the USA, from the finest material: Sterling silver, beads of jade, carnelian and agate - in the colors of the Italian flag – red, white and green! Buy them today! Just $14.95; the price includes shipping and handling.


click here to enlarge

PRIMO Umbrella
Rainy days are brighter when you walk under our PRIMO umbrella. Keep dry while showing the world you are proud to be an Italian American. The PRIMO umbrella tells people you are! Just $11.95; the price includes shipping and handling.

Order your PRIMO merchandise today by calling PRIMO toll free at 866-67-PRIMO (77466).

Attention: Italian Clubs and Societies. Click here for a special ad offer in Primo!"