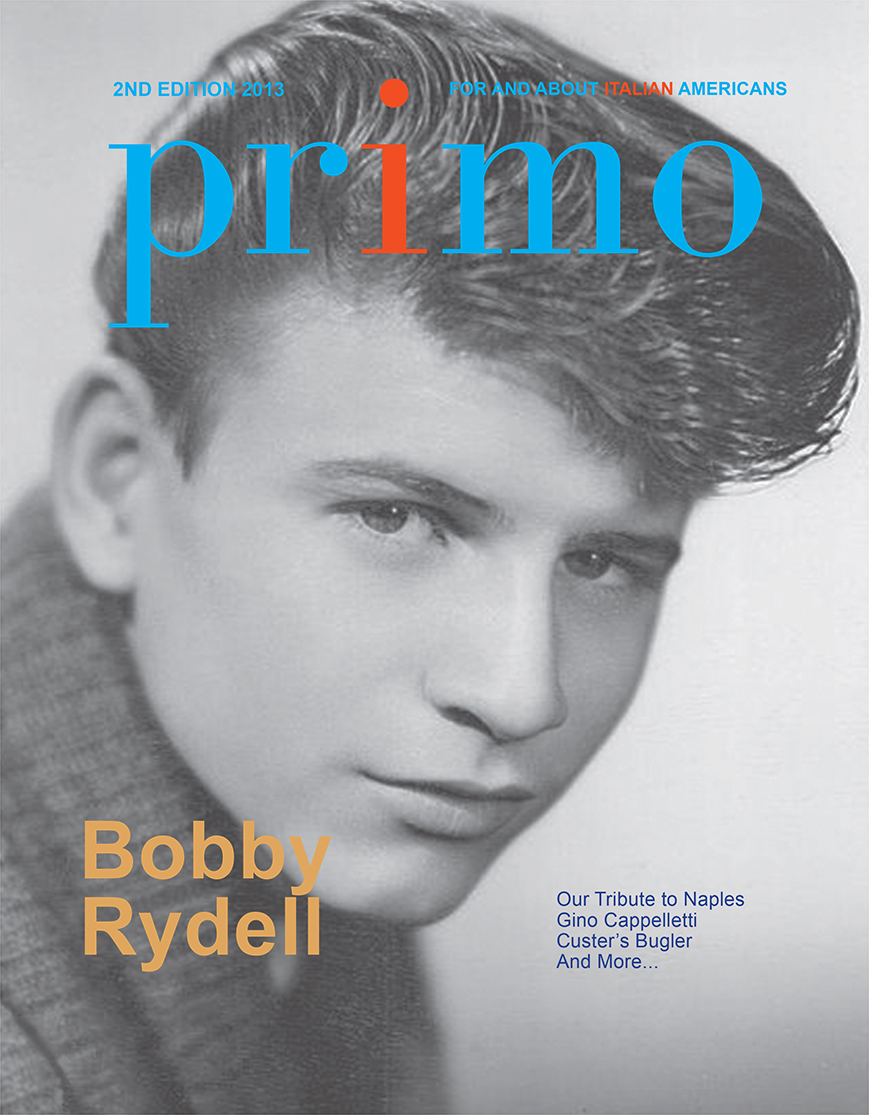 PRIMO will be published every ten weeks during 2013. The next issue and dates of distribution follow:
Announcement: INDEPENDENT ITALIAN AMERICAN AND ITALIAN FILMMAKERS
We are planning a special theme issue on the next generation of Italian American and Italian independent filmmakers.
Write to us: Tell us about your film project. Tell us about the latest film you made.
Send photograph(s) and write-up(s) to:
Attention: PRIMO Editor, 2125 Observatory Place, N.W., Washington, D.C. 20007 or email at editor@onlineprimo.com.
The Latest News…from an Italian American Perspective:
Note: Content on the PRIMO web site is different from the print edition of PRIMO magazine. To read the latest articles in PRIMO, please subscribe today.
Italian American Mystery Writer Pens Latest Best Seller, A Murder Amongst Angels
By Cookie Curci

Author Tony Piazza is a San Francisco Bay Area native who spent most of his free time reading novels that immersed him in every kind of adventure and mystery, from Jules Verne to Edgar Allan Poe, through tales that carried him over the western plains with that romantic cowboy Louis L' Amour, to even a few side trips through the great works of Shakespeare.

And yet, with all these diverse genres to choose from, Piazza found himself spending hours reading the most famous of all mysteries, those written by Sir Arthur Conan Doyle, Agatha Christie, and Raymond Chandler.

Piazza, like most kids of his generation, also spent his early years in the seat of the local Saturday matinee movie house where he cheered on those childhood literary heroes so realistically brought to life on the silver screen. This interest in film would later became a passion for Piazza, motivating him to learn more about film making, and subsequently inspired him to train in acting and take classes in cinematography.

Piazza brings more to his writing then just book learning; the use of Hollywood as the backdrop is a result of all the years he spent on movie sets with his dad, who was in law enforcement and was employed by the major studios to protect their biggest stars. Piazza learned a lot while working on the set with superstars, such as Clint Eastwood, Steve Mc Queen, and Paul Newman. He also earned a degree in Biology and has worked as a Histology Technician for the Pathology department at the San Francisco Veterans Administration hospital, and is presently employed as a QA Assistant Manager at a food safety laboratory.

Tony Piazza is the author of 3 bestselling novels: Anything Short of Murder, The Curse of the Crimson Dragon, and his latest, A Murder Amongst Angels.

Piazza's latest, and most exciting, book touches on vintage Hollywood and the days of Hollywoodland. Characters and buildings are described in such great detail as to give the reader a real sense of their history and of the growing city at the time. Cafes, restaurants, night clubs, city hall, they all get a detailed picture that develops in the reader's minds and stays there to let our imaginations soar with it, to see it all as it actually was, "at that time, in that day." Piazza, informs the reader of the architecture and historical facts behind many of these grand hollywood buildings and the lesser known ones as well.... and it makes the reader feel a strong sense of the locale - that's what a really fine writer does for his readership…and that's exactly what Piazza does for his readers.

The story is inspired by a true life Hollywood scandal, the death of Thelma Todd, a Hollywood Star who had connections with the roughest mobsters and the most powerful men in Hollywood, and a slew of jealous lovers and friends. Thelma Todd was found dead in the garage of her restaurant and apartment complex, a garage that was high above the hillside.Her case was never solved to anyone's satisfaction, and so A Murder Amongst Angels gives us one authors idea as to what may have actually happened, with the use of dramatic license.


Cookie: Hello Tony and benvenuto! I've interviewed many singers and several actors for my column, but a mystery writer with a new book on the best seller list is especially exciting to me.

Tony: Thank you Cookie for this opportunity. I'm pleased to do an interview with Primo Magazine.

Cookie: Tony, before we talk about your fabulous new book. I know my readers would like to know where in Italy your people are from? Do you know what regions?

Tony: My father's family was from Catania, Sicily, and my mother's from Catanzaro, Calabria. My paternal grandfather came to America in 1900 settling in the Sacramento, California area where he and his brothers started a business growing oranges, almonds, and making olive oil. My mother's father came over later—perhaps in the 1920′s. He worked in the coal mines in Pennsylvania before moving his family to San Francisco.

Cookie: Have you yourself every made the trip to the Old County, to check out your family roots?

Tony: No, but I would love to someday. It's kind of sad that neither of my parents were able to visit where their parents came from. I'll try not to make the same mistake. I do believe that the trip would stir my imagination. From all that I have seen and heard, it is a rich, beautiful, and extremely cultured country. Just look at all the authors, artists, and inventors that came from it. I am sure I would feed on those creative juices. Regarding it as a setting for a mystery; it is perfect. These stories works well if there is a contrast, and the bright colorful setting of Italy would complement the dark goings on of a mystery/suspense novel. Some writers that have used Italy successfully in their mystery novels are Donna Leon (A Question of Belief), Edward Sklepowich (Death in a Serene City), and Andrea Camilleri (The Terra-Cotta Dog).

Cookie: Tony, one of the most important things a writer creates is his characters. If the reader doesn't feel a simpatico with them right off, they could lose interest in the first chapter. When you first thought of the characters in your book were they already in your mind's eye, did you see them clearly as people you knew along the way and recalled their mannerisms and features to fit your character's part. Or do you just create a character out of the blue with no connection to anyone you once knew or know?

Tony: Yes these characters were already formed in my head, because I knew what the audience expected. The novel began as a serial story for the Turner Classic Movie fan site. Members of this site love the classic crime noir films of the 1930′s and 40′s. Writers from that period such as Raymond Chandler and Dashiell Hammett had a certain formula and style which I tried to purposely imitate in my novel. So it shouldn't come as a surprise if my detective didn't remind one of Phillip Marlowe or Sam Spade. The readers were looking for a story like The Maltese Falcon, Big Sleep, or The Thin Man, and that I believe was what I delivered. The book is big on nostalgia, and I received many favorable comments for that in my reviews.

Cookie: A mystery writer's pen has the power to intrigue and to twist a plot in order to play with the reader's mind. Then, at the very last minute, you pull out a surprise, exciting, mystery finish. This is no easy task. Does this mean you write the beginning, middle and ending before you start the book? Please help a laymen know how this is done.

Tony: I did have an outline, but mostly in my head. And quite honestly, even though I did have one I didn't always stick to it. I feel that this created a certain unpredictability about the plot that made the puzzle work well… and it did. I had only one reader so far say that they had guessed the killer. I do want to say that I was fair with the readers…all the clues were there…and if they followed the events logically as they played out the answer was evident. That's the best part of a whodunit, creating the puzzle. It was for me the most fun of writing the novel! Like Ellery Queen asking his audience, "all the clues have been presented, now it is up to you to guess whodunit!" Again, great fun!

Cookie: Tony, you are well schooled in the science of Forensics, did your studies in the application of these scientific methods and techniques help you with your imaginary investigation? Crime readers are real sticklers for the exact truth when it comes to the research part of the crime detecting. And that's what you must be—a writer who exposes a crime— then tell us exactly how it was done and whodunnit! Right?

Tony: I have a B.A. in Biology, and spent most of my career in the scientific research field. Here you play a detective, but the killer is usually microbes. Especially when I did biopsy work for the VA hospital in San Francisco, I was always looking for clues that would point to a proper diagnoses. You have to be detailed oriented and concerned with logic and facts in this field. There is no room for mistake. I also loved and read mysteries all my life. To be familiar with style, characters, and settings were extremely useful and, finally, I had a father who was a police officer. I spent a great deal of time around his friends—homicide inspectors, etc—and listened to their tales. A writer takes all those associations and uses them in his writings, and that is what I did with Anything Short of Murder.

Cookie: You worked on Quinn Martin's hit production of the TV series, The Streets of San Francisco, with Michael Douglas and Carl Malden. I know you were Michael's stand it, but even so that is a big step up in the right direction for a young aspiring actor. Were you able to do any acting scenes in the series?

Tony: Yes, I had a speaking line in the episode "Shield of Honor." I also had a line in the Clint Eastwood film "Magnum Force." I am the young cadet in the crowd at the shooting range that shouts that Harry hit the "good guy" target. As a result, he loses the match in the story. On "Streets" I had to wear many hats, like being a passenger with a stunt driver in a couple of car crashes. One in particular was doubling Larry Hagman in the episode, "Dead Air." I also had many silent bits on the series—usually as a policeman—all this in addition to my stand-in duties. I worked in the business for about 10 years, and I used that experience in my novel.

Cookie: Well, Tony, we are coming to the end of our interview. But before you go could you leave your website, blog address, and any other info that will help our readers to discover more on you and your exciting books, history, and current novel, A MURDER AMONGST ANGELS.

Tony: The best way to get any and all information on my books and blogs is my website address:: www.authortonypiazza.com .And the books can be bought on Amazon, and Barnes & Noble websites, or wherever fine books are sold. Thank you so much, Cookie, I'm pleased to have been interviewed by you for such a prestigious Italian American magazine as Primo. Grazie and I hope your readers enjoy my latest mystery.
Opinion: Pope John XXIII, A Worthy Saint, Yes, but Vatican II Still Taints His Legacy

By Truby Chiaviello
When historians write about the Roman Catholic Church of the postwar era, they will begin and end with Vatican II.

The stellar event of Roman Catholicism in the last 100 years, the Church was forever changed…and, some might say for the worse.

The architect behind Vatican II was Pope John XXIII, who this week was canonized a saint, and rightly so, by Pope Francis I. Born Angelo Roncalli, Pope John is one of the great Catholics of all centuries. He came from the worst poverty, growing up in the Lombardia region hinterlands, going for days without food as a boy because his family was so poor. After he became a priest, he rose the ranks of the Church. When he was apostolic delegate in Turkey and Greece, he proved himself the hero when he saved scores of Jewish refugees from Holocaust gas chambers by issuing them visas, claiming they were Catholics. Most Jews consider Roncalli one of the great heroes of World War II, right up there with Oskar Schindler.

When Roncalli became pope, he became a hero of the Cold War when his speech during the Cuban Missile Crisis pushed Kennedy and Kruschev to compromise. He is grossly overlooked by historians for the part he played in averting nuclear war.

As pontiff, Pope John held himself both honorably and stoically, with approachable ease and a quick sense of humor that won him accolades from Catholics all over the world. Although he was one of the oldest ever to become pope, he broke all stereotypes when at the ripe age of 78 he sought to reform Roman Catholicism.

Vatican II will make up much of Pope John's legacy.

It was his idea, his vision, and his urging to organize a council to reform and transform the church. That indeed happened and Roman Catholicism may be suffering as a result.

The Church after Vatican II is far less important and influential to society at large than it was prior. One purpose of Vatican II was to allow the Church to grow in Africa and Asia and that is indeed happening. Yet, Church attendance is declining in Europe and America. Vatican II was meant to bring the Church more in line with the times. Yet, the more the Church seems to acquaint itself with pop culture, and embrace the latest societal trends and fashions, the less people seem to care where the Church stands on morality. Today's politicians have no fear of the Church. Roman Catholic influence regarding social issues wanes more and more each year. Not only is abortion the law of the land here in the U.S., as well as a host of other countries in the Americas and Europe, but soon to come is gay marriage and even euthanasia. Thanks to Obamacare, the Church may now have to cover contraceptives in the health care Roman Catholic organizations offer their employees. The Church is fighting the mandate, but not with the vigor one might expect. Roman Catholic universities, here and abroad, seem Catholic in name only. School officials have all but forgotten the tutorial of Church principles to incoming freshmen. Catholic university presidents seem to care more about America's president than they do the pope. No wonder William Blatty, author of "The Exorcist" and Georgetown University alum has led a petition to deny his alma mater's Catholic designation.

Is the precarious state of the Roman Catholic Church today the fault of Vatican II? I believe it is. Church principles did not change as a result of Vatican II but the passion to uphold them, as instilled in priests, nuns, bishops and Vatican officials, did.

True, we can't go back to the days of stern priests, unwilling to accept the slightest of human frailties. Nonetheless, we could use some passion in the promotion of morality during Sunday Masses. One senses that priests have been taught in seminary not to be so judgmental. The education of priests is likely focused on a push for inclusiveness, as is so intrinsic in Vatican II. Thus, it is increasingly rare these days to go to Mass and actually be moved by sermons. The messages are almost always centered on forgiveness, acceptance and charity. Rarely, do we hear the impassioned pleas for compliance with church principles. The effects of sin, transgression and moral equivocation seem out of bounds in Mass during the age of political correctness. The logic of absolutes and the worthiness of strict enforcement of Church dogma is an infrequent topic in most parishes.

What we have today is a Church, far more friendlier and approachable than it was before Vatican II, but without the zeal for moral standards that made it the lead institution of the world. The Church has become banal, contrived and, yes, dull. As a result, moral clarity loses more ground each year to moral relativism. This may have more of an impact on Pope John's legacy than his sainthood.

Italian American Activist Seeks to Stop Destruction of Church
Time is Short for St. Peter's of Duluth, Founded by Italian Immigrants 90 Years Ago
No one can argue that St. Peter's is a beautiful church.

Not Saint Peter's in Rome but rather a smaller and no less profound church in Duluth, Minnesota.

Built almost 90 years ago by Italian immigrants, the church conveys the intimate and loving craftsmanship of a community that sought to establish a structure of faith to last for eternity.

Thus, St. Peter's faces a sad and ironic end as it is soon to be destroyed.

Church officials of the city have put in place the final phase of St. Peter's demise. The church is to be razed with no stone remaining; soon to be a pile of rubble, a monument in dust to generations past who once sacrificed their time, their money, their sweat, to erect a stone castle, worthy of their love and devotion to God.

Robin Mainella might be seen as the warrior in a lost battle of a lost war. She is the point person of the cause to keep St. Peter's standing for generations to come. Her pleadings to designate St. Peter's a landmark, saved from destruction, have thus far failed. Still, she is committed to do all she can to save a church she loves. She is motivated by heritage; her family is Pugliese, her native land is Bari and Campobasso. St. Peter is the link to Italy she shares with other Italian Americans of Duluth.


"My great grandparents, Peter and Mattie Mainella were among the first to arrive," says Mainella. "My connection with our Italian community is very important to me. I am very proud of my Italian heritage and am doing all I can to protect this church, a true labor of love, from being torn down and lost forever."
The story of St. Peter's is a familiar one, a real life plot that has been set in other neighborhoods of other cities with main characters who are Italian Americans. We see old churches, built of stone, or brick, or innovative concrete; modeled after chapels from the rural provinces immigrants came from in Italy. These churches are often greeted with ambivalence by Roman Catholic officials today. Churches, such as St. Peter's, are increasingly seen by them as urban relics whose time has passed. They point to changing demographics, neighborhoods once dominated by Italian families are either taken over by another ethnic group, not Roman Catholic, or taken over by vagrancy and blight. Bishops and priests are disinclined to restore and upkeep such structures. As such, the task falls on Italian Americans who currently live or once lived in neighborhoods of the church's locales to fight to retain the tangible testament of faith built by their Italian immigrant forefathers and foremothers.

For Italian Americans of Duluth, their families' adopted country was what they found in the city's Point of Rocks neighborhood in the 1880s. Italians came from regions Campania, Calabria, Basilicata, Sicily and Apulia. They came to work the burgeoning industries of a growing city. Although practicing Roman Catholics, they were not always welcomed in other churches formed many years prior by Irish and German immigrants. They needed a church of their own, with Mass said in their own language, with homilies that connected faith to their cultural experiences, with parishioners who were just like them. It was only a matter of time when the neighborhood pitched in to purchase an abandoned church in their midst, Jean-Baptiste, a remnant of French pioneers who once settled the area.

When the neighborhood grew with more Italian immigrants, Jean-Baptiste was transformed into St. Peter's.

Mainella explains, "The church was just too small. In 1925, the congregation built a Romanesque-Gothic church, the church located today at 818 West 3rd Street. St. Peter's was designed by parishioner Peter Summers, a son of the city's first Italian immigrants. Many in the neighborhood worked in construction. There was no shortage of carpenters, bricklayers, and stone masons. Many of them were highly skilled working to build or maintain some of the world's most prolific buildings in Italy. These artisans volunteered to build the church. They used blue, yellow, and gray native stones dug up from right hear in Duluth, on the hillside near Twin Ponds. St. Peter's was the heart and soul of Duluth's Italian American community for the next 75 years."
From afar, St. Peter's might seem a church of uniformed stone, dark brown in color. Up close, however, is a different sight; the church's stones, large and bulky, confirm the overlooked diversity of earth tones, a collection of colors, tan, ecru, brown, gray, blue and magenta.

"The stone facade is crafted of native basalt by the same artisans who built the foundations for most of the city's East End mansions," says Mainella. "The Gothic windows and doors convey a sense of permanence, the architectural style that first took root in Italy when the faith began to spread."
St. Peter's was closed in 2010 for a review of the church's interior and exterior. Many parishioners thought the church would soon reopen, but it never did. Instead, officials of the diocese decided the church was past redemption. They pointed to an estimate of $500,000 for restoration; neither the diocese nor the parish could be expected to pay such a bill.

Mainella and others take a different view. They claim the church is a solid structure built by some of the most skilled artisans of the city's history. If the church has lasted this long, some 88 years, it can last longer, they say. Their estimate is far less than the diocese's; not $500,000 but instead $100,000 to repair flashings and reinforce walls. With so many Italian Americans in the construction trade today, they believe many, not all, will donate their time and material to ensure the church remains standing.

What may come in place of the church is unknown to Mainella. She wonders if St. Peter's is torn down, will another church rise in its place. Or, will the ground host new condominiums? Or perhaps a shopping mall, a new headquarters for a corporation, or maybe, a chain of fast food restaurants?
No doubt, time may be short for St. Peter's, unless Mainella can stop its destruction. What drives her is the understanding that when the past is lost so too might be the future of a people. For more information about St. Peter's, please contact robin.mainella.annala@gmail.com.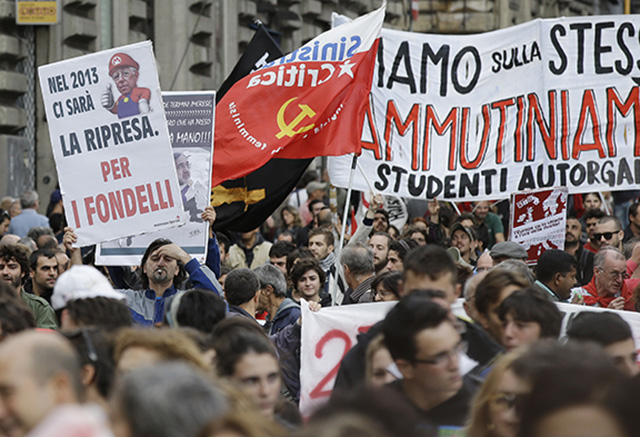 Photo courtesy of AP: Italians protest austerity measures undertaken by Prime Minister Mario Monti in 2012.
ITALIAN ELECTIONS BRING STALEMATE TO ITALY
The author recounts what it was like to vote in this year's national elections in Italy

By Gabriele Mastroianni

Italy now suffers from instransigence in government due to the stunning election results that happened in February.

The election results surprised all Italians and brought back from the political grave Silvio Berlusconi.

Back in February, Italians went to the polls for the Italian General Elections. Their assignment was to elect the new Italian leader (potential new Prime Minister) and to renew the Senate of the Republic and the Chamber of Deputies.

In three regions, Lombardy (its first snap election), Lazio and Molise, voters were tasked to elect the Regional Presidents and the members of the Regional Councils. Such elections continue the move by Italy towards Federalism. Regions want greater autonomy and the means to decide their fates detached from the many oversights of the national government. In this respect, Italy wants to be more like America, where governing is equally divided among the federal and state governments.

Fifty million Italians were the electors for the House of Representatives. Italian citizens must be over 18 years old to vote in elections for the House of Representatives. This is in contrast to how Italians vote for the Senate, where citizens must be over 25 years old to participate. There are 630 members of the House of Representative and 315 members of Senate. Around three million Italians living abroad (400,000 in North America) were tasked to elect 12 members of the Chamber of Deputies and six senators.

On the eve of the elections, many in the press thought the Democratic Party (PD) of Pierluigi Bersani would win. This feeling complied with opinion polls that predicted a PD rout. Two weeks before the elections, however, no opinion polls were published. Under Italian law, no opinion polls can be carried out 14 days before elections. Thus, data from opinion polls were two weeks old, and in many ways, obsolete by election day.

Looking back, we can see the leading coalition, the PD, had lost a lot of ground. At the beginning of the year, the PD was supported by 41 percent of likely voters, with the prospect of a landslide majority. Opponents were far away. The main enemy, Silvio Berlusconi (People of Freedom, PDL), has just left behind all the sex scandals that corroded his reliability. Yet, his party's faithful felt lost without him. They are devoted to him as if he were a god. His percentage of the electorate was high, around 26 percent. The other two main parties were further behind. Monti for Italy is the political party of the Prime Minister, Mario Monti. He was highly criticized for his "austerity measures" (only cuts intended to stem the worsening economic conditions, not to grow the economy). His decision to run was met with criticism because he promised to step-down and not run after a year of service. Monti had only 12 percent support from Italians. Another political party was the Five Star Movement (M5S), headed by comedian Beppe Grillo. This movement, with the face and the voice of Grillo, deeply criticized all other parties and their leaders. Grillo said they represented an old conception of politics and accused them to be the main origin of the problems of the country. Grillo toured the country but refused to go on TV's talk shows. At rallies, he yelled out about how the politicians were wasting our money. Grillo's rise in the polls was impressive. He went from 14 percent to 17 percent in the polls.

Everyone in Italy was sure of a PD victory. The party was to take full control of House and Senate. That did not happen. Why? Mainly two reasons. First, journalists and analysts from Italy and other countries in Europe trusted too much the exit polls which proved to be unreliable. Italians are not sincere when answering the questions. The second is the political torpor, the lethargy, the slumber of the Democratic Party that conducts campaigns only based on sobriety. Refusing, in this way, to talk with the lower classes, left in this way in the hands of M5S and PDL.

The PD won, but only by a few points. It was an unbelievable result: In the House of Representatives, Bersani 29.5%, Berlusconi 29.1%, Grillo 25.5% and Monti 10.6%; in the Senate Bersani 31.6%, Berlusconi 30.7%, Grillo 23.8%, and Monti 9,1%. Essentially a draw, the PD was and is in a weakened state to form a government.


Italian Voters Remain Disjointed on The State of Italian Politics
We interviewed people and politicians for PRIMO to get an idea as to the mindset of Italian voters today.
One is Stefano Fassina, deputy and member of national secretary of the Democratic Party (PD). The other one is Andrea Cecconi, deputy of the Five Star Movement (M5S), the new party that astonished everyone in its electoral success. We sought their views about the current post-election situation and spoke to electors about the reason why they voted a certain party and what they expect from that party.
Elisa, 35, from Rome, says "the current situation is unusual and it makes me feel confused, because is so complicated. There is not a party that could govern at the moment, but we need new reforms. I voted M5S, because I want some changes; Italy needs a wind of change. We need to refresh and restore with young people all the parties and public organizations."
Michele, 42, from Rome, says that for him "it is not a matter of age, but of quality. We should restore by choosing the best, paying attention to the quality of the person not the age. We must do it now because it is a fertile time. Who got my vote? I voted for Antonio Ingroia. Why? Because Civil Revolution was the only left-wing party on the field. The PD is too centrist and SEL (Left Ecology Freedom), its ally, seems not have a key role in the coalition."
Francesca, 26, of Genoa says "I voted Vendola, SEL (PD's coalition) because I like him and I am an ecologist. I dream of an eco-friendly world. Yes, we are having hard times and without a large majority in the Senate we can't go on, but I don't think that voting again could change anything."
For Mario, Rome, 68, "the current situation is really problematic. In the past we have been in similar situations and we overcame with the good sense of politicians. Now, they should cut their salaries and decrease the members of parliament. But before, they should do some important reforms." What laws?: "Especially something to decrease unemployment and a new electoral law. I voted after reading the agendas of the parties. I chose the M5S, because we need honest people. And I think they are. Now Boldrini and Grasso (new presidents of Chamber of Deputies and of the Senate, both Democrats) have cut their wages. I hope they do not swindle us. We don't want deceptions. Not anymore."
Silvana, 51, from Milan, tells us: "What's going wrong? Berlusconi destroyed the welfare state. He only thought about himself and his business, legislating for self-interest. PD is the only party that can establish a Wellfare state and I hope Grillo and Bersani will find a halfway for the good of the country. Main points will be to restart the economy and give a new civic-mindedness and a new moral."
Stefano Fassina, deputy of PD, tells us: "I am worried. The election doesn't give us a clear situation. We have to face this situation but we hope we can have the possibility to rule and make some basic laws: Economics and electoral laws first."
Could a new election be a way for escape from this gridlock?: "Right now, we don't want evaluate it, we hope to find a way, even if a coalition government with Grillo is difficult and one with Berlusconi is absolutely not possible."
Andrea Cecconi, deputy of M5S, says "it is thanks to us that in the parliament something is changing. We are looking for all the squandering and waste of money and now they have to be careful. For example we Fivestars give back half of our wage. Grillo? He is our mouthpiece, our spokesperson, we don't follow everything he says. Our party is something new, it communicates mainly with internet, and electors know that there they can always find us."
After these interviews, I have three deductions. The first one is obvious. Many Italians want something new. Probably this will be the beginning of the Third Republic. Second, even if I asked a lot of people and interviewed many people, it has been hard to find someone who voted PDL (Silvio Berlusconi's party). This is so strange, but it links me to the problem that pollster met with their opinion polls before the elections; PDL has been underrated. This might have to do with the followers of Berlusconi; they don't like to give interviews and reply to surveys. Third, I have ascertained that the people nowadays don't want to know "Who shot J.R.?", but "Who shot I.R.?". They are sure that I.R. is still alive and they want to find a way to cure it.

Q&A WITH SUSAN TEJADA, AUTHOR OF "IN SEARCH OF SACCO & VANZETTI"
Susan Tejada
Two Italian immigrants, Nicola Sacco and Bartolomeo Vanzetti, were arrested in May 1920 in Brockton, Massachusetts. They were charged with murdering two guards in nearby South Braintree one month earlier, and escaping with fifteen thousand dollars in payroll cash that the guards had been delivering to a shoe factory. Sacco, a skilled worker at another shoe factory, and Vanzetti, a self-employed fish peddler, went on trial a year later. They swore they were innocent, but were convicted after what is almost universally recognized today as an unfair trial. Their motions for a new trial were repeatedly turned down, and they were executed in 1927. Susan Tejada (www.susantejada.com) is a former editor for the National Geographic Society. She spent years investigating the case, sifting through police reports and studying the turbulent background of world war and domestic terrorism against which the case unfolded. In her new book, In Search of Sacco and Vanzetti, she uncovers startling and previously unreported information about the defendants, their lawyer, their executioner, and the two murder victims. PRIMO recently interviewed Tejada about the case. Here is what she had to say…
What led you to write a book about Sacco and Vanzetti?
In Search of
Sacco & Vanzetti

For me, there's a strong hometown connection. Providence, Rhode Island, where I grew up, was the base of operations for the criminal gang suspected of committing the crime for which Sacco and Vanzetti were executed. And as I discovered in my research, one of the South Braintree murder victims also had family ties to Providence. Beyond that, however, I've always had a great curiosity about Nick and Bartolo as individuals, and wanted to find out what made them tick, what they were really like, behind the many myths that enshroud them.

A strength of your book is how you capture the times, the 1910s and 1920s and the anarchist and labor movements in America. Share with us how Italian immigrants were leaders of these movements.

Some important anarchists—Errico Malatesta and Pietro Gori, for example—came from Italy to the United States on relatively short speaking tours, but others remained much longer—most notably, Carlo Tresca, who arrived in 1898, and Luigi Galleani, in 1901. Tresca and Galleani would eventually become bitter rivals. They wrote and published influential Italian-language newspapers in America, widely read by their compatriots in the self-contained world of Italian-American anarchism.

Within the labor movement, Joseph Ettor was an exciting speaker and effective organizer for the Industrial Workers of the World, a militant union founded in 1905. The Brooklyn-born child of Italian immigrants, Ettor could inspire a crowd in several languages—not just English and Italian, but Polish, Hungarian, and Yiddish as well.
You bring to life the prejudices and outright bigotry back then that a host of politicians, journalists, and community leaders displayed against Italian immigrants. Share with us some of the most egregious examples of anti-Italianism in the era of Sacco and Vanzetti.
The most egregious example would have to be the largest mass lynching in American history, when eleven jailed Italians were killed in a single night in New Orleans in 1891. Five of them were awaiting trial for the murder of the city's chief of police; of the other six, three had experienced a mistrial in the same case and three had already been acquitted. Another egregious example is the 1911 report by the U.S. Immigration Commission, stating that "certain kinds of criminality are inherent in the Italian race."

Of course, Italians weren't the only immigrants who experienced bigotry. Almost 70 percent of immigrants to the United States between 1900 and 1909 came from Italy, Russia, and Austria-Hungary, and nativists viewed them all as worthless riffraff, "the lowest stratum of the Mediterranean basin and the Balkans," in the opinion of Madison Grant, the chairman of the New York Zoological Society.
Tell us a little about Nicola Sacco and Bartolomeo Vanzetti. What were they like as individuals? Did you find anything in their background that might suggest they had the acumen to become cold-blooded killers?
Sacco & Vanzetti

Let me start by emphasizing that they were complex individuals full of contradictions—like most human beings! Sacco, from southern Italy, was the third son in a very large family. He was 16 when he immigrated to America with an older brother in 1908. He became a skilled factory worker, earned a good living, married, and started a family. He was achieving the American dream yet felt compelled to support striking workers (although he himself never joined a union, and in fact was on excellent terms with his own boss). Vanzetti, from northern Italy, was the eldest son in a smaller family; he was close to one sister, but barely knew the two younger siblings who were born after his father had sent him away from home at age 13 to learn a trade. At age 20, grieving the recent death of his mother, Vanzetti resolved to come to America on his own, also in 1908. He never married. He never became a skilled worker or earned a steady paycheck. His relationship with his father was strained; the two men stopped corresponding two years into Vanzetti's seven-year imprisonment.

Vanzetti read widely in prison and kept up a large correspondence with his supporters. His English fluency was better than Sacco's. As a result, many people assumed that he was more intelligent than his co-defendant, but Vanzetti himself disagreed. "I am a better babbler than he is," Vanzetti wrote, "but many, many times…remembering his heroism I felt small small at the presence of his greatness."

Apart from Sacco's arrest in 1916 for speaking without a permit, a charge later dismissed, neither Sacco nor Vanzetti had a prior arrest record. They were kind and gentle men in their private lives, yet they did support Galleani, who condoned violence in some situations, and whose followers were the likely perpetrators of two terrifying waves of bombing in the United States in 1919. However, there is no evidence that Sacco or Vanzetti participated in bomb plots or any other acts of anarchist violence, and I think it unlikely that they ever did. In the book I also explain at some length why I think it's unlikely that that they had anything to do with the crime in South Braintree.
The convictions and deaths of Sacco and Vanzetti are met with doubt by a growing number of historians, scholars, and writers. Part of your book examines the evidence at the time of the case and what was uncovered later. If you had to choose, what key evidence or lack thereof exonerates the duo or confirms their guilt?
The only evidence ever presented to a jury was the evidence offered by the more than 150 witnesses who testified at the trial in 1921. Later, between 1921 and 1927, defense attorneys filed five motions for a new trial, based on new evidence. And since 1927, new evidence has continued to surface, most notably in 1977 when state police files were released. Out of this staggering mass of evidence, the most influential concerned the guns that Sacco and Vanzetti were carrying at the time of their arrest. (Vanzetti handled cash on his fish-selling route and owned a gun, he said, to defend himself in case of robbery. Sacco needed a gun for his night job as a factory watchman.)

The prosecution said that Vanzetti's gun had been lifted off the body of one of the murder victims, guard Alessandro Berardelli. However, no witness saw Berardelli with a gun on the day of the crime; no witness saw a bandit take a gun from Berardelli; and three witnesses testified to a completely different ownership trail for Vanzetti's gun. Police files released in 1977 imply that the prosecution knew that Vanzetti's gun was not Berardelli's, but suppressed the evidence. The prosecution also said that, of four bullets removed from Berardelli's body, the one that actually killed him, and only that one, was fired by Sacco's Colt automatic. Two years after the trial, one of the prosecution's expert witnesses recanted, swearing that there was no "affirmative evidence whatever" that the fatal bullet had come from Sacco's pistol. Six years after the trial, defense attorneys alleged that the prosecution actually tampered with the fatal bullet. This cannot be proven. If it were true, however, it would help explain the inexplicable—how it was possible that only one of the four bullets taken from Berardelli's body could have come from a Colt, even though no witness saw one bandit shoot two guns, and the only witness who claimed to have seen two bandits shoot Berardelli did not identify either Sacco or Vanzetti.

Ballistics evidence was the most important factor for at least five of the jurors in 1921. In light of later revelations, however, I believe that the ballistics evidence at the trial was deeply flawed and should not have convicted either Sacco or Vanzetti.
How did writing the book change or alter your understanding of the Italian American experience?
It made me more aware of the complexity of that experience—about the discrimination against, and exploitation of, Italians (and other ethnic groups) during the great wave of immigration from southern and eastern Europe, and about the "lost world" of Italian-American radicals, a world dominated by anarchists at the beginning of the twentieth century.
Editor's Note: You can order Susan Tejada's "In Search of Sacco & Vanzetti," by logging on to her web site www.susantejada.com. Her book is also available for sale on Amazon.com, Barnes & Noble.com and University Press of New England.com.

BRIOSCHI IS BACK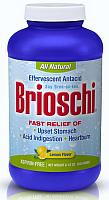 Brioschi
You can't miss it on the shelves of your local pharmacy: In a label of bold red letters attached to a bright blue bottle is Brioschi.
The effervescent antacid relieves the pesky upset stomach that might come from stress after a fine Italian meal. A whole generation of Americans grew up on the jingle: "Eat too much, drink too much, take Brioschi, take Brioschi!"
Available throughout the United States today, as it has been for over 80 years, Brioschi is the Italian invented antacid that rivals Maalox and Alka-Seltzer. In the form of squiggly white pellets, Brioschi turns a glass of water into a bubbling celebration. Those who have taken the product swear to its effectiveness. With better than average sales, a loyal customer base, and its time-tested quality, the future looks bright for Brioschi.
Such, however, was not the case in 2010.
That year, Brioschi was headed for extinction.
Michael Brizzolara, company president, wrote wholesalers and retailers that the production of Brioschi was to cease. High manufacturing costs for an increasingly regulated pharmaceutical market in the United States was the reason for phasing out the product. Not mentioned was another factor. Brioschi had changed…the company, not the product. Increasingly typical of Italian corporations, Brioschi had delved into an entirely different market from its origins. It was now a real estate company, Brioschi Sviluppo Immobiliare SPA, owned by the Cabassi family with its holding company Raggio di Luna. The company has found impressive success in property development. They have brought to life high end architectural designs in the construction of upscale apartment complexes in Milan and Lecce.
Neither the marketing resources nor the passion to keep the antacid going, Brioschi decided to give up its signature product and focus entirely on real estate management and development.
Enter a plastic company headed by the Dessein family of Syracuse. They manufactured the bright blue bottles synonymous with the product. Seeing an opportunity, the Desseins purchased Brioschi, the formula and brand name. Now underway is their new marketing campaign highlighting the organic nature of Brioschi, a way to relieve an upset stomach naturally consistent with the body's needs.
Touted is the essence of the formula, ingeniously simple, invented by Achille Antonio Brioschi more than 100 years ago. After working for a host of chemical companies, Brioschi, only 20 years old, came up with effervescente Brioschi in 1880. The purpose of the product was not to serve as an antacid but rather as means of levity: To transform any liquid into a bubbly drink. The main ingredient was first magnesium citrate, which became effervescent when mixed with anything containing water. Later, Brioschi changed the ingredients from magnesium citrate to sodium bicarbonate and tartaric acid, a derivative from tamarinds. This is the formula still in use today.
The company was firmly established some 27 years after the invention of the main product. Achille Brioschi & Co. began in 1907 and went public on the Milan stock exchange in 1914. Although a number of products were made at its factories such as cologne, pain relievers, and disinfectants, Brioschi's antacids were its primary and most popular line of products. Packaged in a sky blue bottle, its contents were squiggly pellets; resembling crooked coils of snow.
What separates Brioschi from other antacids is not so much what it contains in the way of ingredients, but rather what it does not. You will not find aspirin in Brioschi as you will in Alka-Seltzer Blue (Alka-Seltzer Gold does not contain aspirin). The company claims that aspirin can eat away the lining of the stomach and thus cause more pain than it may relieve. Aluminum and magnesium are some other chemical elements found in popular antacids. Not so with Brioschi. The company likes it that the formula remains basically simple and true to origin, with relief coming from natural ingredients rather than factory-made chemicals.

ITALIANS OF THE MONONGAH MINES
By Robert Bartus, Jr
The writer recalls the worst coal mine disaster in history and how it affected the Italian American community of West Virginia
West Virginia is home to rolling hills, meandering rivers, beautiful vistas and winding country roads.
These are some of the characteristics that brought Italian Americans to this part of the country. Italians (along with immigrants from other countries) came to the United States in search of the American dream. Looking for work and a place to raise a family, many Italians chose North Central West Virginia as their destination to begin a life as a coal miner.
Living in the "Mountain State" in the early 1900s brought many hardships. Most men who worked as coal miners lived with their families in coal camps. A coal camp was a neighborhood near a coal mine where families lived in homes owned by the coal company, called "company houses."
Italian families made the best of a tough life. Most homes with backyards were used for gardens. Today, most of us raise a garden for seasonal fruits and vegetables. If the garden doesn't do well, we go to the grocery store to supplement what we need. But for many families of the coal camps, a garden was a necessity.
A typical garden consisted of tomatoes, bell peppers, onions and other assorted fruits and vegetables. Besides using the bounty of the land during the growing season, vegetables and fruits were canned for use during the winter months. Along with gardens, families also raised chickens, hogs and cows. Some families, with the help of a bricklayer (often a family member) built a brick-oven in the backyard where the aroma of fresh bread drifted through the air. If the needs of the families outpaced the reserves of homegrown food, there was always the option of going to the company-store, which was owned by the coal company, where scrip (currency issued by the coal company and paid to the miners) was used for purchases instead of U.S. currency.
With all of their struggles, Italian families still found the strength and desire for a better life. With few options for employment, the coal mines supplied the needed jobs to keep families fed and a roof over their heads.
Life below the surface for a coal miner was brutal and dangerous. In the early 1900s miners were still using the hand-loading method. Once the miner entered his section of the mine, a pick and a no.4 size shovel were the tools of the trade. Pay was based on the amount of coal that was dug and loaded. A workday schedule was "in at dawn, out at dusk."
Hand-mining was incredibly hard work. There were times when a miner would lay on his side in standing water to undercut the coal with a pick several feet deep, in preparation for manually drilling the coal face for placing explosives. Once the explosives loosened the coal, the miner would shovel the coal into a mine car to be hauled out by a mule (mules were still used as part of the hauling process). This was the daily ritual of a hand-loading (pick-and-shovel) coal miner.
On December 6, 1907, everything changed: At approximately 10:20 a.m. the worst mine disaster in U.S. history occurred at the #6 and #8 mines within the Monongah Mine. At least 361 coal miners were killed in the Monongah mine explosion in Marion County, West Virginia. Of the 361 that were killed, about half (45 percent – 47 percent) were of Italian descent, along with immigrants from Ireland, Hungary, Poland, Russia and other countries. The actual number of miners that died in the mine is probably higher, since the miner identification records were destroyed in the explosion. To this day, there is no definitive answer for the cause of the disaster.
This mine tragedy brought greater attention to the dangerous conditions of coal mining, and in 1910, the United States government established the Bureau of Mines. There were investigations of mine accidents, safety research, and accident prevention.
To honor the miners on the 100-year anniversary, a memorial bell was made by the Marinelli foundry of Agnone, a town in Molise, Italy. The six-foot bell was presented at a ceremony in the town of Monongah, on December 6, 2007. With dignitaries in attendance from the U.S. and Italy, the day was filled with solemn words about the tragedy, along with a mass in remembrance to honor the fallen. Italian-Americans, along with other nationalities, will always be remembered for their dedication to hard work and the pursuit of the American dream.
***
Through the years, people of Italian ancestry have attained success in many fields. These are some noted Italian Americans, who are connected to the coal industry:
Richard (Bertugli) Trumka, president of the AFL-CIO, and former president of the United Mine Workers of America (UMWA) was a coal miner and came from a family of coal miners.
Kathy Mattea, award-winning country music singer. Her grandfather was a coal miner.
F. Murray Abraham, actor, whose mother was Italian (last name, Stello). His maternal grandfather was a coal miner.
U.S. Sen. Joe Manchin, D-W.Va., had an uncle that was killed in a coal mine disaster in his hometown of Farmington in 1968, that claimed the lives of 78 miners.
Editor's Note: PRIMO featured the stories of Italian American coal miners and interviewed AFL-CIO President Richard Trumka about contributions Italian Americans made to the labor movement in our November/December 2009 edition. The author can be reached at bodoras@msn.com

VENICE AND FLOODS
Venice is no stranger to floods.
Back in November, Venice saw the Adriatic rise five feet above normal levels and swamp upwards of 70 percent of the city. That was the sixth highest level of water to rise in Venice's history since 1879.
The stellar year for flooding will likely always be 1966. That year Venice witnessed her highest rise of over six feet. The aftereffect was the beginning of migration away from the city onto the mainland.
What comes to mind when we think of Venice is the historic city of waterways. But Venice is actually a commune of some 118 islands and a stretch of mainland consisting of some 270,000 people, only 60,000 of which live in the historic city today.
How Venetians cope with so many floods is a tribute to their ingenuity. Floors inside homes are slanted to drain unwanted waters. Furniture is covered in plastic on most days to resist soaking.
Mostly, Venetians cope with flooding through vigilance and humor.
Elena Padova of Italy was out and about in Venice when the waters flowed up from the canals and flooded the city. She shares with us the following photographs.
Click on the image for a larger view. Use arrow buttons below to go to the next picture.

PRIMO Third Edition 2011
(Volume 12, Issue 3)
Annette Funicello
Annette Funicello's Fan Forum
PRIMO Readers Pay Tribute to Ms. Funicello…In Their Own Words.

Special Announcements:
Buy "Italian Sketches: The Faces of Modern Italy," a new book offered exclusively by PRIMO Magazine. "Italian Sketches" profiles the most influential Italians of the 20th century. From Maria Montessori to Sophia Loren, from Federico Fellini to Bruno Cavalieri Ducati, "Italian Sketches" brings the stories of modern Italy's greatest men and women to Americans. Extensively researched, written, and edited, the book comes with original drawings from one of Italy's top illustrators. You won't read about Italy's modern icons anywhere else. Buy "Italian Sketches" today!

Browse Our Inventory of DVDs and CDs.

From Italy's classic era of cinema to contemporary documentaries on all things Italian and Italian American, PRIMO has a film perfect for you and and your family. Our inventory grows each day. Now on sale is our newest addition: "The Bicycle Thief," directed by Vittorio DeSica; considered one of the best films in history. Also, we have CDs of Italian folk music on sale. These are songs sung in Italy's regional dialects. Check out our DVDs and CDs today!

"Risorgimento: 150 Years of Italian Unity" Poster. Buy it today!

All original, beautifully designed, this poster can only be purchased from PRIMO. Special tribute to three figures who led Italians to unify the peninsula the first time since ancient Rome. Depicted is Alessandro Manzoni, a novelist who wrote "The Betrothed," a book that inspired Italian unity; Giuseppe Mazzini, a journalist and activist who led the first effort to unifying Italy and expel foreign forces; and the great Giuseppe Garibaldi, a soldier of fortune turned Italian general who led military forces to expel foreign invaders and unify Italy.

Buy PRIMO Earrings
Italian pride never looked so beautiful. Our earrings are handmade, right here in the USA, from the finest material: Sterling silver, beads of jade, carnelian and agate - in the colors of the Italian flag – red, white and green! Buy them today! Just $14.95; the price includes shipping and handling.


click here to enlarge

PRIMO Umbrella
Rainy days are brighter when you walk under our PRIMO umbrella. Keep dry while showing the world you are proud to be an Italian American. The PRIMO umbrella tells people you are! Just $11.95; the price includes shipping and handling.

Order your PRIMO merchandise today by calling PRIMO toll free at 866-67-PRIMO (77466).

Attention: Italian Clubs and Societies. Click here for a special ad offer in Primo!"
PRIMO in Italy..
1st Edition 2013 Articles on the Map