News Archives - AUGUST 2011
The Latest News…from an Italian American Perspective:
ITALY'S DEBT CRISIS
It would not be the first time if Italy defaulted on its public debt, now a growing concern among world leaders, their finance ministers and economists.
Under Mussolini, Italy defaulted in the 1930s, as did France and Great Britain. The United States was a large holder of Italian bonds then but forgave the debt anyway.
A debt to GDP ratio for Italy at 120 percent today might seem alarming at first glance, until you consider Italy is not the only country with a large public debt. Here is a review of countries with the highest debt to GDP ratios, according to the IMF:
Japan: 225%
Lebanon: 151%
Greece: 144%
Italy: 120%
United States: 99%
Ireland: 93%
France: 84%
Germany: 75%
Italy has one of the lowest rates of economic growth today in the world, for example just 0.1 percent in this year's first quarter. There in lies the dilemma. Anemic growth does not allow enough tax and other revenue for Italy to pay back government bond holders. Italy has roughly 190 billion Euros owed to bond holders this year.
The European Central Bank, headquartered in Frankfurt, Germany, purchased in July almost $4 billion in Italian Government bonds ensuring low yields and reducing Italy's borrowing costs. A host of other European countries, primarily Germany and France, are holders of the country's debt. Italy's inability to pay back bonds will result in massive losses continent-wide sparking a lengthy recession.
Italy is under pressure to reduce debt. Prime Minister Silvio Berlusconi and Finance Minister Giulio Tremonti have promised a balanced budget by 2013. Tremonti has gone so far as to seek a balanced budget amendment to Italy's constitution. On an immediate basis, political parties of the Right and Left in parliament have come together to try and shore up public finances by reducing the country's ongoing deficit. Here is what they have planned:




Reduction of tax breaks for families and companies.
Almost 10 billion Euro in across-the-board cuts in central government; all of Italy's ministries take a hit.
One-year salary hike freeze for all government workers.
Political parties receive funding in Italy. Now that funding will be cut by 10 percent.
Almost 8 billion Euro cuts in health care spending.
Retirement age for female civil servants receiving public pensions will rise from 60 to 65.
New tax increases will be applied to gasoline, to compensation for stock and asset portfolio managers, to financial instruments worth over $700 million and new "tickets," additional fees in Italy's health care system.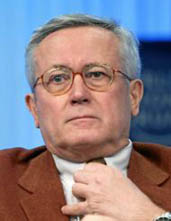 Italy's finance minister Giulio Tremonti
Total savings from the plan equal roughly $65 billion, far less than needed for balance. Tremonti and Berlusconi met on August 11 with Italy's labor and business leaders about further debt reductions. Tremonti has floated the idea of privatizing a host of government services, selling public lands and other assets and raising the capital gains tax from 12 percent to 25 percent.
Such a plan could pass parliament later in August.
Inflation Not an Option
One reason for Italy's debt crises is the country's currency, or lack thereof.
The lira is gone and so too is Italy's ability to devalue her currency, inflate prices countrywide, and reduce the size of public debt. Tied to the Euro, a currency shared among participating countries in the European Union, Italy has to now follow the rules of budget austerity, a debt to GDP ratio of 60 percent; easier said then done.
Half of Italy's economy depends on government spending and so options for massive cuts remain little at best. Add to that the reality that budget integrity pays little in Italian politics.
Consider Romano Prodi, Italy's prime minister four years ago who faced similar circumstances. Professorial, likeable, an old hand of the political left, Prodi pushed through Italy's parliament budget cuts and tax increases. He succeeded in reducing the country's public debt, in accordance with European Union rules. Entitlement reforms and subsidy reductions were slight. Never mind, Italy's electorate was enraged at the cuts and Prodi was ousted 18 months later.
Read more about Italy's debt crisis on the editor's Writer's Guidelines at http://www.onlineprimo.com/Writer's Guidelines/wordpress/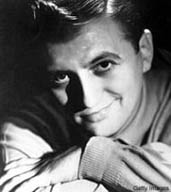 Jimmy Roselli
JIMMY ROSELLI R.I.P.
If not for Jimmy Roselli, many American might not have ever heard the beauty of the Neapolitan ballad.
Roselli passed away this past June at the age of 85 in Clearwater, Florida.
Roselli was one of the country's most popular singers at the height of his fame in the 1950s and 1960s. He embraced his Neapolitan heritage and recorded two sides of songs in Italian for his popular LP "The Best of Italian Songs." He sang in Italian on the Ed Sullivan Show, where millions of Americans heard, many for the first time, the Neapolitan ballad.
Born Michael John Roselli on December 26, 1925 in West New York and raised down the block in Hoboken, New Jersey from Frank Sinatra, Roselli rose to become a rival of Ole Blue Eyes.
Roselli's upbringing was not without emotional challenge. His mother died a few days after he was born and his father, a boxer, abandoned him. He was raised by his grandfather, whom he paid a tribute to in Italian at the onset of each performance.
Roselli found his voice singing in the saloons of Hoboken while shining shoes.
His voice was deep and soft, accentuated with a fluid style, perfectly suited for romantic ballads that took the country by storm in the early 50s. Like Sinatra, he sang with the verve of emotional highs and lows. When he sang about love lost, you really felt his pain.
Roselli's biggest hits were "There Must Be a Way," "When Your Old Wedding Ring was New," and especially popular with Italian Americans "Mala Femmena." Roselli recorded a number of songs in the Neapolitan dialect.
Roselli's voice was deeper than contemporaries and his diction was often better.
He claimed he was black listed by radio disc jockeys beginning in the 1970s after an argument he had with Sinatra. In an interview with "Good Morning America" he went as far as to claim that Sinatra was insecure. Yet, he praised Ole Blue Eyes and said he cried when Sinatra died.
Roselli never made it as big as Sinatra and others including Dean Martin, Vic Damone and even Jerry Vale. Still, he made a good living, charging upwards of $100,000 per performance he made in Atlantic City and elsewhere. Roselli was a singer that many Italian Americans knew and appreciated. By recording songs in Italian, he reaffirmed his status as a true Italian American crooner.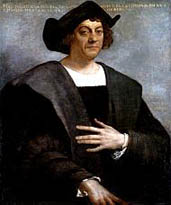 Portrait of Christopher Columbus
by Sebastiano del Piombo
COLUMBUS' BIRTHERS
President Barack Obama is not the only one to have his origins questioned.
Look no further than Christopher Columbus as the perennial object for birth deniers. Almost from the moment of the explorer's death, a plethora of writers, social critics, and historians have made the claim that Columbus was not Italian.
Manuel Rosa is the latest to join generations of Columbus' "birthers."
A Portuguese computer analyst now turned history debunker, Rosa has written a new book that claims Columbus was not Italian, but rather Polish, the son of King Wladyslaw III. We won't delve into the details of Rosa's thesis that comes with among other items the usual allegations of conspiracies and cover-ups by the "establishment" to hide the true identity of Columbus.
Rather, let us just say that Rosa is not the first to question the location of Columbus' birth and family origins.
Here is a review:
Columbus was Jewish : Depending on the writer, Columbus was either a Sephardic Jew or Iberian Jew. One writer postulated that Columbus sought to sail across the Atlantic Ocean not to find a trade route to China, but rather a safe refuge for Jewish migrants.
Columbus was Greek : Born and raised on the island of Chios, he made his way to Genoa.
Columbus was Norwegian : The Columbus family coat of arms looks a lot like the Bondes family of Norway.
Columbus was Scottish : He belongs to a family of weavers who changed their name from Scotto to Colombo after they arrived in Genoa from somewhere in Scotland.
Columbus was Portuguese : The explorer was a secret agent sent by Portugal to spy on and mislead the Spanish queen.
Columbus was Catalan : His handwriting is similar to those native of Catalan.
As for Columbus being Italian, the evidence is overwhelming: Dozens of legal documents, deeds, and official papers, dated in the years of his life, unimpeachable in their authenticity, state Columbus was born in Genoa to an Italian family. One is a Genoa court order to Columbus' father, with Christopher named to pay a debt. Forty of Columbus' contemporaries, most of whom were fellow explorers, sea navigators and captains, confirmed in their letters and diary entries that the explorer was born and raised in Genoa. Historians today are almost unanimous in their conclusion that Columbus was Italian.
Nevertheless, you can bet that a debunker or two will come along in the years ahead to write the book to end all books showing the error of history's evidence and the true origins of Columbus, no doubt outside Italy. We can't wait.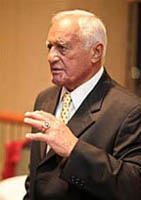 Francis X. Bellotti, former attorney general of Massachusetts
FRANCIS BELLOTTI HELPS LAW STUDENTS PAY OFF DEBT
In a follow up to PRIMO's article on Francis X. Bellotti, the former attorney general and candidate for governor of Massachusetts, profiled in the 4 th edition 2010, we feature photographs of a fundraising event he hosted, see link http://www.onlineprimo.com/events.html
Bellotti recently created an endowment in his name to help students at Boston College Law School to help retire their school debt.
The event substituted only this year the annual reunion of Bellotti's former staff, associates, colleagues, family and friends. With $3 million dollars raised thus far, Bellotti established the fund to stimulate more young lawyers to enter public service. Law school grads usually opt for private practice to pay off increasingly high tuitions and student loan debt. By alleviating that burden, Bellotti hopes more young people will serve the public as he did for much of his career.