News Archives - May 2011
News from an Italian American Perspective: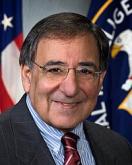 Once a Republican, Panetta fell out of favor with Richard Nixon; who complained about him on tape. Check it out.
LEON PANETTA: SECOND ITALIAN AMERICAN TO SERVE AS SECRETARY OF DEFENSE
President Barack Obama's announcement on April 27 that CIA Director Leon Panetta will replace Secretary of Defense Robert Gates represents the second time an Italian American will serve that post, if he's approved by the Senate.
The first Italian American to become defense secretary was Frank Carlucci, who served from 1987 to 1989 under President Ronald Reagan.
Panetta's appointment to head the Pentagon continues a decade's long trend of Italian Americans attaining top posts in the U.S. military. In 2005, President George W. Bush appointed Marine General Peter Pace to be the first Italian American to serve as chairman of the Joint Chiefs of Staff.
Under General Pace as vice-chairman was Navy Admiral Edmund Giambastiani, who reached the highest rank in the Navy for Italian Americans. During the Iraq War, Army General Raymond Odierno distinguished himself as one of the architects of the troop surge strategy that turned the tide in Iraq. He currently serves as commander of United States Joint Forces Command and is seen as a potential candidate for national security advisor in the years to come. (Editor's Note: Read the biography of Peter Pace in PRIMO's November/December 2006 edition.)
***
With the defense secretary appointment, Panetta has reached a peak in his political career.
A Washington insider, Panetta is known for his managerial ability, knowledge of Congress and its legislative processes; a man well-liked by both Democrats and Republicans.
Panetta is a second generation Italian American whose parents were immigrants from Siderno, a small city in the Reggio province of Italy's Calabria region. Siderno continues with one of the highest rates of emigration with thousands of Calabrians relocating from there to America, Canada, Australia, and cities in Northern Italy. Panetta's mother's maiden name is Carmelina Maria Prochlio and his father's name is Carmelo Frank Panetta.
The Panettas came to America in the 1930s after they were married in Italy. Carmelo had been to America before as his two brothers had already settled here in Wyoming and California. The Panettas made their way to the area of Monterey, California, where they operated a restaurant there until after the war when they sold it.
Proceeds from the sale of the business helped the Panettas purchase property in Carmel Valley where they grew a prosperous walnut farm. Leon Panetta and his wife Sylvia today live in a house on the farm's property.
In a recent speech he gave to Asian American professionals at a convention in San Francisco, Panetta spoke about being a boy standing under a tree while his father pulled branches with a pole to free walnuts toward the ground. When Panetta in 1976 won his first election to Congress, representing California's 16 th district, his father encouraged him by saying, "You know you've been well trained to go to Washington. You've been dodging nuts all your life."
***
PANETTA SPEAKS OUT AGAINST TORTURE
"Those who support torture may believe that we can abuse captives in certain select circumstances and still be true to our values. But that is a false compromise. We either believe in the dignity of the individual, the rule of law, and the prohibition of cruel and unusual punishment, or we don't. There is no middle ground."
Leon Panetta writing for Washington Monthly
"No Torture, No Exceptions," 2008 .
***
PANETTA'S BIO: REPUBLICAN OR DEMOCRAT – ALWAYS A WASHINGTON INSIDER
Born Leon Edward Panetta on June 28, 1938 in Monterey, California
Panetta attended a Catholic grammar school and was taught by the Jesuits. He transferred to public Monterey High School as a teenager. At his mother's urging, he excelled at piano and considered pursuing a career as a concert pianist.
1960: Graduated magna cum laude earning a B.A. from Santa Clara University with a major in Political Science.
1963: Attained a law degree from Santa Clara University where he served as editor of Law Review.
1964 to 1966: He joined the U.S. Army, attained rank of first lieutenant, and was honorably discharged with the Army Commendation Medal.
1966: A registered Republican, Panetta came to Washington thanks to Joseph Califano, an assistant to President Lyndon Johnson.
"I wanted to work in government," Panetta said in an interview at Berkeley University. "I wrote Califano saying, 'I do not know you but I'm very proud of you as an Italian. I happen to be Italian. Is there a way for me to get involved in government?'"
Califano arranged interviews for Panetta in Washington. Republican Senator Thomas Kuchel of California hired Panetta as legislative assistant.
1969: Special assistant to Robert H. Finch, secretary of the Department of Health, Education and Welfare before serving in the Nixon administration as director of Office for Civil Rights.
1970: Executive assistant to New York Mayor John Lindsay, acting as a liaison between New York and the federal government.
1971 to 1976: Co-founded and practiced law at Thomas, Panetta, Thompson in Monterey.
1977 to 1993: After switching to the Democratic Party in 1971 he was elected to Congress representing California's 16 th (now 17 th) Congressional District that encompasses much of San Jose. He served as chairman of the House Budget Committee.
1993 to 1994: Director of Office of Management and Budget, Clinton administration.
1994 to 1997: Chief of Staff, Clinton administration.
1998 to 2008: Co-director with wife Sylvia, the Panetta Institute for Public Policy, California State University, Monterey Bay.
2009 to 2011: Director of Central Intelligence Agency.
Panetta and Sylvia Marie Varni have been married since 1962. They have three grown sons.
***
NIXON'S VIEW OF PANETTA…ON TAPE
Panetta was just 32 years old when he was appointed by President Richard M. Nixon to serve as director of Office for Civil Rights.
It was 1970 and Panetta reported directly to Secretary of Health, Education and Welfare Robert Finch, former lieutenant governor in California under Ronald Reagan.
Panetta's brief tenure at the office was controversial. He pushed federal mandates to ensure racial equality in public schools during a time when forced school busing divided the nation. Nixon's political operatives were concerned that Panetta's efforts might put in danger the president's reelection efforts in the Deep South and elsewhere in the country where people increasingly viewed the enforcement of civil rights laws as an intrusion upon states' rights.
Panetta resigned in 1971 and wrote "Bring Us Together," an insider's view working for the president that many read as critical of Nixon's civil rights policies.
Press coverage of the book troubled President Nixon. Available today are White House taped conversations between the president and his chief of staff Bob Halderman complaining about Panetta and his book. You can hear the conversation for yourself by accessing the following link: http://nixontapes.org/panetta.html