News Archives - MAY 2012
The Latest News…from an Italian American Perspective:
ITALIAN INFLUENCE ON REALISTIC PORTRAITURE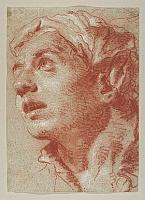 "Head of a Young Man in Three-Quarter View Facing Left, Looking Upward," by Giovanni Battista Tiepolo, circa 1750
Portrait Artist Igor Babailov Tells PRIMO Why Artists Giovanni Battista Tiepolo and Pietro Annigoni are His Key Influences
The great Italian contributions in the history of art are immeasurable.
On my website www.Babailov.com, there are a number of artists, whose works I recommend to study, and among them are Giovanni Battista Tiepolo (1696 - 1770) and Pietro Annigoni (1910–1988).
These are only two great names out of many fine visual artists of Italy. They represent two different centuries, yet both come from the same educational background in the classical tradition of one of the oldest art schools in the world: the Italian Academy of Art.
The celebration of Beauty and God's Creation is the main focus of the traditional school of painting, which requires more than talent, but the skill to produce, and consequently cannot be achieved without the proper education. It has always been at the core of the academic curriculums and the Italian academy has given the world some of the best known names in the history of art, until about the mid 20 th century, when the rich inheritance of the Renaissance Masters suddenly became "debatable" by "art critics who couldn't draw."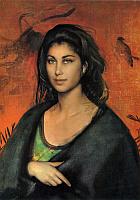 "La Strega"
by Pietro Annigoni
Given that they lived in different eras, both Tiepolo and Annigoni faced unique challenges. Tiepolo's challenge at his time was to explore the knowledge of the Masters before him and around him and to apply it to his own beautiful figurative works, which were celebrated by his contemporaries, as the sophisticated appreciation of the skill in art was taught and very much present at the time. Pietro Annigoni, the utmost admirer of the Old Masters, had a very different challenge at the peak of his career in 1950s-70s, being constantly attacked by the "art critics" for painting beauty and emphasizing the importance of the masters' methods and techniques as prerequisite of skill for any artist.
I became familiar with the name Annigoni when I was invited to teach at the Florence Academy of Art, in Italy in 1999. When I discovered more about his life and works, I immediately felt the closeness to this artist, fully relating to his values and ideals. I myself being a contemporary realist artist, like Annigoni, was asked on numerous occasions "if there was enough of Renaissance in the period of Renaissance…" This question was well answered by Pietro Annigoni, who I quote: "Only those who know nothing about art may think that a Style is repeatable in every age. It is the destiny of every artist to strive to say something NEW with an OLD language."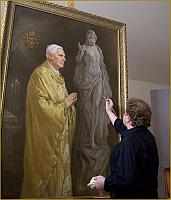 Portrait artist Igor Babailov finishes his painting of Pope Benedict XVI
In 2008, my life size portrait of Pope Benedict XVI was officially presented to the Pope upon His Holiness's arrival in the United States. Two years later, I received a call from the Papal Nuncio in Washington, D.C. with the news that my papal portrait arrived in America to exhibit in Vatican Splendors, the North American museum tour from the Vatican Collection. The Vatican Splendors exhibition consists of almost 200 objects representing 2,000 years of the Vatican's history. They include historic works of art, important period documents, even the relics of St. Peter. The significant part of the exhibition are paintings, sculptures and other works of art; as well as the Papal portraits, with my portrait representing the Papacy of Pope Benedict XVI. At the opening of Vatican Splendors I approached the Vatican Curator Roberto Zagnoli to thank him for selecting my work for such an important exhibition and he replied: "No, no, no, Maestro, the Pope chose it!" That was, of course, a huge honor. Some of the artists' works on the exhibition include the works of Michelangelo, Giotto, Bernini, Guerchino, Vasari and many other Masters of the Renaissance, and I was humbled to be the only living artist there. The 2000-year impact of the Vatican in art history is unquestionably immense and impressive, with the majority of its artists being Italians, and I'm proud to be among such a distinguished group and company of Masters in the history of art. The Vatican Splendors exhibition moved to the John Heinz History Center in Pittsburgh, and then the Fine Arts Museum in Ft. Lauderdale until May 2011, when it returned back to the Vatican.
On another note, some of my famous Italian American portrait subjects included: Mayor Rudy Giuliani of New York, actor James Gandolfini and the most recent portrait of Iraq veteran of war and American Hero, Brendan Marrocco. They all are on my website www.Babailov.com
Editor's Note: PRIMO had the honor of featuring the work of Igor V. Babailov on the cover of our September/October 2001 edition on Christopher Columbus. The painting, oil on canvas, was titled "For Gold, God and Glory." Artist Babailov is praised by many for his sensitive and detailed portraits of contemporary luminaries in politics and entertainment, as well as a number of spectacular landscape paintings. Please review his latest works at www.Babailov.com.
| | |
| --- | --- |
| Babailov and Pope Benedict XVI | PRIMO cover Sept/Oct 01 |

AN ITALIAN AMERICAN FOR VICE-PRESIDENT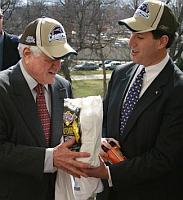 Rick Santorum pays on a football bet he lost to the late Ted Kennedy a Geno's cheese steak sandwich
Italian Americans of all political strips can be proud of Rick Santorum's campaign for president.
Former U.S. senator from Pennsylvania who dropped out of the presidential race in early March, Santorum had came out of nowhere to make a strong run against Mitt Romney, former Massachusetts governor, and now the certain Republican nominee for president. Unlike other candidates who crashed and burned in their campaigns, Santorum did not make the same kinds of gaffes and outrageous comments that other candidates made, and refreshingly came with a background free of unseemly scandals, rumors and innuendos.
Santorum was and is a stand-up guy. He's a family man who often took time off from his campaign to spend it with his youngest child, his daughter Bella, diagnosed with a rare genetic disorder, Trisominy 18, an affliction similar to Down syndrome. When the Santorums learned of Bella's condition, physicians predicted the baby would not live beyond her first year. She is today three years old, thanks in large part to her parent's close monitoring of her condition and constant care, not unlike other parents of physically and mentally challenged children.
No matter the political stripes, Right or Left, all Italian Americans can consider Santorum's presidential run a respectful effort, worthy of the pride and admiration of our ethnic heritage.
* * * *
AN ITALIAN AMERICAN FOR VICE PRESIDENT: SANTORUM OR CHRISTIE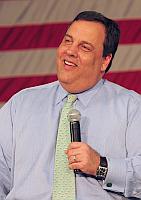 New Jersey Governor Chris Christie
With the primaries practically over, the tough part for Mitt Romney is underway: Who does he choose to be his vice presidential running mate.
Quite often the VP nominee is either someone from a swing state that will help give the ticket the electoral votes to win or someone who leads a specific philosophical wing of the party to improve voter turnout.
As such, history might be made as two leading contenders for the VP slot are Italian Americans Rick Santorum and Chris Christie. Santorum is the son of an Italian immigrant. His father was born and raised in Italy's northeast region Trentino Alto-Adige. As for Christie, governor of New Jersey, his mother's maiden name is Grasso, and her family emigrated from Sicily.
In choosing Santorum or Christie as a running mate, Romney would show considerable political savvy. Both Italian Americans are known for their discipline and fighting spirit. Santorum did not back down one bit in his conservatism on the campaign trail and as such energized a wing of the party that got him top votes in a host of states. As for Christie, he is the darling of the right wing media, praised for his speaking abilities at town hall meetings in New Jersey where he often bests audience members who openly challenge his policies.
Having Santorum or Christie on his team, Romney can challenge stronghold states that might otherwise be in President Barack Obama's camp. Romney's home state, Massachusetts, and either Pennsylvania or New Jersey, depending on whether Santorum or Christie is the nominee, could go Republican. The president might then have to expend far more resources to hold on to those states than otherwise, giving Romney a financial advantage in swing states, vital to election victory.
If either Santorum or Christie is nominated for vice-president, then that would be the first time in the GOP's history that an Italian American was nominated.
But a first for the party does not mean first in the country's history.
That title goes to the Democrats, who broke the ethnic glass ceiling, when the party nominated Geraldine Ferraro for vice president in 1984.
* * * *
REMEMBERING GERALDINE FERRARO
Talk of the vice presidential nominee inevitably leads an Italian American to remember Geraldine Ferraro.
It does not seem that long ago that Walter Mondale was the Democratic nominee for president and made history when he chose as his vice president nominee Ferraro, a little known congresswoman from Queens.
The year was 1984 and Mondale had an almost impossible task trying to unseat a popular president in Ronald Reagan. Ferraro electrified his campaign as a historical first – the first woman and first Italian American nominated for vice-president.
Although she was born and raised, and represented a congressional district, in New York, Ferraro did not possess the stereotypical traits often associated with New Yorkers. She was not as combative or as outspoken as some in the press had expected. When Barabara Bush made a disparaging remark about her and later apologized, Ferraro accepted the apology without belaboring the issue. In many ways, she was a shy and reserved candidate. Coming from a modest background, beset by family tragedy and poverty, she was expected to match Reagan's strong connection to working class America. But as the campaign took off, Ferraro did not engage in the same level of hyperbole Reagan and others did in trying to achieve votes among working class Americans. Sidetracked by the press unnecessarily investigating her husband John Zaccaro's business background and dealings, Ferraro was unable to build campaign momentum. Mondale and her ended the year on the losing end of what was a Republican rout by President Reagan and Vice President George H.W. Bush.
Nonetheless, Ferraro stands as the first of what will surely come in the years ahead. More women will get nominated for the top positions of their party and a woman one day will become president. All women in politics owe a debt of gratitude to Ferraro for paving the way forward. As Sarah Palin, first woman to be nominated vice president in the GOP, said of Ferraro: "She broke one huge barrier and then went on to break many more…May her example of hard work and dedication to America continue to inspire all women."
Here now is Ferraro's speech at the Democratic National Convention in 1984 where she made history as the first woman, and Italian American, to run for vice-president, courtesy of C-Span.

GIANNI DI GREGORIO SHINES AS ITALY'S NEW FILM SENSATION
It is hard to peg Gianni Di Gregorio.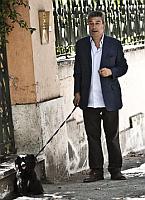 Lost in Rome: Gianni Di Gregorio in "The Salt of Life."
His latest film "Gianni e le donne" (Salt of Life) is a Woody Allenesque take on middle age; humorous, self-deprecating, at times farcical. It stands in stark contrast to the dark and violent film "Gomorrah," from the screenplay in which Di Gregorio penned with five other writers, including Roberto Saviano, author of the book upon which the film is based.
Film critics are rightly enthusiastic about Di Gregorio's work because his films are reminiscent of those that came out of Italy's neo-realist movement of the 1950s. Comparisons are inevitable. Di Gregorio's style is his own but he still reminds one of Pietro Germi and even Vittorio De Sica. He conveys contemporary Italy through his own Italian laugh track. Italian Americans can embrace his films as refreshingly adult oriented with a light yet realistic look at everyday life in Italy.
Di Gregorio's latest film "The Salt of Life" shows today's Rome as prosperous and affluent. Yet, under the surface is a lost generation where increasingly middle-aged men and women are joining the country's youth with little opportunity towards self-reliance and independence. The oppressiveness of an all-encompassing state is silent but effective in diluting the ambitions of Italians. Di Gregorio laughs at the specter. Not just the writer and director, he is also the lead actor in the film. Gentlemanly, inherently laid-back, seemingly good natured, Di Gregorio looks a little like Jack Benny, with baggy eyes, a broad brow and marbled straight hair. All he needs is to stare into the camera for a sustained moment to generate a laugh from the audience.
"The Salt of Life" is a sequel to "Mid-August Lunch," a film two years ago that won praise for Di Gregorio from critics all over the world. He was also the writer, director and lead actor in that film.
In "The Salt of Life," Di Gregorio plays a character that shares his name; an obvious indication the film is biographical. We watch the exploits of a middle-aged man who seeks to have an affair with any willing woman, after he observes the amorous acts of a much older man. When asked at a press conference if the film was inspired by the scandalous affairs of former Prime Minister Silvio Berlusconi, Di Gregorio claimed that the film was "anti-Berlusconi." He said the film was representative of today's Italian male, more sensitive and passive, opposite of the sexual bravado of past generations that Berlusconi may emulate.
Di Gregorio defies categorization. Conveying a bright touch to his own films, he is equally famous for his collaborative screenplay of "Gomorrah," considered by many the best film since "The French Connection" to portray the dark and ugly side of organized crime. The haunting quality of "Gomorrah" was due in large part to the stellar direction of Matteo Garrone, whom Di Gregorio has worked with in other films.
Di Gregorio brings to filmmaking a multi-dimensionality that begs for greatness. We anxiously await his next foray on to the silver screen.
Read a film review of "The Salt of Life" on PRIMO Editor Truby Chiaviello's Writer's Guidelines at http://www.onlineprimo.com/Writer's Guidelines/wordpress/.

Where do you find one of the best exhibitions of High Renaissance Italian art in America this spring and summer? Not New York, Washington, or Los Angeles. To see up close the great treasures of Florence's Uffizi Gallery, Italian Americans should head to Bucks County, Pennsylvania. There the James A. Michener Art Museum will host one of the finest displays of Renaissance Italian art to be seen in America in many years. Titled "Offering of the Angels: Treasures from the Uffizi Gallery," from April 21 through August 10, James A. Michener Art Museum will showcase the works of Botticelli, Signorelli, and Franceso Mazzola, among many other artists of the 16th and 17th centuries. Here's just a glimpse of what you will see in this stunning exhibition.
Place mouse pointer over image for titles and descriptions. Click on the image for a larger view.