News Archives - NOVEMBER 2012
The Latest News…from an Italian American Perspective: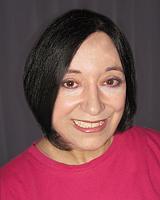 Emelise Aleandri
Q&A WITH EMELISE ALEANDRI, AUTHOR OF "LA PICCOLA ITALIA."
The most famous of Italian neighborhoods in the country has to be without a doubt Little Italy in Lower Manhattan. The neighborhood was the first stop for many Italians during peak years of migration between 1880 and 1920. Throughout the last century, Little Italy has been the catalyst of Italian culture in New York. It remains one of the most interesting and energetic neighborhoods in the city, although it has faded from its former glory, continuously giving way to neighboring Chinatown and gentrification. Professor Emelise Aleandri is the unofficial resident scholar of Little Italy and Greenwich Village. She knows the neighborhood perhaps better than anyone. Her theatrical company Frizzi and Lazzi produces plays in the Italian language, with emphasis on different regional dialects. Thus it is fitting for Aleandri to pen a history of Little Italy in Italian. Titled "La Piccola Italia," Aleandri retells the rise, fall and survival of Manhattan's Little Italy. The book serves a number of interests for Italian American readers: From recounting the history of America's most famous Italian neighborhood and the important figures that rose from its tenements to providing a thorough exercise in the Italian language, with photographs and illustrations to help comprehend the text. PRIMO recently interviewed Aleandri about her new work "La Piccola Italia," and her thoughts on Little Italy, Greenwich Village, and all that is Italian in the Big Apple. Here is what she had to say…

Please tell us about your background; where you family is from in Italy, etc....
I was born at Riva del Garda in the Dolomites. My father was born in Crema but the family had been Roman for centuries. My mother was born in the Bronx New York but her parents were from Riva and Val di Ledro in Trentino. When she was about 16, she left New York, visited her family in Italy, wound up staying, married my father, and that is how I was born in Italy. We came to New York when I was four years old. My younger sister Mary Ann was born in the Bronx. We were a small family and never lived in an Italian neighborhood so perhaps that is why I have always been fascinated by the Little Italies of the country.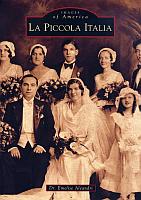 La Piccola Italia
What inspired you to translate La Piccola Italia in Italian?
Ernie Rossi of the legendary Rossi bookstore in Little Italy New York City explained to me that the many Italian tourists who pass through his store see my original English version of Little Italy and want an Italian version to take back with them. Ernie and I proposed this project to the publisher and I got the go-ahead for the Italian edition. Also over the last two decades, there has been an increasing interest in Italy about Italian immigration to America and Italian-American history and literature.
What were key obstacles to overcome in translating the work?
The biggest obstacle I encountered was the fact that I do not live in Italy and although I speak Italian well enough, I do not have the necessary grasp of the contemporary use of the language and its more modern nuances and idioms. Therefore I sought help from an Italian colleague of mine, Dr. Yvonne Mattevi, whose assistance was invaluable and made this project possible.
Of course Little Italy has changed. But my sense in recently visiting the Village, there is still an Italian culture that pervades the area. What say you about the Italian American legacy of Little Italy and Greenwich Village?
Little Italy and Greenwich Village are two separate and somewhat different neighborhoods. The village had a lot more northern Italians as residents, while Little Italy had many more southern Italians. There are still many Italians in both areas, a good number of whom still speak Italian or have only recently arrived. The church of our Lady of Pompeii is central to the community in the village, and in Little Italy, several churches still serve an Italian population. Italian residents and businesses and the Lieut. Joseph Petrosino Lodge of the Sons of Italy are only some of the many factors that preserve the Italian-American legacy in that neighborhood. Besides the feasts of Saint Anthony, St. Rocco, and San Gennaro, and many other events, both indoors and outdoors throughout the year, still celebrate Italian heritage and culture.
Why do you love the Italian language so much?
I was born in Italy, and Italian was my first language, and my parents spoke Italian to each other so I heard it spoken while I was growing up. However they did not involve me in their Italian conversations so I began to study it and speak it again in school. I love hearing Italian spoken and sung, and one reason must be because it was the language of my early childhood; but in a way I had to work to reclaim it for myself and thus have never taken it for granted.
Why do you think Italian Americans will enjoy this La Piccola Italia?
I think Italian Americans will enjoy this book for the same reasons you mention: you don't really have to understand every word to enjoy the pictures and it is a way of learning the language by looking at the pictures. So Italian Americans who "non hanno la lingua" can play at learning it by using this book. I think it's an excellent tool for teachers of Italian. Italian-Americans who know some Italian will be graitfied to be able to easily comprehend it. But I really hope that the Italians in Italy will read and enjoy it too.
What are some of the misconstrued or false myths that pervade Little Italy's history in your opinion?
Historically, outsiders thought of the Italians in the neighborhood as one homogeneous lump of humanity; whereas the Italians who came here during the mass migration did not have a concept of themselves as "Italians" from the only recently united Italy. They identified with their region and in fact even more closely with their hometowns, and they spoke their own dialects and practiced their own traditions. Cultural practices and differences among Italians were significantly varied. Of course there was also the horrible depiction of Italians in the press; they were satirized with caricatures as gangsters, criminals, and stiletto wielding thieves. This was a reflection of the nativist bias that we have been fighting for over a century.
You have spent many productive years researching and writing about Little Italy. How has your work changed you as a person?
I was passionate first about music and theatre in general, both history and performance, then my research brought me to Italian American immigrant Theatre, my writings and articles on that topic brought me more and more into the realm of Italian-American organizations and publications, and somewhere along the line I became what I call a "Professional Italian-American." All my work began to focus on the Italian-American experience: running the Center for Italian-American Studies at Brooklyn College, creating the TV show Italics, putting together my theatre company Frizzi & Lazzi, lecturing, writing books, translating plays and songs, producing plays and musicals, etc. etc. etc. It was my initial research into the 19th century theatre in Little Italy that brought me to the place I find myself now, in which almost everything I do has an Italian or Italian-American focus.

EURO ITALIANS
A new crop of Italian leaders have taken center stage in the ongoing European debt crisis.
They are Italy's Prime Minister Mario Monti, president of the European Central Bank (ECB) Mario Draghi and president of the Bank of Italy Ignazio Visco. Although they come from different parts of Italy they share a common goal to further unify Europe. They are today's technocrats, professorial yet ambitious, cosmopolitan yet modest. The goal of Europe as a single nation appeals to them in large part because of their economic outlook. They are macroeconomists, schooled in Keynsian policies where the larger a centralized government the better.
For Monti, Draghi and Visco, the European Union (EU) has more money and resources than does Italy to fully implement the Keynsian model in the country. Already the Italian government makes up half of the country's economy. The result is a crushing debt where government bonds are offered at yields almost consistent with a bankrupt nation. (As of this writing, Italian 10-year bonds are selling at almost 6 percent while U.S. bonds are selling at less than 2 percent. For many observers, seven percent yields signify the prospect of bankruptcy.)
The EU is a financial resource to be tapped. Indeed, Monti recently lobbied hard for the EU to start issuing Euro Bonds, backed by member economies. The bonds were to help bring in needed revenue to prop up Italy and other nations' balance sheets. Although the idea was vetoed by Germany's Prime Minister Angela Merkel, Euro Bonds will likely be pushed again in the near future as it is another means to finance the Keynsian model in Italy.
****
Who is Europe's most powerful person?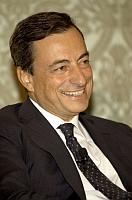 Mario Draghi
Some say it is Mario Draghi, president of the European Central Bank (ECB). He is to Europe what Federal Reserve Chairman Ben Bernanke is to the United States. As head of the ECB, Draghi authorized a $600 billion loan to European banks, still reeling from America's real estate crash in 2008.
Where others fear the end of the Euro, Draghi is adamant in its survival; never mind the crushing debts of Greece, Spain, Ireland and Italy. Born in Rome, Draghi graduated with an economics degree from the University of Rome La Sapienza and then earned his PhD from the Massachusetts Institute of Technology. His resume includes president of the Bank of Italy and the Italian Executive Director of the World Bank. Draghi once worked for Goldman Sachs, and served on a number of boards, including a trustee at the Brookings Institute in Washington, D.C.
One reason why Draghi is so powerful is his term of office at the ECB; it ends in 2019, likely surpassing all the terms of today's European political leaders. His is an opportunity to transform Europe's financial sector for a generation.
****
Draghi's acumen in economics is due in part to his studies at the University of Rome La Sapienza.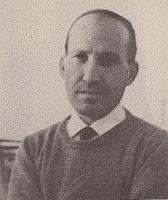 Federico Caffe
It was there he was schooled in macroeconomics by none other than Federico Caffe, one of the most influential economists in Europe of the past 60 years. So well-respected in economics is Caffe that Italy's Roma Tre University and Denmark's Roskilde University named departments after him. Caffe wrote and spoke emphatically in support of the Keynsian model. He sought an ever-expanding centralized government to finance public works, business subsidies, universal healthcare, and generous public pensions. His "Lectures on Economic Policy" was widely read throughout Europe.
Born 1914 in Pescara, the Abruzzo region of Italy, Caffe taught for a time in Sicily at the University of Messina. He then worked at the University of Rome La Sapienza where he influenced many of today's Italian bankers, finance ministers and economists. Caffe disappeared in 1987 and is believed to have committed suicide, although his body has never been found.
Caffe's legacy is in dispute as to the preservation and expansion of the EU as his writings and lectures mostly contained impassioned pleas for full employment in Italy.
This past May, Mario Draghi spoke at a tribute to his mentor at the University of Rome La Sapienza. He rightly mentioned Caffe's statement that "one cannot 'accept the idea that an entire generation of young people should consider themselves as having been born at the wrong time and having to suffer job insecurity as an inevitable fact." Draghi's spoke little of what Italy might do to offset a remarkable unemployment rate among young Italians today at almost 50 percent. Instead, Draghi's focus was entirely on the EU, with numerous references to different economic theories based on the Keynsian model of centralized government and further European integration.
Writing for "Insight," a magazine based in Italy, economist Bruno Amoroso also mentioned Caffe, but in contrast to Draghi's speech, as a critique of the EU. Caffe was critical of Italy's "post-war miracle" because it pursued "inequalities." "I think we can extend this reasoning to the establishment and implementation of the European Common Market," Amoroso wrote. He went on to call for reform of the Euro currency, going so far as to say that Italy and other Southern European nations should withdraw from the Euro and start their own currency.
****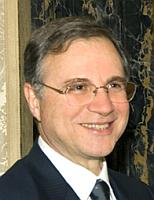 Ignazio Visco
Located in Palazzo Koch on via Nazionale in Rome is the headquarters of the Bank of Italy, presided over by its current governor Ignazio Visco.
Born in Naples in 1949, Visco graduated with an economics degree from the University of Rome La Sapienza and later studied at the University of Pennsylvania where he obtained a PhD. He too was taught by Federico Caffe. Visco once said in a speech that finance was a "force for good." He sees globalization the crux of the problem in the current debt crisis. Yet, he faults not the EU but rather calls for greater consolidation as the only way to monitor complicated financial transactions that occur across country borders.
In a recent speech, Visco referred to the works of Curzio Giannini, an economist from Italy who proffers "the lender of last resort" theory where all financial roads lead to one massive bank. This could be an organization similar to the IMF that can prop up financial institutions of a specific country facing collapse.
One paper Giannini wrote for the IMF was titled "An enemy of None, a Common Friend of All?" He pursued the idea of an all-encompassing financial institution connected to all banks, businesses and governments all over the world. Sounds pretty scary. But to be fair, Giannini's work was an academic exercise of diverging points of view and pros and cons.
Indeed, Giannini's ended his paper with skepticism of a monolithic bank to end all banks. Yet, his paper may serve a purpose for those who support such a conglomeration of money. They may take points raised by Gianni to use in their ongoing sales pitch towards greater European centralization, less sovereignty and more detached regulations.

RETIRE IN CAMPIONE D'ITALIA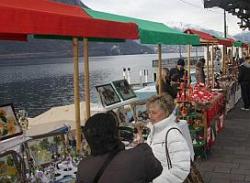 Campione D'Italia open market
With talk of Italy's debt crisis, it is just a matter of time before the topic arises of tax evasion.
If only the Italian government could collect all taxes, then the problem of debt would disappear.
Countries far and away might seem the culprit in offering tax shelters for Italy's rich. But a closer examination shows that Italy has a little village of its own that provides an ideal getaway from the tax man.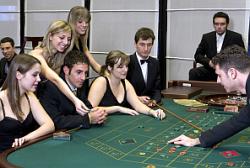 Gambling in Campione D'Italia
Campione d'Italia is a well-kept secret throughout Europe. It lies on the northern end of Lake Lugano, some 45 miles north of Milan, and part of the Swiss landscape. Campione d'Italia is an anomaly because it really does not belong to any country, although technically a part of the Italian nation. Italy has allowed the village of 2,000 to operate almost entirely independent because of its Swiss location. As such, Campione d'Italia is a duty free zone. There is no European VAT tax there, no personal income tax and no municipal tax. How the village pays for its services is through its casinos, as again laws from Rome, such as those governing gambling do not apply here. One law, however, that is enforced is the inability of Campione d'Italia to allow banking. This, however, has led residents to deposit money in Swiss bank accounts without penalty or challenge from Rome and thus enjoy the traditional vow of privacy Switzerland is famous for.
To obtain residency in Campione d'Italia a person must have property, be it a studio apartment or any other modest dwelling. It is tougher than it sounds as Campione d'Italia suffers from a housing shortage as more and more Italians seek to reside there.